Investment Thesis
I believe that New Residential Investment Corp (NRZ) represents a compelling risk-reward situation after the recent drop due to the secondary share offering. The earnings report showed management's ability to replace high-quality assets and quite easily over-earn the dividend. The generous 11.67% dividend yield offers you a nice payout while you wait for shares to creep back up above $18, where they always seem to return after a share offering has been completed. Wise investors should continue investing with good management teams with a long track record such as with Realty Income (O), and I think that NRZ deserves the same reputation.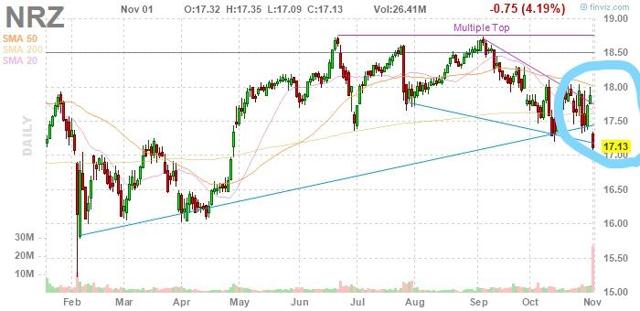 Image from finviz.com
Recent Dialogue on New Residential
Since New Residential reported Q3 earnings last week, there have already been two takes on the numbers. Dividend Master came out emphatically with a piece that points out the unique strengths of NRZ and why he believes that the shares a strong buy. On the other hand, long-time contributor Michael Boyd offered a strengths and weaknesses approach and cautioned investors from falling in love with the high yielder.
For those unfamiliar with NRZ's underlying business, Blue Harbinger's old article remains my favorite deep-dive of the stock. In short, Many of its assets increase in value as interest rates rise, because the duration of the asset is extended. NRZ invests heavily in mortgage servicing rights (MSRs), which are fees paid to collect and service the mortgage payments. These can be passed on and sold to sub-servicers at an even lower fee, and this net profit is referred to as an excess MSR. NRZ does also own regular MSRs along with consumer loans and servicer advances, and all together the portfolio provides NRZ with a fairly consistent and robust cash flow.
One of the growing criticisms of the company is that they will have trouble replicating their high yielding portfolio now that competition has caught on and the attractive assets are no longer worthwhile. Additionally, unlike a more tangible business, such as a retail REIT, NRZ's assets amortize as the loans are paid off.
Q3 Results
Management has been very capable at growing the book value of the company, despite the difficulty in maintaining the balance sheet, and we saw BV increase to its highest point since IPO: $16.87. This was up from $15.26 in 2017.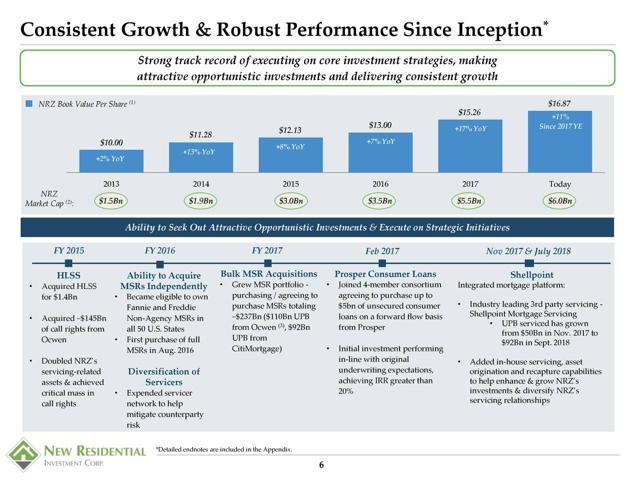 Image from Q3 Earnings Slides
Core Earnings of $0.63 is up from $0.58 the prior quarter. Net interest income was unfortunately down slightly to $262.72M, which was -3.6% year over year. Higher interest expense and the natural run-off of some assets contributed to this miss.
The dividend remains at $0.50 for now, which represents an 11.67% yield as of time of writing (close on 11/1). Dividend coverage has not been an issue in the past, and it is even safer now, sitting at 79% (79% if you use Core Earnings. If you use non-GAAP EPS it's 74%).
For the most part, Q2 and Q3 earnings were rather boring. The business kept doing its thing and while things aren't quite as easy to find as they were a few years ago, the balance sheet can effectively tread water. For those of us that are simply happy with a high yield, lower payout ratio and an increasing book value, this stock is a dream. For us, boring is good. I quite like the moves that NRZ has made in order to minimize damage (real and potential) from their holdings: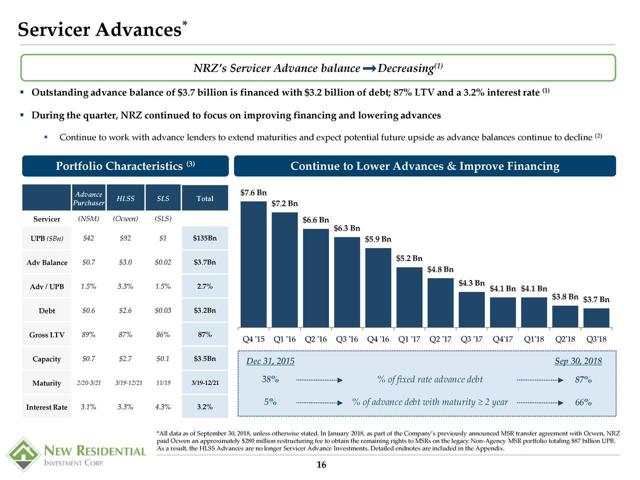 Image from Q3 Earnings Slides
Ocwen (OCN) remains a rather unpleasant business partner and I'm glad to see that servicer advances are being reduced. These loans to other companies are risky and carry a low interest rate, far beneath what NRZ can get for other assets.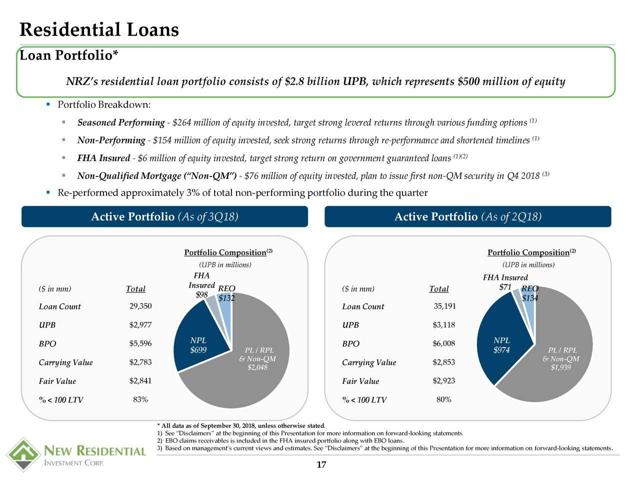 Image from Q3 Earnings Slides
While the magnitude of non-performing loans worries me, NRZ has put forth effort and money in order to get some of the loans to resume making payments. We will have to watch to see if this amount continues to go down in subsequent quarters. These two areas of the balance sheet are concessions to those that are bearish on NRZ's portfolio risk.
Issuance of 25 million shares on 10/31
The company decided to hold out their trick or treat bags and make ~$433 million from the sale of 25 million shares in a secondary after hours on 10/31. Reactions to the issuance were mixed.
"Annoying" is putting it mildly, as many commenters pointed out that by doing this after the dividend reinvestment (DRIP) for new shares, existing shareholders were unknowingly buying shares above the sale price. The loyalty of a DRIP should not be abused like that, however management should get the highest price for new shares possible.
On a positive side, the issuance was made above book value, approximately 1.05 price to book value, which means that the transaction theoretically created shareholder value already. Dilution like this is always a risk when a REIT is above book, but at least NRZ has access to this form of capital, unlike many peers. If you want to look at dumb secondaries, look at Gladstone Land (LAND) that issued shares last spring at $12.15 with a book value of $13.96. Paying $1.00 for $0.87 is horribly destructive to shareholder value. Suddenly NRZ's offering doesn't seem as bad.
While history never repeats itself, I want to point out that in the past NRZ secondaries have been incredibly accretive through investments like Springcastle (87% Internal Rate of Return) or Prosper (20% IRR) or buying huge bundles of MSRs that have been averaging 12-18% IRR. Dips in share price have been brief, and the stock has always quickly recovered.
Summary
The current price at close of $17.13 offers a great entry point for new and old investors, as it is a sizable discount to the $17.32 issuance price and a great value for a 11.67% yield. It also represents a roughly 1.015 P/B at present time, a value that will fall with increasing BV, which offers some safety from the inevitable next secondary. I trust management to continue performing at a high level with the now ~$590 million (330 in cash - 170 dividend + 430 secondary proceeds) with which to invest.
Disclosure: I am/we are long NRZ.
I wrote this article myself, and it expresses my own opinions. I am not receiving compensation for it (other than from Seeking Alpha). I have no business relationship with any company whose stock is mentioned in this article.
Additional disclosure: I purchased additional shares of NRZ on 11/1/18 at $17.17, prior to writing this article.