A quick Google search should reveal fears of a housing downturn over the next few years. Over the past few months, housing starts have been soft and increasing in home sales pricing seem to have slowed down. In fact, in quarter two, while beating EPS, NVR Homes (NYSE: NVR) missed revenue estimates, sending its stock down 6% the next day. Clearly, the market is fearful of an oversupply of houses and a potential price decline. Is this warranted? I believe the housing consensus is looking at the wrong numbers, and therefore making wrong conclusions. However, this does open up the possibility for dramatic upside among homebuilders. I think investors would fare well to buy homebuilders at these levels especially since they've been beaten down by worries of housing downturn, worries that are (as I hope to show here) unfounded.
Here is the graph most analysts refer to of housing starts going back to 1959.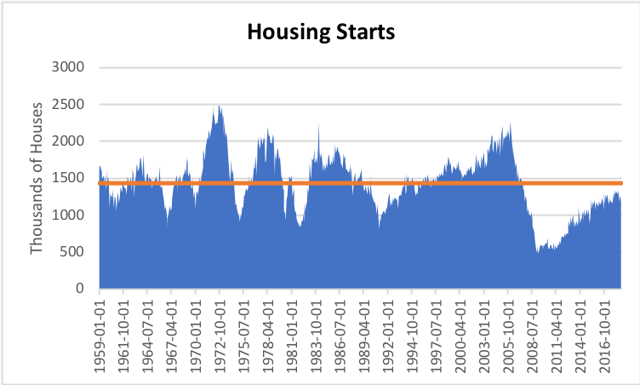 (Source: Author's image, data gathered from FRED Economic Database)
1.5 million houses seem to be the sweet spot. Typically, when we go above that mark, there is an ensuing decline, often drastic. We can also clearly see the excesses of the bubble leading to the 2008 housing debacle. The rhetoric typically goes like such:
We are approaching the 70-year average in terms of housing starts; therefore, the growth that we've seen in the past within these homebuilders is likely to slow down as the supply of houses increases.
In every historical housing boom, we have not been able to sustain housing starts above the average line for longer than a few years (2008 being the exception).
Each downturn is characterized by substantial and instant declines in the supply of housing.
Therefore, the profits we've seen in these homebuilders like NVR are artificially high, riding the tailwind of the housing boom.
I see some merit in this argument, except for the fact that we were producing houses above the average from 1997 to 2008, a period of 11 years. Nonetheless, based on this data, it does seem to indicate that future large returns on homebuilder stocks are evanescent. We are already verging on passing the average line (if you adjust for the extreme values, we have already passed the line). However, I would like to present my interpretation of these same data. Firstly, in 1959, the U.S. population was less than 150 million compared to over 320 million today. Today, we have a much larger middle class (i.e. the people who buy homes) than any-time in history. The question I would pose is don't more people need more houses?
U.S. population since 1959: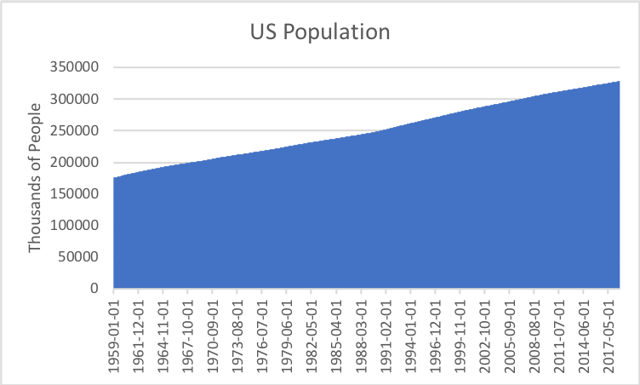 (Source: Author's image, data gathered from FRED Economic Database)
I'm not an expert on the real estate industry, but my intuition tells me that today we need about double the houses we needed in 1959. If that is the case, why the insistence on housing starts not adjusted for population? People love to focus on historical cycles and extrapolate those cycles into the future. While it is true that cycles repeat themselves and borrow elements of the past, they never are the past. Mark Twain is rumored to have said, "history doesn't repeat itself, but it does rhyme." The logic thrown around in investment circles goes like this: "This is the longest boom in history. We are long overdue for a downturn." It is difficult for me to find a morsel of merit in this statement. Howard Marks himself said when he came to my university to give a talk, "We are in the eighth inning of the economic cycle, but we don't know how many innings the game will last."
Compared to the past, this recovery in housing has been the slowest (slope of the Housing Starts graph), thus mitigating the possibility of an oversupply to an extent. Nevertheless, because the utility of a housing starts graph without adjusting for population is limited, allow me to present a version that is more consistent with what drives demand for housing: population growth.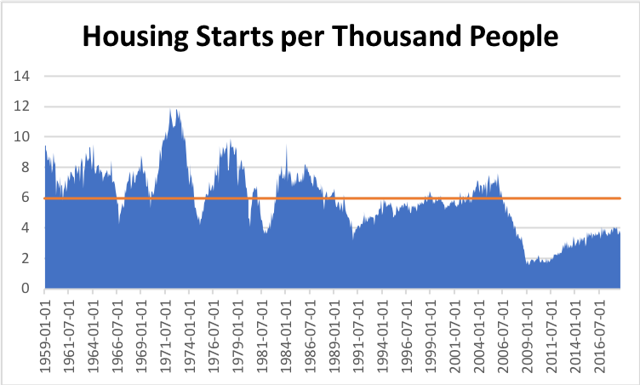 (Source: Author's image, data gathered from FRED Economic Database)
Suddenly we aren't so close to the average line. In fact, current housing starts per capita are at a historical low. This just goes to show the severity of the 2008 crash. With this visual, it is much easier to make the case for significant gains in the housing market over the next decade: we are currently producing a little under 4 houses per thousand people vs. the 70-year average of about 6. As it has been since the financial crisis, NVR Homes will take a disproportionate share of this gain going forward due to its scalable and low capex model. With no debt on its balance sheet and prudent capital allocation policies, I can easily NVR continue to make strides in this market along with D. R. Horton (NYSE: DHI) and Lennar (NYSE: LEN), among others.
Is Housing Expensive?
Home prices have been increasing dramatically over the past few years; in fact, much of NVR's growth is due to increases in the average selling price of its homes, which currently stands at about $325,000. Thus, the bears' argument is magnified by the following: in addition to production declines, average selling price declines will continue to cause homebuilders to lag the general market. The following is the most commonly cited data for home prices: The S&P Case/Shiller U.S. Home Price Index.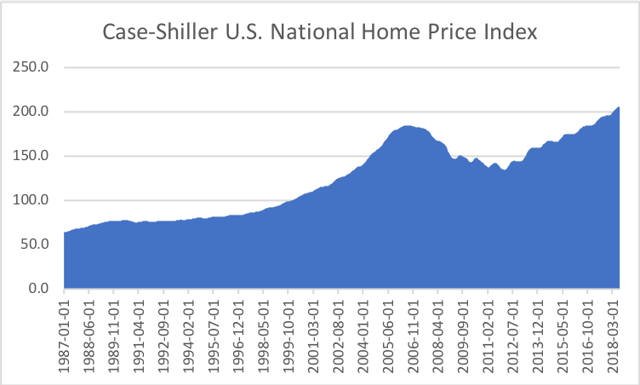 (Source: Author's image, data gathered from FRED Economic Database)
We've already peaked the high of prices before the financial crash with no sign of slowing down. Surely, we are overdue for a substantial decline in home prices soon… Not exactly. Again, we must put these figures in context, something the investing community is seemingly not doing. Have home prices become more expensive relative to our buying power? Not at all.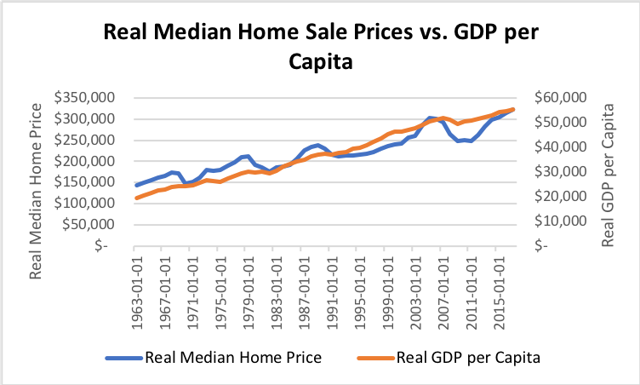 (Source: Author's image, data gathered from FRED Economic Database)
In interpreting this graph, we must pay attention to the slope. When home prices rise faster than income, we should be wary (as was the case in the years leading up to the 2008 crash). However, when home prices rise in tandem with income (as was the case in the 1990s), things are stable, and declines are minor. This insight is intuitive; however, many people in the investing community don't seem to have this intuition when simply quoting price increases. Obviously, prices increased dramatically from the largest cyclical downturn in history from 2008 to 2013, but this is expected; as the graph shows, growth in house prices has stabilized since 2014.
But what about mortgages? The Fed has hiked rates three times in the past year and has indicated that it plans to continue doing so soon. With every hike, homebuilder stocks trade lower and lower. Here is the rationale:
Mortgage rates will increase in tandem with interest rate hikes
Because we expect inflation to be 2% over the long run, mortgages will become more expensive in real terms.
Because they are more expensive, less people will be willing to take on a mortgage to buy a home, thus lowering demand for new homes, hurting homebuilders.
I do not agree. While theoretically rising real mortgage rates should decrease demand for mortgages, we do not see this in the real world. Why? Homebuying is influenced by a myriad of factors, and mortgage rates empirically rank low on that list. While interest rate hikes may influence short-term demand for housing for psychological reasons, it is unlikely to have much bearing on long-term demand for housing. Long term demand is determined primarily by (1) population growth, (2) number of families being created and (3) Income or GDP per capita. To illustrate this point, here is perhaps the most unintuitive graph of this whole write-up: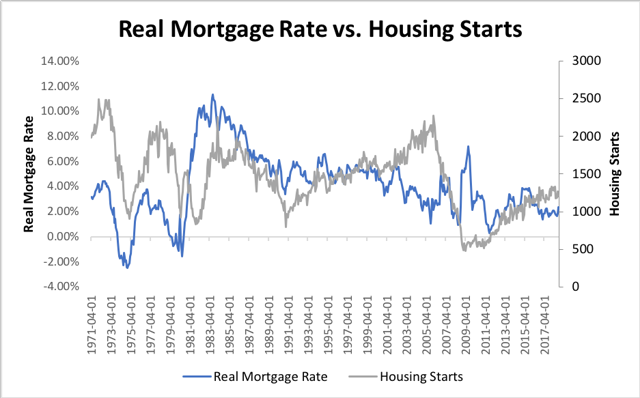 (Source: Author's image, data gathered from FRED Economic Database)
If higher real mortgage rates lowered the demand for housing in the long run, we should observe a negative correlation between these two series (i.e. higher rates correspond to lower starts and vice versa). If we divide this graph into two periods- 1971-1995 and 1996-2017- we see something very interesting. In the first period, there is a positive correlation between real mortgage rates and housing starts (i.e. more houses were built when mortgages were expensive. Does that make sense?). In the second period there is no correlation between real mortgage rates and housing starts. There is no reason for any of this: rather, over the long run, mortgage rates do not affect demand for housing (I encourage you to plot housing starts vs. the three demand drivers I mentioned; I'm sure you'll find a positive correlation).
For those who still aren't convinced (it is an unintuitive result; even I was surprised), perhaps take solace in this following: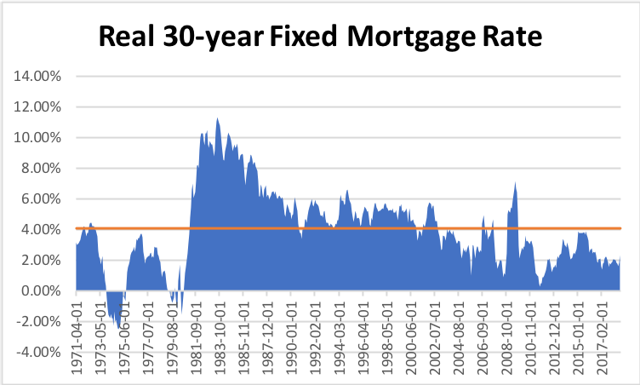 (Source: Author's image, data gathered from FRED Economic Database)
Real mortgage rates now are still well below what they used to be. In fact, we are a full 200 basis points lower than the 70-year average. It's important to take these interest rate hikes in perspective: The Fed is simply trying to revert the economy back to pre-crisis levels. Because rates have been at crisis-level lows for over a decade (in his A Short History of Financial Euphoria, Galbraith talks about the magic of a decade on our psychology), people have begun to take them as the norm when we are in fact paying less for mortgages that we ever have in history.
To conclude, housing isn't in oversupply; you just aren't looking at the right numbers. Housing isn't expensive; you just don't have a long enough horizon. When the consensus focuses on raw data like housing starts and noting softness over the past few months, they are not looking at the whole picture. If your investment horizon is long-term, it is easy to see that homebuilders like NVR, H.R. Horton, Lennar, LGI Homes (NYSE: LGIH), etc. stand to benefit dramatically from continued strength in the housing industry. Considering recent price action on these names, I believe presently there is a good opportunity to enter these names at extremely low multiples.
Disclosure: I am/we are long NVR. I wrote this article myself, and it expresses my own opinions. I am not receiving compensation for it. I have no business relationship with any company whose stock is mentioned in this article.