Introduction
After looking at General Electric's (NYSE:GE) latest results and share price, you'd assume we're in the middle of another financial crisis, with headlines likes "GE slashes dividend, splits power business" and "GE tumbles below $10 to lowest since April 2009". However, we're not, at least not yet, and this further amplifies the severity of the situation by casting doubt over the company's ability to handle any possible future economic shocks.
Since releasing its third-quarter results earlier this week, I've been endeavoring to determine a fair valuation. However, the sheer volume of uncertainties surrounding the company has made this practically impossible. This has been quite frustrating - after all, with shares now trading in the single digits, it appears they offer compelling long-term value, but similar thoughts were common one year ago and look where we are now. Therefore, in this article, I will discuss the various events and actions that I wish to see occur before I consider investing.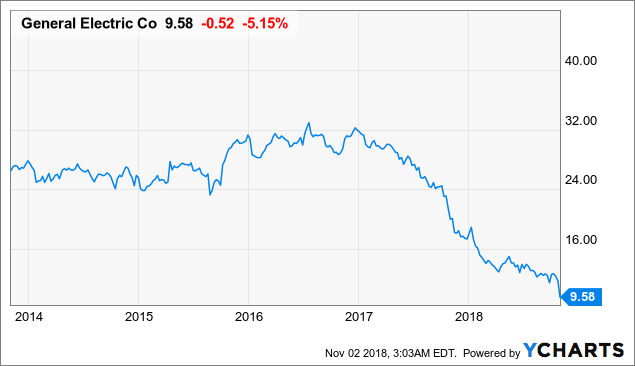 What I Would Like To See Happen
I feel that it's necessary to frame my views contained in this article by providing my outlook on the current and future global macroeconomic environment in the medium term. It's likely that virtually everyone reading this agrees that we're in the late stages of this economic cycle and there are several serious risks building up. Whilst the list of risks is extensive, I believe the three main ones are the US-China trade war, rising interest rates in a highly indebted world and the possibility of an economic slowdown or recession around 2020.
It's my opinion that at minimum the world's economies are likely to suffer a significant economic slowdown in the coming years, and therefore, it will mean a more difficult operating environment for GE even if we avoid any crises. If I were expecting a period of massive global economic expansion, then I would be less concerned over the following factors. However, I feel this would be an overoptimistic outlook to hold.
Reduce Leverage
Reducing its leverage is the most important action I would like to see occur, as when economic growth slows or interest rates rise, it can threaten the survival of the company if it's already over-leveraged during more economically accommodative times. Since GE is struggling financially at the moment whilst times are still quite prosperous, it paints a scary picture of its ability to weather any economic slowdowns or crises.
During the third-quarter conference call, its new CEO stated the company doesn't have any plans to raise equity; however, I feel this may not be the best course of action. Given the weak free cash flow, the problems at GE capital, a large pension liability and an even larger debt pile, I believe the company's capital structure is over-leveraged. Since I see several serious economic issues amassing on the horizon, I believe the most prudent option is to lower its leverage as quickly as possible.
The recent decision to cut its dividend to effectively zero was a sensible move, albeit too late, and therefore, I believe GE should raise equity whilst the financial markets are still accommodative as a whole. Whilst this would be an incredibly painful experience for shareholders given the current share price, it would completely rectify one of its core problems and also reset the company.
Given the macroeconomic risks, I'm concerned that if the company continues to drag its feet trying to avoid an equity raising, the situation could easily worsen in the coming years, and this would definitely be reflected in further share price falls.
If GE's market valuation continues to slide, it's quite possible it may be unable to raise enough capital or the dilution would be even worse. I understand that this opinion is probably unpopular. However, I believe it's better to strengthen the company now when it can, instead of gambling the global economy will stay strong for years to come.
Even though GE is planning to sell $20 billion of assets, I'm concerned this will not adequately address its over-leverage, as it will also lower the company's earnings. At the end of the day, your debt is only sustainable if your earnings are high enough, regardless of whether you're a household, company or government. If the company chose to lower its debt and earnings simultaneously, it would likely only temporarily relieve any possible liquidity issues and kick the can down the road, figuratively speaking.
If GE managed to greatly improve its GAAP free cash flow soon, then it's possible to avoid the need to raise equity. However, this seems unlikely, and thus reinforces why an equity raising is required. Furthermore, if the company actually managed to turn around its sliding free cash flow, I would like to see it come from increased sales, not just slashing expenses significantly lower. When a company is trying to boost its free cash flow, it can be tempting to reduce research & development expenses; however, this would negatively impact its ability to continue developing market leading products. Whilst this would technically work in the short term, it would create more issues in the long term by giving the competitors a massive advantage.
Report the Cash Flows of Its Individual Business Segments
Improving the quality and transparency of its earnings reports would be very useful in determining a fair valuation for GE. The cash flow numbers for each business segment would be particularly useful, as a great deal of the potential value embedded in its shares stems from the company's aviation and healthcare businesses.
Even though it reports each segment's profits, GE doesn't provide the cash flows numbers for any segments other than oil & gas, as Baker Hughes (NYSE:BHGE) is required to make SEC filings. Without these cash flow numbers, I'm apprehensive about basing my valuation, and hence, investment decision on its profit numbers, given the company's accounting policies are currently under investigation. Whilst I'm not necessarily insinuating these profit numbers are "cooked", I feel it's prudent to be cautious, especially when the company's overall GAAP operating cash flow has been terrible.
In the unlikely event that these cash flow numbers are actually produced, I hope GE provides GAAP operating cash flow and capital expenditure and not the adjusted numbers it is seemingly always promoting. I understand and appreciate this extra reporting would be time consuming; however, surely company management has access to these numbers within its internal accounting systems. Providing these numbers would confirm the strength of its good business segments, increase the transparency of its earnings reports and ultimately help restore a degree of market confidence.
An End to the SEC and DOJ Investigations
I understand GE's management team has essentially zero control over this aspect, nonetheless, it's creating a great deal of uncertainty and is thus making it very difficult to derive an accurate valuation. The fact that the investigations are still ongoing is a red flag and is too speculative in nature for me to make any predictions. Therefore, until we know the outcome of this investigation, I believe the wisest decision is to stay on the sidelines.
Clarity on Its Asset Divestment Plans
This is an area that will become clear as more time passes, as it takes time for the new CEO to evaluate his options and make decisions. However, until these are known, it remains an uncertainty. I'm hoping GE avoids selling off its good assets for low prices to simply provide temporary capital relief in the short term. Overall, I would rank this as the least important issue I have at the moment, and if the other three issues were resolved, I would likely be willing to accept this uncertainty if the shares were undervalued.
Final Thoughts
GE's first decades during this century are not only a cautionary tale on the effects from poor managerial choices that resulted in weak free cash flow and too much debt, but its attempted recovery is a one of the dangers of taking half measures. It was apparent at least one year ago that there were serious problems that needed to be addressed, yet previous management teams dragged their feet on taking the necessary steps, and as a result, the problems have continued to grow unabated. I'm a fan of never taking half measures when rectifying important issues in life, regardless of whether they're business or personal. Whenever an issue arises, I believe it should be completely dealt with immediately. Otherwise, you end up like GE, or even worse, Sears (OTCPK:SHLDQ).
Conclusion
Since there is simply too much uncertainty around GE at the moment, I will continue sitting and watching from the sidelines until I see my underlying concerns alleviated. Investing during periods of high uncertainty can be extremely profitable; however, unless you're operating with inside information, this profit stems from pure luck. When selecting long-term investments, it's not about gambling, it's about taking calculated risks - and presently, I don't believe this is possible. Furthermore, even though GE shares have fallen massively during the past year, it doesn't mean they cannot fall considerably further. Successful long-term investing is as much about avoiding losses as it is about picking winners.
Disclosure: I/we have no positions in any stocks mentioned, and no plans to initiate any positions within the next 72 hours.
I wrote this article myself, and it expresses my own opinions. I am not receiving compensation for it (other than from Seeking Alpha). I have no business relationship with any company whose stock is mentioned in this article.