2018 YTD Chart: +56.48% New High YTD
Cumulative return with 1-Week holding period.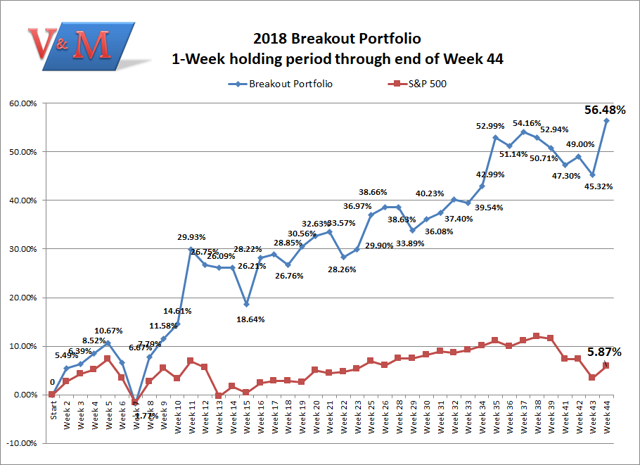 Breakout Forecast Selections for Week 45:
The Momentum Gauges finally showed some improvement after deteriorating since week 39. The positive momentum gauge increased slightly to 18 this week from a value of 4 last week. This positive shift encouraged some trades in leveraged bull funds LABU, FNGU, UBIO, and SOXL this week for good gains.
The positive momentum gauge set its all time highest score of 120 in Week 34 of 2017. The all time low for the positive momentum gauge reached 0 during the early part of this past Week 44.
The negative momentum score declined significantly in the last couple days down to 62 from 118 at the end of the prior week. A new negative record high was set at 121 during the week of 43 that has changed the scales to a max of 130 now.
Last week's report: Week 44 Breakout Forecast: Short-Term Picks To Give You An Edge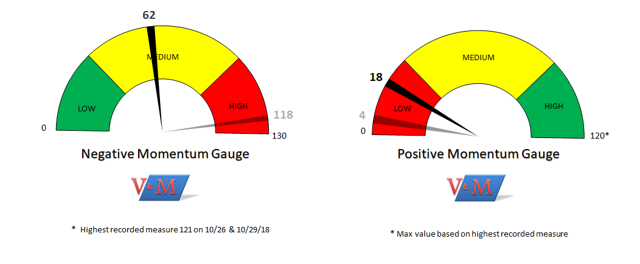 My momentum gauges are based on the count of the momentum stocks screened as either positive accelerating or negative accelerating stocks based on my research algorithm. The combination of the two different types of momentum categories screened by segments 2 and 6 of my algorithm may help validate the quality of the overall market momentum strength.
We are not out of the woods and many of these warning indicators still apply into next week.
8 Warning Signals Of Deteriorating Market Conditions
Much of the rally this week appeared to based on news of some positive steps toward settling the trade war with China. There remains a high degree of uncertainty.
Total Return Chart: +97.67% New All-Time High
The Total Return Chart reflects total return of all stocks in the weekly portfolio.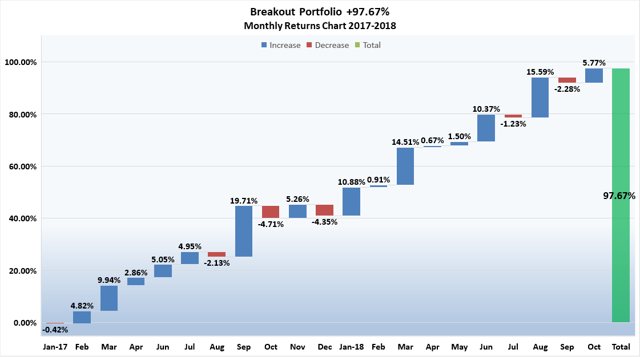 (Source: Value & Momentum Breakouts)
October finished above average for the monthly gains. Last Week 44, four selections moved above 10% through the week. Nordic American Tankers LTD (NAT) was the best performer with a gain of +22.45%, Trivago (TRVG) finished up 16.80% and NeoGenomics (NEO) gained 16.07%. This week I have selected 8 breakout stocks entirely from the Healthcare sector.
The 2 sample selections of positive momentum stocks for this week include:
BioCryst Pharmaceuticals (BCRX) - Healthcare / Biotechnology
Kadmon Holdings (KDMN) - Healthcare / Biotechnology
Caution: These stocks are not necessarily recommended for long term buy/hold unless you are comfortable with very large price swings. These are the most volatile selections I offer from among all the different Value & Momentum portfolios.
1. Strong momentum events usually last from one to three weeks and may encounter some substantial decline before returning again to positive gains.
2. Proposed entry points for each of the selected stocks are as close to the highlighted prices in yellow on the charts at market open.
3. Buying Breakout Stocks during Red conditions measured on the Momentum Gauges greatly increases risk of loss. Red conditions are the best times to hedge exposure.
Breakout Stock Selections for Week 45
Sample #1: BioCryst Pharmaceuticals (BCRX) - Healthcare / Biotechnology

Price Target: 9.00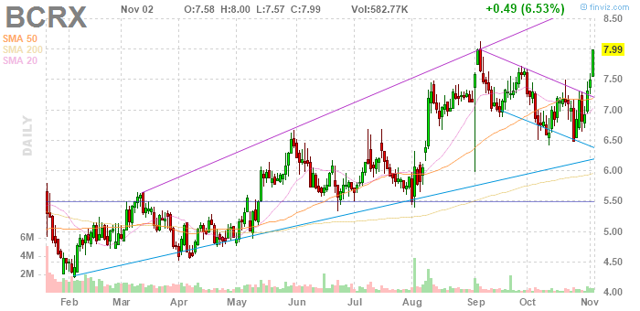 (Source: FinViz)
BioCryst Pharmaceuticals, Inc., a biotechnology company, designs, optimizes, and develops small molecule drugs that block key enzymes involved in the pathogenesis of diseases. The company markets peramivir, an intravenous neuraminidase inhibitor, which is approved for uncomplicated seasonal and acute influenza in the United States and Canada under the name RAPIVAB, in Japan and Taiwan as RAPIACTA, and in Korea as PERAMIFLU; and Mundesine, an oral purine nucleoside phosphorylase inhibitor to treat cancer in Japan.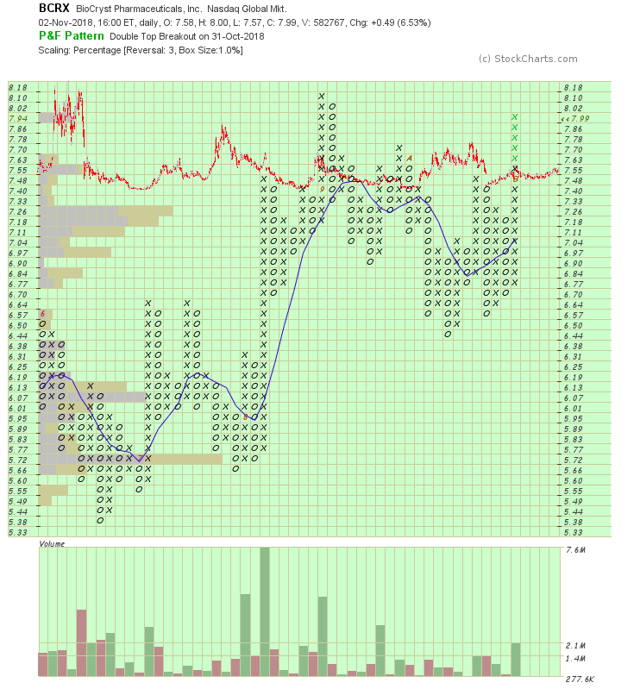 (Source: Stockcharts)
Sample #2: Kadmon Holdings (KDMN) - Healthcare / Biotechnology

Price Target: 4.25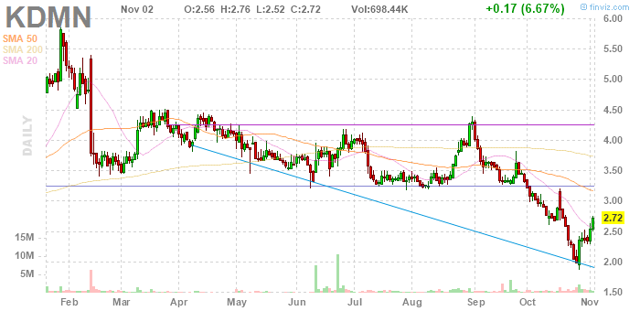 (Source: FinViz)
Kadmon Holdings, Inc., a biopharmaceutical company, discovers, develops, and commercializes small molecules and biologics primarily for the treatment of inflammatory and fibrotic diseases. The company markets and distributes a portfolio of branded generic ribavirin products for chronic hepatitis C virus infection; and distributes products in various therapeutic areas, including tetrabenazine for the treatment of chorea associated with Huntington's disease.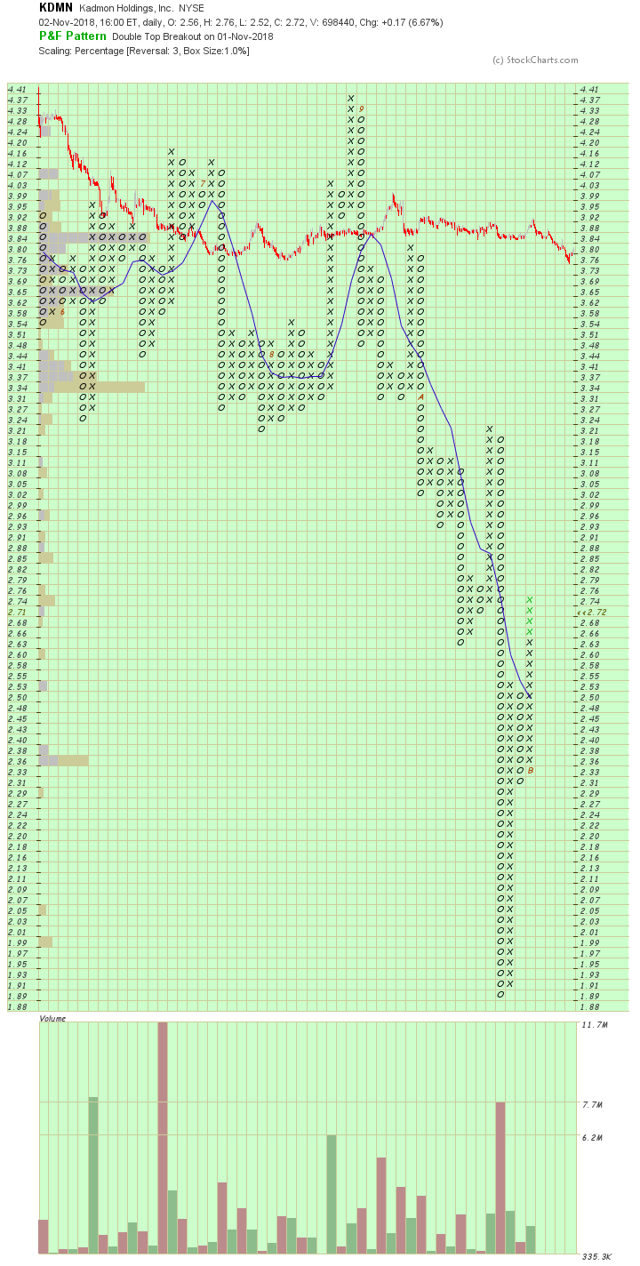 (Source: Stockcharts)
Note: all breakout stocks are selected based on my algorithm to increase the frequency of 10% gains within a very short period of time. Price targets are estimated through an unrelated technical charting process for those who are looking for estimated exit points, however it is possible the momentum in these selections may move well beyond the initial target.
Top BO Gainers last four weeks:
Nordic American Tankers (NAT) +22.45%, Trivago (TRVG) +16.80%, NeoGenomics (NEO) +16.07%, NII Holdings (NIHD) +29.03%, Intrepid Potash (IPI) +10.80%, Cambium Learning Group (ABCD) +19.82%, GOL Linhas Aereas Inteligentes (GOL) +71.41%, DHT Holdings (DHT) +9.38%, Arcos Dorados Holdings (ARCO) +9.00%, Turkcell Iletisim Hizmetleri (TKC) +8.75%.
Click the "Follow" button at the top of the page to enjoy free updates and select real-time alerts if you want timely updates on the latest stocks and portfolios I offer that are outperforming the S&P 500 in each of their respective time periods.
Be sure to check out my many other free articles here.
I think these breakout stocks will serve you well in Week 45 and beyond. I hope you all do well with these stocks and always diversify to minimize some of the market risks.
All the very best and have a great week of trading!
JD Henning, PhD, MBA, CFE, CAMS
To subscribe to Value and Momentum Breakouts, click on the link here.
Disclosure: I am/we are long MDXG, LABU, SOXL. I wrote this article myself, and it expresses my own opinions. I am not receiving compensation for it (other than from Seeking Alpha). I have no business relationship with any company whose stock is mentioned in this article.
Editor's Note: This article covers one or more microcap stocks. Please be aware of the risks associated with these stocks.