Last week, Berkshire Hathaway (BRK.A) (BRK.B) made headlines when they announced $600 million in investments into 2 fintech companies; StoneCo (STNE) and PayTM - India's largest mobile payment service.
The investments were noteworthy due to their deviation from Berkshire's normal investment strategy. Though the investment was from Todd Combs, a portfolio manager at Berkshire and not Warren Buffett, it is still a little bit of a surprise to see Berkshire invest in a company that just had its IPO a week prior.
Obviously, Todd Combs and the Berkshire management see tremendous promise in the future of mobile payments and the fintech industry as a whole.
Berkshire may have made their bets, but for individual investors, picking a winner in this rapidly evolving industry may be hard. That is why I think the Global X FinTech ETF (FINX) provides a great option for investors to allocate investments into the fintech space.
What is Fintech?
You have probably seen the impact of Fintech in just about every aspect of your life. From ordering your morning coffee with Starbucks (SBUX) (who now processes 30% of their transactions via mobile payments), to managing your life savings (Half of Americans deal with their bank primarily through their smartphone or desktop computer), technology is rapidly disrupting how we buy products, interact with companies, and even save for retirement.
Today, fintech is disrupting just about every area of our lives: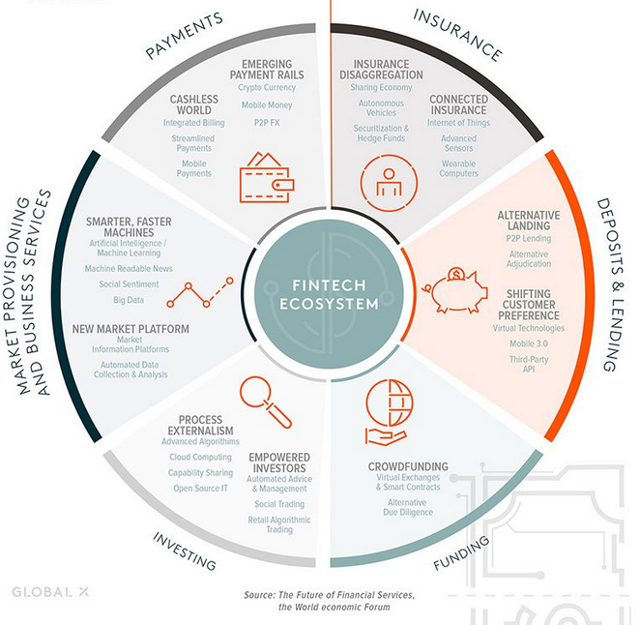 Source: Global X Exploring Fintech Growth
The fastest areas of growth for fintech companies are in payments and payment processing, business services ("big data" to help companies be more efficient), and lending.
These companies will facilitate the more than $1 trillion in payments that will be sent digitally in 2019, help borrowers raise more than $6.6 billion via peer-to-peer lending, and collect a portion of the $100+ billion that businesses are estimated to spend on fintech business services in 2019 (Source for numbers).
How can you invest in this exciting area? That's where Global X's FinTech ETF comes along.
Inside the ETF
The Global X FinTech ETF provides investors exposure to 37 different fintech companies, primarily concentrated in the data processing and software industries: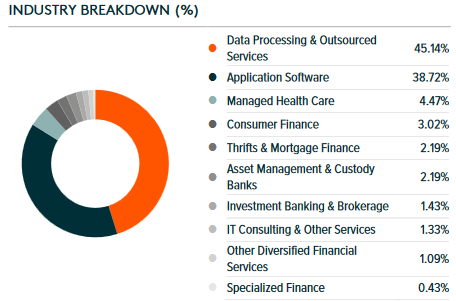 These companies are primarily located in the United States, but there are companies from more than 10 different countries represented.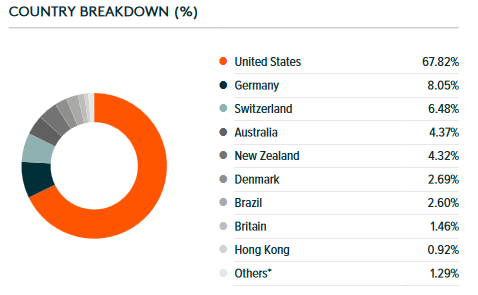 Source for allocation graphics: Global X Fund webpage
Though, like many geographical breakdowns today, this is a little bit misleading because many of the U.S. based companies do business all around the world.
For example, PayPal (PYPL), the fund's fourth largest holding receives half of its revenue from international operations (Source: Page 24 of the companies most recent 10-K)
And, FiServ (FIS), the fund fifth largest holding, receives 26% of revenue from international operations (Source: Page 22 of most recent 10-K)
So although it may appear the fund is concentrated in the U.S., many of its holdings do business around the world. That's important, because as we will show later, international and emerging markets represent a huge opportunity for growth for fintech companies.
The companies that make up this ETF are growing rapidly, and in the early stages of growing and building their brands. For that reason, these companies hardly appear "cheap" on any fundamental basis.
The holdings of the fund currently trade at an average PE of 30 and a price to book of 5. However, with the ETF rising nearly 20% over the last year, the fund's multiples have come down significantly.
A year ago, the fund traded at a PE of 38 and a price to book of 6. Even with rapid share price appreciation, these companies have become cheaper on a fundamental basis over the last year due to rising profits.
Source for multiples: Global X Fund webpage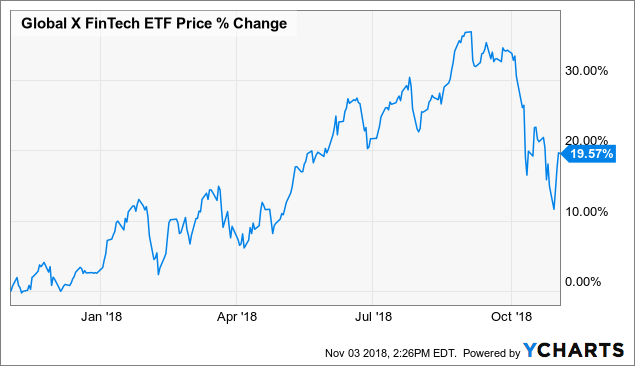 So far, these companies are earning their multiples. Can that continue?
A Growing Industry
Fintech is making waves here in America, but many of the legacy banks and finance companies are proving to be stiff competition.
The companies in FINX are priced for substantial growth though. Can they live up to their expectations?
I believe so, because internationally there is tremendous growth in the need for modern financial services that these fintech companies can provide.
This year, 160 million people around the globe will move out from poverty and into the middle class. Most of those are from China and India. That is 160 million people that will need banking, money transfer, mobile payment, wealth management, insurance, personal finance software, tax software, and so much more.
And this is where fintech can truly shine. A traditional bank will have a tough time rapidly expanding to access these new customers. New banks need to be built, staff hired and trained, and salespeople rolled out. Whereas fintech companies like Wirecard AG (FINX's third largest holding) already have their infrastructure built out and can add clients from around the world for a very little cost. Companies like Wirecard, Paypal, and Square just need their customers to download an app from their smartphone in order to connect into the world economy.
Better still, those in emerging markets seem to be much more open to fintech.
Across the globe, 33% of digitally active people have adopted fintech.
In emerging markets, that number is 46%, led by China and India: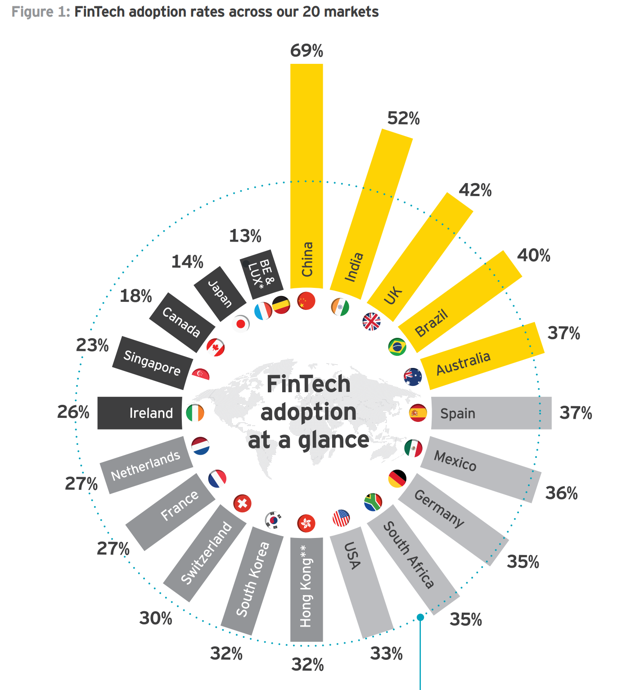 Source: EY Fintech Adoption Index 2017
And, adoption is growing in nearly every part of fintech: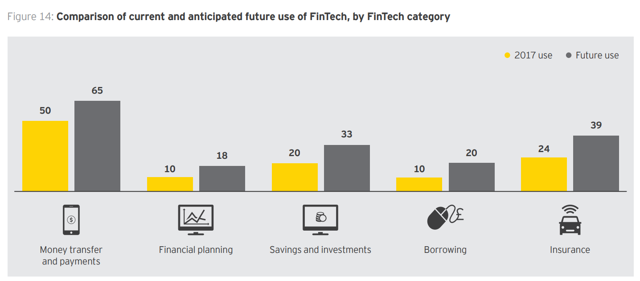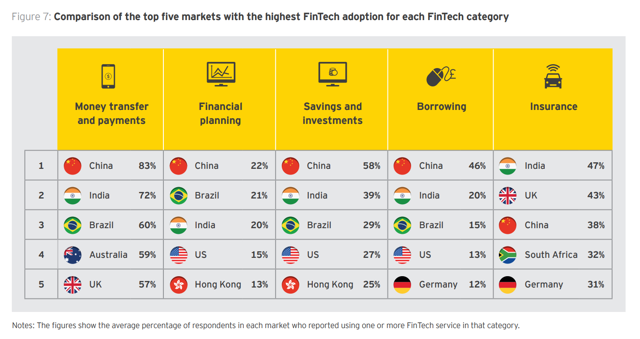 Source: EY Fintech Adoption Index 2017
What does all this potential growth mean? Profit, and potential plenty of it.
Rapid Earnings Growth Too
FinTech is one of the fastest growing segments in the technology space. Not only are we seeing rapid revenue growth today, but the actual earnings from these companies are rising very fast as well - In fact, fintech earnings are rising at a faster rate than the technology, software, or finance industry as a whole.
Here are the earnings growth rates for various technology and finance related ETFs today:
| | |
| --- | --- |
| Fund | Earnings Growth |
| Global X FinTech (FINX) | 27.4% |
| Vanguard Information Technology (VGT) | 8.1% |
| iShares North American Software (IGV) | 5.9% |
| SPDR Software and Services (XSW) | 15.7% |
| SPDR Financial Sector ETF (XLF) | 9.1% |
| SPDR S&P Regional Bank ETF (KRE) | 10.1% |
This data for this table comes from each fund's website.
At a time when many of today's technology companies are boasting about their increase in revenues, it's nice to see that this industry is seeing growth in actual profits.
These companies have spent a few years with high expenses building out their digital infrastructure. Now, as new customers join in, new revenue is rapidly flowing through to their bottom lines.
How Big Can Fintech Get?
Just how much is up for grabs? Accenture estimates that the world's new emerging middle class will produce an extra $380 billion in annual revenue for the banking industry alone.
And fintech has the potential to impact much more than just banking: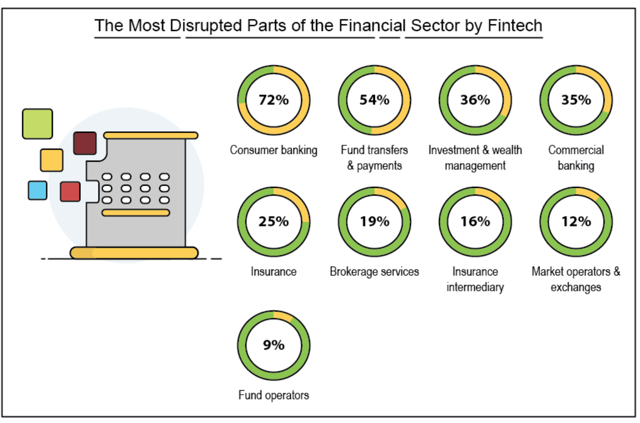 Source: BankingTech
The potential size of the market is truly staggering. Besides traditional banking, there are trillions of dollars in brokerage accounts, trillions in mobile payments, and hundreds of billions in insurance premiums - all in the cross-hairs of this emergent new industry.
The companies within this ETF have already seen their revenue grow substantially.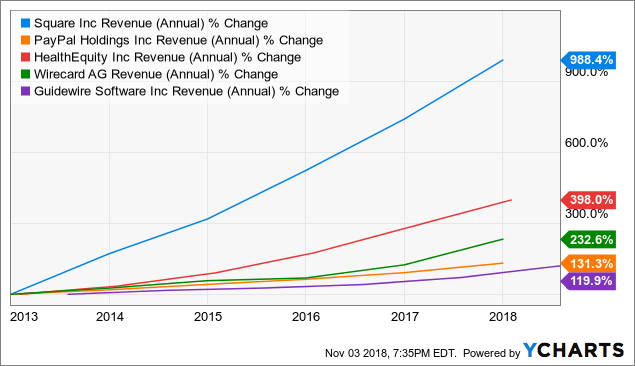 And there is plenty of runway left to keep the growth going.
Summary
Fintech has certainly become a buzzword on Wall Street today. But so far, the companies appear to be living up to the hype.
There is little doubt that as more and more of the world becomes connected to the internet that the demand for fintech's services will grow. As billions in revenue come up for grabs, fintech companies stand ready to gain a sizable portion of that.
There will be some big winners in the fintech space. For those that want to take the chance to select individual names, the holdings of the ETF are a great place to start your research.
However, because of the increasing competition, and rapidly evolving industry that will make selecting a winner difficult, I am inclined to consider FINX over individual names.
Disclosure: I/we have no positions in any stocks mentioned, and no plans to initiate any positions within the next 72 hours.
I wrote this article myself, and it expresses my own opinions. I am not receiving compensation for it (other than from Seeking Alpha). I have no business relationship with any company whose stock is mentioned in this article.
Editor's Note: This article covers one or more microcap stocks. Please be aware of the risks associated with these stocks.