As Energy Transfer LP (NYSE:ET) gets ready to report its third-quarter results, readers should take a look at how the company can both fix a major problem for North Dakotan oil producers and make a nice return in the process. North Dakotan oil supplies are starting to trade well below the West Texas Intermediate benchmark, a problem that has plagued the state's upstream industry for years. Expanding the Bakken Pipeline is the only real solution, which is where Energy Transfer LP comes into play. Let's dig in.
Rising North Dakotan oil production
North Dakota's oil production climbed from 983,826 barrels per day in January 2017 to 1,291,496 barrels per day in August 2018. Several factors are at play here, but the biggest two are rising West Texas Intermediate prices and a shrinking Bakken-WTI differential (before things took a turn for the worse, which is a very recent development). The Bakken-WTI differential measures the difference between the price per barrel of light sweet oil supplies at Clearbrook, Minnesota, and Cushing, Oklahoma.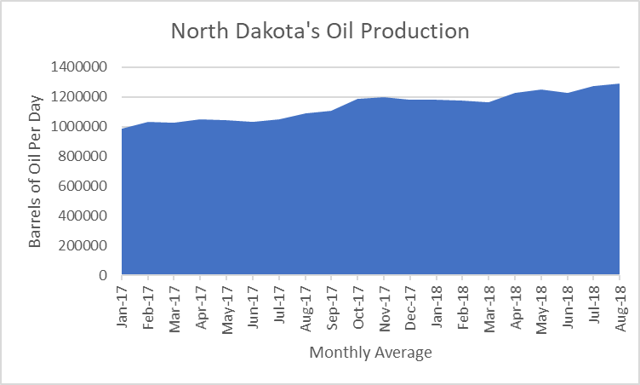 Source: North Dakota's Department of Mineral Resources – Author's Calculations
The shrinking differential was due to North Dakotan oil supplies being able to utilize the Bakken Pipeline to reach out-basin markets, particularly those in the Gulf Coast. Before the Bakken Pipeline was operational, North Dakotan oil supplies would fetch $10-15/barrel below WTI as far more expensive transportation options were needed to reach out-basin markets.
After the pipeline was completed in June 2017, that differential basically evaporated. By mid-2018, Bakken oil supplies were actually trading at a premium to WTI due to weather related reasons (namely hurricane activity). However, North Dakotan oil producers still had to deal with higher transportation costs than many of their peers (effectively, North Dakotan oil supplies started selling at prices roughly on par with WTI but that gain was eaten into due to higher pipeline tariffs). On a net basis, North Dakotan oil realizations firmed up by $5-10/barrel relative to WTI.
However, due to Canadian light oil supplies recently touching record lows (which Platts noted), the Bakken-WTI differential is coming under pressure once again (as those barrels have to compete with cheaper Canadian supplies along the same pipeline takeaway networks). December 2018 deliveries of Bakken oil supplies at Clearbrook, Minnesota, are trading more than $20/barrel below WTI as of this writing. Even by historical standards that is quite large. Again, keep in mind this is a very recent development as it wasn't long ago Bakken oil supplies in Clearbrook were trading at a premium to WTI.
Note that the futures curve is indicating this differential will move precipitously lower in January 2019 as it moves back below $8/barrel. A large part of this reversal comes down to the ability to ship Bakken crude from North Dakota to the Gulf Coast for ~$8/barrel, but it takes time for crude-by-rail transportation options to start moving significant amounts of oil.
In the short-to-medium term, Energy Transfer LP has offered North Dakota's upstream industry a solution that is both economical and relatively easy to complete. The futures curve indicates that the Bakken-WTI differential will be back below $5/barrel by 2020, which is in large part due to the actions of Energy Transfer LP.
Energy Transfer's role
During the Energy Transfer family's second-quarter conference call of 2018, management commented [this excerpt was relating to Energy Transfer Partners LP before it was rolled up into Energy Transfer LP]:
"Now moving on to the crude oil segment, adjusted EBITDA increased to $548 million compared to $228 million for the same period last year. The increase was primarily due to placing our Bakken pipeline in service in the second quarter of 2017, increased throughput on existing pipelines, primarily from Permian producers and higher ship loading and throughput fees at our Nederland terminal…

Crude transportation volumes increased to 4.2 million barrels per day compared to approximately 3.5 million barrels per day for the same period last year, primarily due to placing the Bakken pipeline in service on June 1, 2017 and increased production from the Permian Basin. During the second quarter volumes on our Bakken pipeline averaged 473,000 barrels per day."
It takes a lot for a midstream giant the size of Energy Transfer LP to post double-digit increases in its transported oil volumes, but the Bakken Pipeline was no small accomplishment. Building the Dakota Access Pipeline required laying 1,172 miles of new thirty-inch diameter pipe into the ground. This system runs through four states; North Dakota, South Dakota, Iowa, and Illinois. Energy Transfer was met with protests, legal hurdles, and other obstacles throughout its journey as it sought to connect North Dakotan oil supplies with the oil hub in Patoka, Illinois, and ultimately Gulf Coast refineries.
The other half of this journey required converting the Energy Transfer Crude Oil Pipeline, which runs from Patoka, IL, down to Energy Transfer's Nederland crude terminal in Texas. While this project crossed through seven states, Illinois, Kentucky, Tennessee, Mississippi, Arkansas, Louisiana, and Texas, it was a markedly easier development.
Instead of building an entire new pipeline system, Energy Transfer converted 676 miles of an existing natural gas pipeline (which before this project was part of the Trunkline natural gas pipeline network) to run in the opposite direction and carry oil instead. Only 67 miles of new pipe had to be laid into the ground as part of this project.
Combined, the Dakota Access Pipeline and the Energy Transfer Crude Oil Pipeline make up the Bakken Pipeline. Energy Transfer LP is the operator of the Bakken Pipeline and owns a little over a third of the system.
Now that this pipeline system is operational, Energy Transfer can begin the next phase, capacity expansions. The development was originally built to transport 470,000 barrels of crude per day, with 250,000 bpd-300,000 bpd ultimately ending up in the Gulf Coast according to Platts. Readers should keep in mind the remainder is sent to refineries along the East Coast, the Midwest, and possibly some refineries in the South after reaching Cushing, Oklahoma.
On October 19, 2018, Energy Transfer announced that it was launching a binding open season to secure support for expanding the capacity of the Bakken Pipeline. Last year, the company launched an open season which secured commitments to transport 525,000 bpd along the system. The latest open season seeks to boost that up to at least 575,000 bpd. Modifications and upgrades to the various pump stations along the Bakken Pipeline will enable the system to transport an additional 100,000 bpd versus its initial capacity.
During the second quarter of 2018, the Bakken Pipeline carried 473,000 bpd on average. Readers should expect this to climb materially over the coming quarters as Energy Transfer rushes to capitalize on the rising Bakken-WTI differential and rising North Dakotan oil production. It is far easier to upgrade pump stations than it is to build a new pipeline.
Going forward, it is possible bolt-on projects (which would require laying down additional pipe) will be required to support North Dakota's rising oil output. Such an endeavor would certainly be in the best interests of both North Dakota and Energy Transfer, a win-win.
Final thoughts
After witnessing the Bakken-WTI differential evaporate due to the Bakken Pipeline coming online last year, North Dakota's upstream industry is once again facing a familiar and dreadful proposition. The question boils down to should North Dakota's upstream operators keep increasing their oil production knowing that output growth is putting a tremendous amount of pressure on their realizations and thus their bottom line. Energy Transfer LP offers the most straightforward solution, additional takeaway capacity along an existing system. This is upside worth considering as Energy Transfer LP gets ready to post its Q3 2018 results. Thanks for reading.
Disclosure: I/we have no positions in any stocks mentioned, and no plans to initiate any positions within the next 72 hours.
I wrote this article myself, and it expresses my own opinions. I am not receiving compensation for it (other than from Seeking Alpha). I have no business relationship with any company whose stock is mentioned in this article.