Symantec (SYMC) has been one of the few cybersecurity stocks to struggle this year, down over 30% year to date. Its underperformance started after the Q4 earnings release when the company noted it is conducting an internal investigation related to historical financial results. After a softer-than-expected Q2 guidance, the stock took another hit.
Q2 results came in ahead at the high end of previous guidance and ahead of consensus expectations. Though Q3 guidance came in a little light, management reiterated some of its longer-term 2020 guidance metrics and investors seem to have turned the corner with this name. The stock jumped ~10% since reporting earnings and it seems like the company has found some solid footing and could begin to see an upward trend over the coming weeks.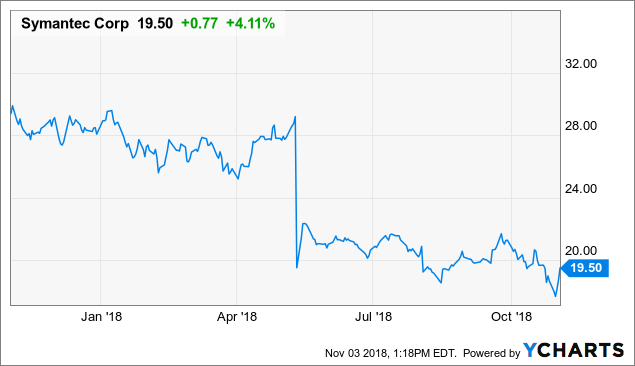 The recent appointment of board members from Starboard Value and what appears to be the bottom of the stock's downfall place SYMC in a position to become more critical on valuation. Over the long run, I believe the internal investigation antics have largely been played out and SYMC has the ability to generate impressive revenue growth and cash flow metrics.
Underperformance and Recent Uplifting News
SYMC's year-to-date underperformance began in its Q4 earnings this past May. Management noted there was an internal investigation related to historical financial results and non-GAAP measurements. Though the investigation is still under review, SYMC's shares have taken the brunt of the downside hit already. In essence, this investigation is likely going to relate back to how SYMC presented its historical financials. It should be noted that the investigation began from a former employee bringing this story to attention.
Though the details of the investigation are yet to be finalized, a majority of "worst-case" scenario should be priced into the stock. If SYMC has to go back and restate its financials for some sort of negative impacts, the shares would take a hit. However, being down over 30% year to date compared to the S&P 500's near 6% performance demonstrates the disconnect to performance.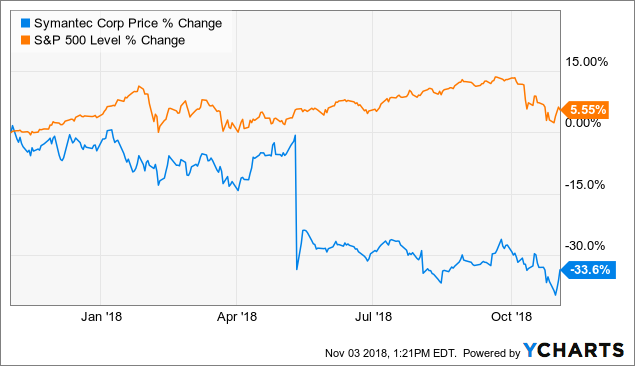 More recently, SYMC and Starboard Value announced a "refreshment plan" which looks to revamp the Board and help the company get passed this internal investigation. Starboard Value owns nearly 6% of SYMC's shares, and this mutual agreement calls for SYMC adding three new members to its Board.
I believe this move by SYMC to work closely with Starboard will prove to be a great long-term, value-creating play. The soon-to-be new members to the SYMC board have experience dealing with an SEC investigation and will be able to successfully guide SYMC back to safer waters.
Q2 Earnings and Guidance
SYMC reported a strong-than-expected Q2 earnings last week which sent the stock up 10% since its low point on October 30. Although this could be the first sign of better things to come, investors should still tread somewhat carefully with this name for the short term.
For Q2, SYMC reported revenue of $1.16 billion, which declined by ~2% y/y. However, this was above consensus estimates for $1.15 billion. Revenue also came in at the high end of management's previous Q2 guidance range for $1.13-1.16 billion.
Non-GAAP EPS of $0.42 was well above consensus estimates of $0.33 for the quarter, which was driven mostly by stronger-than-expected operating margins.

Source: Company Presentation
Though non-GAAP operating margin continued the recent contraction trend, the 31.7% margin was significantly above consensus estimates for mid/high 20's operating margin. Part of the source of the operating margin beat was lower operating expenses, partially driven by management reducing up to 8% of its workforce over the next two quarters. This is probably the right move to make considering all of the unknown factors surrounding this company.
Starboard Value's "refreshment plan" likely had something to do with this as it probably sees that the lower employee count and reduced expenses will enable the company to focus more on its core growth trends.

Source: Company Presentation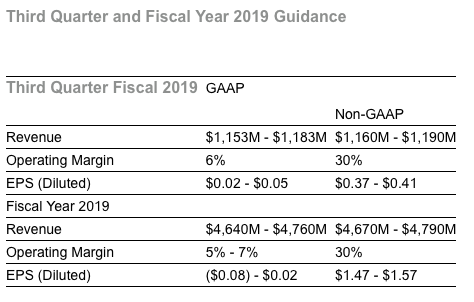 Source: Company Presentation
For the full year, SYMC reiterated its revenue guidance of $4.67-4.79 billion, which I believe speaks to the underlying confidence in the management team. There have been several companies which have lowered guidance for the year due to increased worries of the global economy and currencies.
Management also maintained its non-GAAP EPS guidance of $1.47-1.57, which is largely driven by operating margin guidance of 30%.
For Q3, management is guiding revenue to $1.16-1.19 billion with 30% operating margins. It is also expecting non-GAAP EPS of $0.37-0.41 for the quarter.
Valuation
Valuation for SYMC will be largely disputed until the company resolves the ongoing internal investigation. Because of the "unknown" factor about how the investigation may ultimately impact historical non-GAAP financials and possible guidance, investors are skeptical to be overly bullish on this name.
For my selective peer group, I chose a few legacy technology players that compete in similar fields as SYMC, including Cisco (CSCO) and Juniper (JNPR). Each of these players has seen its revenue growth decelerate over the years to single-digits and has become largely consistent at generating cash flows, similar characteristics to SYMC.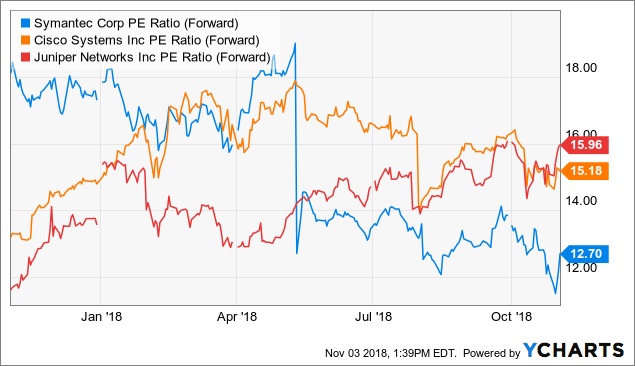 Although I believe SYMC deserves to continue to trade at a discount to the peer group, I believe there is some long-term upside here. When looking at management's full-year non-GAAP EPS guidance of $1.57-1.67 (which is higher than its original $1.50-1.65 guidance), this implies a slight decline compared to $1.69 reported for F18.
Taking the midpoint of $1.62 and Friday's closing price of $19.50, we get a F19 P/E of ~12x. To be conservative, I am assuming there is no growth to this number, and we see another non-GAAP EPS of $1.62 (to some, this may not seem all that conservative). This would imply SYMC trades at 12x F20 EPS (its fiscal year ends in March). This would be several turns below both CSCO and JNPR which trade at a ~16-17x multiple.
Over time, I believe SYMC's multiple will begin to expand as investors become more comfortable with the company and the results on the pending investigation conclude. Once we see revenue return to growth, I believe the stock will have quite a bit of room to run. The upside surprise to operating margins this quarter was a huge confidence boost for long-term investors holding on to this name.
Though there is still the large overhang from the internal investigation, SYMC's valuation appears to have bottomed out, and investors should be ready to start building a position.
Disclosure: I/we have no positions in any stocks mentioned, and no plans to initiate any positions within the next 72 hours.
I wrote this article myself, and it expresses my own opinions. I am not receiving compensation for it (other than from Seeking Alpha). I have no business relationship with any company whose stock is mentioned in this article.