Canadian oils are now trading as if they all will be out of business in the next 12 months.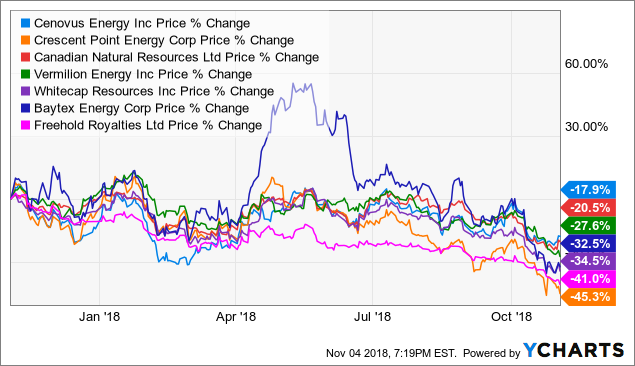 The market is focusing on the extremely low pricing for Canadian oil grades.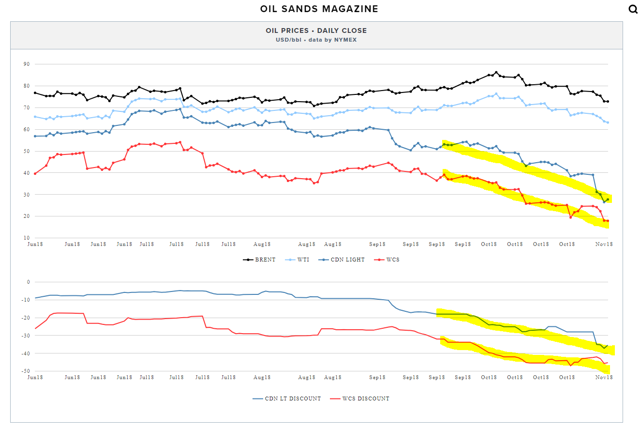 Source: Oil Sands Magazine
In the current article, we will focus on why the market is overreacting to the current differentials and why the situation will be fixed.
Why the impact is less than it appears
While investors are focusing on benchmark differentials, the portion exposed to this lower price varies by company and is certainly not 100%. Crescent Point Energy (CPG), for example, is minimally impacted.
"The Company's average selling price per barrel of crude oil was CDN$80.11 during third quarter. Despite the recent widening of Canadian oil differentials, Crescent Point expects its realized oil pricing in fourth quarter to be significantly stronger than Canadian index prices as approximately 90 percent of the Company's oil production is either located downstream of recent apportionment points or in the United States. As a result, Crescent Point currently expects its average crude oil selling price in fourth quarter to be only approximately 15 percent lower compared to third quarter, based on realized prices to date and current forward pricing."
It is important to note that all the lower pricing is reflective of lower oil prices in general and not associated with wider differentials. Others such as Cenovus Energy (CVE) are rapidly ramping up crude by rail (CrBR) and their downstream exposure mitigates another 25-30% exposure. Baytex Energy (NYSE:BTE) has several US operations and those are completely insulated from the Canadian oil differential problems.
Longer term solutions
The current situation is due to two main reasons.
There is decreased demand for Canadian oil along the Enbridge (ENB) Mainline due to refinery maintenance.
Current Canadian oil production exceeds available pipeline takeaway capacity.
The first situation will rectify itself within 3-4 weeks as Whiting refinery comes back online. The current maintenance schedule is longer than usual as refineries are upgrading to meet the IMO 2020 standards. The peak volumes of refinery outages approached 900,000 barrels per day this year. This compares to less than 500,000 barrels per day last year and under 300,000 barrels per day last year (Source: AltaCorp). With BP's (BP) Whiting scheduled to come back online by mid-November, the biggest source of drag will be gone. In addition, we have seen heavy oil cuts announced from Baytex Energy, CVE, Canadian Natural Resources (CNQ) and Meg Energy (OTCPK:MEGEF). These total about 100,000 barrels in total and should help reduce the glut into year-end.
Now the permanent oversupply of Canadian oil relative to takeaway capacity will take some more time. Current excess on the Mainline is around 150,000 barrels. Most estimates believe Canadian oil will expand 200,000 barrels per day by end of next year. We think it is over optimistic as capex is going down rather dramatically. But let's assume that this number is actually low and go with the 250,000 barrels per day number. That would put excess of supply over takeaway capacity at end of next year by 400,000 barrels per day. This will be rectified in 12 months with the following additions.
1) CrBR expansion
Canadian CrBR keeps hitting new records on a monthly basis.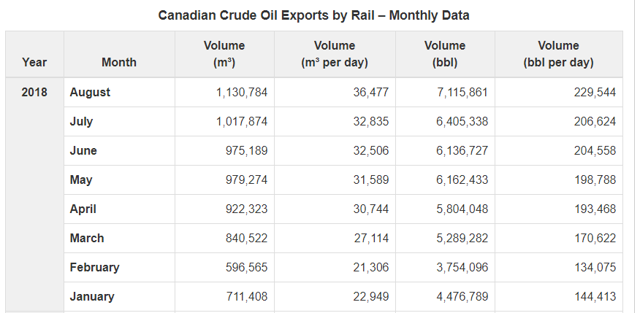 Source: NEC
Estimates for year-end exit vary from 260,000-300,000 barrels per day. Canadian Pacific Railway Limited (CP) and Canadian National Railway Company (CNI) are guiding for a combined 400,000 barrels per day plus in 2019.

Source: Eric Nuttall, Ninepoint Energy Fund
2) Line 3 expansion
Enbridge's line 3 with an expected operational date in November 2019 will add an additional 375,000 barrels of capacity. This capacity alone is about the maximum overcapacity we presume will exist.
3) Redwater Refinery
Northwest Redwater refinery is currently processing light sweet oil and will move into processing heavy oil in early 2019. Capacity should ramp to 80,000 barrels per day within 3 months.
4) Mainline optimization
ENB will be using drag reducing agents and changing the way barrels are apportioned on the Mainline to ensure no space is wasted. This should add an additional 150,000-175,000 barrels per day capacity in 2019.
Total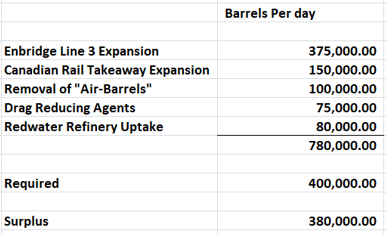 All of this is already in play and none of this requires additional approvals. It does require time to play out, though. One key point here is that even after all of this is done, CrBR will be using 400,000-425,000 out of its potential 1,000,000 barrels per day capacity. So there is a lot of slack here to get barrels moving. Additionally, Enbridge has plans to expand capacity by some rather simple moves that don't require a lot of hassle.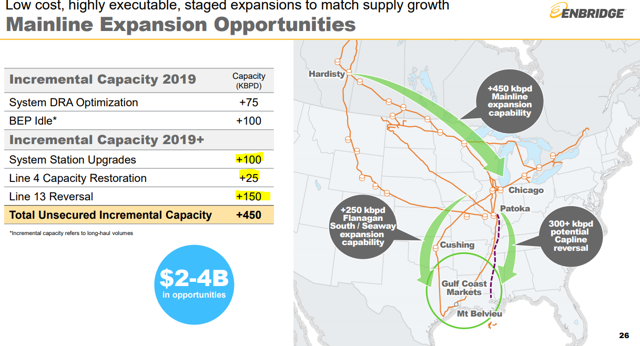 Source: ENB presentation
When you add these up along with TransCanada's (TRP) Keystone XL (which is much further along than TransMountain pipeline), we really don't have any issues. Patience is required, but we cannot be selling stocks at such low multiples when we see a clear line of sight to much better earnings and potential multiple expansion.
Conclusion
The fix is on its way in. There is plenty of demand for heavy oil as evidenced by pricing for WCS in Houston. Below we see that it trades at a very low differential to WTI price.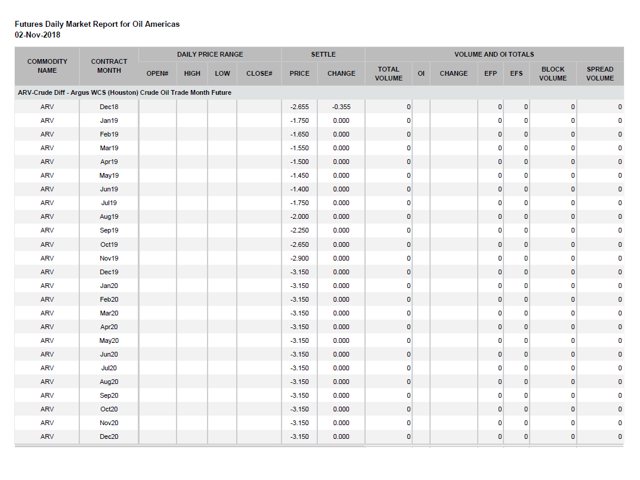 Source: ICE
The key remains getting the oil to the right point. Remember CrBR is only $10/barrel more expensive than pipelines, and if need be, all 1 million barrels of CrBR capacity will eventually be used. We would recommend buys on all Canadian oil names today with strongest recommendations on CVE, CPG, Whitecap Resources Inc (OTCPK:SPGYF) and Freehold Royalties Ltd. (OTCPK:FRHLF).
For more analysis such as this, along with real-time alerts on income stocks on both sides of the border along with option income ideas, please consider subscribing to our marketplace service Wheel of Fortune.
Disclaimer: Please note that this is not financial advice. It may seem like it, sound like it, but surprisingly, it is not. Investors are expected to do their own due diligence and consult with a professional who knows their objectives and constraints.
Seeking Alpha has changed its policies. Previously "following" someone required a ritualistic commitment and an offering of not less than 4 oxen or 3 breeding horses. Now, all it takes is one click! If you enjoyed this article, please scroll up and click on the "Follow" button next to my name to not miss my future articles. If you did not like this article, please read it again, change your mind and then click on the "Follow" button next to my name to not miss my future articles.
Disclosure: I am/we are long CVE, CPG, FRHLF, SPGYF.
I wrote this article myself, and it expresses my own opinions. I am not receiving compensation for it (other than from Seeking Alpha). I have no business relationship with any company whose stock is mentioned in this article.
Editor's Note: This article discusses one or more securities that do not trade on a major U.S. exchange. Please be aware of the risks associated with these stocks.