The month of October can be summed as "scary" and that's the same adjective that came to mind when I was summarizing the results of my "New Money Portfolio". In case you forgot, the portfolio comprises 25 REITs that are either STRONG BUYs now or were once STRONG BUYs earlier this year. (You may recall that we upgraded Park Hotels (PK) to a STRONG BUY a few days ago.)
In October the New Money Portfolio returned -4.2% – mainly influenced by the performance of Catchmark Timber (CTT) -14.9%, City Office (CIO) -14.8%, and UMH Properties (UMH) -14.6%. There were some bright spots in October, notably Jernigan Capital (JCAP) +5.3% and Ventas, Inc. (VTR) +4.6%.
As our marketplace and newsletter subscribers know, we provide readers with a more detailed playbook than just BUY/HOLD/SELL picks. Oftentimes investors need more clarity as it relates to messaging, so I provide a few more granular recommendations, such as STRONG BUY, SPECULATIVE BUY, and TRIM. Here's my definition of STRONG BUY:
Strong Buy means that I am recommending a high-quality REIT that is trading at a wider margin of safety. Recognizing principal preservation is critical, my recommendation is telegraphing readers that the company is a blue chip on sale.
One of the key valuation differences between a regular BUY and STRONG BUY is that the company must have enhanced price appreciation catalysts that support annual Total Returns of 25% or higher (over the next two years). Around two years ago, we had just two or three STRONG BUYs recommended, but now we have twenty-one (we downgraded 5 STRONG BUYs to ordinary BUYs since Q1-18).
Keep in mind, a STRONG BUY does not necessarily suggest that shares in these REITs will immediately rebound. Sometimes catalysts could be driven by macroeconomic forces (such as tax reform) or headwinds that could take quarters to play out.
Regardless, my "stepped-up" BUY recommendation is based on fundamental analysis in which we believe there is a good chance that the particular stock will outperform the regular BUY basket. The most important job for us at Rhino Rea Estate Advisors is to keep investors informed, because we believe that by staying actively tuned into the REIT universe investors have a much better chance of outperformance.
We are now adding another STRONG BUY to the New Money Portfolio and this time it's CyrusOne (CONE). Now let me explain the upgrade.
Note: We are including a full CTT update in the newsletter this week.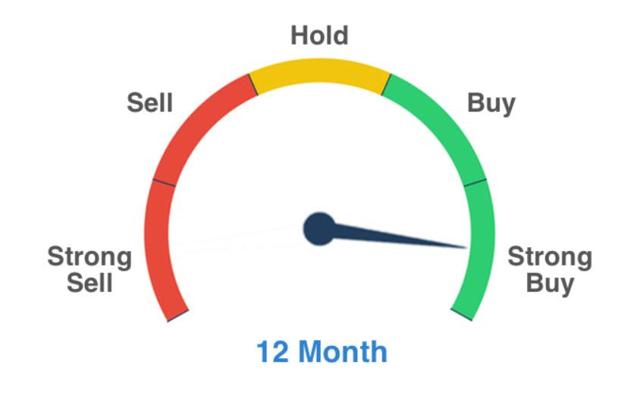 CyrusOne Gets Hammered
In the November edition of the Forbes Real Estate Investor I decided to write a feature piece on automated vehicles. Whether you believe it or not, there's considerable money being invested in driver-less cars and as I explained:
"…an autonomous car has cameras, radar, sonar, GPS and LIDAR components as essential to this new was of driving pistons, rings, and engine blocks.

This means that each autonomous car will be generating around 4,000 GB (4 terabytes) of data a day. That's over 2500 times the amount of data that the average person generates today!"
According to LBX Investments, "major corporations such as Alphabet (Waymo), Uber, GM, and Mercedes are investing hundreds of billions of dollars in self-driving technology and logging millions of miles in test drives".
This is just one example of data center demand. So why are CONE and the other data center REITs getting crushed?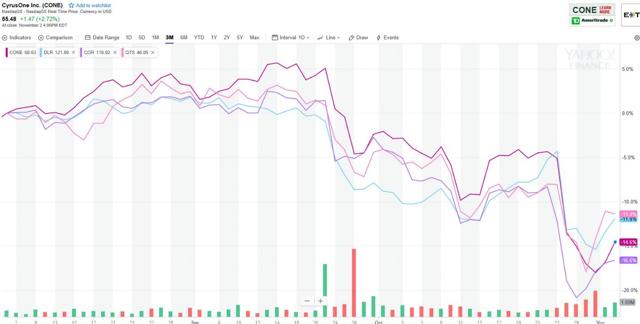 Source: Yahoo Finance
These four REITs (CONE, Digital Realty (NYSE:DLR), CoreSite Realty (NYSE:COR), and QTS Realty (NYSE:QTS)) have seen shares decline by an average of 15% over the last 60 days. Why?
First, it started with interest rates fears and then a month or so ago some of the semiconductor companies began talking about a "slowdown". For example, on Western Digital's (WDC) Q1-19 earnings call the CEO said,
We are experiencing a temporary slowdown in Data Center capital spending, particularly by large cloud service providers after several quarters of growth above the expected long-term exabyte growth rate of 40% for capacity enterprise. We are in the midst of adjusting to a more normal growth rate.
Keep in mind, Western Digital makes products for computers, and the company does not store. However, Amazon (AMZN) also provided guidance that was considered to be below the consensus. As Bert Hochfeld explains,
We are passing at this time through an extreme period in which investors have lost confidence in the growth paradigm - not just for Amazon but for many other tech companies, whether they sell to the consumer or to the enterprise. The results of Amazon - and for that matter Google (GOOG) (GOOGL) - are said to indicate that tech spending, whether at the enterprise level or consumer level is screeching to a halt. The reality is very far removed from this kind of sensationalism and oversimplification.
It's funny actually to see that the tables have turned in a way; Mr. Market seems to be cheering for the brick-and-mortar investors and stepping away from the technology players, but as Hochfeld explains,
AWS is simply not seeing any kind of real growth slowdown and its revenues did not miss estimates on any reasonable basis.
I thought it was also interesting to hear from Amazon's CEO regarding automated vehicles:
I don't have much to say on autonomous driving. We are putting most of our efforts right now, continue to into our Robotics program. We think it's been a great addition to our fulfillment capacity. It makes the jobs in our warehouse that much better. It makes the people around the robots that much more productive. It allows us to have much greater density of product storage and a number of other benefits. It has some additional capital intensity, but it has good return on invested capital from our standpoint.
Again, more data required.
In addition to the latest technology selloff, CONE issued shares before the quarter end and then last week the company announced third quarter earnings. Two months ago CONE was outperforming the RMZ by 15% and today the company is down 6% (compared with the RMZ).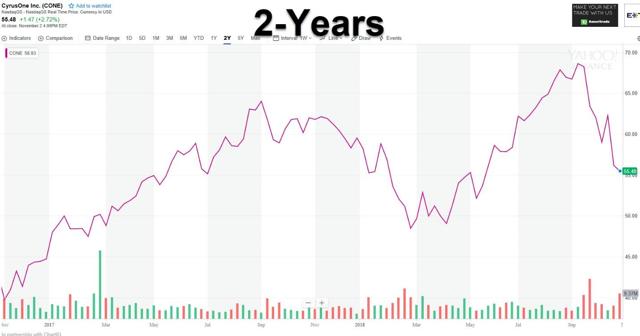 The Balance Sheet Getting Stronger
I first began researching CONE in August 2012, before the company became a REIT. Around six years ago, I wrote,
CyrusOne intends to elect and qualify to be taxed as a REIT for U.S. federal income tax purposes, commencing with the taxable year ending Dec. 31 (2012). This proposed REIT conversion is worth exploring and the potential revenue model could provide some attractive dividend opportunities down the road.
I didn't initiate a position in CONE until June 2015, and in an article I explained, "Selecting REITs for my Durable Income Portfolio is my job and I spend a substantial share of my working days (and nights) attempting to filter out the most heavy-duty dividend stocks."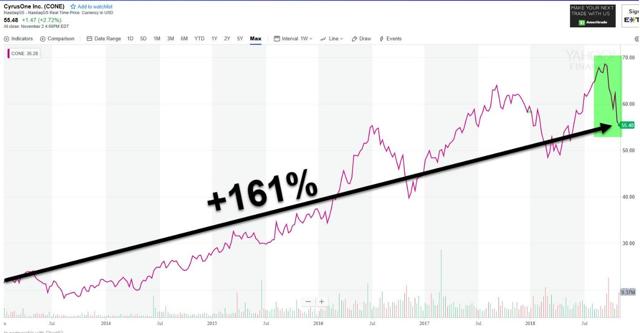 Over the years CONE has continued to become a stronger REIT as evidenced by the more recent credit upgrade.
On Sept. 26, S&P Global Ratings raised its issuer credit rating on CONE to 'BB+'. The outlook is stable. At the same time, S&P raised the issue-level ratings on CONE's senior unsecured credit facility and senior unsecured notes to 'BBB-'. The recovery rating remains '2', indicating S&P's expectation for substantial (70%-90%; rounded estimate: 80%) recovery for lenders in the event of a payment default.
The upgrade follows CONE's common equity offering and reflects S&P's "expectation that the company (CONE) will use the proceeds to pay down debt and reduce debt to EBITDA to the mid- to high-5x area by year-end 2018."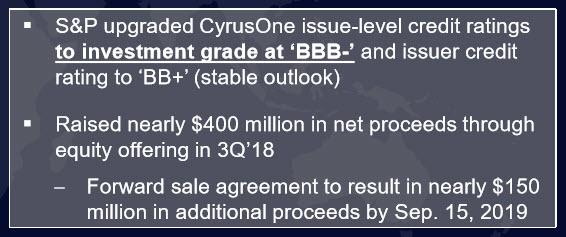 Earlier this year, CONE raised approximately $150 million in equity under its ATM program, under less attractive capital market conditions. These transactions demonstrate CONE's commitment to a prudent funding strategy and commensurate with its financial policy.
The equity offering comprises a $341 million overnight equity raise, a $155 million forward equity sale and a $74 million shoe (underwriter's option to purchase additional shares). According to the S&P, "this offering provides the company with additional flexibility to manage its balance sheet and maintain credit metrics in line with its guided leverage targets." The chart below highlights the strength of the balance sheet and credit quality of the company.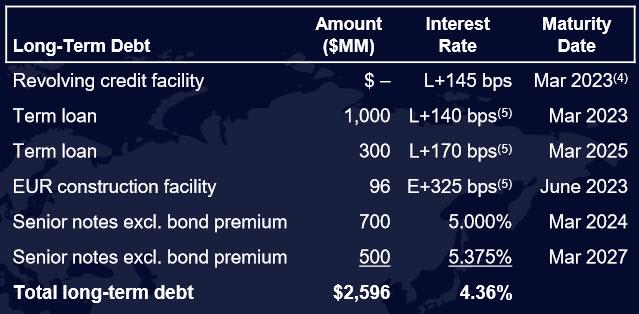 As of the end of the quarter CONE had total liquidity of nearly $2 billion with no debt maturing until 2023, a weighted average remaining debt term of nearly six years, and an almost fully unencumbered asset base with a growth asset value of $6.5 billion.
The $400 million in equity that CONE raised in the quarter helps to manage leverage, and more than 70% of the capital structure at the end of the quarter represented equity.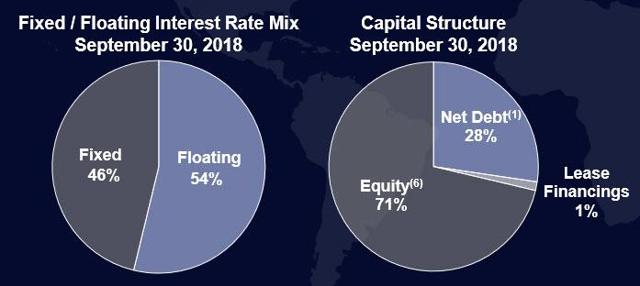 This year, the 10-year Treasury yield has increased more than 60 basis points, creating turbulence in the capital market. As referenced above, a number of technology companies have come under pressure, and this is increasing debt and equity volatility.
CyrusOne 2.0
CONE is focused on maintaining a strong capital structure so that it can continue to build out its global platform. Now that the company has scale, it can continue to replicate its U.S. platform by expanding into international markets.
Within the US CONE said it was filling the last remaining gap in the US portfolio with the acquisition of 15 acres of land in Santa Clara, giving the company a presence in a key West Coast market. CONE said, "Santa Clara was the one important location in the U.S. where we did not have a presence."
This market has been supply constrained which has been supportive of healthy pricing, particularly for larger hyperscale deals. CONE will deliver 100 megawatts of capacity at this location in the early part of 2020 and "this property is unique as it is the only data center with an on-site power cogeneration plant in the Santa Clara market".

CONE also acquired land in Northern Virginia and in Allen, Texas to support the continued growth in those markets. In Northern Virginia, CONE recently purchased a 40-acre parcel with capacity to deliver an estimated 120 megawatts of power (154,000-square-foot shell). Inclusive of the company's existing Northern Virginia sites, CONE will be able to deliver over 180 megawatts of capacity into that market.
In the Dallas market CONE acquired a 24-acre parcel adjacent to its existing location in Allen that will deliver nearly 100 megawatts of power capacity.
CONE also closed Zenium and, subsequent to the end of the quarter, announced the strategic partnership with an investment in ODATA, a leading data center provider in Brazil as well as another partnership with Agriport to build the largest data center campus in Europe.
The Brazil Deal: Brazil is the largest and fastest growing data center market in Latin America and its currently served by a limited number of providers resulting in few options and higher prices for customers. This partnership presents CONE customers with a compelling alternative. CONE invested $12 million in exchange for a 10% equity interest and has the ability to increase the investment over time.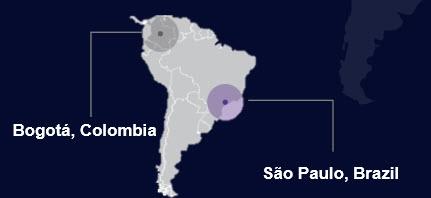 The company is currently expanding its portfolio to develop over 100 megawatts in Brazil and is breaking ground on a new facility in Colombia. They are majority owned by a fund of Patria Investments, a leading Brazilian private equity firm which is in turn 40% owned by Blackstone.

As references, CON closed on Zenium, a European expansion. CONE now has existing data centers with available capacity in London and Frankfurt and is expected to have a lot of success in the region that continues to experience an acceleration in demand.
CONE entered into an interesting new land development that is being planned to deliver six 45-megawatt cloud centers, and which will be the largest data center development in Europe. Inclusive of the other sites, CONE will have a prospective footprint across Europe that will enable the company to deliver nearly 500 megawatts of critical load power capacity.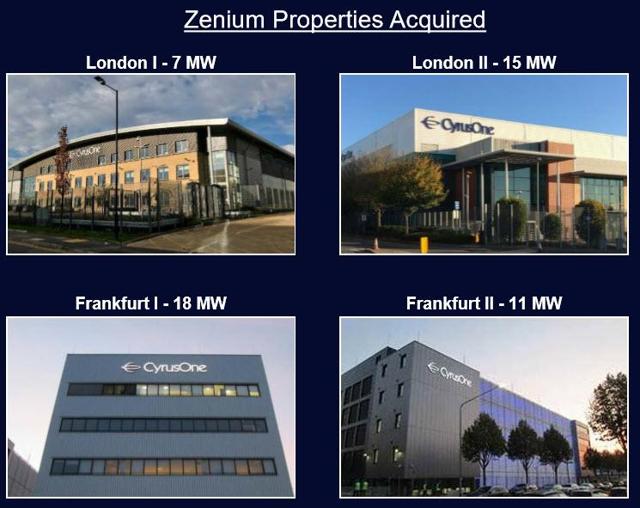 CONE is now able to offer customer solutions in China and Brazil as a result of partnerships with GDS and ODATA. CONE has now entered three new continents in less than a year and this has accelerated the company's growth trajectory as CONE is one of the fastest organically growing REITs in the world.
The Latest Earnings Results
CONE had a solid Q3 evidenced by year-over-year growth in revenue of 18%, EBITDA growing 16%, and normalized FFO up 10%. Note: The Zenium acquisition closed at the end of August, so the third quarter reflects one month of results from these data centers.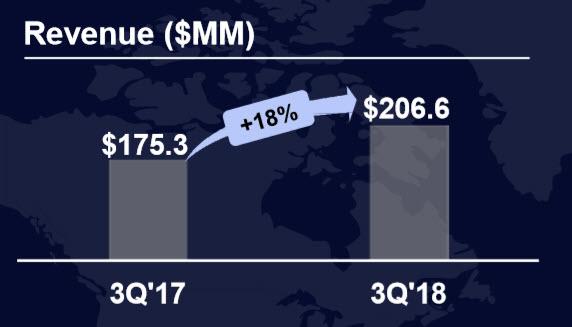 Churn was elevated in Q3 at 2.6%, primarily related to non-renewing leases which CONE had anticipated. The company anticipates full-year churn to be within its original guidance range of 6 to 8% (but likely closer to the lower end of the range).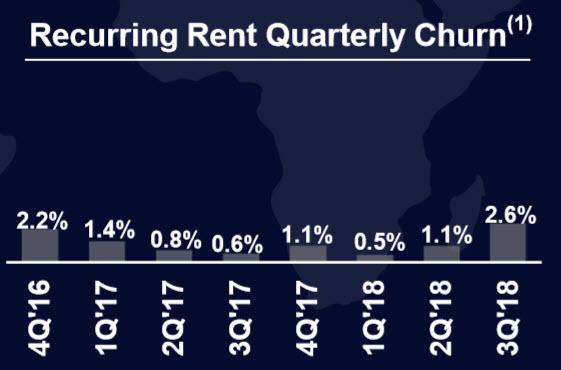 CONE's NOI grew 15% in Q3 driven primarily by the increase in revenue and Normalized FFO grew at a slightly lower rate than adjusted EBITDA driven primarily by an increase in interest expense to fund the development pipeline and acquisition activity, while normalized FFO per share was flat year over year as a result of equity issued to fund growth and manage leverage.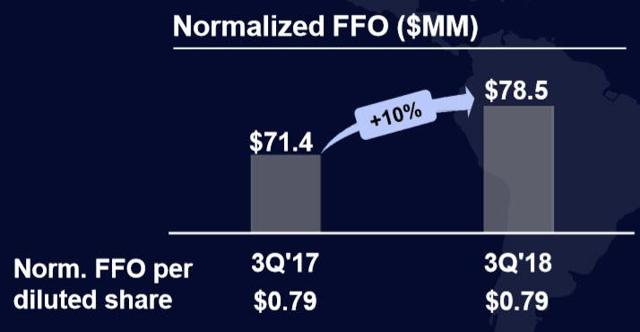 As the chart below illustrates, the net impact of the adjustments to normalized FFO were positive in Q3 resulting in higher AFFO driven by cash received from large installations.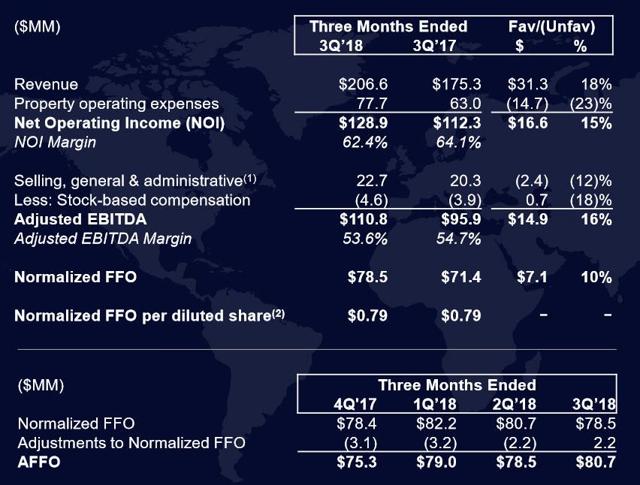 CONE's revenue backlog as of the end of the quarter was $89 million. This is the highest quarter-end backlog in the history of the company and the second straight quarter at a record level. This backlog sets CONE up nicely for continued strong growth into 2019. As shown in the bottom chart, CONE anticipates nearly all of this revenue will commence over the next two quarters.

CONE is reaffirming guidance for 2018. (The company said it was tracking toward the lower end of the normalized FFO per share guidance range because of the closing on the Zenium transaction.)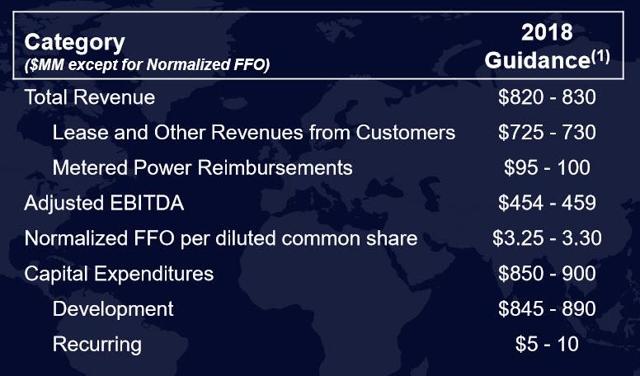 My Oh My, Another STRONG BUY
When I was growing up, I always watched the Jetsons.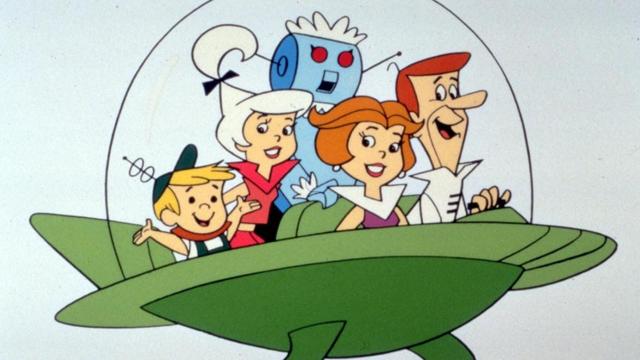 I'll be honest, it's hard to visualize driving an autonomous car, but then again, whoever imagined that I would be writing daily articles for thousands on Seeking Alpha? Time flies and Audi (OTCPK:AUDVF), BMW (OTCPK:BAMXF), Mercedes (OTCPK:DDAIF) and most major car manufacturers are investing billions into technology.
Maybe you don't believe the driver-less car theory, but hopefully you can see why I'm upgrading CONE to a STRONG BUY:

As you can see, CONE trades at -4% below the company's 5-year trailing P/FFO. Now let's examine the company's forecasted growth (via FAST Graphs data):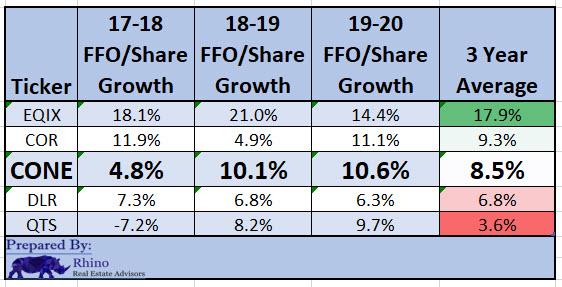 As you see, analysts forecast CONE to grow by 10% in 2019 and 2020 and this means that the company should easily sustain its dividend growth record: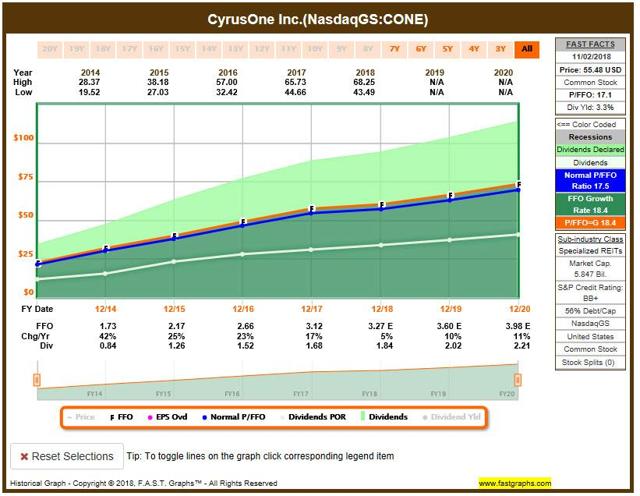 CONE also has the lowest FFO Payout Ratio in the sector: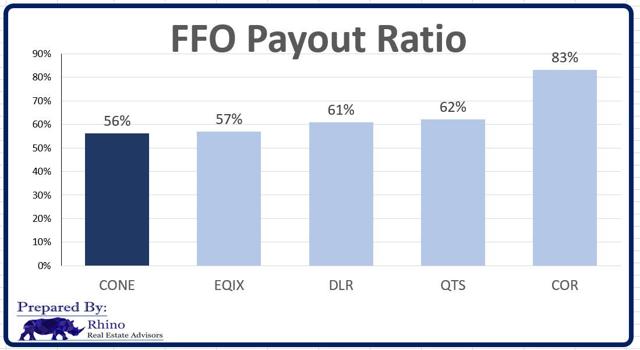 Now let's examine CONE's dividend yield (and the peers):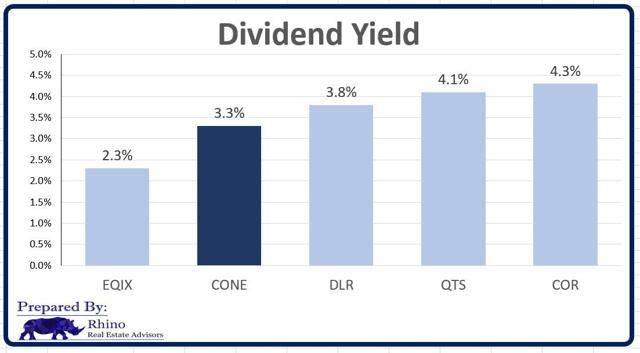 In closing: We are upgrading CONE to a STRONG BUY based on solid Q3 earnings results, highlighted by international expansion and robust development activities. CONE has also improved its balance sheet and the latest credit upgrade provides us with confidence related to the disciplined management team. The latest technology selloff has created an enhanced buying opportunity for CONE investors and this fits squarely into our targeted 25% return thesis (for a STRONG BUY).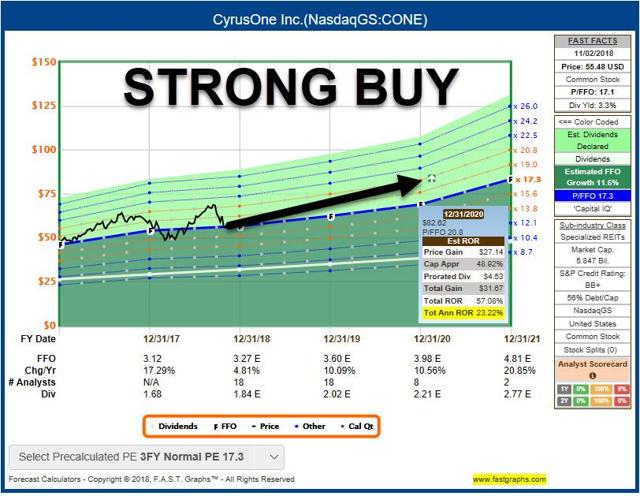 Author's note: Brad Thomas is a Wall Street writer and that means he is not always right with his predictions or recommendations. That also applies to his grammar. Please excuse any typos and be assured that he will do his best to correct any errors, if they are overlooked.
Finally, this article is free, and the sole purpose for writing it is to assist with research, while also providing a forum for second-level thinking.
Source: F.A.S.T. Graphs and CONE Supplemental and Investor Presentation.
Other REITs mentioned: (DLR), (QTS), (EQIX), (COR).
Brad Thomas is one of the most read authors on Seeking Alpha, and over the years, he has developed a trusted brand in the REIT sector. His articles generate significant traffic (around 500,000 views monthly) and he has thousands of satisfied customers who rely on his expertise.
Marketplace subscribers have access to a growing list of services, including weekly property sector updates and weekly recommendations. Also, we are now providing daily early morning REIT recaps, including breaking news across the entire REIT universe. Take Charge!
Disclosure: I am/we are long CONE, DLR, QTS.
I wrote this article myself, and it expresses my own opinions. I am not receiving compensation for it (other than from Seeking Alpha). I have no business relationship with any company whose stock is mentioned in this article.