Investors will get an update on the health of the gaming industry when Activision Blizzard (NASDAQ: ATVI) reports earnings. A titan of the area, Activision holds the keys to some of the most well-known titles in the industry. With annual iterations of games like Call of Duty and World of Warcraft, plus mobile games from King, the company has its hands in all parts of the gaming world. Some might argue that Activision's rough October was merely the stock being swept away with the rest of the market, yet there may be more company-specific issues here. In fact, there are three things investors should watch for when Activision reports. If the company continues the path of the last year, it won't just be candy getting crushed.
Time to concentrate
First, let me start by admitting I'm a gamer. I've played console games for years, I enjoy certain mobile games, and sometimes have played on the PC. I can't speak for everyone, but as a person who loves games, and is willing to spend money on physical games and virtual items, I'm part of Activision's user base. That being said, I don't have unlimited time, and neither do other gamers. This is the first issue investors need to watch when Activision reports earnings, user engagement needs to turn around.
Some in the industry, try to put on a brave façade when a new hit game is released, by suggesting it is "incremental" to the industry. However, when a new game is a runaway hit (think Fortnite), the gaming industry doesn't just grow exponentially, it takes time away from other titles.
If you don't believe my premise, listen to Bobby Kotick the CEO of Activision. He said, "we believe we're seeing some impact across certain franchises, primarily on engagement, including players that seem to be splitting some of their time between our games and trying something new." In addition, NPD Group reported a similar trend saying, "the concentration of retail revenues among key tittles has continued as a trend in the overall interactive entertainment industry." The study went on to say, that the top 10 titles account for 36% of retail sales in the U.S. in 2017.
Activision said, "Call of Duty, Candy Crush, World of Warcraft, and Overwatch franchises, collectively, accounted for 66% of our consolidated net revenues – and a significantly higher percentage of our operating income for 2017." Given the importance of these franchises, Activision investors have something to worry about.
One way to measure the health of a game, is based on monthly active users (MAU). Let's look at where Activision's user numbers have been.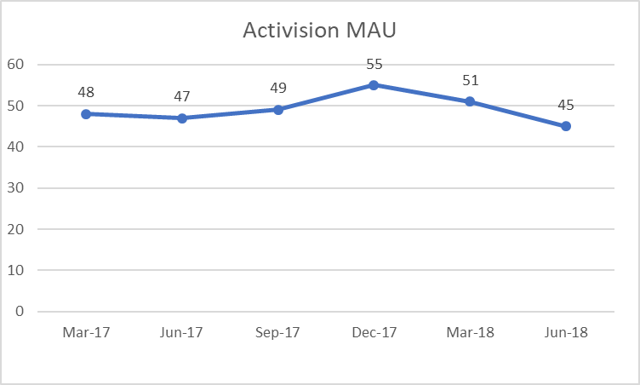 (in millions)
As the old saying goes, Houston we have a problem. In Activision's case, MAU looked okay until June. The issue is for three straight quarters, MAU at Activision has been steadily declining. The annual installment of Call of Duty is usually the wave that lifts this tide, but this year could be a different story (more on that in a moment). When discussing MAU trends in its last earnings report, Activision specifically mentioned Call of Duty as a primary culprit for the decline in active users.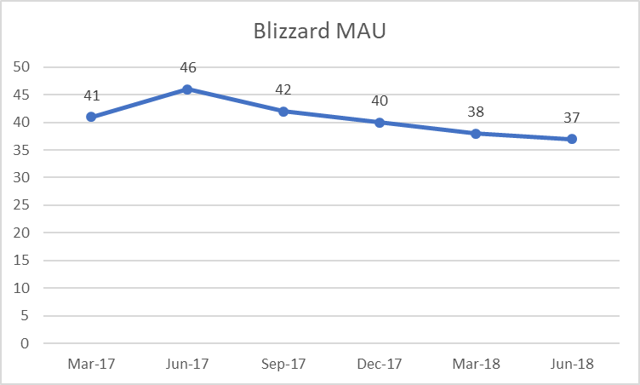 (in millions)
When it comes to the Blizzard division, the MAU trend is even more troublesome, as it has steadily declined sequentially. Though World of Warcraft is the 800 lb gorilla in the Blizzard division, Overwatch is an important newer franchise. With Blizzard reporting that Overwatch was one of the key reasons for the decline in MAU, investors need to take notice.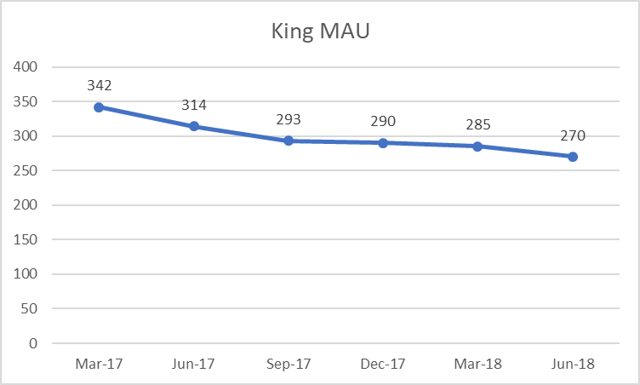 (in millions)
If the Activision and Blizzard charts worry you, the King chart should give you heartburn. For more than a year, King's MAU has been headed steadily downward. The publisher of Candy Crush clearly has an engagement issue. Activision said that a, "data initiative inadvertently impacted some user's ability to play and spend money in King games." The issue with mobile games is the lack of investment up front to retain players.
When a gamer buys Call of Duty for $60, or gets started with World of Warcraft and pays a monthly subscription, they have incentive to continue playing. Even if there is a server issue or something else in the short-term, their investment helps with retention. Mobile games normally have no such loyalty lever to pull. When a favorite mobile game has a problem, users may get tired of it and explore playing something else. Clearly, the King division is witnessing just how fickle mobile gamers can be.
All three Activision divisions are seeing significant user declines. The fact that these declines are coming in some of the most important franchises, is a streak that the company must find a way to break. Activision is hoping that Call of Duty can do that, but this franchise may have hit a speed bump this year.
Gambling with hundreds of millions
The second key issue for investors to watch, is for any update on the ongoing performance of Call of Duty: Black Ops 4. It would be difficult to talk about Activision, without really focusing on the most recent version of Call of Duty. The franchise is one of the most valuable in the industry, regularly churning out hundreds of millions of dollars in sales. This year, Black Ops took a very different tactic than pretty much every COD title before. The publisher eliminated a single-player campaign in favor of a new mode called Blackout (aka. Fortnite with a Call of Duty twist).
This is a massive gamble for multiple reasons and to be blunt it doesn't appear to be paying off, at least so far. Reviewers have voiced their surprise at the lack of a single-player campaign. One reviewer was left saying, "the campaign helps ground the game's multiplayer, giving it a fiction to anchor the rest of the game to." Other comments say, "the long and short is this: Blackout is an excellent new addition… but its probably not worth paying $60 for Black Ops 4 just so you can play one game mode." Forbes got to the heart of the issue with the new Blackout mode saying, "Blackout doesn't really compete with Fortnite… It's not free, and it's not on phones."
When it comes to sales, the figures suggest trouble ahead. Look at the opening weekend of a few popular games, and I think you'll see the potential problem.
| | | |
| --- | --- | --- |
| Publisher | Game | Opening Weekend Sales |
| Activision | Call of Duty: World War II | $500m |
| Activision | Call of Duty: Black Ops 4 | $500m |
| Take-Two | Grand Theft Auto V | $1b |
| Take-Two | Red Dead Redemption 2 | $725m |
(Source: COD: World War II, COD: Black Ops 4, Grand Theft Auto V, and Red Dead Redemption 2)
Admittedly I'm comparing Black Ops 4 to some very popular titles, but that should be the bar for one of the biggest launches each year. If Black Ops 4 just matches the WWII game from last year, it's going to be challenging for Activision to show significant growth given its MAU challenges we just looked at.
Better values elsewhere?
Activision has been the big bad wolf prowling around the gaming industry for years. The company's multiple big hit games have kept investors largely happy, and in the last five years, the stock has done very well. However, the gaming industry is ever evolving and it's possible it's time for a new leader to step up.
If we look at the relative valuation of Activision and two of its major competitors, it's a bit difficult to recommend the stock.
| | | | | |
| --- | --- | --- | --- | --- |
| Company | Yield | Forward P/E | 5-Yr EPS Growth Expected | PEG |
| Activision-Blizzard | 0.5% | 23.5 | 13.5% | 1.74 |
| Electronic Arts | n/a | 17.9 | 13.1% | 1.37 |
| Take-Two | n/a | 24.8 | 24.5% | 1.01 |
(Source: Yahoo Finance)
Granted this isn't meant to be an exhaustive search into the best investment in the gaming industry, but there are a few numbers that stand out. First, Activision carried the highest PEG ratio. Given everything we've seen above, this premium could be based on past experience rather than current prospects.
Second, Electronic Arts (EA) is growing at a very similar rate, yet is significantly cheaper. EA also has some of the more notable franchises, from its EA Sports catalog, to Battlefield, and more. Investors looking for stronger earnings growth, and a better relative valuation, should take note of Take-Two at these levels. We've already seen the company is crushing it with Red Dead Redemption 2, and obviously analysts expect big earnings growth in the future.
Spawning into a mess
For anyone who has played a multi-player game and spawned into the exact wrong area at the wrong time, you know what Activision must feel like right now. The company is contending with upstart games like Fortnite, which is clearly affecting user growth and engagement. It's no small surprise that Call of Duty and Overwatch, which are both of the shooter genre are suffering in the light of Fortnite's popularity.
With Activision taking a gamble to try and take some players back from Fortnite, it seems like this year's Call of Duty game started off in the wrong direction. It's a hard argument to suggest that players will pony up $60 for Black Ops 4 for multiplayer and Blackout, when they can play Fortnite for free. When you combine the fact that Fortnite can be played on mobile devices or consoles, Black Ops looks like a less satisfying option.
If we look at Activision's valuation and potential earnings growth, it looks like the competition may offer better options. Activision has been the king of the gaming hill for a while, but just like an ill-fated spawn, it needs to watch its back.
Disclosure: I/we have no positions in any stocks mentioned, and no plans to initiate any positions within the next 72 hours.
I wrote this article myself, and it expresses my own opinions. I am not receiving compensation for it (other than from Seeking Alpha). I have no business relationship with any company whose stock is mentioned in this article.