Last month, I posted my quarterly results and said that I would try and do a better job of posting regular portfolio updates for those readers/followers who don't track Seeking Alpha on a daily basis and miss my trade-related stock talks. Well, here we go. October was a crazy month for my portfolio. I suppose that's to be expected; last month was one of the worst in market history in terms of negative versus positive days. However, I was pleased to see that I posted strong outperformance relative to the broader markets. This continues the trend that I posted in Q3. I'm happy to see that I've built a portfolio that has the ability to outperform in both bull and bear markets (in the short term at least).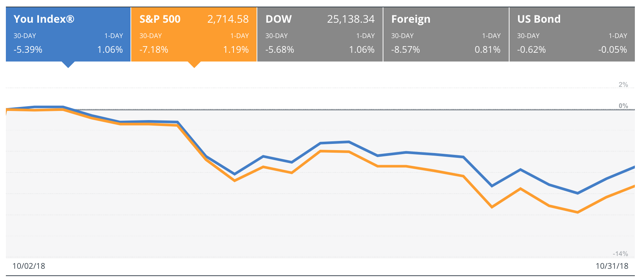 (Source: Personal Capital)
October Trades
The first move I made during October was on the 10th, when I trimmed about 50% of my Merck (NYSE:MRK) position and used the proceeds to initiate a position in Texas Instruments (NASDAQ:TXN) at $100.05. I sold Merck at $70.80, locking in 27.7% profits on shares that I purchased last October at $55.41. I like Merck, but this isn't a great dividend growth company. It's a leader globally in the hot Immuno-Oncology space with its blockbuster drug Keytruda; however, it's also trading at the top end of its historical valuation range. I believe Merck's fair value is somewhere in the $65 range. Should shares experience weakness and trade at a discount, I'd be happy to buy them back.
However, a company like Merck falls into the trade category, rather than a long-term buy and hold investment, because of its dividend growth issues. If I were to buy again, it would be with a mind to flip shares later for a profit. Thankfully, Merck does pay a safe dividend (even if it doesn't grow much), so I'm happy to gamble a bit on that trade because I get paid to wait along the way.
Texas Instruments, on the other hand, isn't expensive. TXN shares crossed below my fair value target at 18x 2018 EPS expectations. Unlike Merck, which has habitually given investors low-single digit dividend increases, Texas Instruments is known for strong double-digit dividend growth and just rewarded investors with a 24.2% increase. Like Merck, Texas Instruments in a leader in its given industry. Granted, some might not like the analog semi-conductor space as much as they like healthcare, but regardless of where we sit on the expansion cycle, I was happy to make this trade because of the long-term boost I expect it to give to my passive income stream's growth potential.
It turns out I was a bit early buying TXN. Shares slumped down from $100 where I bought them to nearly $90 later in October. I was waiting to see if they crash through $90 before adding to my position, and that hasn't happened thus far. I'd be happy to add to this stellar DGI company should its current weakness continue. While 24% dividend growth per year is probably too much to expect, I do suspect to see double-digit dividend increases from TXN in the coming years.
I added to my beaten-down BlackRock (NYSE:BLK) position on October 16th at $406.32. That purchase turned out to be a bit early as well, with BLK hitting a 52-week low of $376 later in the month. However, I continue to believe that this blue-chip DGI name is being unjustly punished by the market, and I was happy to add into weakness. I'm overweight BLK now because of a series of purchases that I've made during this pullback. My next buy target is at $350, where I see strong fundamental support. Only time will tell if it gets there. The stock has bounced back strongly from the $376 area, trading up to nearly $420 the other day. Regardless, I'm happy to hold these shares because I believe BLK is the best-in-breed asset manager and that it will be able to navigate these new, low-cost waters better than any of its peers moving forward.
On October 18th, I finally sold my IBM Corp. (NYSE:IBM) shares for $132.63. I wrote an article about this sale, so I won't go on about it here. In short, I had IBM on a very tight leash with regard to revenue growth, since its shareholder returns have been falling. IBM broke that leash during the last quarter, and I saw no more reason to hold it. I took a loss on that sale, but thankfully, I sold before the Red Hat (NYSE:RHT) news, which drove the stock down another 10% or so. I used the proceeds of this sale (which was one of the smallest positions in my portfolio) to buy a speculative position in Pattern Energy Group (NASDAQ:PEGI) at $18.78. This purchase was made on a Friday, and I had a bit of buyer's remorse over the weekend, which sparked a second round of due diligence. That research/my gut reaction led me to believe that I was chasing a potentially unsafe yield, so I sold those PEGI shares the following Monday, locking in a very short-term 1% profit. Better safe than sorry.
I sold the second half of my Merck position on October 23rd at $72.20, using the fully valued shares to fund a purchase of Illinois Tool Works (NYSE:ITW) when that company fell below my $125 price target. I added at $123.02. I initiated exposure of ITW back in July at $140.59 after it announced a surprisingly high 30% dividend increase. At the time, shares were already down double digits from their 52-week high. The shares have been caught up in the Chinese trade war drama ever since, leading to further weakness. I was happy to add to this Dividend Aristocrat at what I believe to be irrationally discounted prices. Over the long term, I suspect that ITW will continue to perform just fine. Unlike 3M Company's (NYSE:MMM) recent quarter, which looked pretty terrible to me, I thought ITW's results were okay. Not great, but okay. ITW was yielding 3.25% when I purchased it. I think the company has the potential to grow its dividend at a low-double digit clip over the long term. This is a pretty easy name to buy and hold for the long term, if you ask me.
On October 23rd, I sold out of Kimberly-Clark (NYSE:KMB) at $104.31, locking ~5% profits on a purchase I made earlier in the year, and put the proceeds into W.P. Carey (NYSE:WPC) at $65.01. KMB's quarter was disappointing, and I wanted to get out of the name before my profits turned into losses. This company is showing very little growth, and I essentially view it as a bond alternative (with the added benefit of low-single digit dividend growth prospects). Well, with this in mind, I decided to cut ties with KMB and simply go all in on the income side of things with WPC, which has long been my favorite REIT. In doing so, I increased my yield significantly without changing my dividend growth outlook.
When Anheuser-Busch InBev (NYSE:BUD) announced its recent dividend cut on October 25th, I sold my shares. I locked in losses doing so, which is never fun, but a dividend cut is a sell signal within my portfolio. I used the proceeds here to add to my Bristol-Myers Squibb (NYSE:BMY) position at $47.72. BMY shares sold off on a quarter that I thought was pretty impressive. Furthermore, I've made a bunch of money trading in and out of BMY over the last couple of years. The stock has been stuck in a range between ~$50 and ~$60 since 2016, and I've done well buying at the low end and selling at the high end. Well, here we are again below $50, so I bought another ticket to the ride. I view BMY as a short-term trading position because of its unimpressive dividend growth. The stock does, however, offer a safe 3.25% yield, which I will be happy to collect while I wait for share prices to recover.
And lastly, also on October 25th, I added to another beaten-down cyclical name: United Parcel Service (NYSE:UPS). I bought shares at $108.82. At that price point, they were trading for 15x 2018 estimates. UPS hasn't seen a 15x since 2011. Shares are yielding nearly 3.5% as well, with what I believe to be high-single digit/low-double digit dividend growth prospects. Rival FedEx (NYSE:FDX) shares are beaten down too, though I decided to go with UPS because of its higher yield. I actually think FDX has better growth prospects, but in a late-cycle environment, I'm prioritizing yield and balance sheets. FDX is cheaper than UPS, but UPS has an A+ S&P credit rating, as opposed to FDX's BBB. I trimmed a bit of my Disney (NYSE:DIS) stake to fund this UPS purchase. This is the first time that I've ever sold DIS shares, yet it doesn't reflect a change in my bullish stance. I am simply very overweight DIS at the moment, having purchased a ton of shares over the years into weakness. Now that they've recovered a bit, I was sitting on solid gains. I'm hesitant to dip into my cash position right now (which has gotten smaller recently, as I took money out of the brokerage accounts to pay for my wife's final semester of graduate school), and DIS stood out as a fine candidate to trim (with all of the low-hanging fruit having been picked) because of my current allocation and its relatively low yield. DIS remains my second-largest position, and I could trim it a few more times before it loses its stop in my rankings.
Overall Portfolio
So, after a volatile October, here's how the portfolio currently sits:
| | | |
| --- | --- | --- |
| Core Dividend Growth | Ticker | Weighting |
| Apple | AAPL | 9.48% |
| Walt Disney | DIS | 6.51% |
| Microsoft | MSFT | 2.79% |
| Johnson & Johnson | JNJ | 2.10% |
| Cisco | CSCO | 1.86% |
| BlackRock | BLK | 1.81% |
| Qualcomm | QCOM | 1.60% |
| United Parcel Service | UPS | 1.54% |
| Coca-Cola | KO | 1.52% |
| Honeywell | HON | 1.43% |
| PepsiCo | PEP | 1.42% |
| Broadcom | AVGO | 1.36% |
| Amgen | AMGN | 1.33% |
| Pfizer | PFE | 1.32% |
| Intel | INTC | 1.04% |
| Illinois Tool Works | ITW | 0.93% |
| Novo Nordisk | NVO | 0.87% |
| Medtronic | MDT | 0.76% |
| Hershey | HSY | 0.68% |
| Diageo | DEO | 0.64% |
| United Technologies Corp. | UTX | 0.63% |
| 3M Company | MMM | 0.62% |
| Texas Instruments | TXN | 0.46% |
| McCormick | MKC | 0.42% |
| | | |
| High Yield | | |
| AT&T | T | 4.08% |
| W.P. Carey | WPC | 1.93% |
| Altria | MO | 1.50% |
| STORE Capital | STOR | 0.76% |
| National Retail Properties | NNN | 0.76% |
| Dominion Energy | D | 0.74% |
| Ventas | VTR | 0.71% |
| Verizon | VZ | 0.70% |
| Brookfield Infrastructure | BIP | 0.69% |
| Digital Realty Trust | DLR | 0.66% |
| Brookfield Renewable Partners | BEP | 0.61% |
| Reality Income | O | 0.59% |
| Invesco | IVZ | 0.54% |
| VEREIT | VER | 0.24% |
| Sabra Healthcare | SBRA | 0.07% |
| | | |
| High Dividend Growth | | |
| Boeing | BA | 3.51% |
| Starbucks | SBUX | 3.98% |
| Nvidia | NVDA | 2.69% |
| Visa | V | 2.75% |
| Nike | NKE | 1.82% |
| Comcast | CMCSA | 1.66% |
| JPMorgan | JPM | 1.25% |
| FedEx | FDX | 1.14% |
| Citigroup | C | 1.10% |
| Mastercard | MA | 1.02% |
| Constellation Brands | STZ | 0.59% |
| Bank of America | BAC | 0.55% |
| | | |
| Non-Dividend | | |
| Alphabet | GOOGL | 3.94% |
| Amazon | AMZN | 1.64% |
| Berkshire Hathaway | BRK.B | 1.78% |
| Alibaba | BABA | 0.62% |
| JD.com | JD | 0.44% |
| | | |
| Special Circumstance | | |
| Bristol-Myers Squibb | BMY | 1.23% |
| Thor Industries | THO | 0.68% |
| Tencent | OTCPK:TCEHY | 0.64% |
| General Mills | GIS | 0.57% |
| Calavo Growers | CVGW | 0.26% |
| Resideo Technologies | REZI | 0.03% |
| Garret Motion | GTX | 0.01% |
| | | |
| Cash | | 8.40% |
So, after a volatile October, here's how the portfolio currently sits. I was busy with work last (day), so I didn't have time to update my portfolio's weightings until this weekend. These weightings are from 9/4/18.
Dividend Growth
And last but not least, here's the most important graphic of them all. I love seeing total return outperformance, but it still doesn't top my passive income trajectory.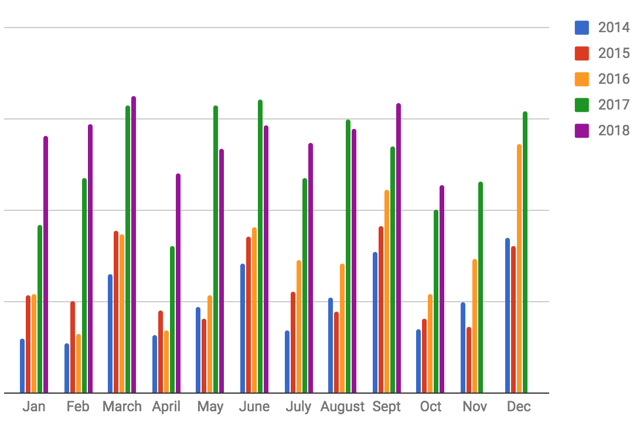 As you can see, October was another step in the right direction. I'm closer now to financial freedom that I was a year ago (October dividends were up 13.15% y/y). Through the first 10 months of 2018, I've generated 10.5% more income than I did during the first 10 months of 2017. Full-year income is currently projected to be in the ~10.5% growth area. What pleases me so much about this income growth is that it comes in the face of significant withdrawals from the accounts. I also haven't been able to re-invest much throughout the last year or so because I've been using dividend cash flow to replace the cash that I've dedicated towards tuition. This time next year (God willing), Rachel will be working again and we should be able to start saving again. But, in the meantime, I will continue to rely on active management and organic dividend growth to compound the income stream.
Disclosure: I am/we are long AAPL, DIS, MSFT, JNJ, BLK, QCOM, UPS, KO, HON, PEP, AVGO, AMGN, PFE, INTC, ITW, NVO, MDT, HSY, DEO, UTX, MMM, TXN, MKC, T, WPC, MO, STOR, NNN, D, VZ, VTR, BIP, DLR, BEP, O, IVZ, VER, SBRA, BA, SBUX, NVDA, V, NKE, CMCSA, JPM, FDX, CSCO, C, MA, STZ, BAC, GOOGL, AMZN, BRK.B, BABA, JD, BMY, THO, TCEHY, GIS, CVGW, REZI, GTX. I wrote this article myself, and it expresses my own opinions. I am not receiving compensation for it (other than from Seeking Alpha). I have no business relationship with any company whose stock is mentioned in this article.
Editor's Note: This article discusses one or more securities that do not trade on a major U.S. exchange. Please be aware of the risks associated with these stocks.