I have vacillated in titling this article. I started to write it in the glow of the 11/1/18 ASH news run-up (release of ASH presentation transcripts) in stock price. As I started to write this posting on 11/1/18, I tentatively titled it: "Geron, The Comeback Kid?". After I listened to Geron's (NASDAQ:GERN) earnings CC following market close, I swiftly retitled it "Geron's Last Hurrah?".
On 11/2/18, as I was writing, I was still undecided. As I have considered the matter at greater pause, the aphorism, "fool me once shame on you, fool me twice shame on me" has taken over, particularly since I think I have been allowing myself to be fooled more than twice.
Geron has developed imetelstat, a telomerase inhibitor that has shown great promise over a period of many years as a cancer therapy. Geron's path to developing this therapy has moved from tragedy to farce. In this posting, I will give a brief explanation of the latest developments in a situation that has been unfolding over a span of nearly thirty years.
Geron was jilted on 9/27/18, and its shares crashed
Back not so long ago in September 2018, optimistic Geron investors were waiting with bated breath to hear Johnson & Johnson (JNJ) subsidiary Janssen's decision as to whether or not it elected to continue its imetelstat collaboration. Geron's price climbed into the decision as shown by the chart below, albeit not as high as I was hoping it would.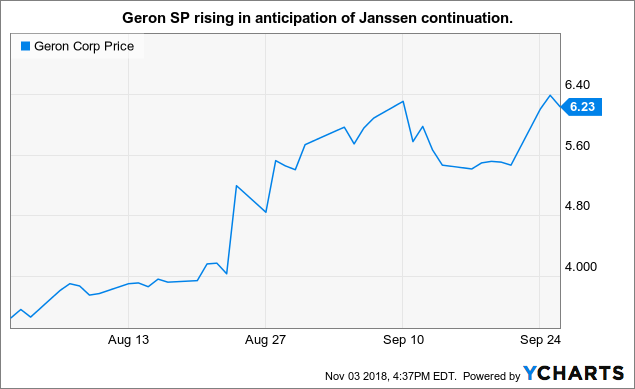 Geron investors watched as decision day neared. I was one who was hoping for some solid gains; I had set my sights on a nice round number, $10 per share. Janssen totally failed to cooperate with the continuation scenario that seemed so wonderfully probable.
Instead, it squelched the collaboration at the last minute with a short but sour decision on 9/27/18. Geron's price reacted as one might expect per the chart below: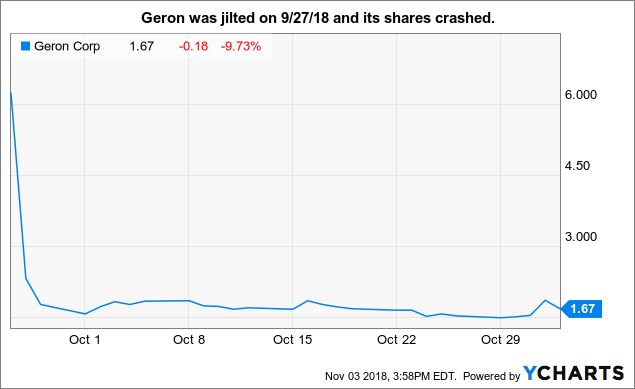 Nimble folks well-schooled in the arcane arts of trading stocks likely made some nice gains during Geron's rise. Others suffered some serious paper losses. I turned a portion of my paper losses into actual losses by selling a portion of my Geron shares on 9/27/18.
I have been sad to note that many Geron longs have registered comments that they are dropping the name entirely, a cohort I have dubbed the "dump-it-alls".
Geron's shareholders' pulses started racing again this past 11/1/18
As I mentioned in "Geron: Interesting Times", Janssen's decision does not necessarily spell the end of Geron as a productive speculative asset. The first positive catalyst that people have been waiting for has been the abstracts from the upcoming (December 1-4, 2018) 60th Annual Meeting of the American Society of Hematology (ASH).
In its 9/27/18 press release announcing Janssen's termination, Geron gave the following advice on prospective ASH presentations, first as to the IMerge trial:
Janssen submitted detailed results from the combined initial and expansion cohorts for the target patient population (n=38) in the Phase 2 portion of IMerge as an abstract for potential presentation at the 60TH Annual Meeting of the American Society of Hematology (ASH). If the abstract is accepted for presentation at ASH, Geron expects more mature data from the target patient population in the Phase 2 portion of IMerge to be included in the ASH presentation.
then as to the IMBark trial:
Janssen submitted detailed results from the IMbark primary analysis as an abstract for potential presentation at the 60TH Annual Meeting of the American Society of Hematology. If the abstract is accepted for presentation at ASH, Geron expects more mature data from the extension phase of IMbark to be included in the ASH presentation.
This morning's (11/1/18 as I write) ASH developments set up a situation that offers potential succor to Geron's beleaguered shareholders; ASH posted the following links.
One link pointed to a 12/3/18 oral presentation on imetelstat as an effective treatment for certain patients with Intermediate-2 or High-Risk Myelofibrosis; the other to a 12/2/18 presentation on imetelstat treatment leading to durable transfusion independence (TI) in certain (MDS) patients.
Geron's Q3, 2018 earnings CC on the afternoon of 11/1/18 totally soured any good vibes from the ASH news
Geron's stock reacted positively to the ASH news, momentarily exciting longs who are still holding on. The chart below shows the action: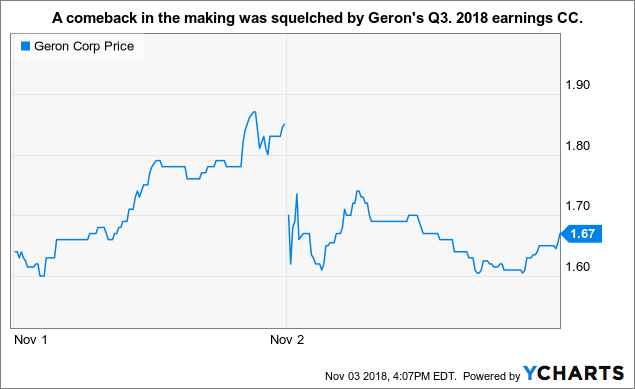 Geron's Q3, 2018 earnings CC on the afternoon of 11/1/18 rapidly soured any good vibes from the ASH news. After hours, Geron's CEO John Scarlett, whom I am reluctant to admit I have championed in the past, came out with one of the most distressing earnings CCs I have listened to.
My concerns about the Q3, 2018 earnings CC relate not only to a total lack of energy but also transparency and creativity. Most of all it is discouraging because it supports a meme I have otherwise dismissed out of hand.
Comment streams to Geron articles have included a mounting number of jibes directed at Geron's longtime CEO (since 2011) John Scarlett. This tirade of jeers directed at "Chippy" has always struck me as facile. They often assumed that he and his co-executives were milking a lucrative sinecure.
I have seen his role as one of vital importance, requiring great knowledge and finesse. At Article III, the collaboration agreement (CA) sets up a series of sophisticated joint committees with diverse mandates. It specified:
The members of the Joint Committees shall be appropriately qualified and experienced in order to make a meaningful contribution to meetings and render decisions within its scope of authority hereunder.
I took comfort from the committee structure as ensuring Geron was maintaining a cadre of experienced professionals intimately familiar with the details of imetelstat's CA development. Under such a regime, Geron already knows details of negotiations with the FDA as to imetelstat's best path forward.
Stripped of the inessentials, the call advised that Geron has cash and a plan to take it thru initial enrollment in the phase 3 of IMerge. Per CFO Bloom:
...current financial resources are sufficient to pay for the external cost of the Phase 3 portion of IMerge, they will not be enough to support the entire company for the next 3.5 years which is when the readout is expected to occur for the Phase 3 portion of IMerge.
If all goes well, the timeline for initial MDS approval is end of year 2023. That leaves a minor shortfall to pay general and administrative, operating and R&D expenses for any stub portion of 2019, plus the entire years 2020, 2021, 2022, and 2023.
Such expenses could run to >$20 million per year for general and administrative, >$30 million per year for operating, and $22 million per year for research and development. I have taken the 9-month Q3, 2018 figures given by CFO Bloom for each category and increased them pro rata for a 12-month period (I also doubled the R&D to reflect Geron as 100% funder). These figures show a nut of $72 million per year.
The figures above are rough, probably on the low side of actual as inflation and learning curves kick in; nonetheless, they should give an order of magnitude read on actual funding needs if Geron sticks to its MDS phase 3 plan. If additional trials or unexpected snafus intrude, costs would go up.
By the above reckoning, Geron would need to raise over $300 million new dollars to get to an approval in MDS. However, there is one significant offset that would likely kick in.
CFO Bloom advised that current resources are enough to pay expected $55 million external costs of the phase 3 portion of IMerge. That likely includes some significant portion of the $300 million.
Unfortunately, CEO Scarlett only took questions from George Zavoico, analyst and VP with Geron's investment banker B. Riley FBR. The questions he asked were softball and elicited little information. Accordingly, further details on Geron's financial expectations are unknowable for shareholders at this point.
I welcome comments from any reader who has a sharper mind or pencil to improve my work.
Scarlett is a liability not an asset
At this point, it is difficult if not impossible to view Scarlett as anything other than a liability. I no longer consider that he is anything other than a drag upon the company. Nonetheless, as I recently responded to a comment by Robespierre:
If we were playing a board game where we could move pieces at will I might agree we should exchange all of the C-Suite plus many of the directors, except for ones with special skills and institutional memory that we wanted to retain. As it is we are dealing with a corporation with thousands and thousands of shareholders, just a relative few of whom have substantial holdings that give them actual power to effect change. Further, we have the challenge of finding substitutes who are willing to step into this situation who are able to, and will in fact, perform better than the ones we have shown the door. We also have the issue of employment contracts for existing employees. I expect those who actually have sway in this matter will weigh these issues carefully and decide that it is better to stick with "the devil we know", as the saying goes.
It is far easier to vote with one's feet selling at a loss than it is for retail investors to struggle with an entrenched management no matter how unsatisfactory.
Conclusion
CEO Scarlett offered no plan on how Geron might fund its prospective deficit. He gave no hint that expenses were an issue of any sort. He did give a weak salute to Geron's investors who have funded it to this point as follows:
As a result, we are very encouraged by what the future Geron could create for our stakeholders. I'd also like to thank our long-term shareholders who have been loyal to us as we've been thoughtfully creating potential opportunities to advance imetelstat through the clinical process.
When I heard these words, I have to admit a shiver ran through me that CEO Scarlett views Geron's existing shareholders as having fulfilled their role. The future will belong to stakeholders who may not be current shareholders in anything like their current relative ownership percentages.
Consider his announcement of Geron's upcoming 12/10/18 CC. He will discuss the ASH presentations but does not mention any plan to lead Geron past its funding deficit once its existing cash runs out.
I will read comments to this posting eagerly, anxious to hear how some of Geron's long time and new longs parse things out. Certainly, imetelstat appears to be a valuable asset. A question that is front and center for me is the extent to which existing shareholders will partake in any upside that Geron eventually realizes from its ownership of imetelstat.
Will Geron's little run yesterday (11/1/18) be its last hurrah? I am concerned that it may be. However, for the time being, I am still holding on. Geron's situation could improve dramatically if it were to attract a new collaborator to assist it with its upcoming expenses.
The Q3, 2018 earnings CC tells us after four years of intense development under the CA either that: (i) imetelstat has shown no better path forward than that described or (ii) Geron's various representatives in the committees failed to recognize such better path. Either scenario is highly distressing.
CEO Scarlett has set a low bar for the information to be provided on the 12/10/18 CC. Nonetheless, I expect I will remain a shareholder for at least that long and probably well beyond that. Under a worst case scenario, my current position is small enough that I can watch it melt to zero with anxiety rather than desperation.
Disclosure: I am/we are long GERN AND JNJ.
I wrote this article myself, and it expresses my own opinions. I am not receiving compensation for it (other than from Seeking Alpha). I have no business relationship with any company whose stock is mentioned in this article.
Additional disclosure: I may buy or sell shares in GERN AND JNJ over the next 72 hours.