I have been looking at Micron (MU) for a long time without ever buying it. I never really looked at it in detail, so outside of hearing what pundits said, I never had an opinion of my own.
The rational behind why Micron is so cheap is that the stock has always been a proxy for memory prices, and since memory prices are forecast to fall, it means the market is pricing in today, a huge EPS and revenue decline in the future.
While in theory the logic seems correct, there is one little problem; when does everyone expect revenue and EPS to decline so the stock could become expensive? Because outside of everyone saying it on CNBC, I do not see analysts , the market, or the company forecasting such a decline.
Let's start with what the industry says
In a recent report, dramexchange.com expects DRAM prices to drop by 15~20% in 2019 due to the weak price trend of server DRAM, and sees NAND flash memory declines to the tune of about 25~30% due to increased supply.
In Samsung Electronics' (OTC:SSNLF) recent conference call (via Reuters,) the company also reiterated memory prices will be weak. It guided for a decline in Q4 EPS due mainly to weak demand for memory chips. In fact it also guided for a weak Q1'19:
Looking further ahead to 2019, earnings are forecast to be weak for the first quarter due to seasonality, but then strengthen as business conditions, particularly in the memory market, improve.

Temporary price changes can repeat but fundamentally we have a very strong demand base for memory.
So what Samsung is saying is, while memory prices will be under pressure in Q4'18 and Q1'19, the second half of the year looks promising.
So the question is, is Q1'19 a "fundamental bottom" for memory prices? This is very difficult to forecast that at the moment, however if Samsung says so (or implies so), it might just be. If so, it might mean the entire memory space might be undervalued such as SK Hynix (OTC:HXSCF), Western Digital (WDC) and Smart Global (SGH).
Adding to the supply pressures, South Korean SK Hynix opened a new NAND memory production facility that will boost its capacity by 40% by 2023 from current levels. Additional supply will come on-line by about 2020, when Yangtze Memory Technologies begins operating its $24B project in China.
Having said this however please note that Intel (INTC) had its best quarter in its 50 year history, with revenue and EPS driven by the data center and PC sales. Guess what, both of these segments require memory. In addition, Microsoft (NASDAQ:MSFT), Alphabet (NASDAQ:GOOGL),(NASDAQ:GOOG), and Amazon (NASDAQ:AMZN) aren't going to stop building data centers anytime soon.
So while prices may fluctuate from time to time, it's not the end of the world and memory chips are not going out of style. Also, just because prices might drop does not mean that unit sales will not increase. In fact unit sales are forecast to increase, that will soften the EPS blow of lower prices on Micron's bottom line.
Let's see what analysts think.
For the Fiscal year 2018 Micron did $30.39B in revenue, Non-GAAP net income of $14.70B, and EPS of $11.95).
For the current year FY'19, analysts are forecasting revenue of $30.8B, and EPS of $10.46, and for Fiscal 2010 the consensus calls for revenue of $30.7B and EPS of $9.73.
So in other words, analysts see flat revenue over the next 2 years compared to Fiscal 2018, and a slight lower EPS vs 2018.
However this still means that on a 3 year forward basis, Micron's P/E is still only about 4. In fact if we take the worse possible estimate of 2020 which is EPS of $4.48, the P/E ratio of Micron is still less than 10.
So unless something catastrophic happens on a world wide scale -- like a meteorite falling on Earth -- does this multiple make any sense? It does not to me.
Now let's see what the company says
To begin with, the company is forecasting higher unit sales for 2019.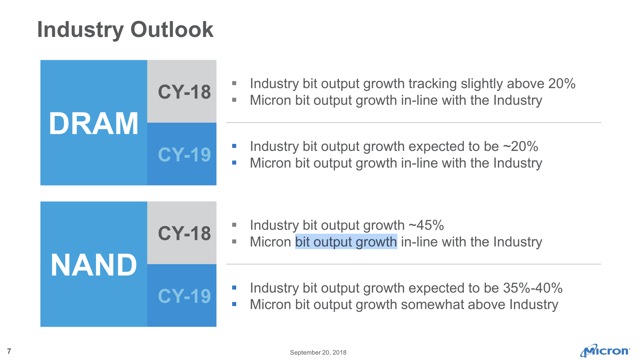 source Micron
From the conference call we read:
Looking ahead to calendar 2019, we plan to grow DRAM bits in line with estimated industry growth of approximately 20% and plan to grow NAND bits somewhat above our expectation of industry growth of 35% to 40%.

In fiscal 2019, we expect that DRAM profitability will remain strong as the market continues to benefit from long-term structural growth drivers and from structurally slowing supply growth.

Turning to NAND, we have seen an acceleration in supply growth in calendar 2018, driven by the ramp of highly efficient 64-layer 3D NAND across the industry. Looking ahead, we expect the moderation in supply growth, beginning in the first half of calendar 2019 as the industry transitions to more challenging, 96-layer designs, which provide less benefits node-over-node. We also expect higher demands due to elasticity, resulting in higher SSD adoption and increasing average capacities across multiple end markets.
If I read what the company is saying, DRAM profitability will remain strong, and the company sees a "moderation in NAND supply growth", but higher demand ahead. I think this is along the lines of what Samsung said, that a fundamental bottom might happen in Q1'19.
So even if capacity in DRAM and NAND memory increases and prices fall, unit sales will go up. Have lower prices ever been a deterrent for the electronics industry to invest and continue to make profits? The answer is no.
Electronic components and en-products have been falling for many years, but the industry has continued to grow, and produce higher profits. This will continue to be the case with the memory space, and with Micron, even if memory prices fall this year.
So I'm sorry, I don't see anything in the data that tells me Micron's earnings or revenue will be under pressure. Yes, perhaps revenue and EPS will be flat for the next two years or so, but where is the evidence that Micron will see massive revenue and EPS decline in 2019?
How to play Micron
In theory MU could rise to $150 today, and the forward P/E will only be about 15. While I doubt this will happen soon with the current mindset, I think it might happen in the future.
To begin with, the first thing that has to happen is for the market to realize that a big decline in revenue and EPS will not happen. If I am right, this will be realized over the next several quarters.
The company intends to repurchase $10B in shares. The current market cap of MU is about $45B. This repurchase should begin soon when the current reporting period ends.
As the company starts to repurchase shares, at the margin, those who are bearish and want to sell will be the first to go. And since there will now be permanent marginal buyer, the market will try to front-run the company, and algorithms will follow the trend. In fact this has probably already started. On Friday when mostly everything was in the red, Micron shares didn't even blink.
The next thing that will happen is that EPS will be rising by virtue of the fact that the outstanding share count will be lower every quarter. Even with zero growth and a slightly lower EPS in the future, EPS will probably remain the same or even rise.
At some point in the future, the market will come to realize that Micron is an Apple (AAPL) type of stock. Even with no revenue growth and flat overall profitability, it is possible for stocks to rise when the outstanding share count falls every year.
So by the time the company finishes its repurchasing program, shares should be much higher. How much I do not know, but I do not rule out $150 a share over the next 2-3 years.
Bottom line
Pundits claim the market is discounting a big drop in revenue and EPS for Micron, which is the reason the stock is so cheap. I do not see any evidence of this, either from company, anecdotal market evidence, or from analysts.
While I agree a drop in memory prices will happen, it does not mean revenue and EPS will drop by much. Unit sales will increase, and over time the world will use more memory, not less.
Furthermore, if Samsung is right, a fundamental bottom might happen in Q1'19.
As such, Micron is on my top pick for 2019. On the one hand its stock is currently trading at a very depressed multiple, and on the other, if I am right, investors might get a multi-bagger return over the next 2-3 years.
As for my price target, I have a wild imagination and I could see $150 or more. But no matter how high Micron's stock goes from current levels, what is important to understand is that it's a dirt cheap stock, and it could go at least $60~$70 a share, even in the current risk off environment, and even if the market continues to correct.
Disclosure: I am/we are long MU.
I wrote this article myself, and it expresses my own opinions. I am not receiving compensation for it (other than from Seeking Alpha). I have no business relationship with any company whose stock is mentioned in this article.
Editor's Note: This article discusses one or more securities that do not trade on a major U.S. exchange. Please be aware of the risks associated with these stocks.