Understanding Denali as an investment
I previously explored the over-arching potential of the unique 'transport vehicle' platform perfected by Denali Therapeutics (DNLI) for the shuttling of large-molecule therapeutics across the blood-brain-barrier. Since I posted that analysis, the company has added accomplished biologics manufacturing veteran Dana Anderson, PhD, to their team, bolstering my assertion that the company is gearing up for greatness with the 'TV' platform.
As I have laid out in great detail for Second-Level Investing subscribers, Denali's attractiveness as an investment goes well beyond the TV platform. The company is, among other things:
Enjoying a first-mover advantage in exploring LRRK2 inhibition for the treatment of Parkinson's Disease with oral drug DNL201
Exploring the highly promising RIPK1 pathway - which can be thought of as a cell death master switch - in Alzheimer's, ALS and now with Sanofi (SNY) in systemic inflammatory disease
Enjoying an enviably comfortable cash runway with >$600m in the bank following the Sanofi deal and a projected future cash burn between $110-160m (my estimates based on current numbers and expected ramp-up). Milestone payments from partners Takeda (OTCPK:TKPYY) & Sanofi could further extend Denali's runway beyond 2022.
I have previously stated on this platform that I would never buy a biotech 'for its cash' and that investors should instead look to the future value of a given company's assets. Denali's field of predilection - neurology and more specifically neurodegenerative disease - has been a minefield for investors. To date, there is no disease-modifying therapy for Parkinson's and late-stage trials in Alzheimer's continue to disappoint. The reasons for Denali's above-average odds at succeeding in at least some of these indications can be summed up as:
Science that is breaking open, providing important new insights into the underlying pathology of conditions such as PD
Technological advances, such as DNLI's TV platform, that enable more targeted therapy at higher volumes to reach the brain
Extensive & sophisticated preclinical modeling & rigorous exploration of biomarkers in clinical trials
The company's outstanding track record at leveraging academic & corporate partnerships to build a diversified pipeline.
Additional color around each of these important points was provided most recently at the company's September presentation at Morgan Stanley.
Significant progress made in 2018
With another 3 months left to this calendar year, investors can already look back at an eventful year in which Denali:
The most obvious result of Denali's dealmaking savvy has been a bolstering in its liquidity, which provides the company with an unusually long cash runway as noted earlier. Liquidity and cash runway would be meaningless on their own, in the absence of significant future value to be found in the drug candidates being advanced by the company. And that is where the recently presented, granular PhI data on DNL201, and today's deal with Sanofi around RIPK1 inhibition, become crucially important.
Extremely significant unmet need meets better-than-average POS
The 'probability of success' of a drug candidate depends on things such as
the drug modality (small molecule; biologic; gene editing etc)
the type of indication being pursued (neurology, oncology, pain, infectious disease, inflammatory...)
where it is situated in the 3-phased clinical development process
whether biomarkers are available
whether the underlying biology and the drug's mechanism of action ('MOA') is well understood
In neurodegenerative disease, up until recently, a lack of granular understanding of the brain and its pathologies has decidedly worked against drug companies trying to make an impact for the better. Efforts to tackle PD, AD or ALS were further hampered by limited brain uptake of biologics, which Denali have set out to solve. But, importantly, they are also very ardent in tying the development of their small molecule programs to validated biomarkers, which significantly raises the POS for these programs.
With regards to DNL201 specifically, the company looked for a biomarker that has been associated with LRRK2 inhibition in non-human primates, BMP Di22, and DNLI were able to observe - for the first time ever - a decrease of BMP Di22 in human cerebro-spinal fluid ('CSF') in relation to LRRK2 inhibition: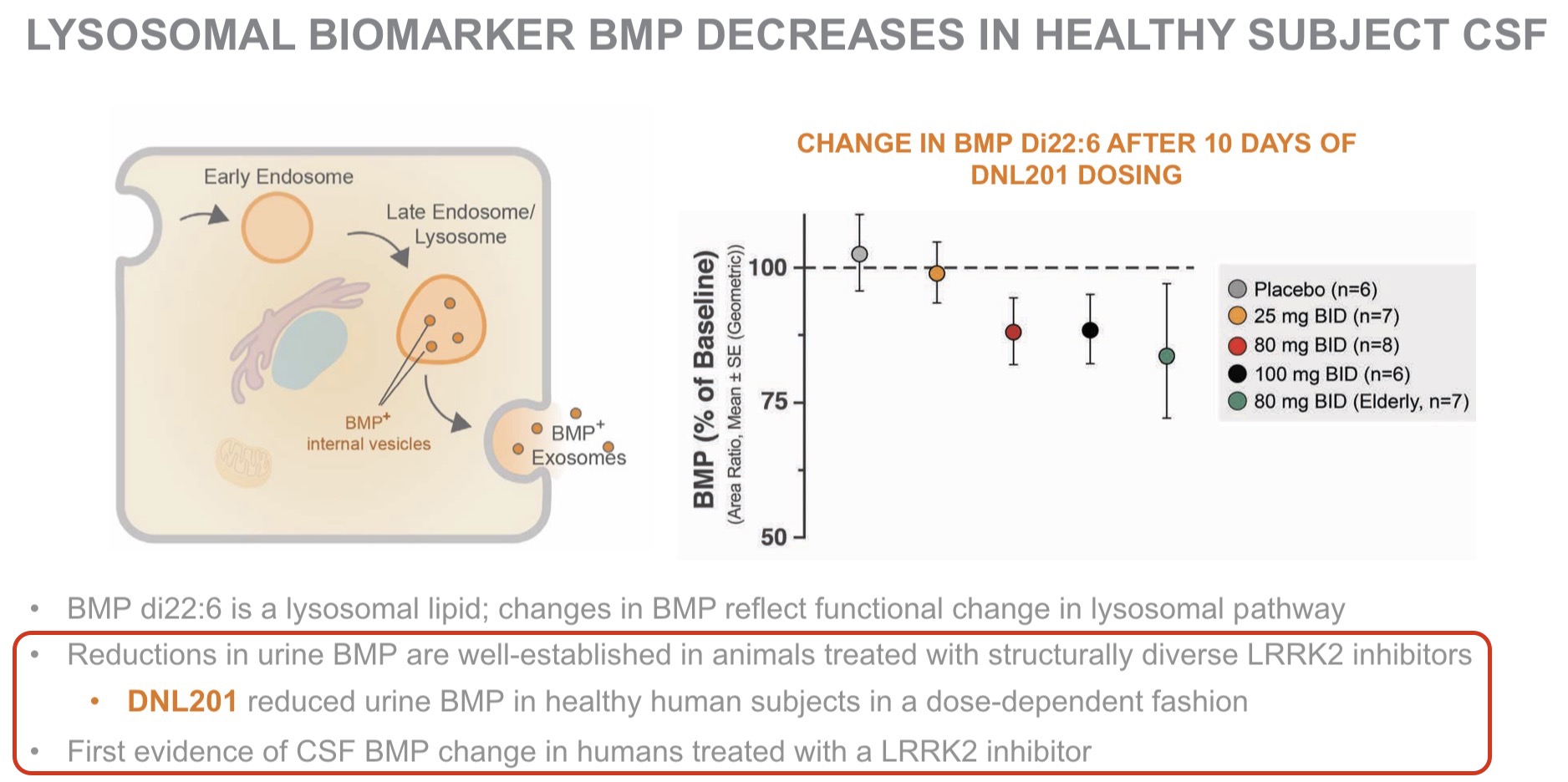 Source: Denali Therapeutics slide deck on DNL201 PhIa results
Together with very favorable CSF concentrations of the drug measured in the trial subjects, this finding suggests that DNL201 is in fact toning down LRRK2 activity in the human brain, which bodes well for upcoming trials in PD patients.
Full slides discussing the findings of this 120-participant PhIa trial:
Looking at historical statistics for POS of neurological small molecule drugs, and taking into account the biomarker-driven development of DNL201, the drug's POS % increases significantly from single digits to the high teens and arguable the low 20s. While it is impossible to map future commercial uptake of a drug like DNL201 with accuracy this early in the process, there is no doubt that the first disease-modifying therapy - especially a convenient oral drug - for PD will see blockbuster status and then some. A big question mark at present - which Denali will elucidate in their upcoming efficacy trial of DNL201 - is whether a LRRK2 inhibitor will only work for patients with LRRK2 mutations or whether all PD patients stand to benefit. A recent keystone publication suggests that the latter may in fact be the case, opening up a potential million-patient opportunity in the U.S. alone.
Much the same is true for DNL747, Denali's most advanced RIPK1 inhibitor. Like DNL201, this is a convenient oral drug, and like DNL201, it targets a massive unmet need by promising disease-modifying efficacy in Alzheimer's and ALS patients. DNL747 is the fruit of an early, and in the light of the Sanofi deal, highly prescient acquisition made by Denali. When Denali acquired Incro Pharmaceuticals - a Harvard U spinout - in mid-2016, they presumably did so on the basis of elegant structure-guided work showcased by the Incros founders in Cell Reports and the resulting drug candidates.
Today, French pharma giant Sanofi are validating that transaction by putting their faith in the excellence of Denali's RIPK1 program, indirectly signaling their conviction that RIPK1 is a viable upstream target to prevent necroptotic cell death. Denali will be able to benefit from Sanofi's significant expertise in ALS and MS and the French pharma giant will furthermore explore the RIPK1 pathway in rheumatoid arthritis ('RA') and psoriasis.
This is a win-win proposition as Sanofi get their hands on what can be considered to be a next-generation inflammatory pathway while Denali benefit from a significant cash injection, milestone payments and crucial access to Sanofi's infrastructure as one or several RIPK1 inhibitors move into larger trials. With Sanofi exploring large indications outside neurodegeneration, the potential future revenue stream for Denali's RIPK1 inhibitors is broadened, and having Sanofi conduct the vast bulk of clinical trial work on these molecules is invaluable in a crowded clinical trial environment. The tradeoff being profit-sharing for DNL747 and royalties-only for DNL758:
Sanofi and Denali will share commercial profits and losses from DNL747 in the U.S. and China equally, while Denali will receive a royalty from Sanofi for other territories for DNL747 and worldwide for DNL758.
N.B.: DNL747 is the company's brain-penetrant RIPK1 inhibitor intended for neurodegenerative disease whereas DNL758 is a RIPK1 inhibitor that does not cross the BBB and is intended for systemic inflammatory afflictions.
But then again, Denali would probably never have invested in fully-fledged psoriasis and RA programs on their own and the current transaction maximizes the value of a molecule that would not have been of interest in Denali's core area of expertise in neurodegeneration.
With this significant partnership in place, Denali are at liberty to focus their resources on key internal programs such as DNL201 in PD & their 'enzyme transport vehicle' for MPS II. I have explained in a subscriber-only post that the confusing data produced by Sangamo (SGMO) in that orphan indication create opportunity for Denali. Denali will specifically tackle the neurological symptoms of MPS II, which are off-limits to current therapy as well as, supposedly, experimental therapies including Sangamo's. With this brain-targeted enzyme replacement therapy, Denali are pursuing at once a proof-of-concept indication for the TV platform and a fast-to-market orphan indication which can be attained with significantly less financial commitment than large-market indications such as AD & PD.
The first-mover advantage
While LRRK2 inhibition has been on the minds of researchers for nearly 15 years, Big Pharma has thus far failed to advance a single viable drug candidate into the clinic. Designing a molecule that is brain-penetrant, shows strong selectivity for the desired structural component of the LRRK2 enzyme all the while demonstrating an acceptable safety profile in humans is no small task, and Denali are at least 1-2 years ahead of the competition.
Glaxo (GSK) are aiming to commence a PhI trials of their own LRRK2 inhibitor, which is still in preclinical testing, next year, as the fruit of a collaboration with genetic testing provider 23andme. Pfizer (PFE) and others have also evaluated LRRK2 inhibitors pre-clinically but were supposedly unable to strike the required balance as described above. As a result, Denali are enjoying quite a significant first-mover advantage, and I believe this needs to be taken into account when valuing the company.
For comparison, Sage Therapeutics (SAGE) and Marinus Pharmaceuticals (MRNS) both develop very similar molecules that have shown utility in seizure disorders and depression, yet Sage trades >$6bn Mcap vs <$0.3bn Mcap for Marinus, due to the fact that Sage's lead drug is nearing approval whereas Marinus have yet to initiate PhIII trials. This may be an extreme example, and I would argue that the multiplier between those two valuations should eventually come down, but it also illustrates that having a first-mover advantage in a large-market, 'greenfield' indication is indeed valuable.
As with RIPK1, Denali are at liberty to strike deals around their LRRK2 program in order to leverage the economies of scale associated with well-established, Big Pharma infrastructure. At the same time, the company's extraordinary cash reserves also allow them to 'go it alone' on LRRK2 until they demonstrate efficacy in an upcoming PhIb/PhII trial and can command a much higher valuation. In either case, the company has set itself up for success.
Societal value entails financial value
On the basis of scenario analysis and tentative rNPV calculations, I have determined that there is significant upside in DNLI shares. While I don't believe it would be useful to present formal 'price targets' at this point in time, I think it is worth noting that DNL201 alone can be thought of as being more valuable than the company's current Mcap in many scenarios. Importantly, Denali are equipped with the wherewithal to continue delivering on the deal-making front, thus creating additional working capital via non-dilutive means all the while moving towards significant catalysts in their broad and sophisticated pipeline. Neurodegenerative diseases and other diseases associated with the brain such as glioblastoma are absolutely devastating and represent one, if not the, area of highest unmet need at present and going forward. The economic burden of patients suffering from dementia in the U.S. has been estimated to exceed $200bn/year and will only continue to grow alongside an aging demographic, unless disease-modifying treatments are successfully developed & approved. Denali continue to make a highly compelling case, backed by data and deals, that they are uniquely equipped to rise up to the challenge.
Subscribers to Second-Level Investing benefit from in-depth research and guidance around DNLI and many additional high-quality picks in the biotech space. Subscribers also receive instant feedback via live chat and have access to an actively managed model portfolio.

Disclosure: I am/we are long DNLI.
I wrote this article myself, and it expresses my own opinions. I am not receiving compensation for it (other than from Seeking Alpha). I have no business relationship with any company whose stock is mentioned in this article.
Editor's Note: This article discusses one or more securities that do not trade on a major U.S. exchange. Please be aware of the risks associated with these stocks.