Midstream was positive this week, led by non-MLP midstream stocks, which outperformed MLPs (AMNA +1.2% vs. AMZ -0.3%). Midstream slightly outperformed utilities (UTY -0.8%), helped by a bounce back in broad equities and a strong set of 3Q results from big midstream players. Midstream performance was impressive, given the precipitous decline in oil prices this week, a 14 bps increase in the U.S. 10-year yield. Midstream also had to contend with seasonal ex-date volatility and month-end window-dressing immediately ahead of an election week.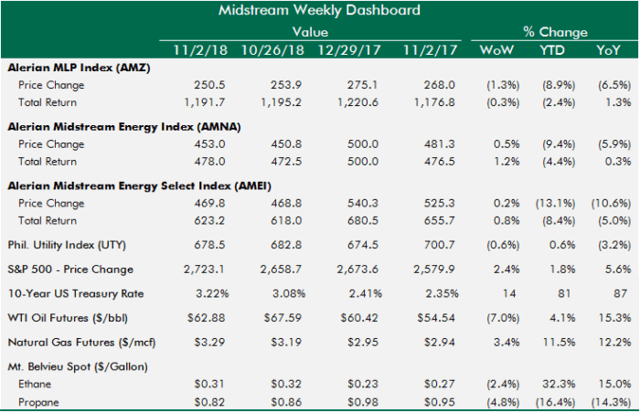 In the E&P space this week, there were 3 large all-equity mergers announced (Denbury (NYSE:DNR), Chesapeake (NYSE:CHK), Encana (NYSE:ECA)), and in each case, the market responded negatively, with -16% relative underperformance vs. XOP for each deal. The transactions were credit positive for the acquirer but also sent a negative message to the market on the existing assets of those acquiring companies. Midstream stocks also had to contend with those rather large distractions and the negative stigma these deals placed on the energy sector broadly.
Margin Expansion + Unit Stability = High Returns
Bellwether Enterprise Products Partners (NYSE:EPD) reported 3Q results this week and highlighted a number of impressive statistics. The number that really jumped out was $1.6bn of excess retained distributable cash flow in the first 9 months of the year. The midstream 2.0 model is working for EPD, and with numbers like that, it doesn't really matter if the market rewards them with a higher stock price because they don't need to issue equity. Other notable large cap midstream 2.0 adherents also posted impressive results this week, including MPLX (NYSE:MPLX), Williams Companies (NYSE:WMB), ONEOK (NYSE:OKE), and Magellan Midstream Partners (NYSE:MMP).
While it is frustrating to see big quarterly beats by major midstream players with limited positive stock reaction and follow through, patience and conviction should eventually be rewarded when positive fundamentals continue to flow through into strong cash flow per share growth.
Quick Hits Around the Sector
MLP Status Update: October
The MLP Index closed October down 8.0%, including distributions, making 3 straight years when October has been negative by at least 4%. It the worst October on record for the index, but it wasn't even the worst month this year for the Index, which saw -9.7% total return in February. October is typically a strong month for MLPs (index was flat in October 2008, bookended by the two worst months in the history of the sector at -17% each).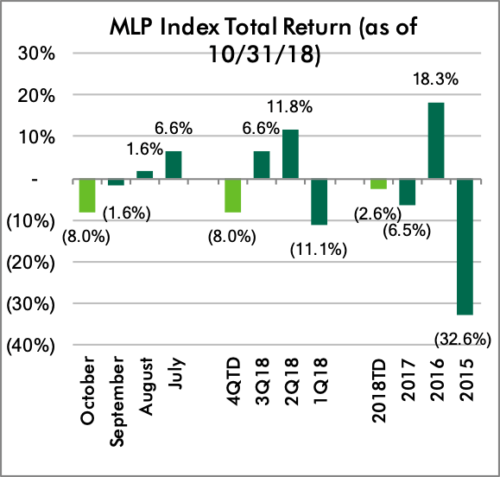 Looking ahead, November is typically weak, producing the lowest average and median return of any month since 1996. The best November ever for the MLP Index was 6.4% in 2009. If MLPs rebounded on some as of yet unknown catalysts, perhaps election relief, a trade deal, earnings momentum, or an oil price spice, MLPs could threaten that 6.4% record without much trouble given the severity of October's downdraft.
Midstream Status Update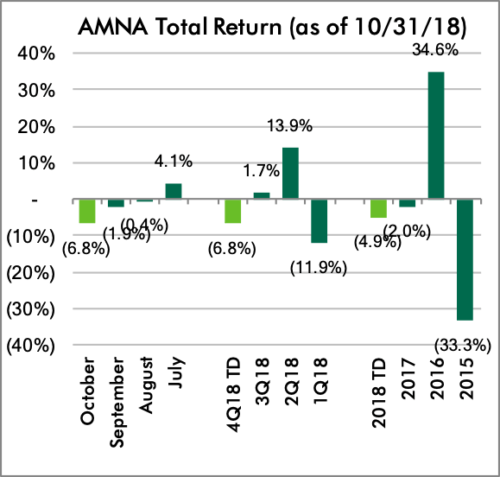 Winners & Losers
There was some evidence of follow through this week, at least for small MLPs with heavy retail followings like Martin Midstream Partners (NASDAQ:MMLP) and Global Partners (NYSE:GLP), which both repeated near the top of the group this week. MMLP reported results last week, and GLP announced a distribution last Friday. ENLK showed some negative follow through this week with a second straight bottom 5 finish. Crestwood Equity Partners' (NYSE:CEQP) solid quarterly results and reiteration of 15% annual DCF/unit growth sparked selling for some reason.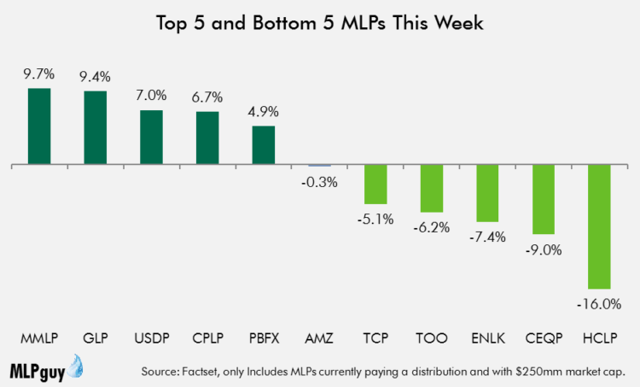 Two coal-related MLPs, CONSOL Coal Resources (NYSE:CCR) and Natural Resource Partners (NYSE:NRP), lead all MLPs in performance year to date, dethroning CEQP this week. Also, each of the top 5 has produced 30% or greater total return. Shell Midstream Partners (NYSE:SHLX) posted a very strong quarter of results and announced an IDR waiver that seemed to be a peace offering by the sponsor ahead of a more permanent IDR solution, but SHLX was negative on the week and earned a return trip to the bottom half of the YTD leaderboard, alongside fellow IDR-challenged MLP EQM.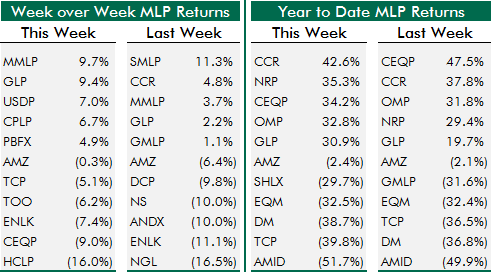 General Partners and Midstream Corporations
WMB's results were well-received on Thursday and held up through a volatile Friday to put WMB at the top of the Midstream corporation group this week. Others in the top 5 (Cheniere Energy (NYSEMKT:LNG), Plains GP Holdings (NYSE:PAGP), SemGroup (NYSE:SEMG)) showed a high level of volatility but finished positive. On the downside, it was the pending simplifiers at the bottom of the group (EnLink Midstream (NYSE:ENLC), Antero Midstream (NYSE:AMGP), and EQGP Holdings (NYSE:EQGP)).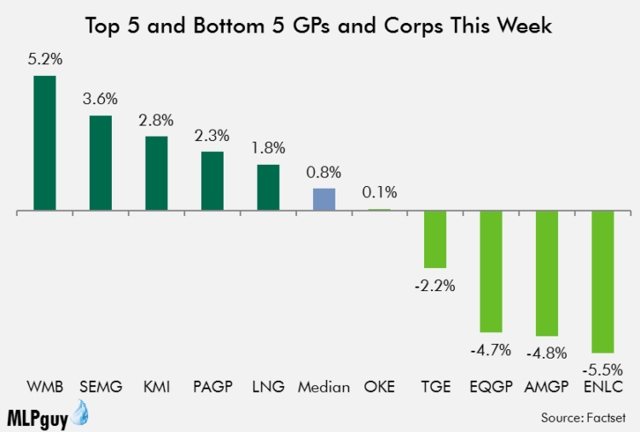 Those pending simplifiers were also near the bottom last week, perhaps an indication of a lack of interest in buying them ahead of closing, or perhaps reflecting a lack of indexes including those stocks which are neither MLPs nor corporations, so they tend to be ignored.
On the YTD leaderboard, it is notable that the median return in this group is roughly -11%, whereas the market cap weighted performance is much better. WMB climbed out of the bottom 5, replaced by another pure play general partner.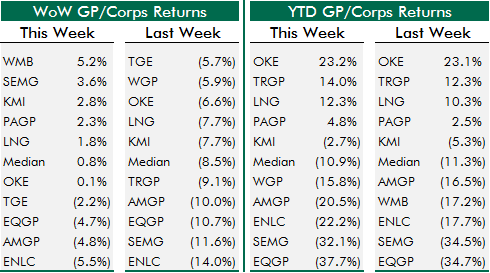 Canadian Midstream
Canadian midstream traded relatively well this week, especially on a market cap weighted basis. TransCanada (NYSE:TRP), Enbridge (NYSE:ENB), and PPL (NYSE:PPL) reported results, and all were good, with Pembina's actually very good. Inter Pipeline was in the news with its acquisition of terminals in Europe from NuStar, funding it with a small bought deal. Keyera's weakness might be somewhat due to rotation among Canadian investors who may have sold it to buy into that bought deal for IPL or into others who reported good results.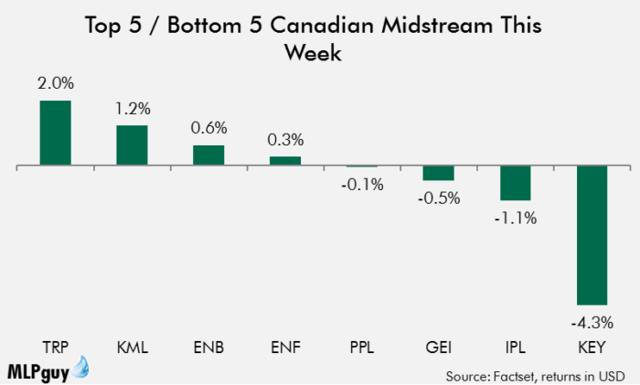 On the YTD leaderboard, Pembina took over 3rd place on Keyera's attrition.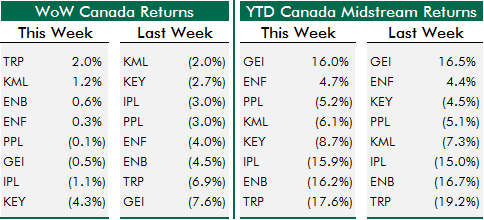 News of the (Midstream) World
More big asset sales this week, with participation on the other side by both public and private companies. More growth projects from the big players in the sector. A surprising amount of transaction news for an earnings week.

Capital Markets
M&A/Growth Projects
Other
Distribution Announcements
Shoutout to the CEO who replied and said he didn't see his company's distribution announcement here. That's because I typically only list the ones who announced that week, and that company had already announced its distribution for the quarter. It's certainly possible for me to post the entire sector's distribution announcements in a single chart, so I've done that this week, with a bonus summary table as well.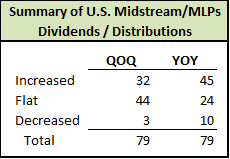 With 79 announcements in total, 3 cut distributions, while 32 increased quarter over quarter.