For much of the year, shares of Lumentum Holdings (LITE) traded in a wide range between $50 and $65. But after reporting fiscal Q1/2019 results, the stock not only fell 7% on the day but also continued its downward trend. Over on the Do-It-Yourself Value Investing stream, I removed the stock from the top stock ideas ahead of results and decided to re-evaluate this investing idea. Does this optical communications supplier and 3D sensing supplier have upside potential as shares trade at 10 times P/E? More importantly, should the stock be added back to the value list at these levels?

Lumentum's acquisition of Oclaro (NASDAQ:OCLR) added some uncertainties to the company but not enough to explain the downtrend. The deal will probably close even though the company needs China's antitrust regulatory approval. So, much of the stock movement is in reaction to Lumentum's quarterly results and its near-term outlook. On the former, Lumentum did not disappoint. In the first fiscal quarter, the company reported revenue growth of 46% year-over-year and record revenue from ROADMs and fiber lasers. The company launched new products in the quarter, including the MxN Wavelength Selective Switch.
Investors are more interested in Lumentum's diode laser-based 3D sensing in mobile devices and game systems. That is where the uncertainties start. The slowdown in premium smartphones is underway and could delay or limit the upside revenue potential for this technology. Apple (AAPL) reported strong quarterly revenue but opted to stop reporting unit sales of iPhones in the future. Samsung (OTC:SSNLF) is overhauling its approach to premium phones. One move includes releasing a cheaper flagship device. In China, where Xiaomi (XI), Oppo, and Huawei could have grown device sales, instead, a trade war with the U.S. and a softening economy will probably hurt device demand instead. For Lumentum, weak smartphone demand would require the company to look at other markets to grow 3D sensing supply sales.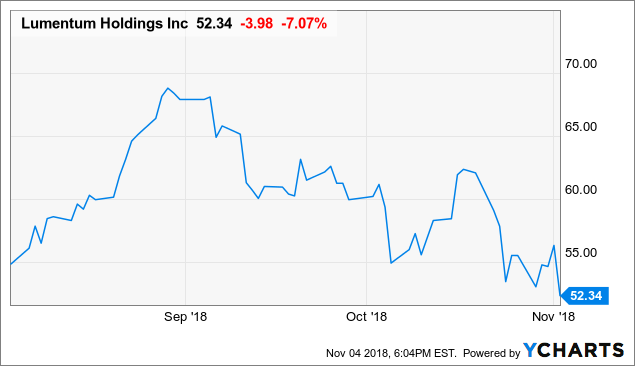 Despite the macro risks, Lumentum still shipped more 3D sensing in the quarter, up 154% from last year. It expects strong demand to drive shipments in the second quarter. Revenue grew thanks to a doubling in Android customers for high-end 3D sensing-enabled products. More Android customers will start new orders for 3D, which, due to confidentiality, Lumentum may not identify to investors.
And, of course, in automotive, 3D sensing and LiDAR automotive applications in 2021 and beyond suggest the forward P/E in LITE stock at 9.8 times is under-stating the growth ahead.
Networking Business Headwind
Lumentum is optimistic sales volumes for a reconfigurable optical add-drop multiplexer ("ROADM") will increase in calendar 2019. Unfortunately, the company faced headwinds in Q1 for 100G and 400G and margin challenges weighed on results. Datacom still has strong demand from customers who would no bring profits for Lumentum. The company reported revenue of $34.2 million from Datacom, down 24% from last year.
Outlook
Lumentum forecasts revenue in the range of $405-430 million and EPS ranging from $1.60 to $1.75. The seasonal weakness in Datacom and some growth in fiber lasers will result in sequential revenue up slightly from $354 million. New ROADM products will lead to strong revenue growth in this segment. Looking again at LITE stock price, the market chooses to discount the lumpiness in sales instead of bidding the stock higher. Sales from telecom customers may move up or down in the near term, but the spending levels over the long term are going up.
Investors who buy LITE stock are betting that telecom customers will spend more on their capital expenditures now instead of later. Investors could, therefore, use a 5-year DCF Revenue Exit model to estimate a fair value for the stock. Assumptions may include revenue growth at 15% annually, capital expenditures at around 7.5-7.7%, and a discount rate of between 8-9%. This would give Lumentum's stock price a fair value of around $70 a share.

Source: finbox.io
Your Takeaway
The market's negative reaction to Lumentum's quarterly earnings report is puzzling. The company reported strong revenue growth in its core business units and did not forecast much of a slowdown in the current quarter. It lined up plenty of Android customers for 3D sensing. Markets have a "show me" attitude for 3D sensing, so until Lumentum starts booking revenue here, the stock could drift lower. As a value investor, especially one who is a "DIY," that drop only creates a better compelling entry point.
Himax Technologies (HIMX) is in a similar boat. Revenue growth from customers it lined up is not yet booked. For LITE and HIMX, the market will only bid the stock higher afterward. Investors willing to get the stock at a discount will need to bet both companies deliver on their promises.
Please [+]Follow me for value stocks on sale. Click on the "follow" button beside my avatar.
Lumentum Holdings, II-VI (IIV), Himax Technologies, and Applied Optoelectronics (AAOI) were actionable trades in the DIY (do-it-yourself) investing service.
Disclosure: I am/we are long HIMX.
I wrote this article myself, and it expresses my own opinions. I am not receiving compensation for it (other than from Seeking Alpha). I have no business relationship with any company whose stock is mentioned in this article.