Earnings season is winding down and I'm feeling pretty good as it relates to my retail REIT picks. As I reflect on the landscape, I though that this visual would help make a point…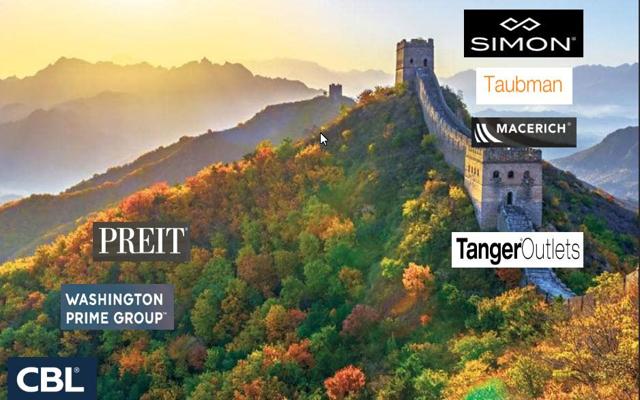 Yes, this is a pretty fall picture (love the leaves) and you can see the list of mall REITs and the fortress to the right. For illustration purposes, I have placed the lower-risk mall REITs closest to the fortress, recognizing that they enjoy the widest moat.
Alternatively, the lower-quality mall REITs are the farthest from the moat and fortress, and arguably CBL Properties (CBL) has no such moat whatsoever. In an article last week, I explained,
Most expected CBL to cut the dividend, as the company had already telegraphed in advance; however, many were surprised with the magnitude of the cut: a 62.5% reduction to $0.30 per share from $0.80 per share.
I have many preaching the "bifurcation theory" for quite some time, that is, that the higher-quality mall REITs will continue to deliver growing NOI, FFO, and dividends, while the lower-quality names will continue to deteriorate, and investors will not be sleeping well at night.
And that's precisely what unfolded last week, as CBL's dividend cut proved the company was indeed a "sucker yield". To be perfectly clear, CBL is a mess, and I am amazed to see investors jumping in after a massive dividend cut. Just take a look at this chart and tell me if there's a moat.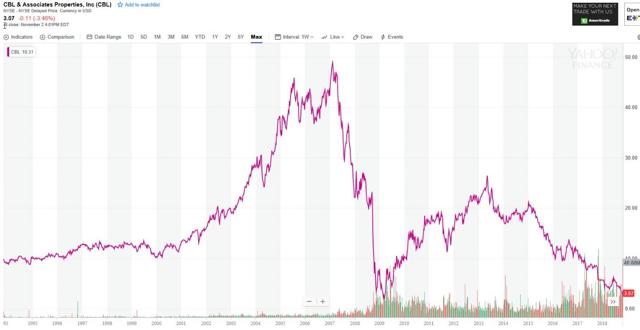 The "good guys" – the high-quality mall REITs – delivered solid Q3-18 results. For example, Simon Property Group (SPG) saw increased occupancy (95.5%, an increase of 80 basis points for Q2-18) and sales were up (for the Mall and Premium Outlets, 4.5%: $650, compared with $622 in the prior year period). Retail sales productivity has increased each month over the last 12 consecutive months.
Last quarter Simon announced a dividend of $2.00 per share, an increase of 11.1% year over year. The company will pay at least $7.90 per share in dividends, an increase of more than 10% compared to the $7.15 paid last year.
Taubman Centers (TCO) also saw improved fundamentals in the third quarter. FFO was $1.05 per share, up more than 36% over last year and adjusted FFO of $1.01, up nearly 22%. As the company's CEO explained, "It was the best quarterly growth rate we have had in more than six years".
Taubman's average rent per square foot in all comp centers was $57.06, up 4.8% in the quarter. In the U.S. comp centers, the average rent per square foot was $61.63, up 3.6% and on an NOI weighted basis, average rent per square foot (at U.S. comp centers) was $79.19, up 5%.
Macerich (MAC) also demonstrated success in the third quarter as FFO per share was $0.99, which compared favorably to guidance of $0.97, and exceeded the $0.96 reported in Q3-17. MAC's quarter-end occupancy was 95.1%, up 80 basis points from last quarter, and up 80 basis points from September 30, 2017.
Appearing below the "good guys" and also encroaching on the moat (in the picture above) is Tanger Outlets (SKT). While I have the company positioned on high-ground like SPG, TCO, and MAC, the market sentiment for Tanger has not been as forgiving. After all, shouldn't a moat-worthy REIT like Tanger be trading like its stalwart brothers and sisters?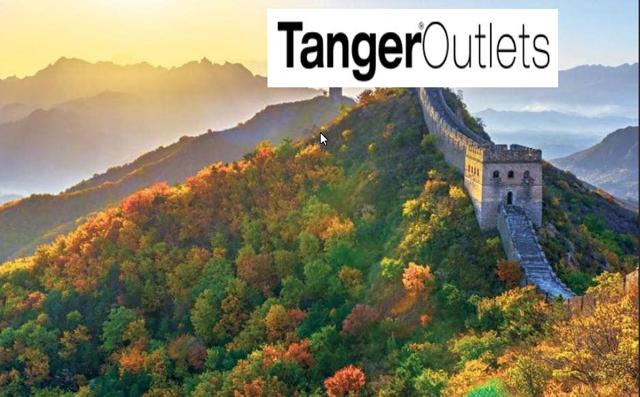 Photo Source
It's Tanger Time
Over the years, Tanger has evolved its business model and today the company owns 44 outlet centers in the U.S. (22 states) and Canada. The rising demographic of young and middle-class shoppers has made the future of outlet malls brighter, as the lower-priced goods in outlets makes high-end luxury more affordable.
Outlets are an effective tool to lure entry-level, budget-wise customers and over the years Tanger has become a highly effective partner - more than a landlord - to the best-in-class brands. For strategic reasons, most retailers do not break out data on sales for outlets, but the demand for outlet space is underscored by the overall profitability of operation.
Tanger is the only "pure play" outlet center REIT and this means that the company has no exposure to Sears (OTCPK:SHLDQ) or any other department store. Here's a snapshot of Tanger's top 15 tenants: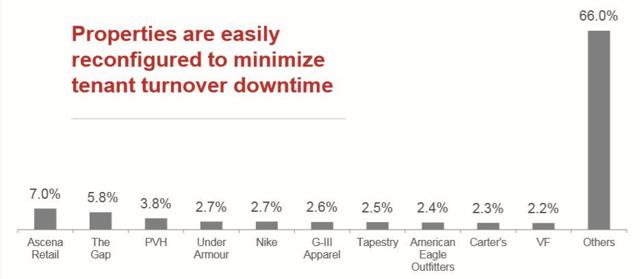 Although the retail industry has been struggling with store closures, outlets are the most profitable legs to the omni channel, occupancy cost ratios for tenants are typically much lower than at full price malls and shopping centers.
The outlet mall model, which is based on discounting, is well-positioned to grow its share of the value-conscious market. And the issue of value is extremely important, especially for shoppers who travel distances (i.e. tourism markets) to seek value in the best brands.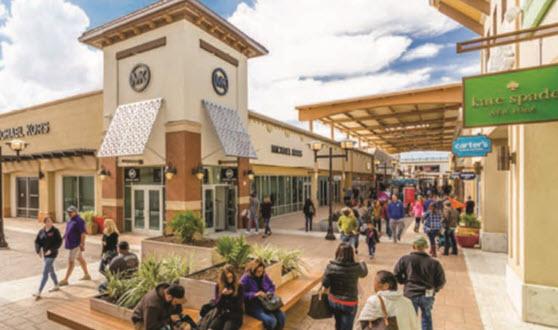 Source: Tanger Website
Tanger has a broader range of brands and the retailers have recognized that outlets are a key distribution channel in which behavior is influenced by branding. In order to attract customers, Tanger has invested in new amenities and restaurants to identify the outlet as a destination experience.
Tanger offers a more compelling risk/return thesis as the company has ZERO exposure to malls. When Sears, Bon-Ton (OTCPK:BONTQ), and J.C. Penney (NYSE:JCP) close a store, the landlord must shell out millions of dollars to demolish and rebuild or to redevelop the site for a new customer, not for Tanger!
Alternatively, Tanger has very little cost to retrofit a new space. It is really as simple as broom sweeping the floor and carpeting the retail space, such that properties can be easily reconfigured to minimize tenant turnover downtime.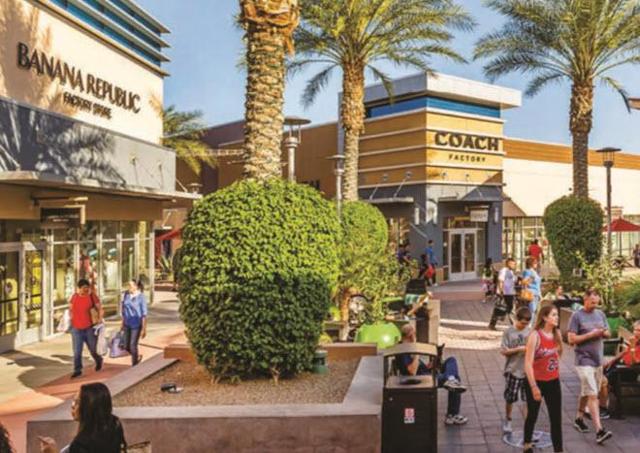 Source: Tanger website
Yes, This Balance Sheet Is A Fortress
One of the primary reasons that Tanger has been able to successfully weather market cycles is because of the company's fortress balance sheet. The company has always maintained strict discipline and today the balance sheet is in the best shape ever - 94% of square footage in the consolidated portfolio is not encumbered by mortgages.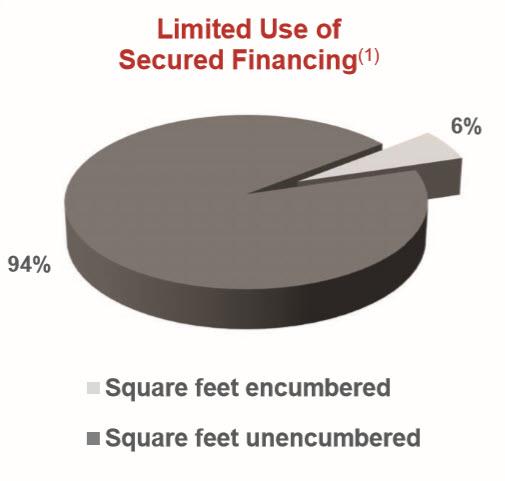 Only $203 million was outstanding under Tanger's unsecured lines of credit, leaving 66% unused capacity or approximately $391 million. Tanger maintained a substantial interest coverage ratio during Q3-18 of 4.5x and net debt to EBITDA improved from the prior quarter. The company's floating rate exposure represented 12% of total debt and about 5% of total enterprise value.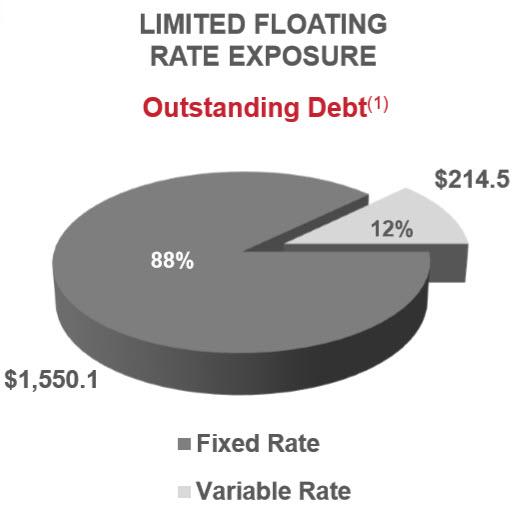 Tanger's average term to maturity was 5.9 years and the weighted average interest rate for outstanding debt was 3.5%. The company recently amended and restated its bank term loans, increasing the outstanding balance to $350 million from $325 million, extending maturity to April 2024 from April 2021, and reducing the interest rate spread to 90 basis points from 95 basis points over LIBOR. (The additional $25 million of proceeds was used to paydown the balances on the unsecured lines of credit.)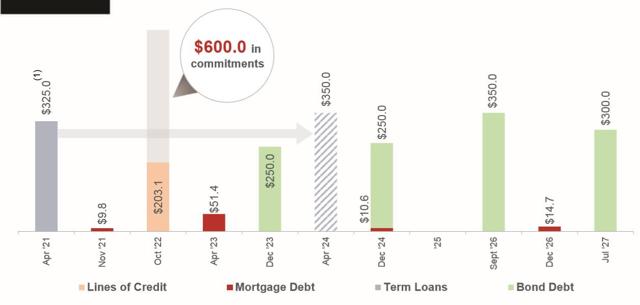 With the extension now complete, Tanger's weighted average term maturity of outstanding debt is approximately 6.4 years with no significant debt maturities until October of 2022. Tanger generates strong levels of cash flow as viewed below: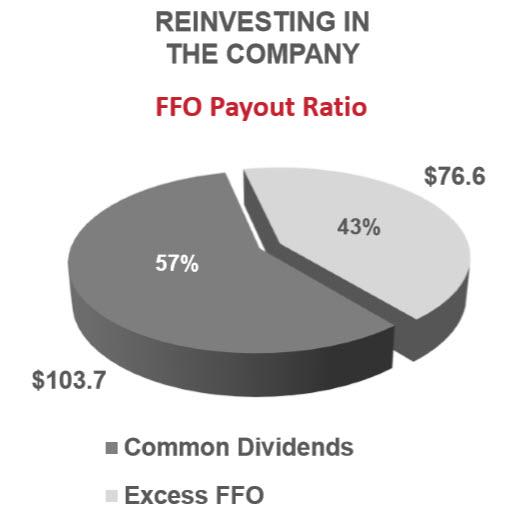 During the third quarter, Tanger reduced consolidated debt by more than $20 million, and improved its debt-to-EBITDA metric to 5.8x (down from 6x last quarter). In addition, Tanger didn't make any share repurchases during the quarter, year to date the company has repurchased approximately 990,000 shares or $20 million at a weighted average share price of $21.74. Tanger continues to demonstrate its commitment to a well-covered dividend with an FFO payout ratio of 56% for the quarter.
The Latest Earnings Results
In Q3-17 Tanger generated adjusted funds from operations (or AFFO) of $0.63 per share, in line with Q3-17. The company also increased occupancy by 80 basis points since the end of Q2-18 to 96.4% (of consolidated portfolio).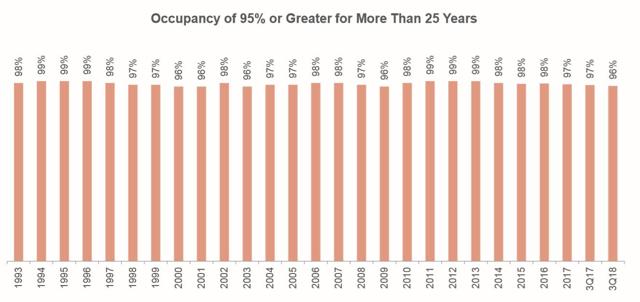 Sales were also encouraging: On an NOI weighted basis, sales for the consolidated portfolio were $409 per square foot in the trailing 12 months, up a 2.3% from the prior year period.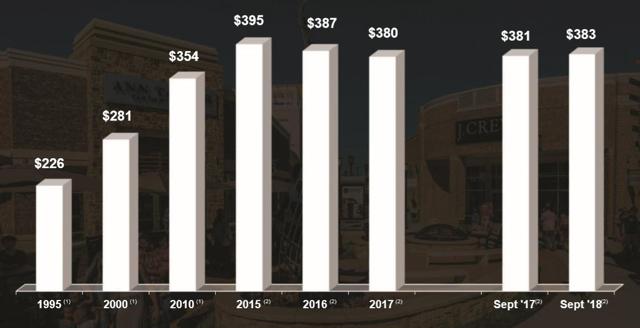 Tanger's rent spreads for leases which commenced in the 12 months ending Sept. 30 increased by 6.1% on a straight line basis, a decline slightly on a cash basis compared to the prior year period.
However, the leasing spreads appear to be stabilizing, reflecting what Tanger believes is "increasing confidence of our tenants in the long-term growth and profitability of the outlet distribution channel".
The selective use of leases less than 12 months has been an effective strategy for Tanger. The magnitude of rent adjustments and their impact on spreads compared to what the company experienced in the first half of 2018 is moderating and returning to a more normalized historical level.
Same center tenant sales for the overall portfolio increased 1.1% and Tanger believes "that the level of bankruptcies and restructurings that we saw in recent years in our portfolio is tapering."
"Based on a slightly better than expected third quarter and further visibility into the remainder of the year", Tanger raised the midpoint of its guidance range of FFO per share for 2018 to between $2.43 and $2.46. The company also raised the midpoint of its same-center NOI down 1.5% to down 2%.
Tanger also raised expectations for average occupancy for the year to be between 95.5% and 96%. And the company lowered store closure expectations for the year to a range of 125,000 to 150,000 square feet from the prior range of 150,000 to 175,000.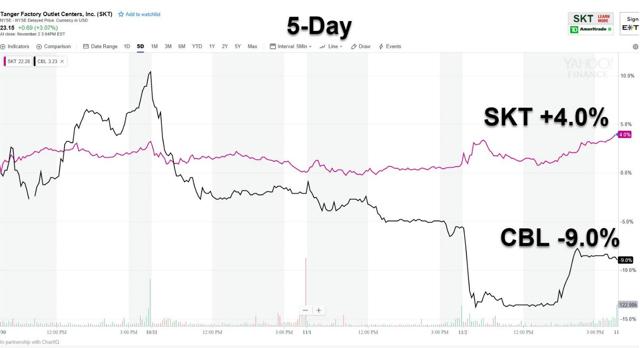 Moats Matter
According to Heather Brilliant and Elizabeth Collins (in Why Moats Matter),
(A Moat) can fend off competition and earn high returns on capital for many years into the future – increasing earnings, returning cash to shareholders, and compounding intrinsic value.
The co-authors go on to explains that "a highly certain 20-year stream if modest economic profits is much more moat-worthy than a few years of extraordinary high returns on invested capital."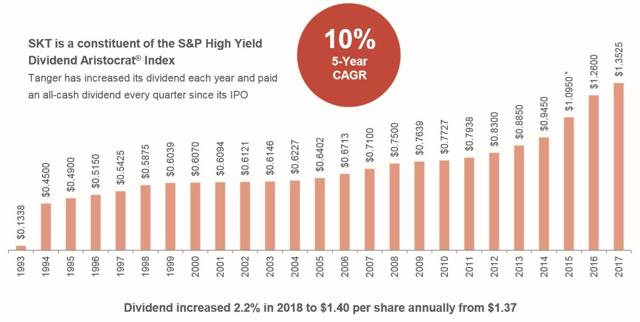 As you can see, Tanger has successfully grown its dividend every year since going public in 1993 and we believe that the company has well-positioned to continue growing its dividend (increased 2.2% in 2018 from $1.37 per share to $1.40 per share).
The co-authors continue,
Valuation is an incredibly important aspect of investing – you could argue, the most important. The key to successfully purchasing an asset at a discount to fair market value is accurately estimating the future cash flows you expect that business to generate.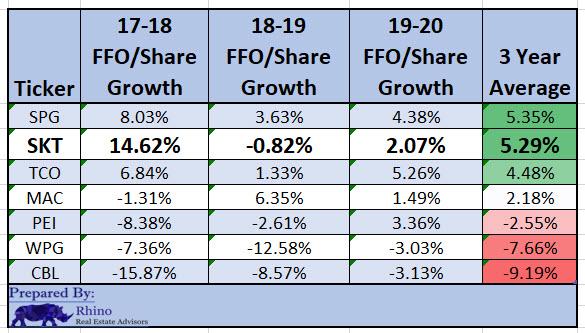 Using analyst estimates above (from FAST Graphs) you can see that Tanger is forecasted to grow earnings modestly. However, we believe that the forecast for Tanger is more predictable than peers since the company has no exposure to department stores. As Tanger's CEO explained on the recent earnings call, "the rate of bankruptcy [is] continuing to moderate and our aggressive efforts to add terrific tenants to our portfolio. We're fighting to get that level back up to 97%, but we're not there yet."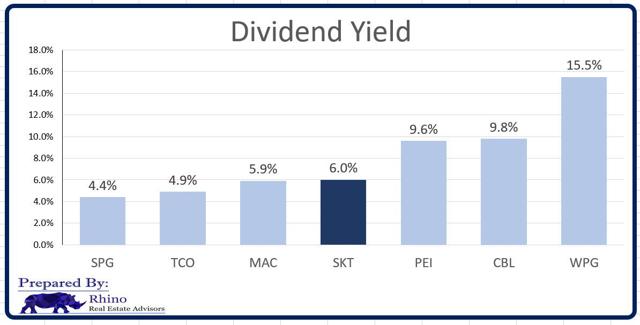 Now take a look at Tanger's P/FFO (compared with the peers):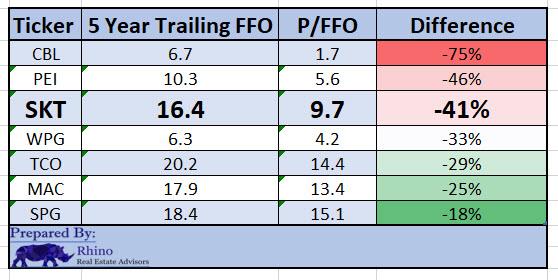 Now that Sears has filed bankruptcy, the real question that investors need to consider is which mall REITs are capitalized to manage through the cycle. It's clear that the "good guys" are seeing an improvement in fundamentals and the "Sears Factor" will have less relevance going forward.
The CBL dividend cut is definitely a harbinger, and preparing for the "next shoe to drop" is critical. Will J.C. Penney close more stores? Will Sears file Chapter 7?
Tanger is in a class of its own, and while sentiment remains negative, we believe that the market will eventually recognize this "pure play" outlet REIT as a premium brand. In the interim, I'll adhere to the Tanger's CEO manta:
"In GOOD TIMES, people LOVA A BRAGIAN, and in TOUGH TIMES people NEED A BARGAIN."
In closing: We believe that Tanger is weathering the retail cycle and eventually the market will recognize the company for its durable model. Dividend payments provide investors with valuable signals and Tanger's ability to grow its dividend (albeit modestly) and maintain a disciplined balance sheet are all attributes for our SWAN-rating system. Maintaining STRONG BUY and "sleeping well at night".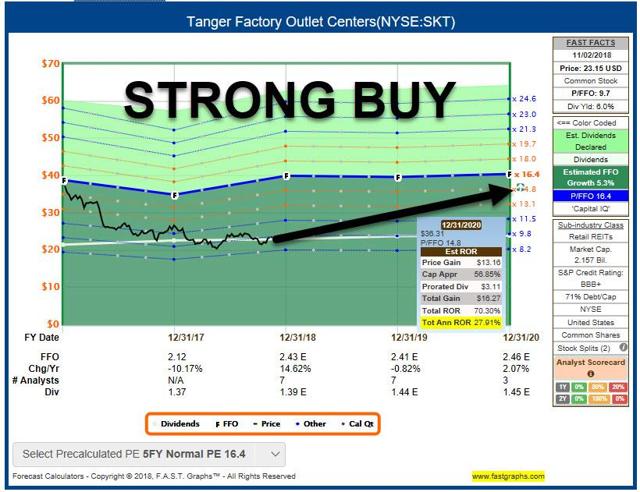 Author's note: Brad Thomas is a Wall Street writer and that means he is not always right with his predictions or recommendations. That also applies to his grammar. Please excuse any typos and be assured that he will do his best to correct any errors, if they are overlooked.
Finally, this article is free, and the sole purpose for writing it is to assist with research, while also providing a forum for second-level thinking.
Source: F.A.S.T. Graphs and Tanger Investor Presentation and Q3-18 Earnings Supplemental.
Other REITs: Macerich (MAC), Pennsylvania (PEI).
Brad Thomas is one of the most read authors on Seeking Alpha, and over the years, he has developed a trusted brand in the REIT sector. His articles generate significant traffic (around 500,000 views monthly) and he has thousands of satisfied customers who rely on his expertise.
Marketplace subscribers have access to a growing list of services, including weekly property sector updates and weekly recommendations. Also, we are now providing daily early morning REIT recaps, including breaking news across the entire REIT universe. Take Charge!
Disclosure: I am/we are long SKT, TCO, PEI.
I wrote this article myself, and it expresses my own opinions. I am not receiving compensation for it (other than from Seeking Alpha). I have no business relationship with any company whose stock is mentioned in this article.