Editor's note: Seeking Alpha is proud to welcome Symbio Capital as a new contributor. It's easy to become a Seeking Alpha contributor and earn money for your best investment ideas. Active contributors also get free access to the SA PRO archive. Click here to find out more »
Stay above the fray, warn the weary. With the Fed undercutting investor confidence with deflationary efforts, and the almost-impossible task of precisely determining what impact tariffs (and the trade war) will have on demand, it would seem that our outlook on Acuity Brands (AYI) is presently an affirmative sell. However, we foresee double-digit growth over the next year or two, with several entry points throughout.
Company Overview
Acuity Brands (AYI), a conglomerate of Acuity Brands Lighting, Inc., and other subsidiaries, is one of the world's leading providers of lighting and building management solutions for commercial, industrial, institutional, infrastructure, and residential applications. Its principal office is located in Atlanta, Georgia. The Company's building and lighting management solutions include devices such as lighting controls, luminaries, power supplies, prismatic skylights, drivers, and controllers for various building systems, as well as integrated systems designed to optimize energy comfort and efficiency for various outdoor and indoor applications. In addition, it continues to expand its solutions portfolio to provide a host of other economic benefits, including software and other services that enable the Internet of Things ("IoT"). The company's IoT solutions provide customers with access to robust data analytics; support the advancement of smart cities, smart buildings, and the smart grid; and allow businesses to develop custom applications to scale their operations. As of May 31, 2018, the Company has under its operation seven distribution facilities, 20 manufacturing facilities, and three warehouses to serve its extensive customer base.
Performance/Analysis
Presently, AYI has a balanced debt to equity ratio when compared to its peers in the Construction Supplies & Fixtures industry. This is suggestive that its earnings would be less volatile than other related companies. Also, with its P/E Ratio on par with its counterparts, investors are willing to pay the same amount for its level of earnings relative to future growth. Furthermore, the company has more cash to spend on business due to its high Gross Margin. This can be attributed to its ability to control its costs and expenses; and reinvesting its earnings more efficiently than 85% of its competitors. Finally, the EPS Growth Rate of the company greater than 66% of its peers; which altogether is indicative of the company's efficiency, demonstrated in its ability to move inventory and generate sales.
AYI has achieved a solid performance in the third quarter of 2018, in spite of a backdrop of current market conditions. For instance, it recorded net sales of $944 million, an increase of about 6%, when compared with last year's report. Its operating profit was tagged at $105.9 against $131.5 million of last year, while its diluted earning per share was $1.80 compared with $1.90 of last year. In the third quarter of 2018, the company recorded an adjusted operating profit of $135.8 million compared with $148.3 million of the previous year. There was an increase of 10% in the company's diluted earnings per share at $2.37. Furthermore, the company's net cash provided by its operating activities was $301 million when compared with $198 million of last year. This further emphasized the company's financial flexibility.
AYI has had favorable Net sales since the beginning of fiscal 2018. For instance, it recorded a 6% increase in net sales over one year period from last year. There was sales growth in most channels and geographies influenced by several factors most especially the increase in sales volume brought about by greater shipments of products.
Acquisitions and Investments
Acuity Brands has acquired 14 companies. Its latest acquisition in fiscal 2018 is Lucid Design Group, Inc. on February 12, 2018, and IOTA Engineering, LLC on May 1, 2018. Lucid Design Group, Inc., located in Oakland, California, provides a data and analytics platform to make data-driven decisions in other to improve building efficiency and drive energy conservation and savings.
Using cash on hand and borrowings available under existing credit arrangements, Acuity acquired all of the equity interests of IOTA Engineering, LLC ("IOTA"). IOTA, headquartered in Tucson, Arizona. manufactures highly engineered emergency lighting products and power equipment for commercial and institutional applications both in the U.S. and internationally.
The recent acquisition of these companies has helped Acuity Brands outperform its competitors.
Securities Class Action
On January 3, 2018, a shareholder filed a class action complaint in the United States District Court for the District of Delaware against the Company and certain of its officers on behalf of all persons who purchased or otherwise acquired the Company's stock between June 29, 2016, and April 3, 2017. On February 20, 2018, a different shareholder filed a second class action complaint in the same venue against the same parties on behalf of all persons who purchased or otherwise acquired the Company's stock between October 15, 2015, and April 3, 2017. A motion to consolidate the cases has been filed and is presently pending, unopposed.
The cases were transferred on April 30, 2018, to the United States District Court for the Northern District of Georgia. The complaints allege that the defendants violated the federal securities laws by making false or misleading statements and/or omitting to disclose material adverse facts that (NYSE:I) concealed known trends negatively impacting sales of the Company's products and (II) overstated the Company's ability to achieve profitable sales growth. The plaintiffs seek class certification, unspecified monetary damages, costs, and attorneys' fees.
The Company disputes the allegations in the complaints and intends to vigorously defend against the claims. Estimating an amount or range of possible losses resulting from litigation proceedings is inherently difficult, particularly where the matters involve indeterminate claims for monetary damages and are in the stages of the proceedings where key factual and legal issues have not been resolved. For these reasons, the Company is currently unable to predict the ultimate timing or outcome of or reasonably estimate the possible losses or a range of possible losses resulting from the matters described above. The Company is insured, in excess of a self-retention, for Directors and Officers liability.
What Are Analysts Saying?
Oct 4 2018 - Wells Fargo: Analyst Richard Kwas lowered his price target for Acuity Brands to $161 from $187, while reiterating an Outperform rating on the stock. The analyst believes the correction in the shares was overdone and gross margin should get sequentially better starting this quarter and pick up steam through next spring.

Oct 4 2018 - JMP Securities: Acuity Brands selloff a buying opportunity. Analyst Joseph Osha said the $20 selloff in Acuity Brands shares presents investors with an opportunity to invest at an attractive valuation, noting that the gross margin erosion has been counteracted by the company's ability to hold down operating costs, at least for now. He also notes that the company has taken two price hikes since the summer and plans another 6-10% increase to be implemented in mid-October. Osha maintains an Outperform rating and $170 price target on Acuity shares.

Sept 17 2018 - Roth Capital Partners: Analyst Craig Irwin noted that Acuity Brands filed a Warn Act notification saying they will lay off 298 people at their Juno Lighting Des Plaines, IL facility and sources tell him the jobs will be moved to Mexico. He sees this move as a direct action to circumvent the impact of Chinese trade tariffs and calls it, "particularly tone deaf on the part of management." Irwin reiterates his $90 price target and Sell rating on Acuity shares.
(Source: thefly.com)
Key ETF Exposure
Here are our two favorite ETFs with exposure to Acuity Brands.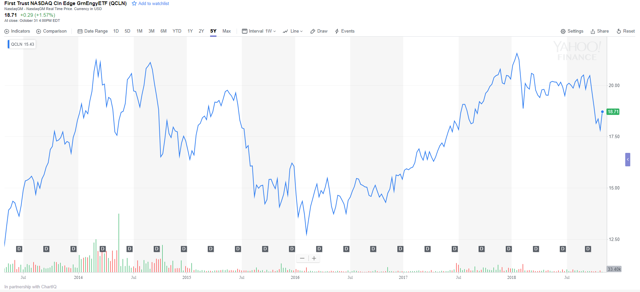 (Data: Yahoo Finance)
QCLN has a broad portfolio of US-listed firms in the clean energy industry. As of October 26, 2018, Its Expense Ratio is 0.60% with a Median Tracking Difference of -0.31%, Maximum Upside Deviation of -0.16% and Maximum Downside Deviation of -0.37%. In terms of liquidity, per etf.com, QCLN has a rating of 4/5. It has an Average Daily Share Volume of 11,479 at $226.53K and a Median Daily Share Volume of 9,790 at $191.46K, with an Average Spread of 0.41% at $0.08. Its Market Hours Overlap is 100.00%; Creation Unit Size is 50,000; Creation Unit Cost is 0.06% while its Net Asset Value is $18.04. It has a benchmark compares its holding of 39 stocks with Shared Holding Weight of 12.77% and 1.28% Dividend Yield.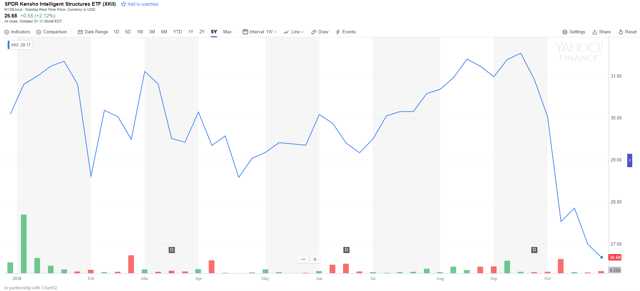 (Data: Yahoo Finance)
XKII tracks an index of US-listed companies that focus on smart building infrastructure, intelligent transport infrastructure, smart power grid or intelligent water infrastructure. As of October 26, 2018, its Gross Expense Ratio is 0.45%. XKII's liquidity is rated 4/5 with etf.com. It has an Average Daily Share Volume of 1,991 at $76.47K and a Median Daily Share Volume of 374 at $22.42K, with an Average Spread of 0.23% at $0.07. Its Market Hours Overlap is 100.00%; Creation Unit Size is 50,000; Creation Unit Cost is 0.02% while its Net Asset Value is $26.73. It has a benchmark compares its holding of 43 stocks with Shared Holding Weight of 0.00% and 1.15% Dividend Yield.
Also held by, but not limited to: IJH, MDY, FXZ, PBUS, IJJ
Outlook
The outlook for Acuity Brands is bright, with the company's growth rates having been positive over the past five years, and profit expected to grow by 11.29% over the next couple of years. This is not without some potential bumps along the road, as AYI is higher beta compared to the US Electrical market industry average (1.4 vs 1.24), and carries a PEG of 2.6, hinting at growth being solidly priced in. At the moment, higher cash flow -- 23.99% free cash flow per share increase YoY vs 2016 -- should translate into a higher share valuation for FY 2019.
Comparing these results to its competitors, the company's reported total revenue increase in the third quarter of 2018 by 10.82% year on year. In the same quarter, its sales growth was also found to be above its competitors' average revenue growth of 7.17%.
For Acuity Brands, the latest earnings are $341.10M, which has risen by 11.58%, against the prior year's figure. Moreover, the annualized five-year value for net income stands at $196.78M. This shows that Acuity has been able to grow its earnings steadily over the last few years and it is expected to continue at an attractive rate.
In addition, management has shown extensive commitment in promoting the growth of the company. For instance, it has taken a number of actions during the past months, aimed at offsetting much of its recent inflationary cost pressures, as well as other measures to improve productivity and reduce costs. We believe that although the overall growth rate for the fourth quarter 2018 will be flat to slightly down, continuing the sluggish trend over the last several quarters, the aforementioned (linked) actions will begin to offset current pressures midway through its first quarter of FY 2019.
The Takeaway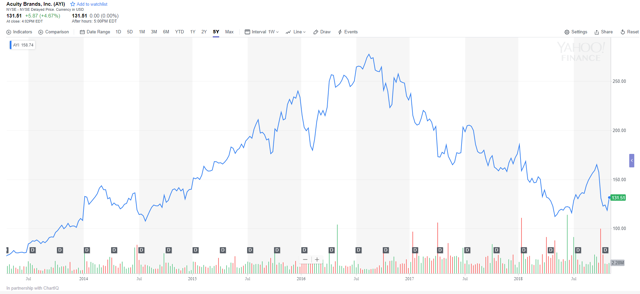 (Data: Yahoo Finance)
With recent climactic volume being evident, it is our opinion that the majority selloff has already occurred, and that AYI will be one of those "do something," stocks until somewhere around Q2 2019, where a rebound will take place.
Hypothetical 1) If we already owned shares of AYI as part of a long-term strategy, we would consider locking in any applicable profits on a portion of our position, and then holding while we wait for Q2.
Hypothetical 2) If we weren't already in, but looking play, we would begin establishing a core position by entering below VWAP where technical entry points present -- keeping lot sizes small, and accumulating over time as news or market events attracted activity from the momo crowd.
Author's note: If you enjoyed our article, and would like to see more from us in your feed, don't forget to give us a follow.
Disclaimer: The information contained herein is for informational and entertainment purposes only, and nothing in this article should be considered financial advice.
Disclosure: I/we have no positions in any stocks mentioned, and no plans to initiate any positions within the next 72 hours. I wrote this article myself, and it expresses my own opinions. I am not receiving compensation for it (other than from Seeking Alpha). I have no business relationship with any company whose stock is mentioned in this article.