United States Steel (X) continues to be one of the toughest stocks to trade. Not only is the company in a very cyclical industry (steel), the company is also producing on of the most cyclical products - flat-rolled steel. And even though the economy's stock price has been in a very strong uptrend since the start of 2016, we have to acknowledge that the stock price did not go anywhere since the end of 2016. That said, the most recent quarterly reports came in quite strong which might not be enough given the pressure from falling leading economic indicators.

Source: United States Steel
Strong Sales & Earnings Growth Is A Fact
Third quarter EPS rose to $1.79. This is exactly in line with estimates and 95% higher compared to Q3 of 2017 when EPS increased to $0.92. EPS has now been positive for 6 consecutive quarters. If we ignore the first quarter of 2017, one could say that every quarter has been an improvement since Q1 of 2016 when the US economy bottomed.

Source: Estimize
Sales growth has also been very promising. Sales totaled 3.729 billion in Q3 which is slightly above expectations of $3.706 billion. The year-on-year growth rate is at 15% which is one of the highest numbers of the current cycle.
Sales growth was supported by two important factors. First of all, shipments were up in the two biggest segments. Flat-rolled shipments improved 4.5% to 2.66 million tons. US Steel Europe saw a shipments improvement of 3.2% to 1.1 million net tons. Tubular shipments were down 0.5% to 184 thousand tons. The other factor is a higher price realization. The average selling price of flat-rolled steel increased 18.0%. This could have been higher if it were not for a decline of hot rolled steel prices. I will discuss this in more detail in the second half of this article.
Adding to that, the company continued its cost-cutting measures I discussed in my previous article. This had led to yet another EBITDA margin improvement. This time, the company saw an improvement from 7.8% in Q3 of 2017 to currently 10.0%.
Total sales have recovered roughly 50% of the decline that started in 2015 when commodities and economic sentiment collapsed. Net income on the other hand is at levels not seen since the end of the recession of 2008. It is very impressive to see the company's efficiency enhancing results.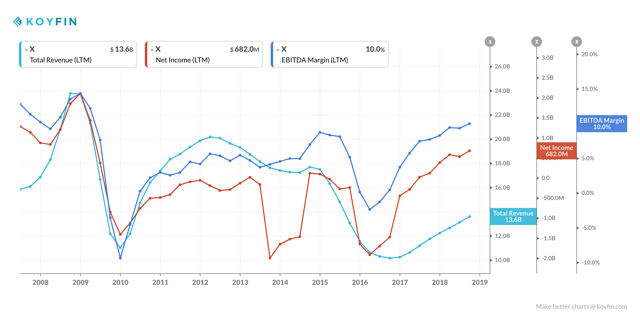 Before I move over to the company's adjusted outlook, let me share a brief overview of the performance per segment.
The biggest segment, flat-rolled had a favorable impact from higher average realized prices. This effect was responsible for $356 million of the $148 million EBITDA improvement. The difference between the previous two numbers is caused by rising raw material and maintenance costs.
US Steel Europe saw a $2 million EBITDA improvement. The $47 tailwind from higher volumes and better prices was almost entirely offset by rising raw material prices which had a negative effect of $29 million.
Adjusted EBITDA from the tubular segment improved from $4 million to $18 million. This move was due to higher average selling prices. These price improvements added $25 million while raw material inflation reduced EBITDA by $18 million.
And speaking of pricing. Let's move over to an even more interesting topic.
What's Next?
I always like to start with company's own expectations and see if there is a connection with macro economic factors/trends. US Steel's guidance has been adjusted to full year adjusted EBITDA of approximately $1.8 billion. This is a slight downgrade from the previous range of $1.85 - $1.90 million.

Source: US Steel Q3/2018 Earnings Presentation
The reason for this downgrade is a longer than expected buyer strike and lower selling prices.
... we adjusted annual guidance to $1.8 billion of EBITDA due to a longer than expected buyer strike and faster than anticipated drop in selling prices over the last two months. We view this as just a timing difference as steel demand has remained strong and we are now seeing higher daily order rates, longer lead time and improved pricing.
Personally, I have to say that the part about prices is completely justified. Hot rolled coil prices have been under pressure since July of this year and are down 10% since then. Note that I also added a blue line to the graph below. This line displays the leading ISM manufacturing index. This index tells us what we can expect in terms of economic growth over the next 3-6 months. In this case, we see that economic expectations are peaking. I discussed this in last month's economic outlook article which I will update over the next few days.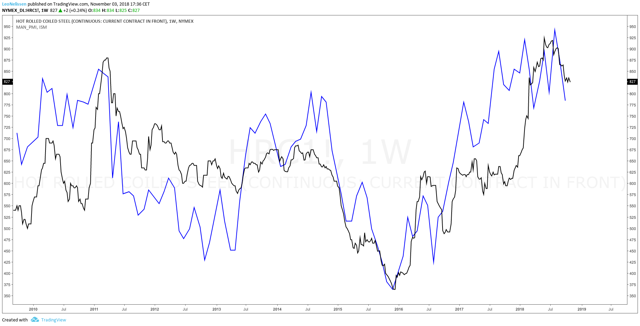 Source: TradingView
In other words, prices are down, but the pressure on prices is also rising as an economic growth peak would slow down steel demand.
That said, I am not predicting an economic crisis. I am merely mentioning that ISM peaks like the graph below shows, are able to push down stock prices of steel companies.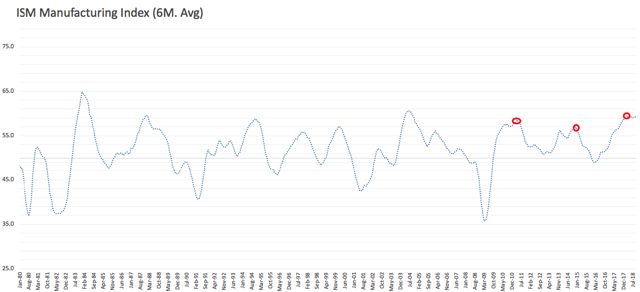 Source: Author's Spreadsheets (Raw Data: ISM)
With that in mind, I think the US Steel stock price needs a bit more support from economic indicators. Even though the stock is down significantly since the first quarter, I do not see the economic momentum it needs to push up stocks like US Steel. It also does not help that the Chinese manufacturing PMI (comparable to ISM manufacturing index) is just slightly above 50. Personally, I think Morgan Stanley's call on the 27th of August was right. Morgan Stanley put an underweight rating on the stock after upgrading the stock in February.
I believe that the best thing to do is to stay on the sidelines. At least, that's what might be the best thing for mid-term traders. Long term investors are used to some weakness and should just sit this one out as well.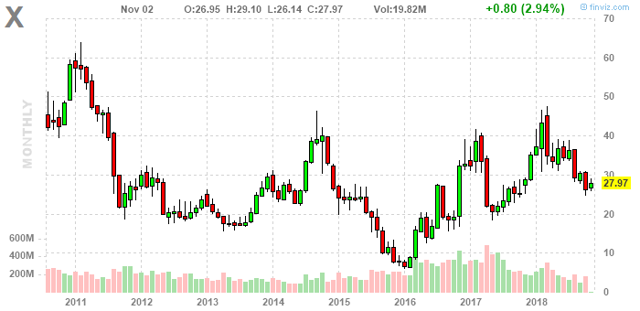 All things considered, I have to say that I am impressed with the company's success. Shipments growth has been strong and rising margins are a great indicator of the company's turnaround. The only problem is that the business cycle might put some pressure on the company's stock and outlook (guidance). I expect this to continue until the ISM manufacturing index starts gaining momentum again. It also does not matter that the stock price valuation is very low with a PEG ratio of 0.6 and a forward PE of 4.7. As long as economic sentiment is declining, we will see pressure on US Steel. These valuations become really interesting once these indicators bottom. I will stay on the sidelines until that happens.
I'll keep you updated!
Thank you for reading my article. Please let me know what you think of my thesis. Your input is highly appreciated!
Disclaimer: This article serves the sole purpose of adding value to the research process. Always take care of your own risk management and asset allocation.
Disclosure: I/we have no positions in any stocks mentioned, and no plans to initiate any positions within the next 72 hours.
I wrote this article myself, and it expresses my own opinions. I am not receiving compensation for it (other than from Seeking Alpha). I have no business relationship with any company whose stock is mentioned in this article.