Microsoft (MSFT) stock has shown strong performance this year, with YTD performance at 24% compared to the relatively flat return on the S&P 500. The company's recent earnings report for Q3 beat expectations, delivering an EPS of $1.14 versus expectations of $0.96, and revenue of $29.08 billion versus expectations of $27.9 billion. Regardless, the stock has declined by about 8% over the past month amid the broader market sell-off and the market conviction that tech valuations are getting too high. The general consensus, however, among analysts remains optimistic and bullish, with an average price target of $125. Now the question is, should you buy into this rally?
The chart below shows the YoY growth rates for Microsoft's various business segments for the past nine quarters.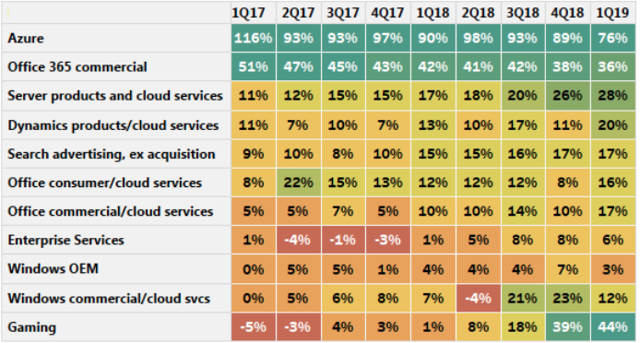 Source: CNBC
The chart reveals that growth across its various segments was relatively strong last quarter, with most segments growing at double-digit rates. However, the segment that investors are most interested in is the cloud business, Azure. This is Microsoft's fastest-growing segment and what investors are counting on most to drive future growth.
Microsoft Azure is a strong player in the cloud market, with 13% market share. While Amazon (AMZN) is presently the market leader with 33% market share, the company is definitely facing competitive pressure from Microsoft Azure. In fact, last quarter, Amazon cut prices for one of its cloud products, Lightsail server, by 50%, to stay competitive and not lose market share to Microsoft.
While Microsoft Azure is certainly a force to be reckoned with, one worrying number in the latest earnings report was the fact that growth had slowed to 76%. Although this is an incredibly strong growth rate, it is not as impressive as the 80%+ and 90%+ numbers it had grown at in previous quarters, as shown in the chart above. Nevertheless, Azure's growth rate is still faster than that of Amazon Web Services (AWS), which grew by 45.7% YoY according to its latest earnings report. Moreover, the cloud industry is one with immense growth potential, and the market size is expected to reach 302.5 billion by 2021. Hence, while competition in the cloud industry is intense, being one of the market leaders in such a high-growth industry certainly makes Microsoft stock an attractive investment to consider.
Furthermore, I believe that for a company to prosper over the long-term in an increasingly competitive market, it needs to have strong free cash flow for two reasons. Firstly, the company should be able to continue spending on Research & Development and stay innovative to maintain and grow market share by offering clients unique services, which they are not able to find easily with other competitors. Secondly, a sufficient level of free cash flow is essential in order to be able to engage in any potential price competition, thereby avoiding losing market share to the increasing number of other competitors. The table below lists the main players in the cloud industry, along with the level of free cash flow each company has produced over the past twelve months.
| | |
| --- | --- |
| Company | *TTM Free Cash Flow ($ billions) |
| Microsoft | 32 |
| Amazon | 13.4 |
| Alphabet | 21.42 |
| | 12.74 |
| Salesforce | 2.56 |
| *Alibaba | 15.35 |
| *Tencent | 7.87 |
Data Source: Morningstar
*TTM= Trailing Twelve Months
Note: *Alibaba and *Tencent figures were from CNY to USD at an exchange rate of 0.15.
Compared to the rest of the industry, Microsoft has the highest level of free cash flow. This is an encouraging sign as the company is clearly well positioned to stay highly competitive in the market.
For instance, Microsoft is already showing competitive strength as the company released its Dynamics 365 AI software in September, which is a Customer Relationship Management software product. By adding AI features to the product, Microsoft intends to compete more strongly with the current niche market leader, Salesforce (CRM). And as the table above revealed, Microsoft is in a much stronger free cash flow position than Salesforce. Consequently, I believe Microsoft is in a superior position to take away market share from niche players like Salesforce by continuously innovating, and even engaging in price competition if it has to, thereby posing a genuine threat to Salesforce's business.
While Microsoft Azure is certainly showing competitive strength and strong growth, it is worth noting that international competitors are also growing in size and competitiveness, such as Alibaba (BABA) and Tencent (OTCPK:TCEHY). In particular, Alibaba's cloud computing unit saw YoY growth of 90% in its latest quarterly earnings report, growing faster than Azure. Hence, these rising competitors from other corners of the globe are headwinds that could also decelerate the growth rate of Azure on an international level. Nevertheless, Microsoft is well equipped to compete with overseas competition due to both its strong financial conditions and its robust brand reputation as delivering high-quality and wide ranging cloud services.
Valuation
Below, you can find a comparison of the main valuation metrics of Microsoft against some of the other cloud players in the market.
| | | | | |
| --- | --- | --- | --- | --- |
| Valuation Metric | Microsoft | Amazon | Alphabet | Salesforce |
| Price to Earnings | 43.6 | 93.3 | 40.7 | 146.9 |
| Price to Forward Earnings | 24.4 | 59.9 | 22.8 | 51.5 |
| Price to Sales | 7.2 | 3.8 | 5.9 | 8.9 |
| Price to Cash Flow | 18.3 | 31.2 | 16.9 | 33.9 |
While Microsoft's multiples are certainly not cheap, I believe it is still better valued compared to some of its main cloud competitors. Microsoft and Alphabet (GOOGL) (NASDAQ:GOOG) are trading at very attractive Price to Forward Earnings Multiples of 24.4 and 22.8 respectively. Alphabet stock has been under pressure lately regarding the threat of data privacy issues and regulations, which is one of the reasons its stock is trading at these multiples. Overall, I believe Microsoft is one of the most attractively valued cloud players in the market right now.
Bottom Line
Microsoft stock has experienced a great rally over the past several years, boosted mainly by its cloud unit, Azure. While growth has been showing signs of slowing down lately, I believe it is still growing at a solid rate. Microsoft is well positioned to grow its market share, revenues, and profitability in the booming cloud industry over the long run. Anyone that is looking to gain exposure to the cloud industry should definitely consider Microsoft stock.
Disclosure: I am/we are long MSFT.
I wrote this article myself, and it expresses my own opinions. I am not receiving compensation for it (other than from Seeking Alpha). I have no business relationship with any company whose stock is mentioned in this article.