October was a bad month for the market as stocks sold off sharply worldwide. The drop in the S&P 500 (SPY) reached -9.8% from peak to trough – almost correction territory (defined as -10%) – and at its low point erased all of this year's gain before rebounding by 3.5%. It took the Red Sox winning the World Series to stop the selloff. Just kidding.
U.S. and Global Equities, YTD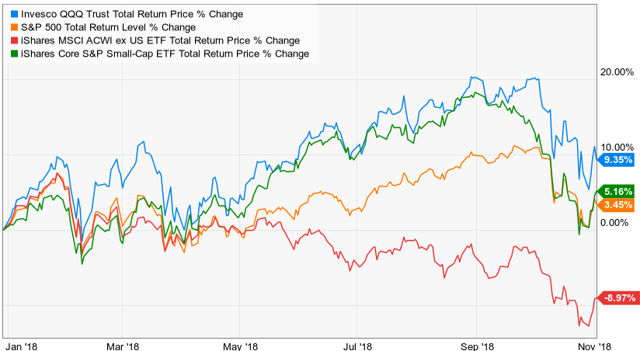 Sources: Quotemedia, Ycharts. Figures as of 11/2/18 market close.
The investor fears that triggered this correction included the following:
A spike in longer-term interest rates, as higher rates might slow economic activity.
An accelerated trade war with China.
Peak earnings – the expectation that around-25% earnings growth in 2018, boosted by the corporate tax cut, will soon end. This was amplified by Amazon's (AMZN) and Google's (GOOG) (NASDAQ:GOOGL) "disappointments," although they both beat EPS estimates and overall Q3 earnings are quite strong – see Earnings Focus below.
Mid-term elections – the fear that the Democrats will take the House and dismantle the pro-business, pro-growth policies.
While these are real risks, they are not much larger than they were a month ago. The reality is, once the selling starts, it generates more selling in a vicious cycle – until it reverses. In addition to "normal" volatility, declines of 5-10% are common, happening once to twice per year on average. They are part and parcel of investing in the stock market.
Meantime, several relative trends have taken hold this year. The most significant is the divergence between U.S. and non-U.S. equities. Global equities (VEA) (EFA) dropped, global non-U.S. equities ((ACWX), the red line on the chart above) are now down 9% YTD and lag the S&P 500 by about 13%. This market divergence is driven by the divergence in economic fundamentals, as I have explained in my previous article - more on this below. Second, the earlier outperformance by small-cap stocks ((IJR), the green line) relative to large-cap (the S&P 500)) all but disappeared since September. Lastly, the NASDAQ (QQQ) lost some of its lead, but is still ahead, up 9.3% YTD.
Here's why I think that the rebound will continue:
Market valuation improved. Near its recent bottom, the S&P 500 trailing P/E ratio was around 18.2, its lowest since Jan-2016. And earnings growth is exceptionally strong, +25% YoY for the third quarter in a row (see Earnings Focus below).
Unlike global, U.S.economic strength continues (see Economic Focus)
Earnings Focus
Q3 earnings are rising by 25%
The Q3-2018 earnings reporting season is well underway, with about 75% of the S&P 500 reporting their results for the quarter.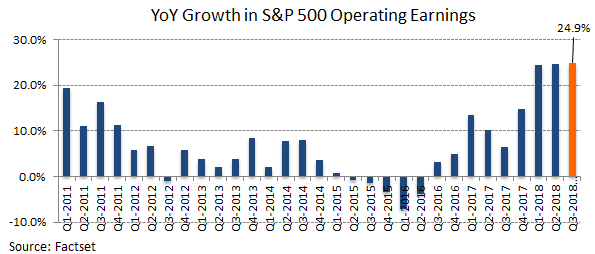 Blended operating earnings growth (actual and estimated) rises to 24.9% from 19.3% expected on Sep 30th. This continues the around-25% year-over-year growth trend for the third quarter in a row (see chart). Such high growth is due partly to the corporate tax cut, but revenue and EBITDA growth have also been strong. 78% of companies reported positive earnings surprises, and beat estimates by an above-average margin.
All sectors are reporting positive growth – historically, a rare occurrence – also for the third quarter in a row. The Energy (XLE) sector again leads growth this quarter, with a 123% growth rate from the same quarter last year, as energy prices rose. As in Q2, the Materials ((XLB), 28% YoY earnings growth rate), Telecom (30%), and Technology (XLK), 24%) sectors are in the lead – joined this quarter by the Financials (XLF), 35%).
Economic Focus
Q3 GDP growth at 3.5%, above consensus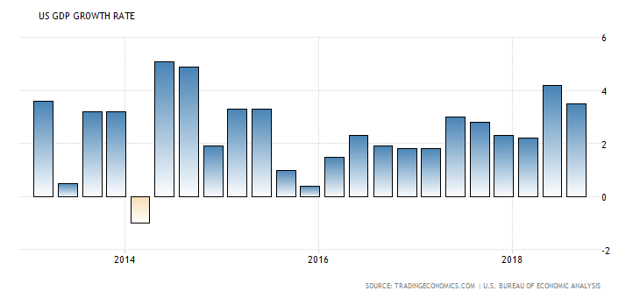 The BEA's initial estimate of Q3 GDP growth came in at 3.5%, slightly below the latest Atlanta Fed's GDP-now model of 3.6% (which shows how good the GDP-now model is), but above economists' consensus of 3.3%. Q2-Q3 were the strongest back-to-back quarters since Q2-Q3 2014.

Strong growth since 2017 has been driven by the recovery in manufacturing (the green line on the chart above). Growth in consumer spending is beginning to accelerate as well.
Fundamentals drive markets, both U.S. and global. The recent divergence between U.S. and foreign equities – foreign underperforms by 13% YTD – is driven by economic slowdown in many countries. The European Union GDP growth was just reported at 0.2% in Q3 (about 0.8% annualized, compared with 3.5% in the U.S.), the slowest growth in four years (quarterly growth, not annualized, is shown on the chart below). This confirms what advance metrics, such as ISM, have indicated since early 2018: while the U.S. economy is accelerating, global ex-U.S. is slowing. We expect this to continue into 2019, and think that recessions in some weaker economies are likely next year.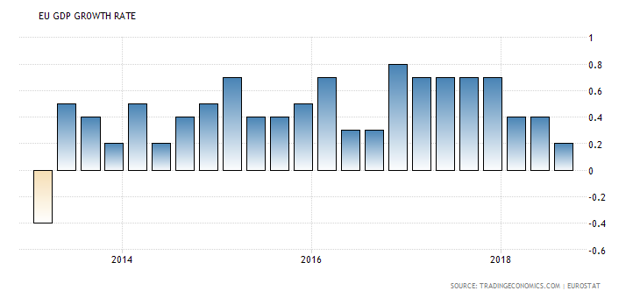 This EU slowdown comes at a very inopportune time: interest rates are still near zero in most of Europe, and the ECB is still buying bonds, although at a reduced rate beginning this month. However, EU inflation has increased to 2.2%. This makes a very uncomfortable combination that might end badly – perhaps a first-half 2019 risk. As I have written on Seekng Alpha since August, we continue to recommend staying away from non-U.S. equities.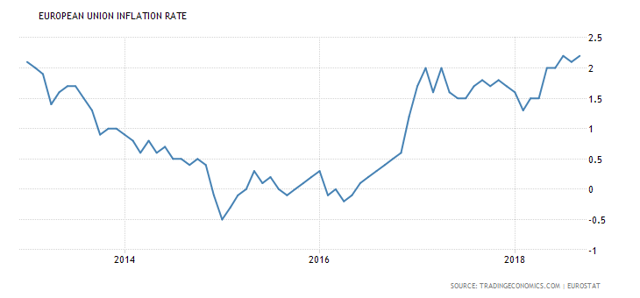 Portfolio Strategy
What does it mean for a typical investor's portfolio? We advise our investors to remain fully invested in U.S. equities according to their risk tolerance - but continue to avoid global stocks, and especially emerging markets. Of course, keep your portfolio diversified, but invest close to home, within the U.S. Follow me for regular fundamentals-based insights on stocks and bonds.
Disclosure: I am/we are long IVV, QQQ.
I wrote this article myself, and it expresses my own opinions. I am not receiving compensation for it (other than from Seeking Alpha). I have no business relationship with any company whose stock is mentioned in this article.
Additional disclosure: Roman Chuyan is the president and general partner of Model Capital Management LLC ("MCM"), an SEC-registered Investment Adviser. This article is for informational purposes only. There are risks involved in investing, including loss of principal. Roman Chuyan makes no explicit or implicit guarantee with respect to performance or the outcome of any investment or projections made by him or MCM. There is no guarantee that the goals of the strategies discussed in this article will be met. Information or opinions expressed may change without notice, and should not be considered recommendations to buy or sell any security.