Despite Tariffs, Deficits And Wages, Inflation Expectations Are Falling
With the constant discussion around tariffs, increasing fiscal deficits and wage pressure, the expectation for higher inflation has been and continues to be the mainstream narrative.
The market is well aware of the three factors discussed above yet the expectations for future inflation are not rising, they are falling.
At EPB Macro Research, we have been pounding the table since the summer that the peak rate of inflation would come and go and by 2019, inflation would be notably lower. Tariffs are not broadly inflationary to the entire economy. Tariffs may increase the cost of a specific good that is targeted by a tariff and cause localized inflation, but it will not cause inflation on a broad scale. Also, it has been unclear to this point as to whether corporations have even been able to pass along the increased costs to consumers or if the impact will merely come out of profit margin.
Either way, tariffs, over the long-run, are a deflationary pressure as the net result is a reduction in economic activity. Tariffs will not serve to cause rapid, runaway inflation.
The marketplace is also keenly aware of the rising fiscal deficits yet continues to lower the expectation for inflation not increase it.
The 5-year breakeven inflation rate or the market expectation for the average rate of inflation over the next five years has been falling since April. In April, the breakeven rate was suggesting an average rate of inflation of around 2.16% over the next five years. Today, the market has lowered that estimate of average inflation down to 1.93%.
5-Year Breakeven Inflation Rate: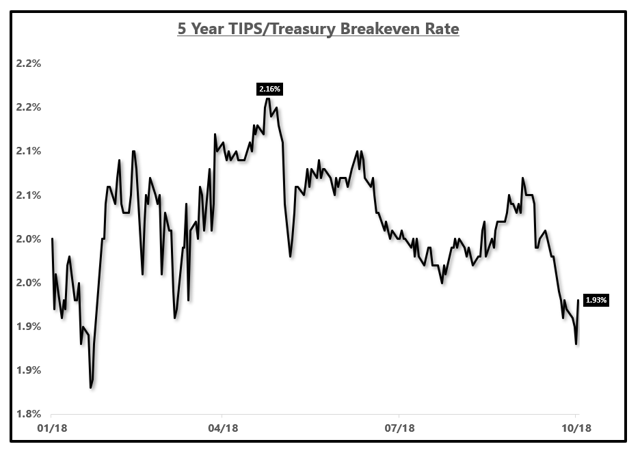 Source: YCharts, EPB Macro Research
Over the next 10-years, the market was forecasting average inflation to be an average of 2.17% back in April and again in September before falling to a rate of 2.06% today.
Either time duration, five years or ten years show a decreased expectation for future inflation.
10-Year Breakeven Inflation Rate: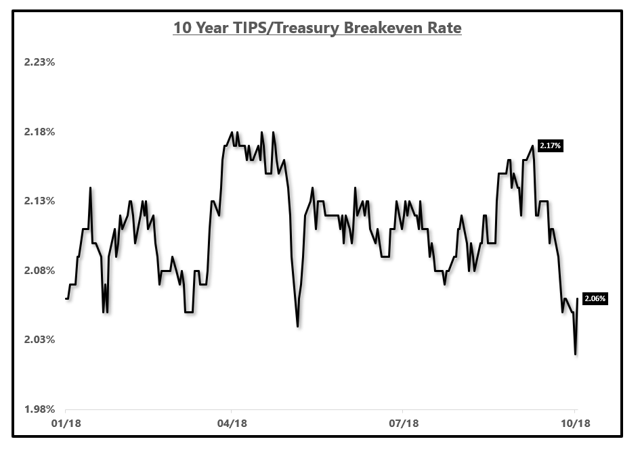 Source: YCharts, EPB Macro Research
If the market is aware of the factors discussed above that are scaring investors into the inflation camp, why are breakeven rates or inflation expectations falling rather than rising?
Furthermore, the headline rate of inflation has already fallen 67 basis points from the peak in the July reporting period.
In two months, the headline rate of inflation has dropped from 2.89% to 2.27% today.
Headline Inflation Rate: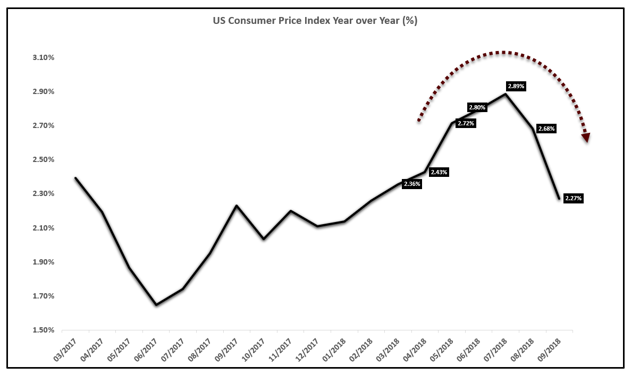 Source: BLS, EPB Macro Research
With the price of oil now falling, and the broader commodity complex still depressed from large declines throughout 2018, it can be expected that headline inflation will fall below 2.0% in the coming months.
Commodity prices, and oil more specifically, have a significant impact on the rate of headline inflation.
If you overlay the year over year rate of inflation with the year over year change in a broad commodity index (with a two-month lead), the correlation is above 0.9.
Below is a chart that takes the year over year rate of headline inflation, as graphed above, and the year over year change in the ETF (DBC) which tracks a basket of commodities including energy, agriculture, precious metals, and industrial metals.
As the year over year rate of increase in commodity aggregates continues to drop, this will drag the rate of inflation lower.
Commodity Impact On Inflation: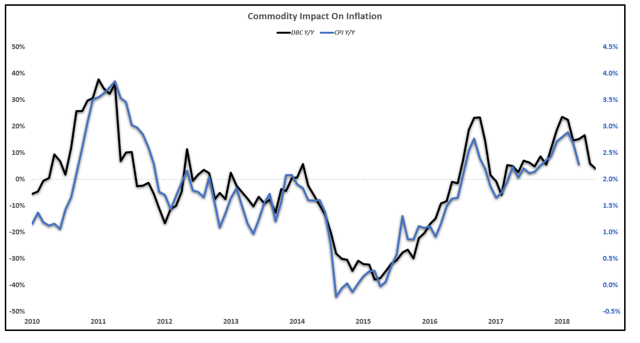 Source: YCharts, EPB Macro Research
Commodity prices, especially the industrial commodities, are driven by global demand which is synonymous with global growth. As global growth continues to decelerate (not decline but growing less fast; a rate of change slowdown), the price of many commodities starts to fall.
If we decompose the commodity aggregates and look at oil, commodities excluding energy and industrial metals, we can see that it is not just one area that is dragging down inflation but the entire complex. Why are commodities falling if inflation is set to rise?
Decelerating global growth, which tariffs will serve to exacerbate, will keep a lid on inflationary pressures.
The CRB Index, which tracks a basket of 19 commodities including energy, agriculture, precious metals, and industrial metals has been declining for roughly six months but only kept higher by the price of oil.
CRB Index: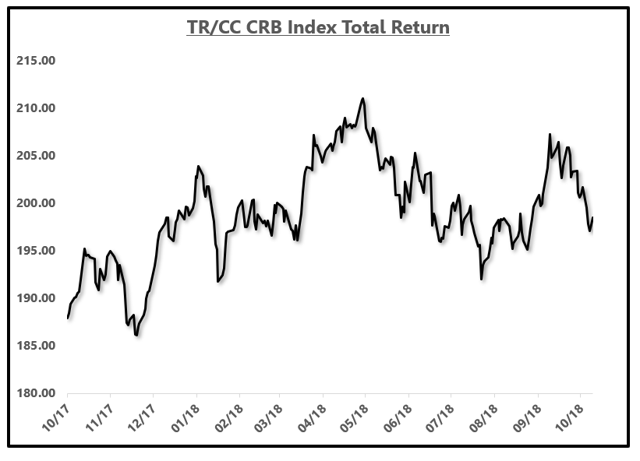 Source: YCharts, EPB Macro Research
The price of oil, down almost 20% in a matter of weeks, was one of the only commodities trending higher over the past year. Talks of sanctions with Iran kept crude detached from the trending direction of most other related commodities.
WTI Crude Oil Price: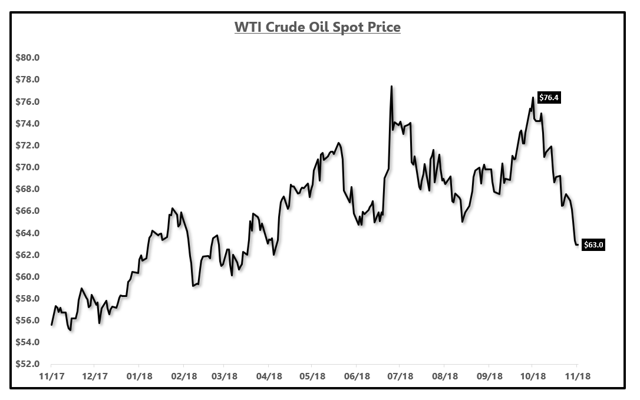 Source: YCharts, EPB Macro Research
If you exclude energy prices (oil and gas) from the CRB index, the trend over the past one year becomes significantly more negative.
Ex. Energy commodities have faced significant downward pressure over the past one year. This is not typically indicative of strong inflationary pressure but rather the start of a disinflationary trend.
CRB Index Ex. Energy: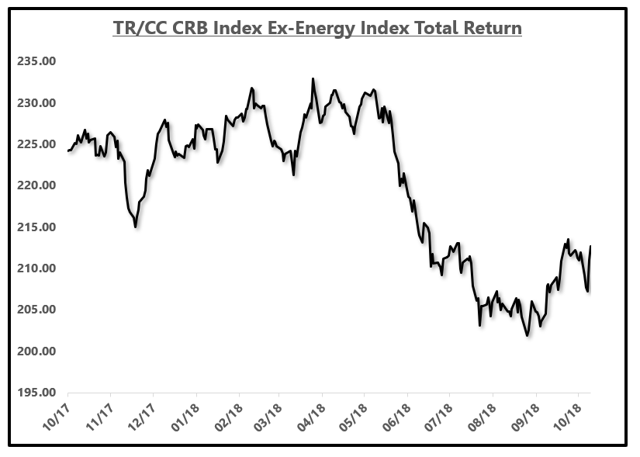 Source: YCharts, EPB Macro Research
The CRB Industrial Metals Equity Index, which tracks the equity of industrial metal producers and closely replicates the trending direction of industrial metals has been falling for the past one year as well and peaked along with the global economy in January 2018.
CRB Industrial Metals Equity Index: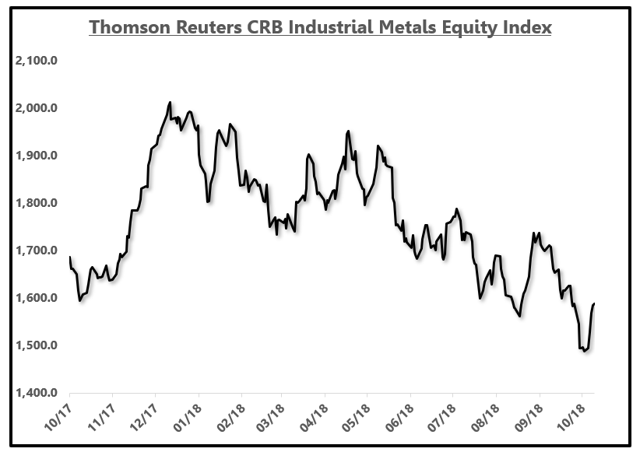 Source: YCharts, EPB Macro Research
I want to pull the chart on industrial metals back to 2014 because industrial metals are the best indicator of global growth and inflationary pressures, as well as a leading indicator. In 2015 and for the first couple of months in 2016, global growth was faltering, and signs of a recession were near. Many feared the US economy would tip into a recession as industrial production was plunging along with a wide array of other economic indicators. The stock market fell by almost 20% and bottomed in February of 2016.
The industrial metals index started declining well in advance of the economy and the stock market and also bottomed nearly two months before oil prices, the stock market and the economy.
The Industrial metals index rallied sharply through the period of globally synchronized growth which ended in January of 2018, the top in industrial metals.
Today's trend in industrial metals, lower over the past ten months, is not signaling rising inflationary pressures but rather disinflationary pressures.
CRB Industrial Metals Equity Index: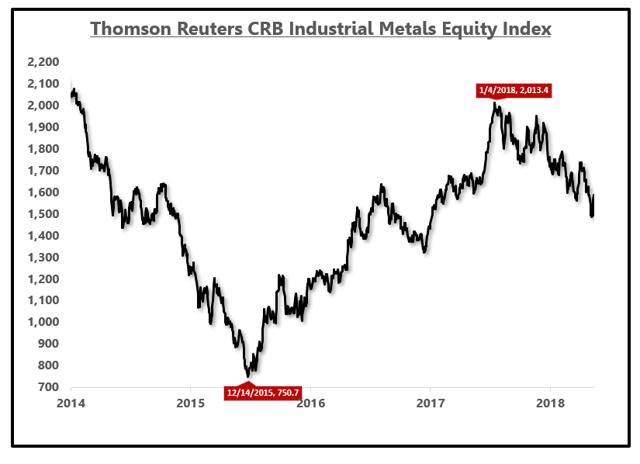 Source: YCharts, EPB Macro Research
The conversation around inflation is overwhelmingly skewed to the idea that pressures are rising.
The evidence suggests we should be looking in the other direction and expect the rate of inflation to continue its newly formed downward trend which began in July of 2018.
The market expectation for future inflation has come down, evident in the breakeven rates and commodity prices, a leading indicator of global inflationary pressures, are not trending higher, most are trending lower.
Over the next several months and into 2019, I would expect headline inflation to fall below 2%. It is unclear if this will have any impact on monetary policy from the Federal Reserve, who seems determined to continue raising rates even if the rate of headline inflation falls below their stated 2% objective.
Quick Housekeeping Note:
Please note that articles are now only being sent out to those that have chosen to "Follow" me. So, if you would like notification as to when my articles are published, please hit the orange button at the top to "Follow" me. Thank you.
EPB Macro Research
EPB Macro Research uses macroeconomic data to identify inflection points in the economy and provides two asset allocation models that are best suited for the current environment.
If you would like to see the complete asset allocation model with exact percentages, consider joining EPB Macro Research.
There is no risk in trying EPB Macro Research for a free two weeks. If you do not like the service, simply cancel at any point in the two-week trial and you will never be charged.
Click Here To Start Your No-Risk Free Trial - Take 20% Off For The Next 6 Days Only
Disclosure: I/we have no positions in any stocks mentioned, and no plans to initiate any positions within the next 72 hours.
I wrote this article myself, and it expresses my own opinions. I am not receiving compensation for it (other than from Seeking Alpha). I have no business relationship with any company whose stock is mentioned in this article.