Solid Q3, Except For A Couple Items
If you looked at Snap's stock over the last couple of days, you would have expected that based on the price action in the stock, Snap reported numbers that were far lower than Wall Street estimates. If you look at the one month chart alone, you understand how ugly the picture has become.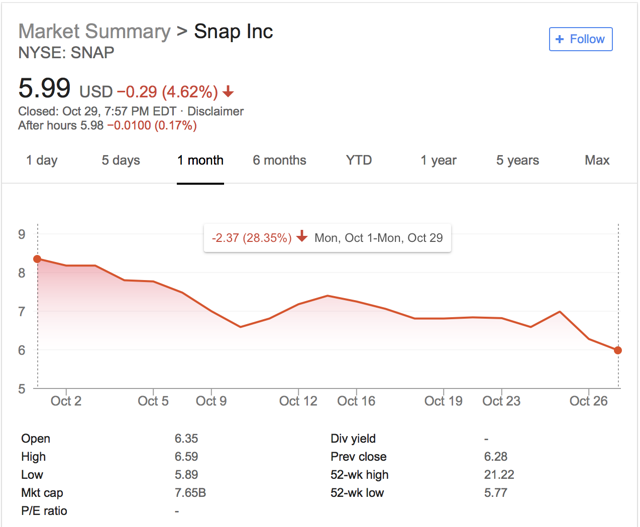 Except, Snap reported relatively sold numbers, with only two key items missing Wall Street expectations. Here is a breakdown of Snap's Q3, and Q4 guidance:
DAUs of 186 million, versus estimates of 186.1 million
ARPU of $1.60, versus estimates of $1.52
Revenue of $297.6 million, versus estimates of $282.9 million
EPS of -$0.12, versus estimates of -$0.14
Q4 revenue guidance of $367.5 million, versus estimates of $371.2 million
Q4 EBITDA guidance of -$87.5 million, versus estimates of -$116 million.
The only two places where Snap missed estimates were on the revenue guidance side, and on Q3 DAUs. It is important to also point out that Snap has guided for a sequential decline in their DAU totals in Q4, a fact that also played into Wall Street fears.
With the DAU miss, the miss was <1%. And while DAUs did fall in North America, a place where Snapchat is not affected by a more hostile regulatory climate, the miss was slim if not negligible to say the least.
On the revenue guidance miss, we have to look at the Q4 guidance miss retrospectively. Q2 was the first time that Snap provided revenue guidance, which came in for Q3. The guidance was for $277.5 million in revenue and EBITDA of -$172.5 million.

(source: Snap Q2 Earnings Slides)
The result was revenues 7% higher than the guidance, and an EBITDA loss $17.5 million less than guidance. To put it bluntly, since Tim Stone arrived at Snap, it seems like management has installed sandbagging tactics. Why should we expect anything different out of Q4?
Q4 Expectations
Here are my personal Q4 expectations for DAUs: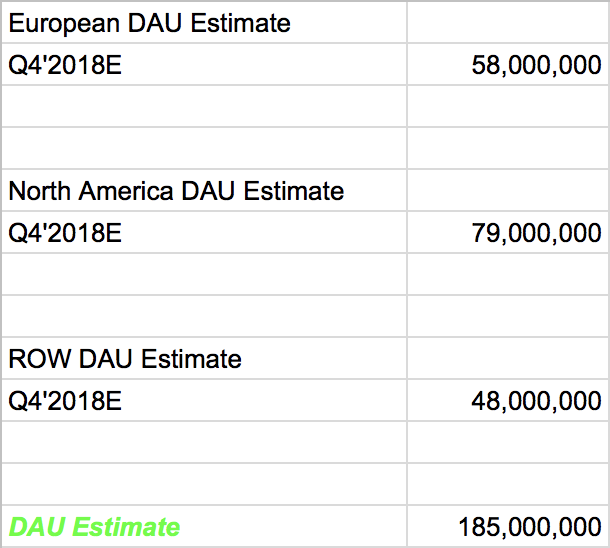 Notice that the DAU estimate not only implies <1% deterioration in the user base, it also implies ~1% Y/Y decline in the user base, the first time that Snapchat's user base has ever declined Y/Y.
Here are my monetization and revenue targets for Q4: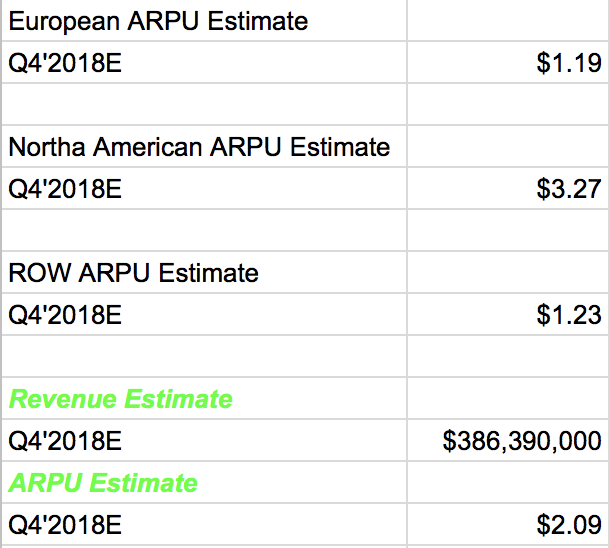 This is higher than both Snap's Q4 guidance of $367.5 million, and the consensus estimate of $371.2 million by a wide margin. This will be primarily driven by growth in ARPU, with the loss of users being narrow.
Here are my cost and profitability targets: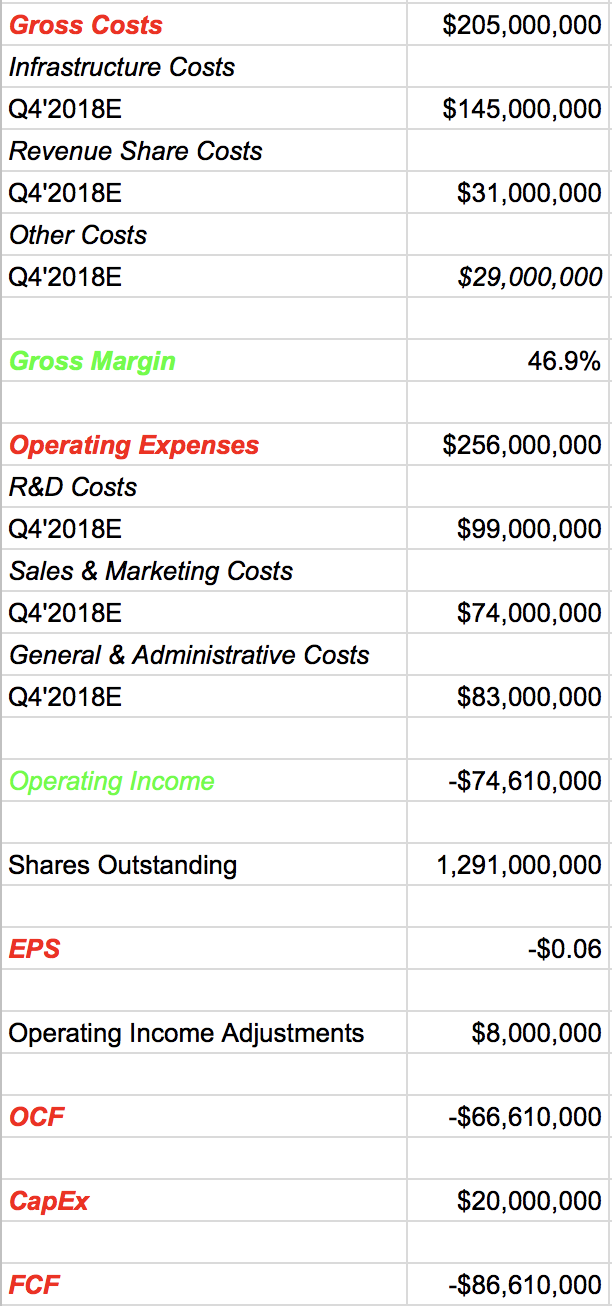 I'm most focused on Snap's ability to crack down on cash burn. I'm expecting Snap's cash burn to decrease dramatically in Q4. And while I expect spending to ramp again in Q1 of 2019, I expect a Q4 decline of 23% in capital expenditures. Overall though, cash burn should improve quite a bit next quarter.

(source: Snap IR)
Snap's Lock On Teens Is Fading
Previously, bulls like Citron Research have cited Snap's lock on teens as a reason to buy the stock, as teens with eventually drive purchasing trends, and will be the most coveted demographic in the internet advertising space. As such, Snap will gain market share in the massive ads market when these teens begin to generate their own income. This Piper Jaffray graphic was a key component to the bull thesis: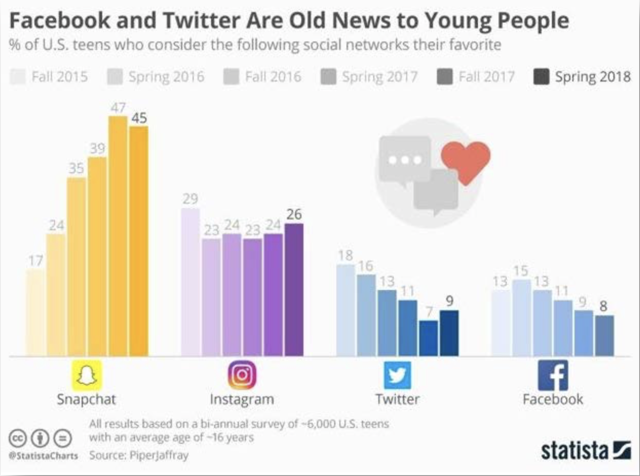 (source: Citron Research)
Snapchat was dominating the landscape amongst US teens, with Facebook beginning to fade into irrelevancy. And while Facebook is indeed beginning to fade into irrelevancy with teens, Snapchat has now barely leading Instagram in the teens category.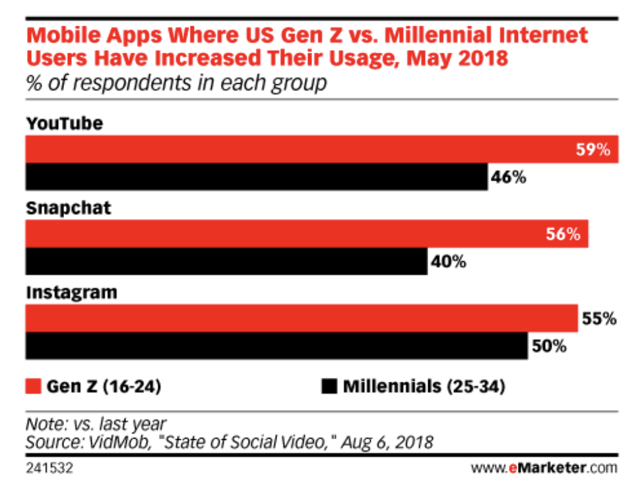 (source: eMarketer)
And with Snapchat continuing to lose users as Instagram's growth skyrockets, it is only a matter of time before Instagram pulls ahead of Snapchat and the reason for buying Snap Ads, having exposure to teens, will have a significant hole in it.
Snap's Push For Older Users Could Be A Negative
In order to hit higher revenue numbers, profitability, and a turnaround in user growth, Snap is trying to make the Snapchat app more friendly to users that are older than 34 years old. While I expect Snapchat to lose some more younger users to competition from Instagram, the real negative catalysts for Snapchat moving forward could be its push for older users to join the platform. For a bit of history, when Facebook's platform first began to see older users hit the platform, its user numbers amongst teens and millennials began to decline. If teenage users begin to see older people infiltrate the platform, Snap's "cool factor" may begin to fade off, just like it did with Facebook. This is just assuming Snapchat begins marketing to older users. Once older users come onto the platform, Snapchat may encounter more redesigns to simplify the platform for these older users, which could draw away even more teenage users away from the product.
It seems like Snap is attempting to age its key user demographic in order to hit higher ARPU levels and eventually get to profitability. The problem is, the Snap story is based around it being a growth stock. If Snap pushes for more mature users, all the sudden there is no real differentiating factor between it and Facebook, except for Facebook being better than Snapchat in general for advertisers.
Snap should be investing its capital into R&D initiatives that would increase Snap's share with younger users, and keep them highly engaged with the platform. Instead, Snap is cutting costs and targeting better monetization on less users.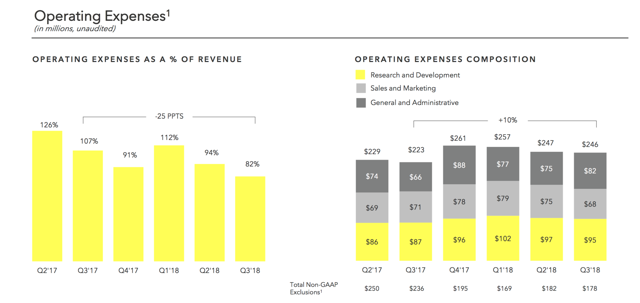 (source: Snap IR)
Instagram Is Better
Forget about the "my daughter and all her friends use Snapchat, so I'm long the stock" argument that some bulls use with Snapchat. Instagram has become one of, if not the most relevant social media platform in existence today. And most of it has not come from original ingenuity, it has come from copying the successful features that Snap has pioneered. Such features include geofilters and the new hit product and advertising format Stories. Here is a chart comparing Snapchats user base against Facebook Stories and Instagram Stories: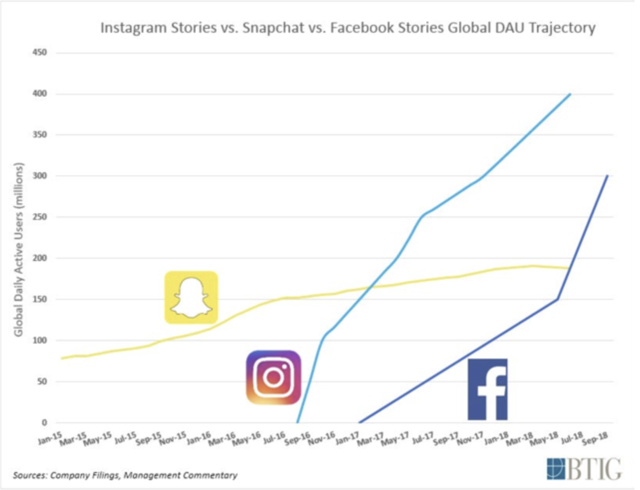 (source: BTIG)
This chart does not include Snapchat's user decline reported in Q3, or the growth of the Facebook Stories and Instagram Stories in Q3.
Instagram has now surpassed 1 billion monthly active users (MAUs), with many calling Instagram the next Facebook. And while there is some value in Snapchat's products to advertisers, they have made clear that Instagram will be the primary platform for advertiser targeting amongst millennials and teens. When advertisers look for a play on younger consumers, they are most likely going to target Instagram over Snapchat, as Instagram has better targeting, an extremely active user base, significant growth in that user base, and may be the most relevant platform in social media today.
All of that comes at Snapchat's expense though. When Snapchat pours hundreds of millions of dollars per year into R&D, and create products that are hits with users, Instagram copies these features, and doesn't have to waste money on R&D for products they can simply copy. And because Snapchat didn't protect their intellectual property with patents, there is nothing holding Instagram back from doing so. With Stories as an example, some of the clones are more popular than the originals.
Another reason that Instagram appears to be taking users from Snapchat is because some people are seeing their friends leave Snapchat, or at least spend less time on the app, leading these users to leave for Instagram. As people's friends begin to use Snapchat less, they will leave for Instagram, which could create a continuation of the current declining user trend.
The bottom line is, Instagram continues to outperform Snapchat, and until Snapchat can create a defining moat around its platform and its users, Instagram will continue taking users away from Snapchat.
Snap Isn't The Next Facebook
While this narrative has died off significantly since Snap's stock crash, some optimists have called Snapchat the next Facebook, theorizing that any of Snapchat's troubles are similar to those of Facebook in the immediate time frame since its IPO. While this theory ran amok after its IPO, it has since cooled. But even then, some believe whole-heartedly that Snap at $6 is like Facebook at $20. I completely disagree.
First of all, while Facebook did report slowing user growth, they never once reported a decline in the user base. Snapchat's user base has not only declined, but it has declined two quarters in a row, with the general expectation being that Snap's user base will decline again for a third straight quarter.
Second of all, some like to point to Snapchat's redesign and Android problems being similar to Facebook problems getting their mobile platform to gain traction. With Facebook, the problem had a quick solution, only taking a couple quarters to fix. With Snapchat, the platform has changed a lot of its features back to its old self, but users still are not coming back. With Android, Snapchat has been working for many quarters now to refresh the Android version of the app, with struggles being abundant.
And finally, Facebook seemed to begin recovery about four quarters into its history as a public company, with user growth and monetization both getting back on track. Snap is a year and a half in, and the narrative seems to deteriorate by the day.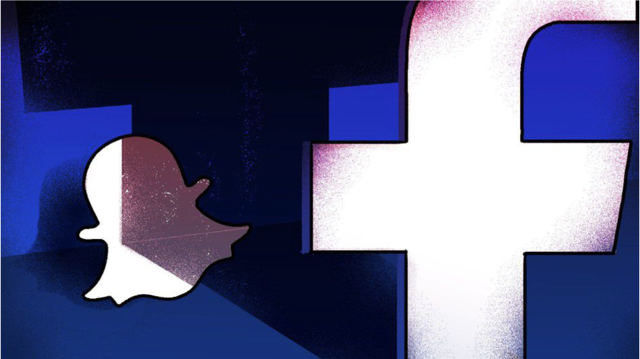 (source: Mashable)
It's All About Android
One mistake that CEO Evan Spiegel has admitted to, was Snap's reluctance to swiftly move into Android, focusing entirely on iOS for the first many years of Snapchat's existence. And when Snapchat was released to Android, the system was buggy and flawed many times, with easily noticeable problems that annoyed many Android users.
But now that Snapchat's iOS leaning user base is beginning to slowly leave the app, Snapchat will rely on Android to bring back growth to its platform. It has been a grueling process, taking many quarters to fix a quite broken Android. And with employee turnover increasing as well as potential shareholder pressure, Snap will rely on an Android redo to offset the bleeding of its core iOS user base. Evan Spiegel said that Snap is aiming to decrease bandwidth consumption, a key factor that has made Snap such an intense and somewhat inefficient app on Android for so long.
When Android inevitably rolls out though, Snap should see user growth tailwinds, specifically in Snap's "rest-of-world" (ROW) segment, where Android is the dominant mobile operating segment.
The bottom line is, when a redesigned Android inevitably launches, Snap's DAU trajectory will grow, at least in the short-term, temporarily assuaging the concerns of analysts and short-sellers.
Ad Inventory Issues
A key issue that Snap is facing and will continue to face in the future has to do with ad inventory on the platform. Right now, Snap users spend 30 minutes per day on the app, but log into the app 25 times per day, meaning Snap users are spending 72 seconds per session on the Snap app. This suggests these users are in the chat section of the app. While Chat is sticky, Snap's ad inventory is in their Discover section, a section that many say is crowded with useless content that users don't consume. If this content is not being viewed, than advertiser views and ROI will come under pressure. This could exist as a future headwind for monetization.
Improving Monetization
Snap has lost 5 million users since reaching its 191 million user peak in Q1. Despite that, Snap showed 43% Y/Y revenue growth in Q3, and ARPU growth of 37% Y/Y, versus Q2 Y/Y ARPU growth of 33%. ARPU growth actually accelerated in Q3, despite lower engagement rates and increased regulatory scrutiny on social media in Europe.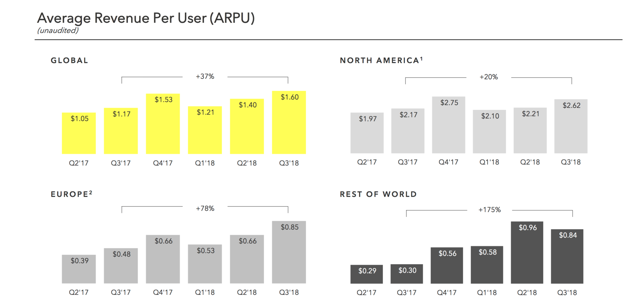 (source: Snap Q3 Slides)
Snap may evolve into a Twitter-esque story, where the growth of the company is not reliant on user growth, as much as monetization of the user base. As a matter of fact, a key reason Twitter's stock plunged a few quarters after its IPO, as user growth dramatically slowed to a snail's crawl. Twitter had then been dead money for a couple years, until they rejuvenated their growth with increased advertisement products and a data licensing side to the business model. Twitter's growth has since returned, with the stock having a phenomenal run moving from as low as $14 to as high as $47. But Twitter's user growth has not only stalled, but turned negative.
This may end up being the story with Snap, growing revenue by increasing ARPU as the user base shrinks. This monetization was able to increase, even in the face of significant headwinds like user growth (or lack there of). Over the next few quarters, I believe Wall Street's opinion of Snap will shift from Snap's ability to stop user loss, to being able to accelerate ARPU growth. As Snap increases its ARPU, a drop in DAUs will not meaningfully affect its revenue growth trajectory.
Snap continues to grow its ARPU at staggering rates, with a near triple in Q3 ARPU in the ROW segment, and a near double in Europe. Core North America grew at 20%, a strong acceleration from Q2's 12%.
Snap is expanding its monetization runways, with advertisement offerings in Stories and in sponsored filters. Here is an example of a sponsored filter for a movie made a while back called "Alien Covenant":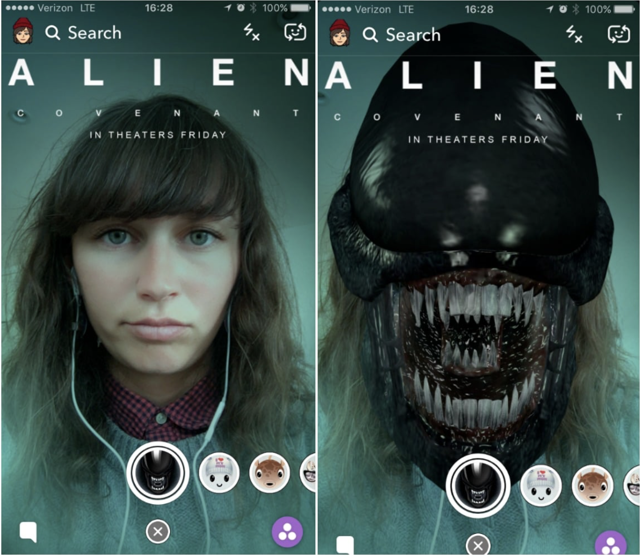 (source: AdEspresso)
Both Facebook and Snap have invested aggressively to excite advertisers about Stories ad offerings, which has caused Facebook to disrupt their old Newsfeed based model in favor of a Stories advertising model, something that has caused Facebook's revenue growth to sag recently.
Snap has also partnered with Amazon, creating a visual product search feature that allows Snap users to view a product with the Snap camera, and after it is scanned, the user has the option to link into Amazon and purchase that product.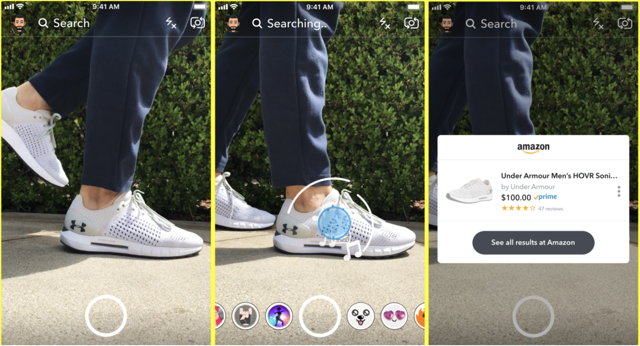 (source: TechCrunch)
This could be just the beginning of Snap's progress into making eCommerce part of the company's future.
While we don't know the exact financial details of this partnership, what we know about Snap and Amazon partnering is that Snap is making social commerce a priority in it's future, a move that will most likely boost monetization. The real question is, will this product be the next Stories for Snap, or the next Snapcash, a product that was known for being a flop? If Snapchatters are as active with the camera as Snap says, then maybe this commerce partnership has a chance at becoming something really strong for Snap.
Finally, Snap is making a move into the original content space, bringing "Snap Originals" to Snapchat. CEO Evan Spiegel has said that he admires Netflix, so it shouldn't come as a surprise that Snap has brought original content to it's platform. This is a small portion of Snapchat's platform right now, and probably won't replace streaming services like Netflix, but then again, there is a chance that investments in original content will boost engagement on the Snapchat platform, and bring in more advertising dollars.
M&A Target
First and foremost, Snap's CEO Evan Spiegel when asked about being sold to a larger company said that they were not going to sell, and would stay and independent company. That being said, there has been massive speculation that Snap would sell to larger companies, and soon.
There is some logic behind this. As Snap continues to burn more cash and lose more users, while 40% of employees report they are ready to leave the company, management may want to sell Snap to someone larger than them. Snap has a lot of things going against it, and it is an extremely lucrative target. While Snapchat's user base is shrinking, to have almost 200 million daily users is an extremely strong number that many large companies would like. To be clear, buying Snap's stock just because it is a lucrative takeover target is foolish, but being a takeover target helps. Specifically, I believe Amazon has the highest probability of purchasing Snap.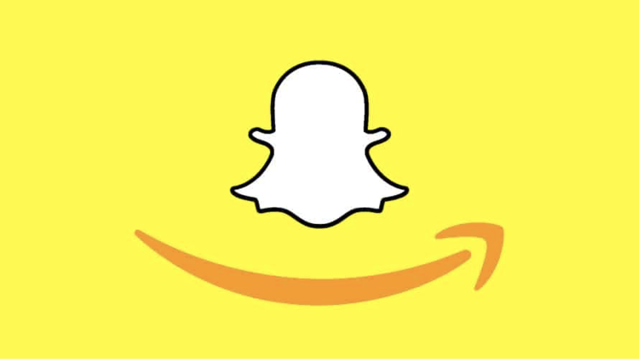 (source: AdWeek)
First of all, Snap's current market capitalization is $8.8 billion. Assuming Amazon offers an arbitrary 25% takeover premium, they would be offering Snap $11 billion for the company, something that is more than doable for Amazon as they have ~$30 billion in total cash. And if Amazon was to buy Snap with stock, it would be a ~1% dilution on Amazon's shareholders, an almost negligible impact. In return however, Amazon could dramatically grow the reach of the advertising business beyond just consumer goods on Amazon with a platform that has a staggering 186 million users. The closest thing Amazon has to a social platform is Twitch, but Twitch seems to be more niche to gaming, at least right now. Purchasing Snap would allow Amazon to vastly expand its internet advertising business.
While this is all speculation at this point, Snap has been an acquisition target in the past, with both Facebook and Google making bids in the past few years. Snap however, has never accepted any of these bids, and as I said earlier Evan Spiegel reaffirmed that he has no intent on selling Snap.
Amazon has also made large acquisitions in the past, so a Snap acquisition wouldn't be out of the ordinary for Amazon. As I mentioned above, Amazon has a partnership with Snap for visual product search within Snapchat. In addition, a couple of executives have left Amazon and gone to Snap, most notably Snap's CFO Tim Stone, a former finance VP at Amazon. He was noted for the integration of Whole Foods into Amazon, a massive M&A deal that truly branched out Amazon's operations into the brick-and-mortar business. And now, he and a couple other Amazon executives are at Amazon.
The bottom line is, there is a good chance Amazon buys Snap.
Massive Short Selling Community
I myself am extremely skeptical of Snap, and was short Snap's stock for many months using put options and made a solid return on this puts. But at this valuation, I have since exited my short position, and am reassessing the stock at its current levels. But there are many others that are heavily short Snap, with short sellers making up 25.3% of the total float and five days to cover. If Snap reports a turnaround in user growth, or even less user bleed then expected, the Snap shares could take off, forcing a lot of this 25.3% to cover out of their short positions. Even worse, if indeed a takeover bid comes in, a massive majority of these short-sellers will be forced to buy the stock providing support. If Snap reports a quarter like Q4 of last year, then we could expect a similar reaction, similarly exacerbated by the sheer scale of the short selling community.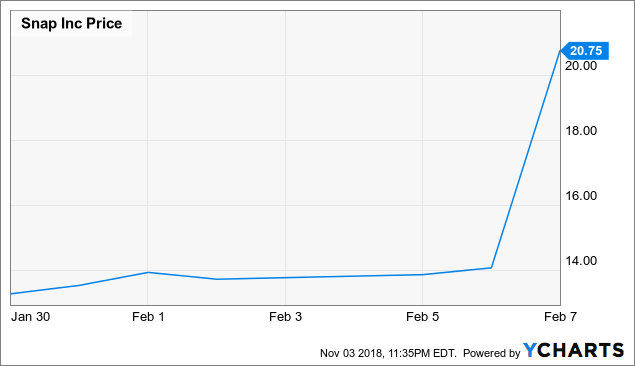 Basically, having a massive amount of short sellers in Snap could truly exaggerate any positive fundamental surprise that Snap delivers, a massive plus for the stock.
Valuation
To value Snap, I'm using a discounted cash flow model that goes out ten years to FY2028. Here are my business estimates for Snap going out to 2028.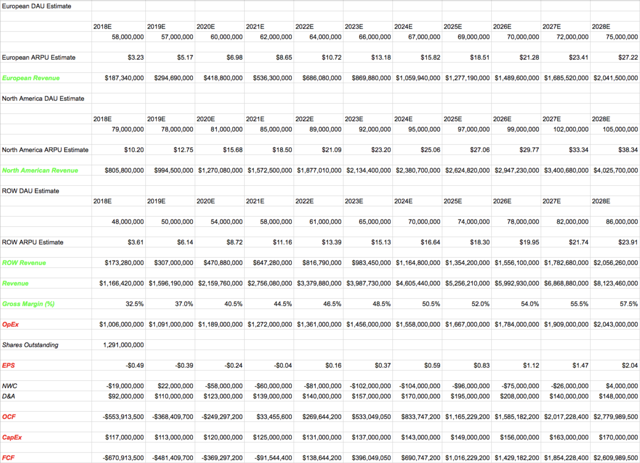 I'm using a WACC of 13%, the same WACC that Credit Suisse analyst Stephen Ju uses for valuing Snap, and a terminal growth rate of 3%.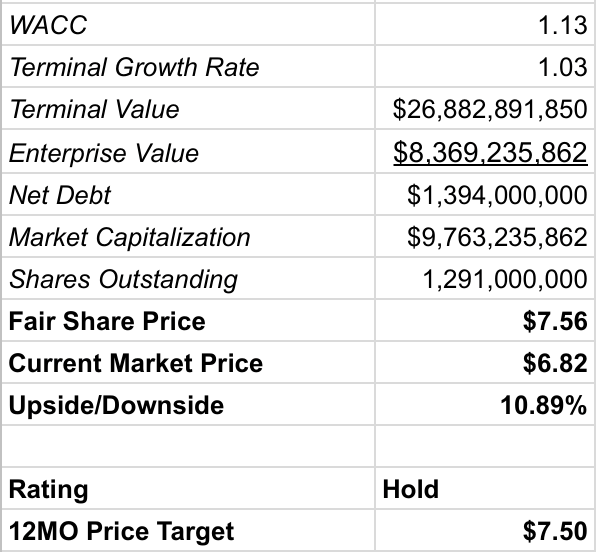 Conclusion
Snap's stock has fallen dramatically since my last article on the company, being cut in half. Risks remain present with the Snap business model, but the valuation is looking compelling. And while I'm not presently long or short the stock, a further beating, especially below $6 warrants a buying opportunity. If the stock has a massive surge like that in February, I may open a new short position in the stock. Right now I'm on the sidelines, waiting patiently for drastic volatility that will eventually either tank the stock or bring the stock much higher.
Disclosure: I am/we are long FB, GOOG.
I wrote this article myself, and it expresses my own opinions. I am not receiving compensation for it (other than from Seeking Alpha). I have no business relationship with any company whose stock is mentioned in this article.
Additional disclosure: I am not a financial adviser. This is not financial advice. Everything said here is my personal opinion. Please do your own due diligence with regards to investments in these securities.