Let's begin where we always do: performance tables, beginning with the one-week timeframe:

This was a good week for the market. Basic materials rose 6.1%; financials were up 4.43%; discretionary stocks rose 4.41%. In the current environment, I attribute extreme gains in the basic material sector to positive trade talk headlines, which we had this week. Several financial sector companies posted strong earnings, which explains that sectors rise. We can explain discretionary's rise to a "buying the dip" mentality, which Friday's job report bolstered. This week's performance stands in stark contrast to the monthly and three-month performance tables:

Over the last month, staples rose 1.68% and utilities were off marginally. The fact that these two sectors are "leading" the market is revealing, indicating an "end of the cycle" mentality still prevails. In comparison to the other sectors, real estate did remarkably well, falling a little over 2%. After that, the losses mount.

Over the last three months, conservative sectors were the best performers: staples were up 3.43%, utilities were up 1.74%, and healthcare was up marginally. This is the type of sector performance we would expect at the end of an expansion, as traders and investors reorient their portfolios to more conservative issues.
Finally, let's look at the performance graph of the sector ETFs vs. the S&P 500: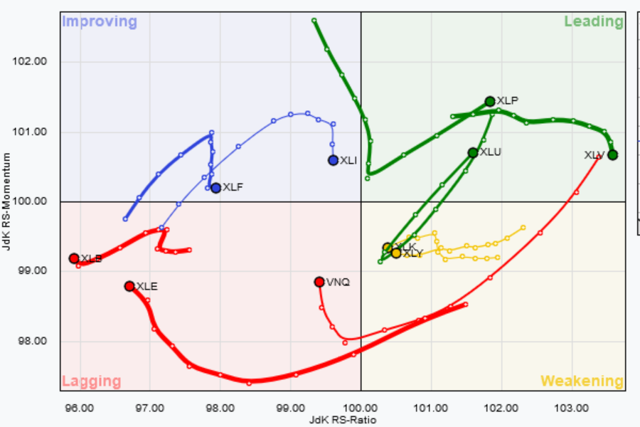 Staples, healthcare, and utilities continue to lead on a 10-week basis. Financials and industrials-which had been trending to the "leading" sector-are now moving towards the "lagging" area of the chart. Technology and discretionary are weakening. The one firm conclusion to draw from this graph is that sectors which traditionally outperforms at the end of the bull market are doing so and, just as importantly, no other sectors are rising to take their place.
Let's take a quick look into these three defensive sectors, starting with consumer staples: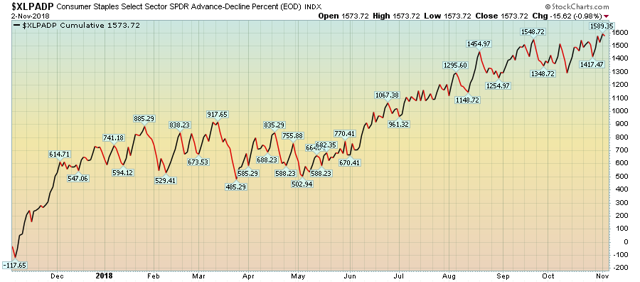 The sector's advance/decline line has been rising since early June. The pace of the increase has recently slowed but is still positive. Next, let's look at the two-month charts of the ETFs 10 largest members: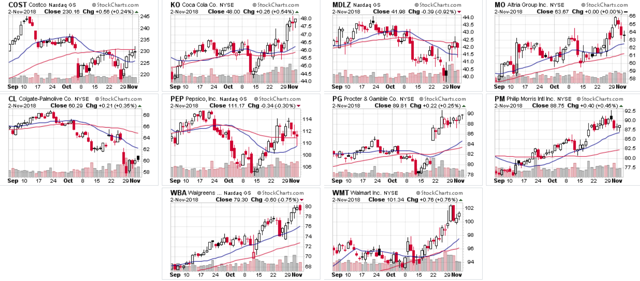 Seven stocks are in either short or longer-term uptrends.
The healthcare A/D line is slightly weaker: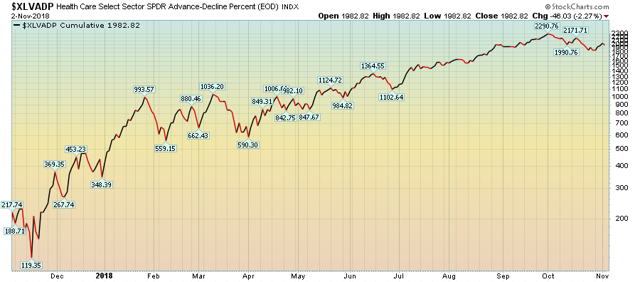 It rose from the end of July to the beginning of October, when it started to decrease.
The 2-month charts of the 10 largest members are a bit weaker: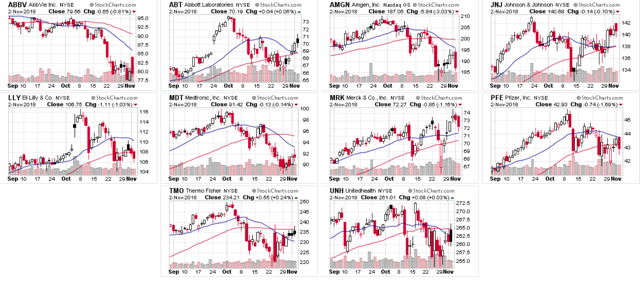 Depending on how you describe, either seven or eight are in a decline.
Finally, we have the utility sector's A/D line: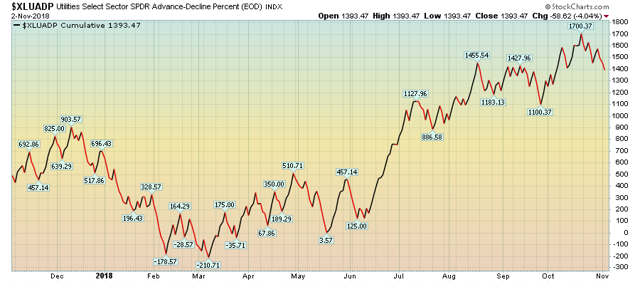 Note the strong gain that started in June and continued through the end of September. This one has moved sideways for most of October. But those numbers are still higher than August and September's readings.
And the 10-largest members of this ETF are mostly neutral or positive: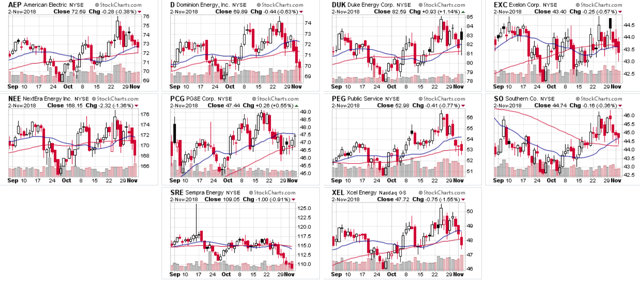 Most are moving sideways or slightly higher.
We're more or less where we've been for the last few months: a market where conservation or "end of cycle" ETFs are leading the market. Any short-term gain is news driven (for example, positive trade talk news supports a short-term rally in industrials or basic materials). But long-term (3-months plus), the trend is defensive. And no sectors are making a serious move to lead the market.
Disclosure: I/we have no positions in any stocks mentioned, and no plans to initiate any positions within the next 72 hours.
I wrote this article myself, and it expresses my own opinions. I am not receiving compensation for it (other than from Seeking Alpha). I have no business relationship with any company whose stock is mentioned in this article.