Introduction
Games Workshop (GAW:LN) is a focused, quality business with a defensible moat and loyal customer base with shares listed on the London Stock Exchange. The stock is also traded as ordinary shares in US dollars on the OTCPK market as OTCPK:GMWKF. Increased revenue from licensing agreements in addition to continued growth of the core high-margin miniatures games business at home in the UK and abroad in the US, EU, and emerging markets, offer the opportunity for healthy returns. Since Kevin Rountree took over as CEO in 2015, cost cutting, efficiency and growth measures have been very successful. Since the company is based in the U.K. and issues its reports in pounds sterling (£, GBP), this article will discuss financial details in GBP.
| | |
| --- | --- |
| Price (£M) | 32.3 |
| Market Cap (M) | 1,045 |
| Debt | 0 |
| EPS (FY ended June 3rd 2018) | 1.85 |
| P/E | 17.5 |
Business Overview
Founded in 1975, Games Workshop is known for its Warhammer and related brands of tabletop strategy war games and miniatures. The company designs and produces miniatures/models that are sold in official Games Workshop stores, third party stores (called "Stockists" or "Trade" stores by the company), and the online Games Workshop web store. Customers buy the models to assemble their own army and play the game with other enthusiasts. Games Workshop also sells paints and other accessories that players use to customize their armies. "Collect, build, paint, and play."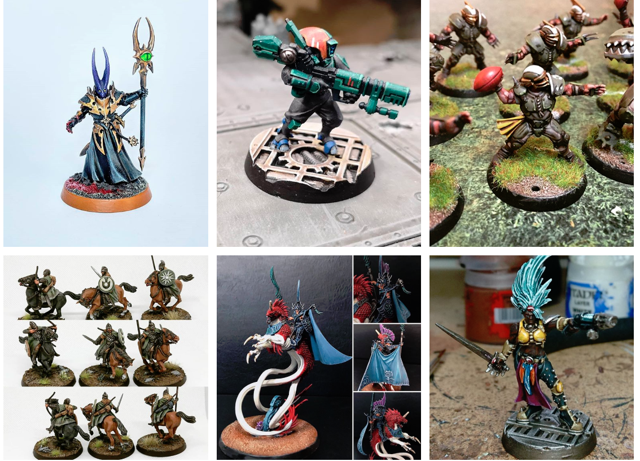 Image (source): various Games Workshop miniatures.
Games Workshop's games are based in fantasy worlds of their own creation. The business is very vertically integrated. The company owns IP rights to the game universes and exerts considerable control over how people experience the hobby, releasing narrative updates and new rulebook editions as time goes on. Rulebooks are a necessity to play the various tabletop battle games and are sold and produced by the company. As customers learn to play the game and become more involved in the community, they develop loyalty to the brand and are unlikely to completely switch to a competing game with different rules and universe. Novels and comics are also sold based on the universes of the games through the "Black Library" segment. A plethora of Games Workshop licensed video/computer games have been created throughout the years, most notably the Total War: Warhammer series. Although most of the company's products are their own IP, they also own the rights for the Lord of the Rings/The Hobbit tabletop battle game.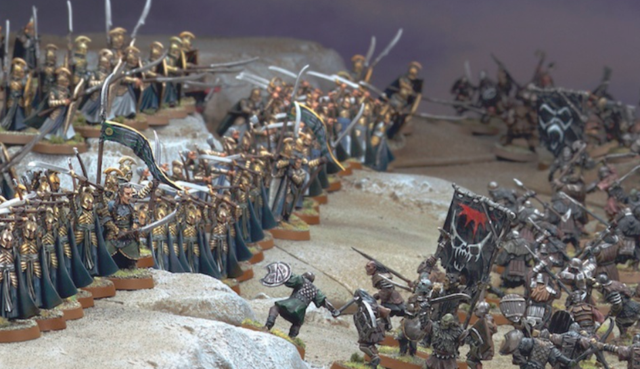 Image (source): a Middle Earth Strategy Battle Game battle in progress.
Games Workshop is based in the UK with its design centre, distribution and manufacturing facilities in Nottingham, and distribution centres in Memphis, Tennessee and Sydney, Australia. In 2014, the company began converting its stores to a one-man format (staffed by only one store manager) and consolidated management of sales channels from a country-based system to a central one. The new web store was opened in 2014. These efforts have considerably lowered expenses and personnel. There are currently 379 one-man stores in operation out of 489 total Games Workshop stores. Official stores often host community gaming events for local enthusiasts of the hobby, and are focused on recruiting new customers to the hobby. Store managers are incentivized to grow sales through profit sharing – 20% of any sales increase is payed to Games Workshop retail store managers who achieve growth while keeping costs in line. "Trade" stores (independent retailers) numbered 4,100 in 2018.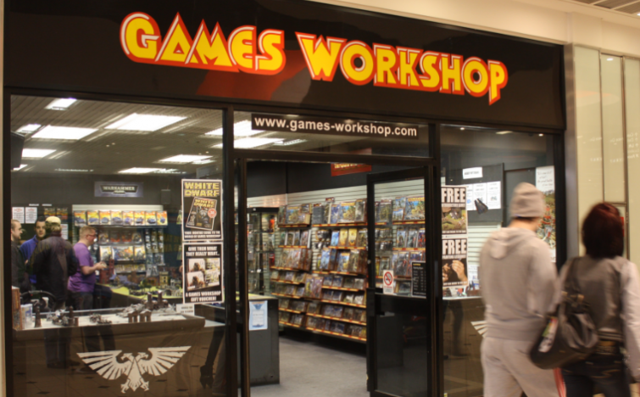 Image (source): a Games Workshop retail store.
Management Activity and Investor Relations
Insiders have been buying this year. Kevin Rountree (CEO) bought 2,761 shares and Rachel Tongue (Finance Director/Secretary) bought 1,684 shares, both on October 2nd. Kevin Rountree also bought 446 shares earlier in the year on March 22nd, and 337 shares on January 25th. Max Botrill (Head of Product and Supply) bought 71 shares on March 22nd and 61 shares on January 25th.
Management seems quite shareholder friendly and delivers excess cash to shareholders through dividends. Former chairman Tom Kirby retired in September 2017. He joined the company in 1986 and took it public in 1994. He currently owns ~4.8% of GAW shares as of September 28th, 2018. Kirby stepped down as CEO in 2015 (replaced by Rountree) and was replaced by Nick Donaldson as non-executive chairman in September 2017. The stock recently yields ~3.5%. This is management's policy on paying out dividends: "We will only pay dividends out of cash which is truly surplus to the business, after making allowance for the costs of new Hobby centre openings, regular capital expenditure and maintenance, investment in tooling, plus a sum to ensure the business has sufficient working capital for its needs." At the end of FY 2018, the company is debt free with £28.5 million in cash. The company seems very responsible about allocating capital and operations are paid for entirely from cash flow.
The company is good about providing updates to shareholders through its regularly updated investor relations page. Annual and half-year reports going back to 2006 are available, as well as numerous pages describing the organization of the business. Recently (on October 18th), the company posted an update on its "trading" business (majority of emerging markets sales). Compared YOY, trading for the current period up to October 7th has increased sales and profits at a "similar level." The board notes there are some uncertainties coming up in the trading periods ahead. This is likely referencing the upcoming Brexit negotiations and possibly concerns about the effect of restrictions on global trade. I am happy that the board provides updates such as this in addition to their normally scheduled financial reports.
Expansion, Revenue and Earnings Growth
| | | | | | |
| --- | --- | --- | --- | --- | --- |
| | 2014 | 2015 | 2016 | 2017 | 2018 |
| Revenue ( £ M) | 123.5 | 119.1 | 118.1 | 158.1 | 219.9 |
| EPS | 0.36 | 0.38 | 0.42 | 0.95 | 1.85 |
| Dividends per share | 0 | 0.52 | 0.4 | 0.74 | 1.26 |
| Gross margin (%) | | 68.9 | 68.3 | 72.4 | 71.4 |
The stock and company have seen a huge amount of growth over the past two years. Earnings have been exceptionally strong in 2017 and 2018. In 2017, YOY sales growth at constant currency was 21% for company-owned retail stores, 22% for third-party "trade" stores, and 20% for mail orders. "Retail" stores made up the highest percentage of sales at 41%, followed closely by "Trade" at 38%, and "Mail order" at 21%. Total sales for 2017 grew 34% (21% on a constant currency basis). 2017 operating profit before royalty income grew 183% (126% with constant currency).
2018 saw sales growth at constant currency of 27% for retail stores, 57% for "Trade" stores, and 37% for "Online". "Trade" stores made up the highest percentage of sales at 43%, followed by "Retail" at 37%, and "Online" at 20%. Total sales for 2018 grew 39% (41% on a constant currency basis). 2018 operating profit before royalty income grew 110% (116% with constant currency). Overall exchange rate fluctuations increased operating profit by £7.0 million in 2017 and decreased operating profit by £1.5 million in 2018.
The company is successful in maintaining high gross margins: 2015 – 68.9%, 2016 – 68.3%, 2017 – 72.4%, 2018 – 71.4%. Costs have been kept relatively low along with the massive growth: production payroll costs have increased from 2.5% to 2.7% of revenue and warehousing costs have increased from 2.6% to 3.0% of revenue in 2018.
In FY 2017, 31 stores were opened and 20 were closed. In 2018, 43 store were opened and 16 were closed. North America and Germany have been targeted for more store openings. Management is on track for its goal of opening net ~25 company-run stores per year. Lower profit stores, or stores with higher numbers of staff, are replaced with single-man stores in better locations.
Valuation and Comp
The closest comp I can think of that is public is Hasbro (HAS). They own Wizards of the Coast which sells Magic: The Gathering card game and Dungeons and Dragons. Most other competitors are smaller private companies such as Fantasy Flight Games. For the calculation of valuation metrics below, I used HAS's EPS numbers from Q3 and Q4 of 2017 and Q1 and Q2 of 2018 to get a year's worth of numbers ending on July 1st, 2018. This gives a closer comparison to GAW's most recent annual report, whose financial year ended June 3rd 2018. However, it should be noted that HAS's EPS was negatively effected by expenses related to the closure of Toys "R" Us during this period and charges related to U.S. tax reform. Therefore, I have also included a P/E number for Hasbro using estimated EPS for 2018. Overall, TEV/EBIT seems a more meaningful comparison in this situation, especially considering HAS has $1.72B of debt and GAW is debt free.
| | | |
| --- | --- | --- |
| | HAS | GAW |
| P/E | 60.3 (22.7 using FY 2018 estimates) | 17.5 |
| TEV/EBIT | 21.2 | 13.6 |
Licensing and the Future
Recent licensed PC games have been very successful. Management has a small team in place to seek out partners to develop licensed IP content. In the latest annual report's strategic report, live-action and animation were mentioned briefly; however, the bulk of licensing so far has been for computer games. The first Total War: Warhammer game was released in 2016. A sequel, Total War: Warhammer II, was released in 2017. Both games have seen considerable amounts of subsequent content releases in the form of expansions or DLC (downloadable content). Numerous other licensed PC releases include Warhammer: Vermintide, Blood Bowl, Space Hulk, and the Warhammer 40,000: Dawn of War series. Cash received from royalties for licensed products nearly doubled from £4.7 million in 2016 to £8.8 million in 2017. In 2018, cash flow from royalties increased slightly to £8.9 million. Operating profit from royalties increased 36% in constant currency from 2017 to 2018 (£6.9 million to £9.4 million). Income split for 2018 licensing was 89% PC and console games, 7% mobile and 4% other.
Digital marketing and community engagement through the internet have increased in recent years with numerous website redesigns. All official Games Workshop stores now have a web store terminal. The community website warhammer-community.com was launched in 2016 and the company has been increasing output of online video content and live-streaming events. In the six months previous to the release of the 2018 annual report, the number of customers interacting with the company on social media has doubled.
In light of the recent surge in sales growth, manufacturing capacity at the facility in Nottingham is being expanded. The core IT systems that interface warehouses and manufacturing are also being upgraded. Expansion into Asian markets (China, Singapore, Hong Kong, Japan, Malaysia) has been successful with double-digit sales growth in 2017. There was sales growth in 2018 in every major country that the company sells products in. Games Workshop seems very well positioned to continue growing sales at high margins.
Risks
The company has seen a massive spike in revenue/profits in 2017 and 2018. It is unlikely that the company will be able to continue this rate of growth as much of the benefits seem to be related to the restructuring of the business that started in 2015. However, the share price has also dropped recently, with the U.S. listed shares (GMWKF) dropping from around $53 to the current level of ~$39. It is advisable to use limit orders to place trades in this security because it is fairly thinly traded.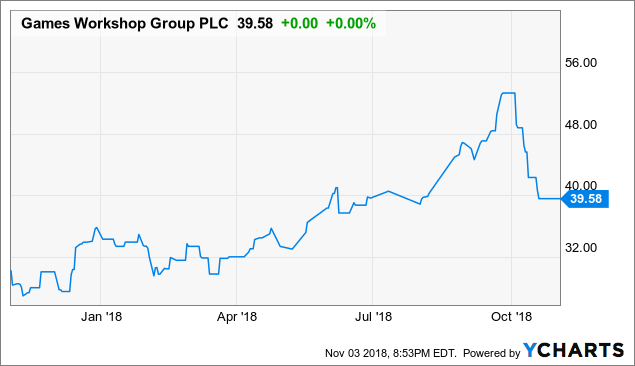 Although company operations and a large portion of sales are based in the UK, 76% of sales were international in 2018. There may be some risk of international trade issues depending on how Brexit works out. However, this will probably be temporary and could be seen more as a buying opportunity for long-term investors. Although manufacturing is based domestically in the U.K., tariffs could negatively impact the business due to the company's large amount of international sales.
Another "threat" to Games Workshop's business that has often been put forth as a point of concern is the rise of video games. The miniatures wargaming hobby saw one of its first rulebooks in 1913 with H.G. Wells' book Little Wars. Miniatures tabletop wargaming, and board games in general, have so far survived the threat of video games, and will likely have continued longevity. There is something to be said for actually getting together with other people in the same room and playing a physical game face to face, as opposed to sitting in front of a screen and pressing buttons. Humans are social animals after all, and talking to someone over the internet using a microphone, as is common with online games, just isn't the same as being present in the same room together. In addition, Games Workshop has been profiting from this supposed threat through their licensing deals. It seems there is room for both tabletop/board games and electronic games.
Disclosure: I am/we are long GMWKF.
I wrote this article myself, and it expresses my own opinions. I am not receiving compensation for it (other than from Seeking Alpha). I have no business relationship with any company whose stock is mentioned in this article.
Editor's Note: This article discusses one or more securities that do not trade on a major U.S. exchange. Please be aware of the risks associated with these stocks.