Thesis:
This article is intended to compare two gold miners; Agnico Eagle Mines (AEM) and B2Gold Corporation (BTG), and evaluate if either of them is mispriced. Note that at the time of writing, AEM last traded at ~$37.26 while BTG traded at~$2.58. The whole point of writing this analysis is to enable the investors of both companies, to consider whether an investment in these companies is worth their current pricing.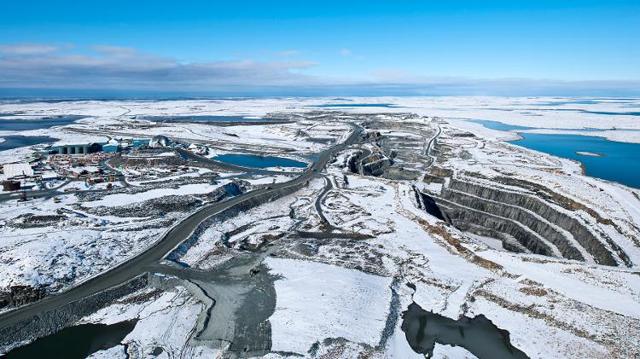 Figure-1 (Source: CIM Magazine)
This comparison between AEM and BTG is based on several metrics including the recently reported Q3 production, annual production guidance, mining costs, operating margins, debt position (including D/E ratio), returns (including return on equity and return on assets), free cash flows, dividend yields, the respective correlation of these stocks with global gold prices, valuation (in terms of P/E, P/B and EV/EBITDA ratio), and market cap.
After evaluating these stocks on each of these metrics, I will opine on their respective positions. Finally, I will combine the individual segments of the discussion to arrive at an overall conclusion about the pricing of these stocks. The analysis indicates that AEM is overpriced compared with BTG.
Operational metrics:
Quarterly Production: In terms of quarterly production during Q3 2018, AEM reported gold production of ~421.7 Koz resulting in a 7% decline Y/Y, whereas BTG's production stood at ~242 Koz with a solid 78% increase Y/Y.
Annual production guidance: It should be noted that both companies announced a favorable revision to their annual production guidance. AEM revised its guidance from ~1.58 Moz to ~1.60 Moz, recording an expected increase of ~20,000 ounces. On a similar note, BTG revised its annual production guidance for its Masbate mine, from ~180-190 Koz to ~200-210 Koz, recording an expected increase of ~20,000 ounces. Note that BTG's full-year production guidance is set between ~0.92-0.96 Moz. It's also worth noting that BTG recently added a high-potential gold mine (Fekola) in Mali that produced ~107 Koz during the Q3. This mine delivered the first full quarter of production in Q3 2018.
If we prorate that potential on the first two quarters then we may expect BTG's annual production guidance to increase by ~200 Koz in FY 2019 (somewhere around ~1.2 Moz).
Mining costs: The guidance for AEM's cash costs were set between $625-$675/oz, whereas BTG's costs were set between $505-550/oz. Similarly, AEM's AISC is estimated to be within the range of ~$890-$940/oz, whereas BTG's costs are estimated to be within the range of ~$780-$830/oz. It's clear that BTG has lower costs than AEM and this is further evidenced by the fact that BTG has superior operating margins as illustrated in Figure-2.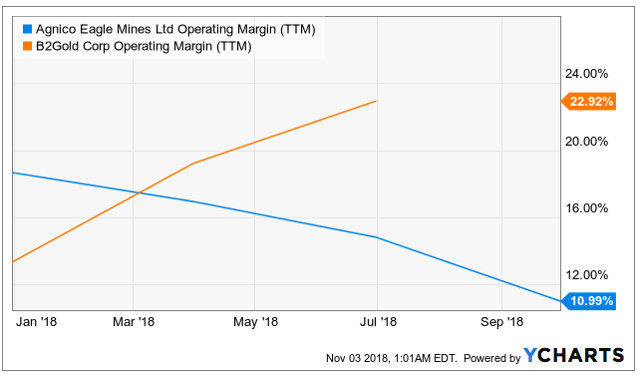 Figure-2 (Source: YCharts)
Conclusion: AEM's share trades at ~14.5x ($37.26/$2.58) of BTG's price. However, we have seen that AEM's Q3 gold production was only ~1.75x (421.7Koz/242 Koz) of BTG's quarterly output. Similarly, AEM's annual production guidance is only ~1.67x (1.6 Moz/0.96 Moz) of BTG's current guidance, and we have seen how BTG is expected to enhance its annual guidance in FY 2019.In terms of mining costs, BTG is the leader. It incurs lower cash costs and AISC compared with AEM, and this is reflected in the respective operating margins of both companies. Based on the preceding discussion, we may conclude that AEM lags behind BTG in terms of operational metrics and seems to be overvalued. However, I have also evaluated both companies on other parameters.
Financial Metrics:
Debt position: AEM has a debt-equity ratio of 0.215x, whereas BTG has a ratio of 0.226x. BTG's debt position is marginally higher, but we can see that BTG has an advantage over AEM on this metric too. BTG's D/E ratio has actually decreased from ~0.24x to 0.226x (Figure-3).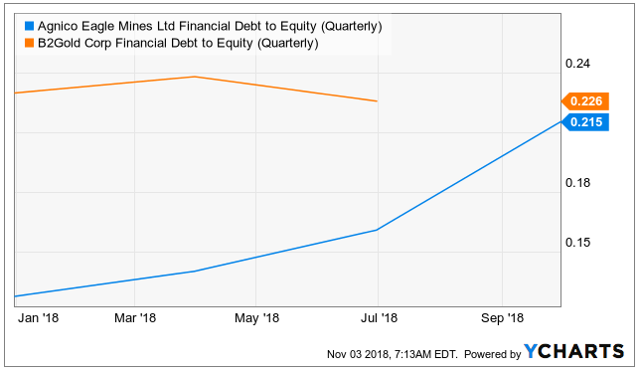 Figure-3 (Source: YCharts)
Going forward, we may expect BTG's D/E ratio to improve because the company recently announced the repayment of ~$259 MM in lieu of its principal of convertible senior subordinated notes (Figure-4).

Figure-4 (Source: B2Gold News)
On the contrary, we can see a sharp increase in AEM's D/E ratio from ~0.17x to 0.215x. Going forward, this ratio may be expected to deteriorate further because AEM expects to start production from two development projects in FY 2019. Given that it does not have the free cash flows to incur the CAPEX, it would most likely go for increasing its debt (Note: This part of the discussion is elaborated later).
Returns: Over the past 12 months, AEM's ROE (read: Return on Equity) and ROA (read: Return on Assets) remained below the respective returns of BTG. This is illustrated in Figure-5. Going forward, we can expect BTG to continue delivering superior returns based on its low-cost mining operations.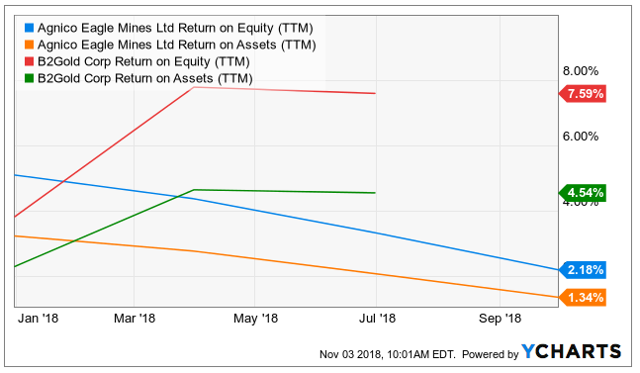 Figure-5 (Source: YCharts)
In my opinion, AEM's assets are valued at a premium because most of them are either located in Canada or Mexico. These are comparatively low-risk jurisdictions. On the contrary, BTG has two mining assets in Africa; which is generally considered a high-risk jurisdiction due to its geopolitical risks.
Free Cash Flows: BTG also has the edge over AEM, when it comes to free cash flows. AEM has a negative FCF of ~$411 MM while BTG reported a positive FCF of ~$260 MM (Figure-6).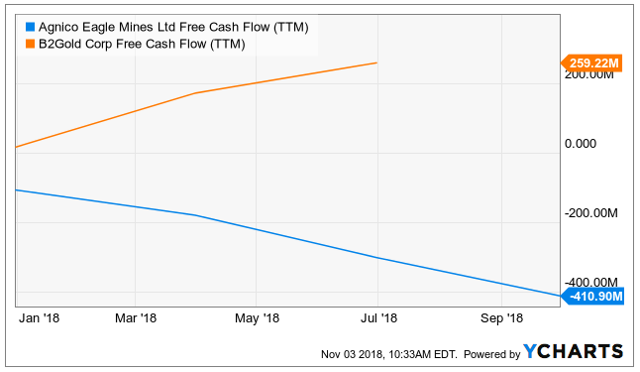 Figure-6 (Source: YCharts)
In the case of BTG, the FCFs are on an upward trend. This indicates that BTG will be able to incur CAPEX for its exploration and development projects, without much problem. It should be noted that BTG has a high-potential for exploration and development of its mining portfolio. In particular, the recently acquired Fekola mine (Mali) is a high-potential prospect, containing ~3 Moz of reserves and ~4 Moz in resources.
In contrast, AEM witnessed a downward trend in its FCFs. Although the company has two development projects namely Amaruq and Meliadine that are expected to start production in FY 2019, the negative FCF's would imply that AEM would only do so through increased debt. This would mean that AEM's D/E ratio would increase further.
Dividend Yields: So far we have seen that BTG has outnumbered AEM on various operational and financial performance metrics. The preceding discussion indicates that BTG is a solid growth stock. However, it's not an income stock. AEM beats BTG on that metric. To date, AEM has declared a dividend consecutively for the past 36 years.
On the contrary, BTG does not have a dividend history. However, we may expect that as the company expands its production profile and sustains those operations, it will have enough retained earnings and cash assets to consider payment of a dividend. My bet is that the company may do so within the next 5 years because BTG's first priority would be the repayment of debt and achievement of sustainable high-volume/low-cost production. In the context of BTG, these two targets are paramount; because once these are achieved then BTG would be a $10 stock based on its strong fundamentals.
Conclusion: In the preceding discussion, we have seen that BTG has a higher D/E ratio than AEM. However, the presence of significant FCFs would mean that BTG would be able to incur CAPEX without borrowing further debt. Besides, the company is dedicated to eliminating the existing debt. These factors should improve the BTG's D/E ratio going forward. In the case of AEM, we have seen negative FCFs; and the company's two development projects that are expected to go live in FY 2019 will need additional CAPEX. This would imply that AEM will borrow further only to deteriorate its current D/E ratio.
Moreover, AEM lags behind BTG in terms of ROE and ROA for the past 12 months. The only metric where AEM beats BTG is the consecutive dividend history of AEM. However, we have discussed that BTG may start dividend payout over the next 5 years. Based on this discussion, and the fact that AEM trades at ~14.5x of BTG's price (discussed earlier); I believe BTG is a solid choice for investing in the gold mining sector.
Correlation with gold prices:
During the period from April to August 2018, gold prices declined by ~13% (from $1,360 to $1,180/oz). Figure-7 shows that in times of gold decline, BTG has a lower correlation with gold prices, than AEM. In simple words, it means that BTG's price was less affected by gold price decline, as compared with AEM.

Figure-7 (Source: Previous article on Seeking Alpha).
On the other hand, during the recent recovery in gold prices witnessed during October 2018 (~3.2%); BTG showed a higher recovery rate in terms of correlation with gold prices than AEM. This is shown in Figure-8 and demonstrates that an increase in gold price has a far greater positive impact on BTG than it has on AEM.

Figure-8 (Source: Previous article on Seeking Alpha).
As we are witnessing a general improvement in gold prices since early October (Figure-9), we may expect both stocks to maintain their recent rally in line with gold prices. Nevertheless, BTG's price gains would be superior to AEM based on their respective correlation with gold prices.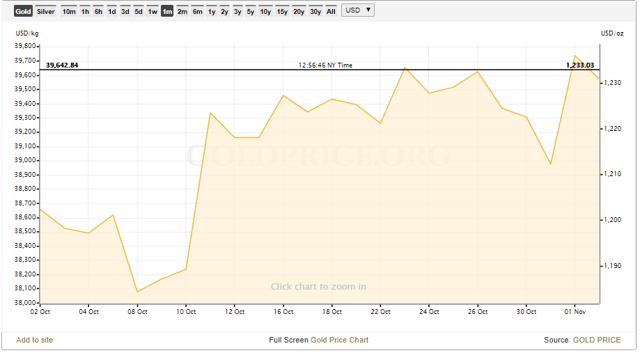 Figure-9 (Source: goldprice.org)
Valuation:
Price-to-Book: In my opinion, a P/B ratio within 1.2-1.5x is considered normal. On that note, AEM is a little pricey as its P/B ratio is ~1.8x (Figure-9).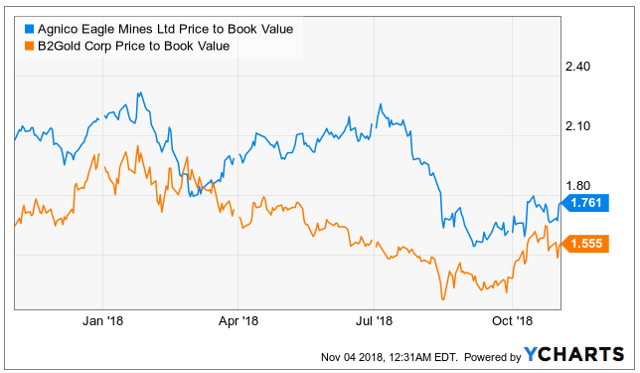 Figure-9 (Source: YCharts)
Price-to-earnings: In terms of P/E ratio, AEM's valuation is highly excessive. With a P/E ratio of ~83x, and weaker fundamentals compared with BTG, I believe AEM is considerably overvalued. Have a look at Figure-10 that represents the respective P/E ratios of both companies.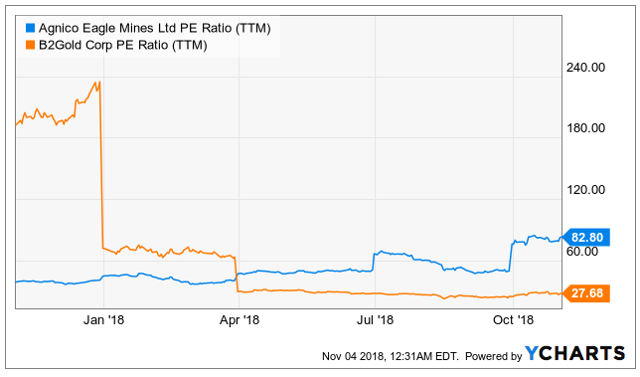 Figure-10 (Source: YCharts)
EV to EBITDA: Since both companies have significant debt (based on their D/E ratios), it's also appropriate to analyze their EV/EBITDA valuation. Figure-11 shows the respective EV/EBITDA valuation of the companies. It demonstrates that at present, the EV/EBITDA value for AEM is nearly twice that of BTG. This also indicates that AEM is comparatively overvalued. As indicated in the graph below, BTG's EV/EBITDA value has declined recently. I believe that this is attributable to BTG's improving debt profile. Going forward, as BTG eliminates its debt we may expect the company's EV/EBITDA valuation to improve further. In contrast, a reserve situation could be expected in the case of AEM.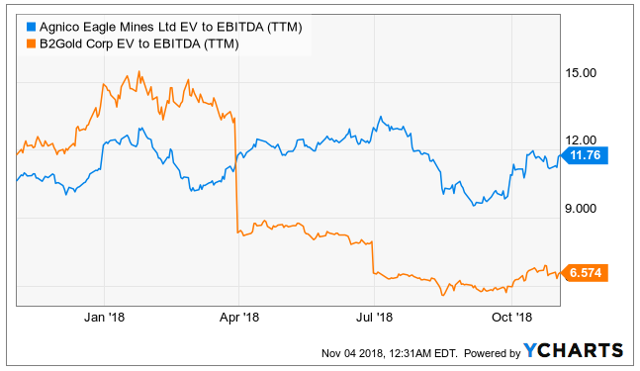 Figure-11 (Source: YCharts)
Conclusion: We have analyzed the valuation of both companies based on three metrics. On each individual metric, AEM appears to be overvalued compared with BTG. Furthermore, the improving debt situation of BTG would mean that going forward it would have a more suitable valuation based on EV/EBITDA ratio. This analysis also favors an investment case for BTG over AEM.
Other metrics that warrant your attention:
Have a look at Table-1 that identifies a few other key parameters to evaluate whether the 15x price differential between AEM and BTG is justified.
[Note that except for market cap, all the other figures pertain to Q2 2018].

Table-1 [Prepared by Aitezaz Khan for Seeking Alpha]
AEM's revenues, non-current assets, and market cap are ~2x,3x and 3.5x those of BTG. These numbers do vouch for the high valuation of AEM. However, since AEM trades at ~15x of BTG's current price, I believe they do not justify the excessive valuation of the first-mentioned company. Moreover, AEM's debt is almost 3x that of BTG and this also adds to the negatives of AEM when compared with BTG.
Bottom Line:
AEM currently trades at ~15x of BTG's price. In our analysis, we have seen how both of these gold miners compare on operational and financial metrics, besides their valuation and correlation with gold prices.
The analysis reveals that apart from consistent dividends, AEM's excessive pricing compared with BTG is not justified on any other performance metric and hence AEM is highly overpriced compared with BTG.
When talking about dividends, it should be noted that BTG's D/E ratio is considerably improving with significant FCFs. This implies that going forward, BTG would eliminate its LTD with ease. Moreover, BTG's recently acquired Fekola mine will significantly enhance the annual production guidance in FY 2019 and beyond. This should help improve the operating cash flows of the company and we may expect it to pay a dividend in future periods.
In contrast, we may only expect AEM to increase its D/E ratio because the company currently has negative FCFs. Going forward, AEM will depend on increased borrowings to complete two of its development projects that are expected to start production in FY 2019. Such increased borrowings will deteriorate the company's D/E ratio.
To conclude, I would say that AEM's 15x price (in contrast with BTG), is highly excessive, and the company's fundamentals do not support such excessive pricing. AEM is an income stock that will witness gradual growth based on additional exploration and development of mines. However, BTG is a growth stock that has strong fundamentals and the potential for significant growth of its mining assets. As such, I believe that an investment in BTG is more promising than one in AEM.
Disclosure: I/we have no positions in any stocks mentioned, and no plans to initiate any positions within the next 72 hours. I wrote this article myself, and it expresses my own opinions. I am not receiving compensation for it (other than from Seeking Alpha). I have no business relationship with any company whose stock is mentioned in this article.