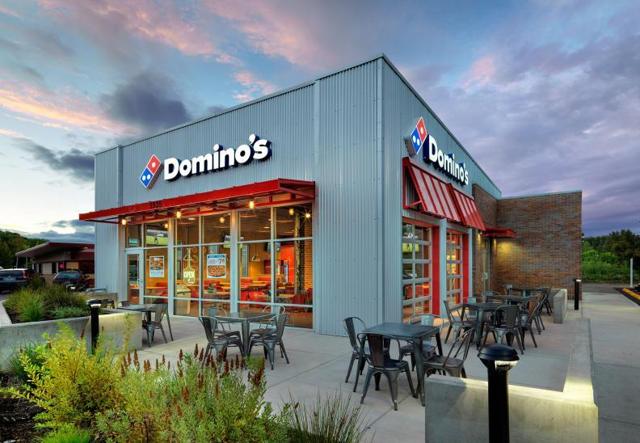 Image source: Domino's Inc, and appeared here
Recommendation
Sell or short if you can.
Firm and Industry Overview
Some basic stuff about the company: Domino's Pizza (NYSE: DPZ) is a QSR (quick-serve restaurant) chain company that serves pizza as its core products with more than 15,300 locations in over 85 markets. Domino's generates revenues and earnings by charging royalty fees from the independent franchisees. The Company also generates revenues and earnings by selling food, equipment and supplies to franchisees primarily in the U.S. and Canada, and by operating a number of company-own stores in the U.S. Franchisees profit by selling pizza and other complementary items to their local customers. In the international markets, DPZ generally grants geographical rights to the Domino's Pizza brand to master franchisees. These master franchisees are charged with developing their geographical area, and they can profit by sub-franchising and selling ingredients and equipment to those sub-franchisees, as well as by running pizza stores directly.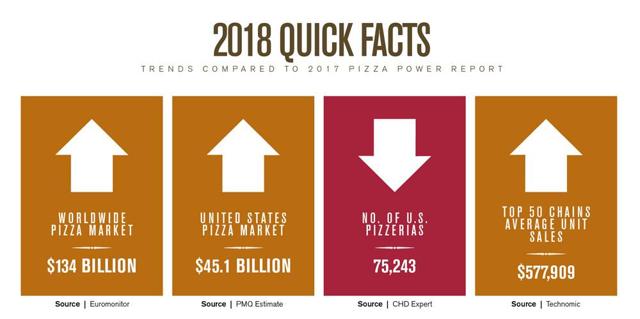 [1] Source: PMQ
Compared to 2017 QSR pizza industry trend, there has been an increase in the world pizza market to $134bn, the United States pizza markets to $45.1bn, top 50 chains average unit sales to $577,909, yet the number of U.S. pizzerias has been declined to 75,243 units. (Image 1)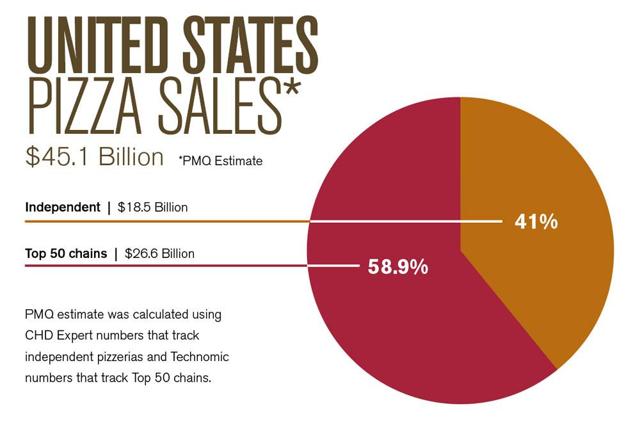 [2] Source: PMQ
Of the $45.1bn U.S. sales, 58.9% belongs to the top 50 chains and the rest to the independent stores (Image 2).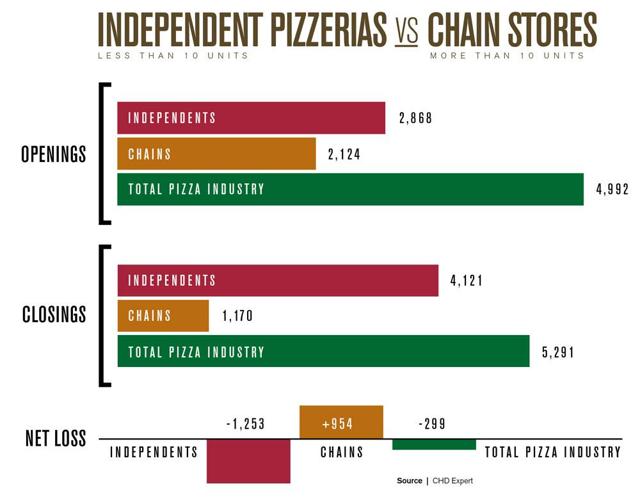 [3] Source: PMQ
Unit economics-wise, the total pizza industry has shown a net loss of 299 closures. The new 954 chains store openings are offset by the 1253 closures in independent stores.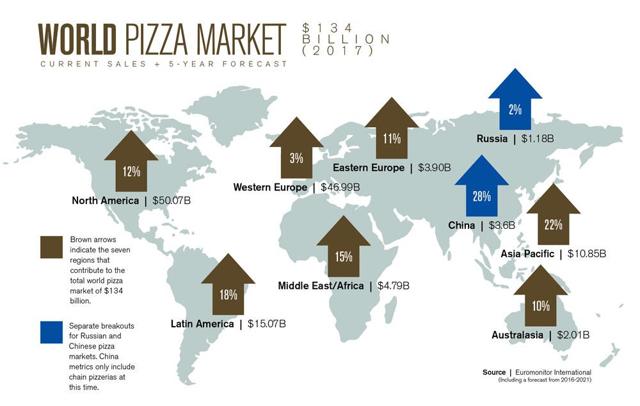 [4] Source: PMQ
While the international growth potential for developed regions has stalled, emerging markets like China show increasing demand and sales potentials. The overall industry is fragmented, meaning the closures of competitors do not necessarily translate into shares gained for a company. Take-outs and delivery are becoming more popular within the QSR industry. Consumers surveyed from 30,000 online respondents in 61 countries by Nielsen Global Out-of-Home Dining Survey indicate the three major qualities for the pizza industry: affordability, food quality, and the type of cuisine. There has been an ongoing wage rising across the hospitality sector and chain stores are facing the threat by independent stores who provide organic and locally-sourced food.
Competitors Overview
Domino's major competitors are Pizza Huts (YUM), Papa John (PZZA), Big Pizza (Chinese brand) and Little Caesars. On a local level, DPZ faces major players such as Blaze Pizza, California Pizza Kitchen, MOD, and Pieology etc. The international market is dominated by DPZ, Pizza Huts, and Papa John. I will get to the China case as it is an important market that will provide a growth opportunity for pizza players. The following is a description on DPZ's business characteristics based off the Porter's Five Forces model:
Bargaining Powers of Buyers = High: Consumers have many options to choose from, both chains stores and local independent ones.
Bargaining Powers of Suppliers = Low: DPZ has a vertically-integrated supply chain that manufactures crust and dough, processes vegetables, and provide equipment and suppliers to certain domestic and international stores. Over half of DPZ's food spend is with suppliers who have been partnerships with the company for 20 years. Cheese, the largest input commodity, is provided by a single supplier with whom the company has the right to terminate these arrangements for quality failures and for uncured breaches.
Threat of New Entrants = Medium: The entry barrier for opening a local pizza shop is relatively low. However, it is difficult to join as a chain (over 10 units) store business given the initial investment and high cost due to the land, labour and third-party suppliers.
Threat of Substitutes = High: There are many substitutes within the QSR industry such as hamburgers, pasta, noodles, chicken wings, and so on. In addition, consumers also have healthy alternatives to choose as the awareness of health benefits has been raised.
Intensity of Competition = High: Given the nature of the business, pizza players compete to bring more traffics through competitive pricing, real estate, and advertising. The intensity of competition is high for DPZ, who, though has the largest market share of 17%, pale in comparison with other types of market leaders (hamburger, coffee...) who have higher than 25% market shares.
Investment Theses
Currently, the market thinks the company is fair valued and there are numerous "Neutral" ratings from the sell side. The consensual thesis being "Low capex and mid- to high-single-digit operating income growth. we believe can support not only current but additional debt over time, resulting in shareholder returns and sustaining a premium earnings multiple. At this point, however, the stock's multiple suggests it is fairly priced even with the accretion from possible additional leverage." However, I think the market has overlooked several factors which would indicate an imperfection in pricing due to the following reasons: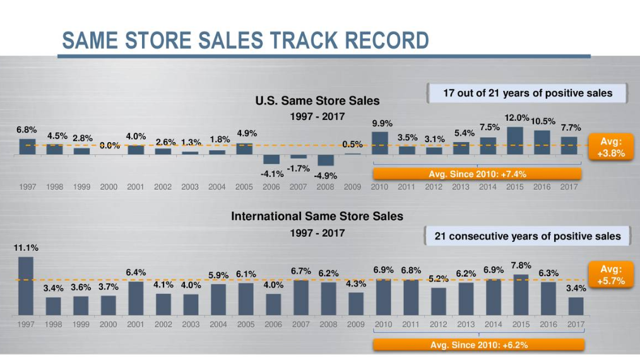 Source: Company Presentation. The SSS for both domestic and international market has been declining for three consecutive years since 2015. Will DPZ reverse the trend in 2018? Not likely.
1. The QSR pizza industry has a significant TAM (total addressable market) which is fragmented domestically and underdeveloped globally. However, the U.S. market for chain pizza stores has saturated and consumers rate independent stores higher than chain stores, per research by Pentallect, a food industry consulting firm. The preference and flavour change will hurtle DPZ's dominance in the domestic market. While the company is net opening more stores each year, the comps have de-accelerated in three consecutive years. The SSS (same store sales) for franchise stores (which makes up over 90% of total stores) reports 7.6% at the end of 2017, versus 11.9% at the beginning of 2016. The comps this quarter for domestic stores is 6.3%, down from 8.4% the same last-year quarter. On the international level, developed countries are saturated; comp for the European market has been negative.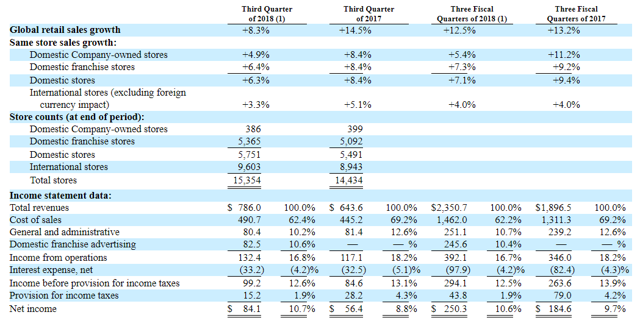 Source: 10-Q. As shown, the sales growth has actually declined from the same quarter last year.
The growth potential opportunity resides in China where a 28% growth has been reported, by far the largest. However, Domino's Pizza is incompetent to secure a lead in the market share of the Chinese pizza market. By 2015, only 11% of the population has reached the middle class and more than half of the young Urban Mass spends less than $5/day (35 yuan) on three meals. DPZ has an unfavourable pricing in China. Its 9'' pizza combo costs 59 yuan and the average price for a single pizza is in the 70-80-yuan range, making the consumption a luxury. Comparably, Pizza Huts offers lower pricing and Big Pizza, a Chinese brand, offers much more affordable tickets: 30-50-yuan range for average pizza meal, which is within the acceptance (affordability) of the majority urban population. Given the current economy in China (slowing), it is likely that DPZ will have a negative comp and more closures in this particular market.
2. A slice feeds more than one mouth: DPZ tries to get everything in-house from suppliers to truck drivers, in some ways, that might reduce the costs by avoid paying a premium to third-party operators. Nevertheless, the business model creates problem to consumers as rising wages and commodity prices demand the company to raise the tickets to offset the burgeoning cost. The once-favourable $2 delivery fee has doubled to $4.99, which is in par with the third-party delivery platforms such as UberEats and Door Dash. The company has invested in drones and autonomous cars but has yet to report anything significant return on investment, implying the ongoing reliance on labour is still in need. I do not deem the investment in drones and autonomous cars will return anything materially beneficial as regulations still do not foster a scalable environment for both. The investment, however, comes at a cost. The expense is recorded in the G&A cost, and there has been an increase of $11.9m, or 5%, in the three quarters of 2018, after offset by the gain from the store sales and the adoption of new ASC 606 accounting standard. Adjusted G&A has actually increased by $28.4m, or 12%! The costs demand a higher pricing for the company to make a profit, yet given the high bargaining powers of buyers, higher pricing translates to less traffic.
3. Too expensive for a cash-tight company: a slumberous traffic caused by the above-mentioned factor is hurting the comps. Domino's same-store-sales has been on a downtrend for three consecutive years since 2015. The 3.3% comp for international stores is already at the lower end of the guidance of 3%-6% outlaid by the company. DPZ trades at 33.49x earnings and 22.98x EV/EBITDA, both are way higher than 21x P/E and 17x EV/EBITDA average. Clearly, the market is assuming that the company is achieving the higher end of the guidance, which is unlikely to be the case when the annual report for 2018 releases.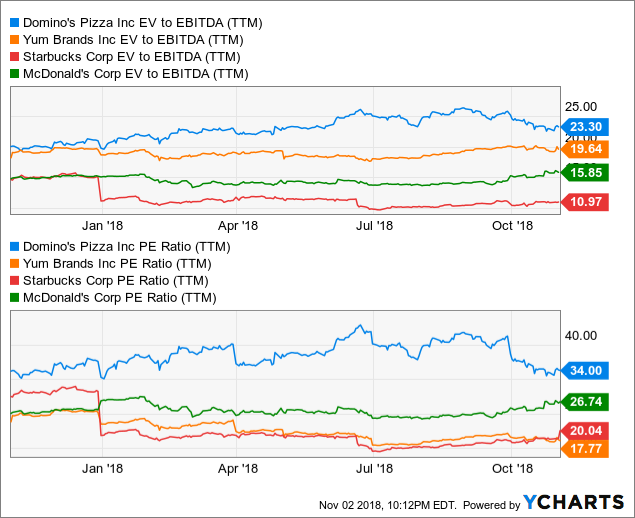 Source: YCharts
The heavy investment in things with a forlorn return is draining DPZ's pocket. The free cash has been declining from $133m in 2015 to $36mm in 2017. In three quarters of 2018, the company has generated $27mm, indicating that the company has to generate a net of $9m cash just to make this year break even the last year's FCF. The slowing sales do not support the expensive price investors are paying.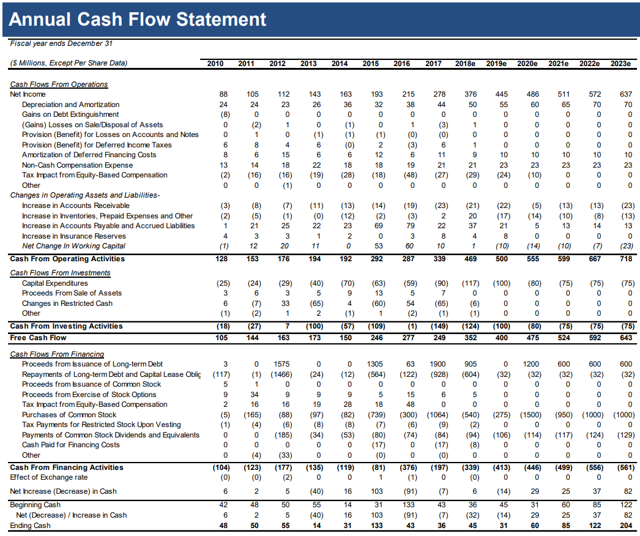 Source: Evercore ISI; Company Data.
Final words
DPZ has spent much on the drones and autonomous cars hoping to gain another technological edge and to reduce the labour costs. However, it will not be as easy as a few years ago when the company pioneered in online delivery services. The website is outdated and it takes longer time for a customer to place an order online than using UberEats or other popular websites. The company's ambition to vertically integrate everything is putting the company into a dilemma where the costs are rising and yet the company cannot just raise the already-high price to maintain the profit margin without losing traffic. That being said, DPZ does not deserve the price where it's trading at.
Disclosure: I/we have no positions in any stocks mentioned, and no plans to initiate any positions within the next 72 hours.
I wrote this article myself, and it expresses my own opinions. I am not receiving compensation for it (other than from Seeking Alpha). I have no business relationship with any company whose stock is mentioned in this article.