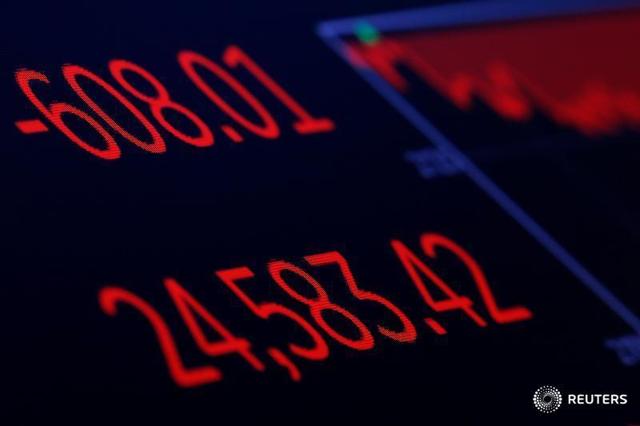 Photo Source: REUTERS/Brendan McDermid. A screen displays the Dow Jones Industrial Average after the close of trading on the floor of the New York Stock Exchange (NYSE), October 24, 2018.
For the month only 6% of all closed-end funds (CEFs) posted net asset value (NAV)-based returns in the black, with 5% of equity CEFs and 7% of fixed income CEFs chalking up returns in the plus column. The Real Estate CEFs classification (-1.56%) mitigated losses better than all the other equity classifications, followed by Utility CEFs (-3.05%) and Income & Preferred Stock CEFs (-3.21%). For the first month in eight domestic taxable bond CEFs posted a loss on average (-0.94%), bettering municipal bond CEFs (-1.26%) and world income CEFs (-1.45%). The world income CEFs macro-group was dragged down by the performance of Emerging Markets Debt CEFs (-1.95%) and Global Income CEFs (-1.22%). In this report we highlight October 2018 CEF performance trends, premiums and discounts, and corporate actions and events.
Disclosure: I/we have no positions in any stocks mentioned, and no plans to initiate any positions within the next 72 hours.
I wrote this article myself, and it expresses my own opinions. I am not receiving compensation for it. I have no business relationship with any company whose stock is mentioned in this article.