About the company:
Stamps.com (STMP) is the leading provider of online postage and shipping software solutions to over 700 thousand customers. Stamps.com's portfolio of solutions operates under the brand names Stamps.com, Endicia, ShipStation, ShipWorks, and ShippingEasy. Stamps.com has historically operated predominantly in the United States, but has recently taken measures to up its game in international markets as well. Stamps.com was recognized by Fortune Magazine this Fall as one of the market's fastest growing companies.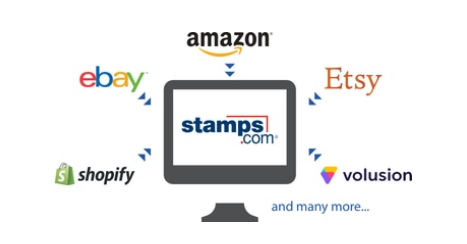 IMAGE SOURCE: STAMPS.COM
A Recent History of Volatility
For investors who had the foresight and good fortune to get in early, Stamps.com has been an impressive investment. While most investors think of companies like Netflix (NFLX) and Amazon (AMZN) when we talk about millionaire-maker stocks, Stamps.com is not terribly far behind. In fact, $1,000 invested in Stamp.com ten years ago would be worth $1.72 million today.
At the same time, it is fair to point out that the stock price appreciation has not exactly been linear. That is especially true over the past three years. The chart below shows some of those wild swings. If you look below, you will notice that from March 2016 to March 2017, the stock went from $121 all the way down to $72, only to climb back to $125. Then, in the subsequent 18-month period, the stock experienced two huge short-term rises and equally pronounced short-term falls. The curious thing is the fact that both earnings per share and EBITDA rose at a fairly steady rate during that same time span. The key questions are why would share price fluctuate so wildly when key financial metrics have moved in a very consistent pattern, and more importantly, what does it mean to investors going forward?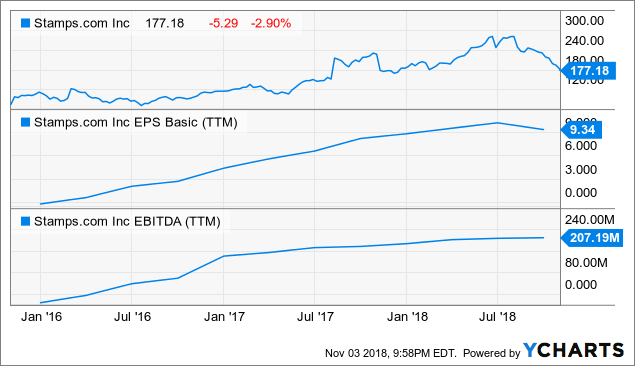 Market Overreactions
While it is true that, for all high flying companies, there will come a time when growth rates will have to moderate, moderating growth does not tell the whole story here. When it comes to Stamps.com, investors have been very fickle, resulting in market overreactions to events that in hindsight could be called "fake news". Let's take a look at some of the market's overreactions (at least they seem like overreactions now) with regard to Stamps.com.
Anything and Everything Amazon
Any announcement involving Amazon seems to send other stocks in the related industry into a free fall. Amazon enters the grocery space, Costco (COST) drops. Amazon enters the pharmacy space, Walgreens (WBA) drops. Similarly, when Amazon unveiled plans that included the words "shipping" or "postage", skittish Stamps.com investors headed for the exits. The most recent Amazon announcements related to the industry came last November and February, the first leading to a huge drop in share price and the second leading to an 11% drop in the first two trading hours following the announcement.
Pitney Bowes
Pitney Bowes (PBI) didn't pull any punches about going right at Stamps.com with this announcement in May of 2017:
"SendPro delivers three times the benefits for small and medium businesses at one-third the cost of Stamps.com."
This turned out to be a non-event and after an immediate 6% pullback, the market realized this headline for what it was, "fake news".
Donny John I
The president, mostly targeting Amazon, had been ranting for a while about the US Post Office charging too little for its services. Thus, on August 9th, when it got out that the post office was looking to renegotiate its contract with Stamps.com, the stock dropped 14%. This had a lasting impact as the stock has dropped 30% of its value since that time and would need to rise 41% to reclaim pre-announcement levels.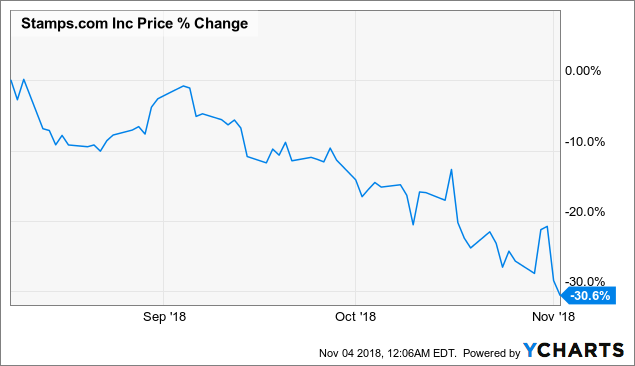 Donny John II
A couple weeks back, the President, targeting China, announced plans to withdraw from the Universal Postage Union. President Trump cited unfair rates as the reason for the move and he has gotten broad support since the announcement. While this may not be bad news at all for the company, the stock dropped 8% on the news and has continued its decline since.
To be fair, the entire decline is not the result of overblown headlines as profit growth is slowing, which has affected investor sentiment, especially after the most recent earnings report. That being said, the huge swings have been either unrelated or disproportionate to any changes in the fundamental performance of the company.
New Developments
The most significant recent development has been the acquisition of London based MetaPack, a software as a solution company that has a strong presence in the U.K. and continental Europe. This acquisition fits Stamps.com's plans to increase its international presence and appears, at least on the surface, to be a bargain. The company paid cash for MetaPack, and if the company's projections turn out to be accurate, the company will have gotten MetaPack for only 4-5 times sales.
Becoming Shareholder Friendly
One of the criticisms of the company in the past has been the company tended to dilute shareholder value by increasing the number of shares outstanding. However, the company has recently increased its buyback activity and has recently authorized $90 million in new buyback dollars over the next six months. Those developments may be comforting to shareholders for a couple reasons. Firstly, the buybacks in the most recent quarter averaged $240 per share, which means management means the shares are worth at least 33% more than their current share price. In addition, if management buys back its full allotment of authorized shares in the next six months, 2.8% of the shares will be taken off the table (assuming a $180 share price), essentially offsetting the gain in share count over the last year.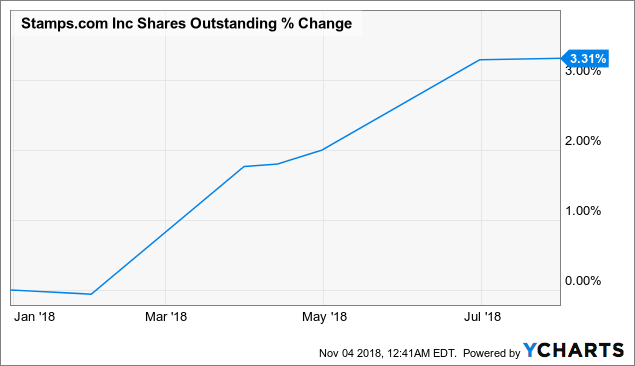 Most Importantly - Is Stamps a Value Play?
I will start by saying by most common valuation measures, Stamps.com is not the cheapest stock on the market. A look below at a couple of companies in the shipping and postage business shows that both FedEx (FDX) and Pitney Bowes are cheaper.
At the same time, while Stamps.com is essentially a shipping and postage company, it is different in nature than the above-mentioned companies and has never been valued the same way. Stamps.com is primarily a software company. It does not have physical trucks, garages, and other tangible items the other companies have. Therefore, considering both the company's growth trajectory and its rightful categorization as a software company, I would rather value the company in relation to its own historical valuation metrics.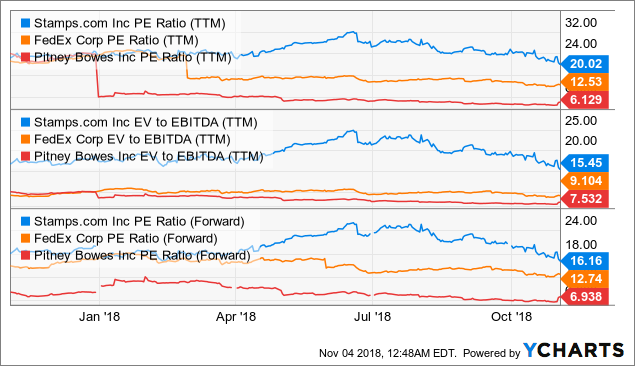 As a shareholder in 2013 and again in 2017-18 (I sold at $225), I can tell you that it was rare for the company to sport a PE of 20 or lower. Generally, the PE held in the mid to upper twenties. The chart below shows that not only is Stamps selling lower than it was a year ago, but all three metrics are also about 40% below where they were in early June.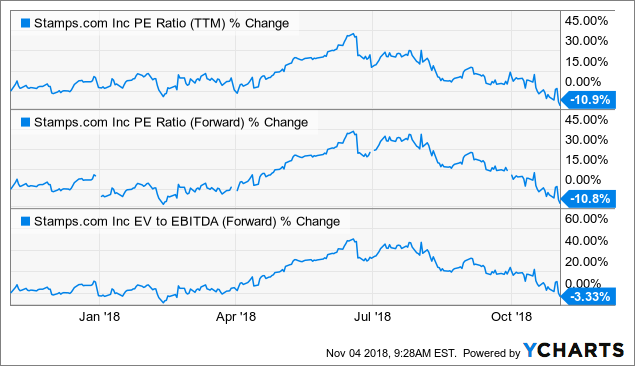 If we can accept 20 as a fair price to earnings ratio, we can look ahead and set what appears to be a fair value for the stock. Using consensus estimates, and it is fair to note that the company has generally beat estimates, the fair value at the end of the year would be $212.60. By the end of 2020, a PE of 20 would yield a fair value of $243.60, a 37% premium to today's price.
| Fiscal Year | Earnings Est. | Fair Value |
| --- | --- | --- |
| 2018 | 10.63 | 212.60 |
| 2019 | 11.12 | 222.40 |
| 2020 | 12.18 | 243.60 |
DATA SOURCE: YCHARTS CALCULATIONS BY AUTHOR
Investors' Takeaway
Stamp.com is now trading over $100 below its 52-week high. And while there have been speculative headwinds, they remain just that, speculative. The company continues to perform well and has recently raised its full-year guidance. If you don't like non-GAAP EPS and revenue as telltale metrics, we could also look at EBITDA, which is up 8% YOY and 15% if you back out stock-based compensation.
In the end, you have a company in a growing industry, and while it may not experience the explosive growth of the past, it does not have to. Stamps.com is now fairly valued as a value stock. I have confidence the company will meet its earnings estimates in the near future, and if it does and holds to a PE of 20, a 37% two-year gain is good enough for me. I don't own Stamps.com right now, but I will make a stock purchase in the next month and the company is on my short list of prospective buys. If you are a value investor, I believe Stamps.com should be on your radar as well.
Disclosure: I/we have no positions in any stocks mentioned, and no plans to initiate any positions within the next 72 hours.
I wrote this article myself, and it expresses my own opinions. I am not receiving compensation for it (other than from Seeking Alpha). I have no business relationship with any company whose stock is mentioned in this article.