Nano One (OTCPK:NNOMF) caught my eye some time ago because it has a high energy, cobalt free cathode material for electric vehicle lithium batteries. As it turns out, the company has more than just a trick cathode material. Nano One has a generalized process - a platform - for making a wide range of cathode materials with the latest sophisticated features, a process that is tunable, highly economic and ready for production scale up. And, because Nano One is a small company focused on cathode process development it offers investors potentially outsize returns should its process be adopted as the auto industry moves to vertically integrate manufacturing of cobalt free and solid state batteries. Shareholders and potential investors are naturally interested in where the company is and what are the opportunities ahead.
Areas of Opportunity
Nano One is looking at two areas of opportunity with its battery cathode materials process - LFP (lithium iron phosphate) and cobalt-free MNO manganese nickel HV Spinel. The lithium battery industry is evolving as more and more batteries are made for electric vehicles and grid storage. Nano One has been honing its cathode materials process to address specific industry needs as it continues to work with automakers, battery manufacturers and cathode material suppliers.
On Friday I was able to talk with Nano One CEO Dan Blondal about technical developments, status of work with potential licensees and the issues facing the battery industry that relate to adoption of the company's cathode process technology. Dan was very generous with his time explaining the nuances of the Nano One process, related battery developments and the status of company's ongoing work with potential licensees. I appreciate his patience and thoughtful council.
The occasion for our conversation was my attempt to verify a potential opportunity for Nano One in connection with Tesla's (TSLA) stated intention to undertake cobalt free cathode material manufacture at the Nevada GigaFactory within two years. My reasoning went like this.
Tesla and Panasonic say they will use zero cobalt in next generation batteries. At the Tesla shareholders' meeting in June the company said GigaFactory cell costs are expected to drop to $100/kWh by year end. The path for getting battery module costs below $100/kWh by 2020 was described as well:
...with further improvements to the cell chemistry and the production process and more vertical integration on the cell side for example integrating the production of cathode nano materials at the Gigafactory and then an improved design of the module and pack. We we think long term we can we can get below 100 kilowatt hour at the pack level... - emphasis added.
If Tesla is going to implement volume manufacture of cathode nano materials at the Nevada GigaFactory for an improved, cobalt free cell chemistry and reduce pack costs to $100/kWh within two years, then several things must be true:
Tesla must be planning to make an improved cell chemistry at the GigaFactory that differs from what they are using now and that is cobalt free.
Any cathode nano materials process intended for the GigaFactory and presumably associated with any planned "improved, cobalt free cell chemistry" must be ready for scale up, not just working on some lab bench, in order to meet a 2 year schedule.
There must be some cost, performance and/or other advantage to the planned GigaFactory cathode nano materials process that justifies abandoning Tesla's and Panasonic's (OTCPK:PCRFF) existing cathode supply chain and making the additional investment at the Nevada factory.
Nano One's HV Spinel cathode material and process meets all of these requirements. So, is Tesla about to license Nano One's process, or just buy the company?
After expressing something between startled surprise and abject horror that this theory might be loosed on the market Dan politely suggested that there might be too many tendrils on my tea leaves. He said he was not at liberty to discuss any activity that might be related to Tesla. And, he didn't categorically say no... But I did come away with my hopes for swapping my Nano One shares for TSLA by the end of the year dashed.
This led to a technical discussion about using HV Spinel for electric vehicle batteries and the status of other cathode materials at Nano One. While perhaps not as titillating as the prospect of an imminent Nano One - Tesla deal, Dan's insights into the real world of battery and cathode materials will perhaps be useful to investors.
HV Spinel
High voltage lithium manganese nickel oxide spinel (LiNi0.5Mn1.5O2) has been around for a while. Nano One has used its patented cathode material process to solve the discharge voltage non uniformity and poor cycle life seen in conventionally processed HV Spinel.
Recently, the company's process has been extended to allow precise, very thin coatings to be automatically formed on cathode material grains without additional process steps. These nano-coatings improve compatibility of HV Spinel with solid and liquid electrolytes, something important to practical use of this material. Nano One has received grant funding from Canada to develop these coatings and the related process enhancements.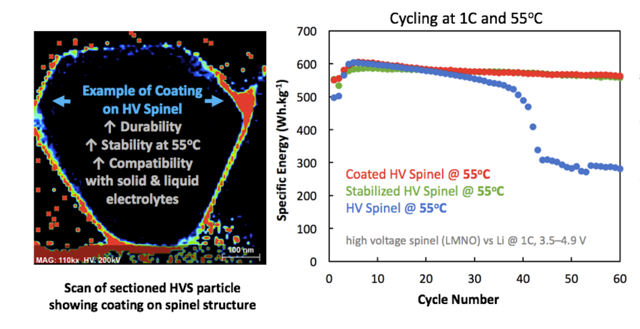 HV Spinel has both desirable qualities and significant drawbacks that have thus far prevented its use in electric vehicle lithium batteries.
Desirable Properties
Fast charging / high power: Spinel crystal structure provides more paths for lithium ions than layered materials like NMC and NCA. This allows faster charging and higher power batteries
Solid electrolyte compatibility: HV Spinel cathode particles don't swell and shrink when lithium ions are inserted / removed as the battery cycles. This helps maintain contact with solid (rigid) electrolyte.
Deep discharge cycle life: Properly stabilized HV Spinel maintains its structure when the lithium is removed (fully charged state) better than layered materials NMC and NCA. This allows routine charging to 100% without sacrificing battery cycle life.
Drawbacks
Low mAhr capacity: HV Spinel stores ~140 mAhr/gram compared to ~200 mAhr/gram for NMC and NCA cathodes. Lower mAhr capacity is offset by the higher operating voltage of HV Spinel, ~4.7V vs ~3.6V for NCA.
Requires HV Electrolyte: HV Spinel is a high voltage material and electrolyte stable to 5V is required.
Manganese solubility: Manganese in HV Spinel tends to dissolve in many electrolytes resulting in destabilized crystal structure and voltage / capacity fade. Dissolved manganese can migrate to the battery graphite anode where it is deposited reducing anode performance.
Low surface ion conductivity: When used with some solid electrolytes transport of lithium ions across the spinel-electrolyte interface is poor.
Dan pointed out that Tesla could not be using HV Spinel unless they had a working high voltage electrolyte (liquid or solid). Nano One is working to address the last two HV Spinel disadvantages, manganese solubility and poor surface ion conductivity with coatings on HV Spinel particles as part of its process.
The appeal of HV Spinel is primarily its compatibility with solid electrolytes which in turn enable the use of lithium metal anodes, eliminating the graphite anode currently required. The gating event for customers signing on to use Nano One's process is development of solid electrolyte and demonstration of its use with Nano One HV Spinel in test batteries. In other words, there will be a lot of try-before-you-buy. A snippet from the July 10, 2018 Nano One press release suggests that this is in fact happening right now.
Over the last six months, Nano One has signed about ten NDA's and five materials transfer agreements with tier 1 automotive OEMs and their suppliers, and we have at least a half dozen more in progress.
Interest in solid state lithium batteries for electric vehicles is widespread. Volkswagen (OTCPK:VWAGY) seeing the future in solid state batteries will bring battery production in-house starting in 2025. Hyundai (OTCPK:HYMLF) and Toyota (TM) have in-house solid state battery programs. Even the vacuum cleaner maker Dyson plans its own billion dollar battery factory with an eye to eventually making electric cars.
Nano One's prospects with HV Spinel remain strong and the recent automatic coating capability within the company's process reinforces its competitive advantage among cathode processes. But solid electrolyte development is a pacing item and Dan said not to expect licensing deals for HV Spinel in the near term with significant revenue still further out, waiting for solid state battery volume production.
The company has a nearer term prospect that is being driven by the rising cost and uncertain availability of NMC cells.
LFP
LFP (lithium iron phosphate) batteries are a mainstay of applications like short range BEVs, electric busses and grid storage because they are cheap, rugged, long lasting. But, LFP batteries are heavy, storing roughly half the energy per kilogram of NMC or NCA batteries. With world production capacity for NCA and NMC batteries largely spoken for by builders of long range BEVs, applications that can use the heavier LFP batteries are shifting to that type.
Nano One's process can be used to make LFP cathode material, as it can for most other lithium battery cathodes. In the case of LFP, the company's process isn't enabling advanced batteries but rather providing cost savings when making this old standby battery technology.
LFP cathode material is a poor electrical conductor and a thin carbon coating is applied to the cathode particles to give LFP batteries good charging rate and available power. Currently this application of carbon coating is done in a separate process following manufacture of the cathode powder.
Nano One's process is now able to produce LFP cathode material with the carbon coating already in place, saving an entire separate process. The advantages do not stop with automatic coating of cathode particles. Nano One's process works with less costly iron and phosphorus feed stock while delivering slightly better energy storage capacity compared to current LFP cathode processing. Dan told me that the company believes their process will deliver a 30% reduction in the cost of finished LFP cathode material. With rising demand for LFP Dan expects near term applications using the company process for LFP.
Valuation
In an article written last January I discussed Nano One, its process for cobalt free cathode material and how the company might be valued going forward. At that time there appeared to be two potential winning scenarios for Nano One. Scenario #1 would see Nano One acquired by a carmaker, battery maker or other player in the battery supply chain as a strategic acquisition. Scenario #2 would see the company license its process to multiple players and collect royalties over time. This is a good time to reassess the likelihood of both these scenarios.
Scenario #1 looks less likely in the near term. In the apparent absence of a Tesla deal for cathode manufacturing in Nevada and major carmakers looking to 2025 or later for solid state batteries the prospects for Nano One being the target of a strategic acquisition is off the table in the immediate future. Investors may want to keep an eye out because a strategic acquirer may appear and act swiftly.
Scenario #2 looks to be in better shape. While potential licensees seem unlikely to embrace Nano One's HV Spinel process until the gating events of successful solid electrolyte and battery validation the company has a solid near term offering. With demand increasing and grid storage providers moving back to LFP Nano One's process application to lower cost, more integrated LFP cathode manufacture has good prospects for landing a licensee, JV partner or other deal in the less distant future.
Bottom Line
Nano One continues to develop and expand the functionality of their innovative, patented process for making lithium battery cathode materials. Grants from Canadian government agencies continue to move the company forward, enhancing shareholder value with minimum capital demands and investor dilution.
Company prospects relating to advanced solid state batteries and the HV Spinel cathode material remain distant as carmakers and their suppliers wrestle with development of solid electrolytes and batteries with lithium metal anodes. Nearer term prospects look favorable for the company's process as applied to LFP cathode material where the advantage is simple, significant cost reduction for an existing material with rising demand.
I do not expect significant price appreciation for Nano One shares until there is a deal finalized, or at least in the wind that catches investors' attention. Investors should however remain vigilant because there are many prospects in play for Nano One and the possibility remains open in the scramble for new and better electric vehicle batteries that the company's process will find a key role in battery manufacture with one or more of the very big players in this arena.
Disclosure: I am long Nano One. That doesn't mean that you should be, too. Consult your financial advisor and do appropriate due diligence before investing in this or any very small cap company. Financial and other information about Nano One are available on the Nano One website, here.
Disclosure: I am/we are long NNOMF.
I wrote this article myself, and it expresses my own opinions. I am not receiving compensation for it (other than from Seeking Alpha). I have no business relationship with any company whose stock is mentioned in this article.
Additional disclosure: These writings about the technical aspects of Nano One, Tesla, electric cars, components, supply chain and the like are intended to stimulate awareness and discussion of these issues. Investors should view my work in this light and seek other competent technical advice on the subject issues before making investment decisions.
Editor's Note: This article discusses one or more securities that do not trade on a major U.S. exchange. Please be aware of the risks associated with these stocks.