Welcome to the holy moly that's a real spike edition of Natural Gas Daily!
You have to feel for the natural gas bears today. With December contracts ripping 7.58% today to $3.533/MMBtu, the sudden gap higher in trading was the result of another early November cold blast. This would make the bullish weather calendar streak at eight months straight. Ouch.
To put into context just how bullish the weather outlook got over the weekend, the impact to natural gas storage was 80 Bcf. Yes, 80 Bcf.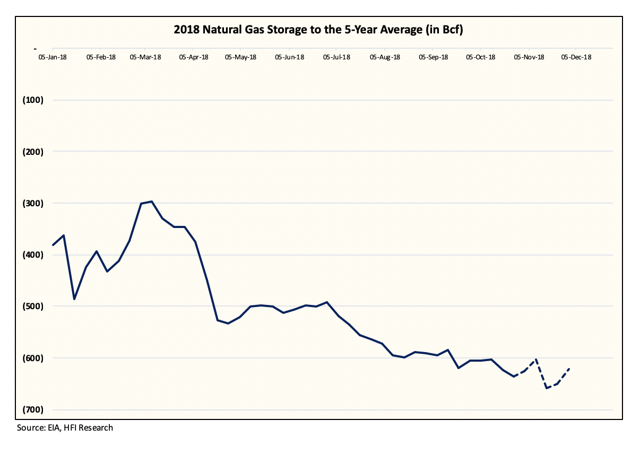 This is what it looks like if we put it relative to the five-year average. You see that drop to -650 Bcf to the five-year average deficit by the middle of November? That was what happened over the weekend.
Another good way is to put it into context in heating degree days. Here's the forecast from Friday morning: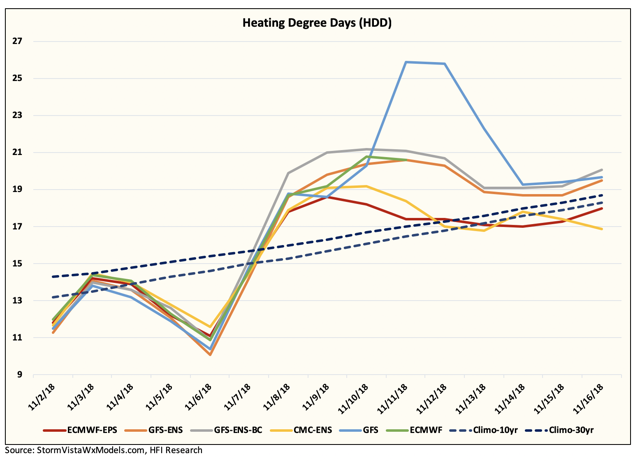 Here's the forecast from this morning: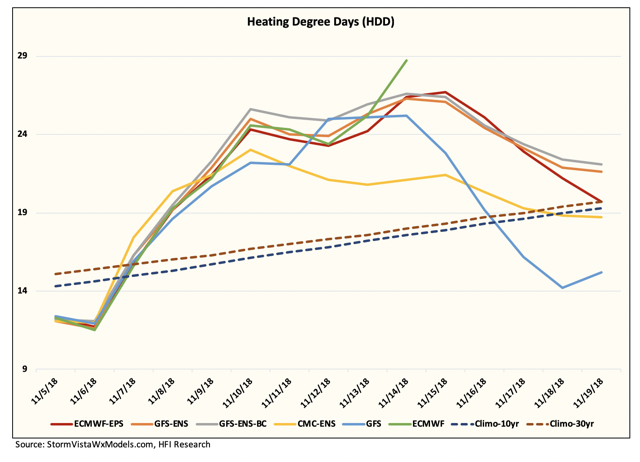 The early cold blast in November is expected to happen between Nov. 9 to 18. This resulted in our storage forecast for 11/16 week to jump to -80 Bcf. Putting this storage draw into context, the five-year average is -25 Bcf while last year's was -46 Bcf.
But it's not all rosy for the natural gas bulls...

Source: StormVistaWxModels.com
The duration of the cold blast is being called into question as the Northeast is expected to turn potentially warmer than normal by November 20th. As a result, it's not only important to watch for total changes in HDD, but it's also important to watch for the "trend" via the 15-day outlook.
For now, we continue to expect price volatility to be skewed to the upside. Our trading bias continues to be on the bull side, but if the natural gas bulls overextend the short term while the weather outlook flips warmer, then we will be inclined to take very short-term bearish positions.
An important reminder for readers trading natural gas. ECMWF-EPS now updates at 3:00 AM EST and 3:00 PM EST. This is the weather model that can materially move natural gas prices, so stay alert at those time frames.
Author's Note: Thank you for reading this article. If you found this article insightful, please leave a "Like" below.