Gold is caught between two forces which are relatively equally balanced. On the one side, acting as a counterweight to gold's recent rally attempts, is the relentless strength of the U.S. dollar. This strength is undermining gold's currency component and making it difficult for gold to gain any traction. On the other side is investors' concerns over the uncertain state of the global equity market and its potential impact on the U.S. economy. In today's report I'll make the case that widespread worry over the stock market outlook is gold's biggest support in what would otherwise be a bearish fundamental backdrop for the metal. We'll also briefly examine the gold mining stock outlook via the PHLX Gold/Silver Index (XAU).
Gold's latest trading session served as a reminder of everything that is still hindering a turnaround attempt for the metal. Gold prices pulled back on Friday after the U.S. dollar stabilized after its sharp decline to start the month. A strong U.S. jobs report was the catalyst behind gold's latest show of weakness. Headlines aside, gold is still threatened by the dollar's intermediate-term strength, as well as the latest rebound attempt in the global equity market.
The release of employment data for October showed a strong rebound in job growth, with 250,000 jobs added in October. The report's biggest highlight, however, was that wages posted their largest annual increase in 9-½ years. Many economists expressed the opinion that the latest data justifies continued interest rate increased by the Federal Reserve. This was disconcerting news to many gold investors since gold is non-interest bearing and is sometimes threatened by rising yields.
While the employment situation was bad news for gold, it was decidedly good news for the dollar. Shown here is the Invesco DB US Dollar Index Bullish Fund (UUP) in relation to its 15-day and 50-day moving averages. As you can see, UUP climbed to a new high on Oct. 30, and as such hit a new high for the year to date. While UUP pulled back late last week, the dollar ETF still remains above its two key trend lines. This is putting pressure on the gold price and, as long as UUP remains above the 15-day trend line, it will likely undercut gold's attempt at rallying above its 3-month trading range ceiling.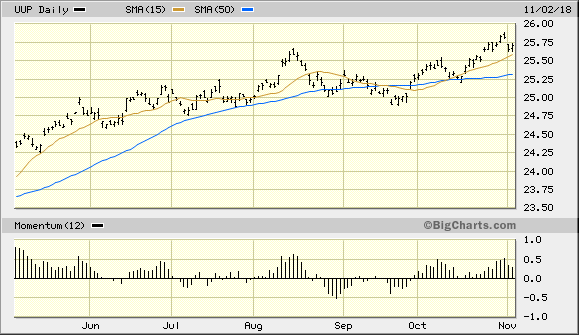 Source: BigCharts
The dollar is benefiting from not only the strong U.S. economy, but also from the lack of widespread fear among investors. While there is definitely some apprehension in the air owing to the recent 10% correction in the U.S. stock market, fear isn't palpable enough to be discerned in the traditional safe-haven assets like U.S. Treasury bonds and the Japanese yen. This lack of sustained fear in recent months has undermined gold's attempt at rallying and has kept the yellow metal price stuck in a narrow trading range since late July.
Gold is not completely without support, however. The fact that stock market volatility is still above normal while investors remain unconvinced that stocks have bottomed is boosting gold's appear to some degree. The December gold futures price graph (below) highlights the ongoing attempt by the bulls at pushing gold's price out of the 3-month trading range. December gold has established a series of higher lows and higher peaks since the August price bottom, and this is basis of a legitimate turnaround attempt. A close above the $1,240 level - December gold's trading range ceiling - would confirm a trading range breakout and give the gold bulls a desperately needed validation of their strength.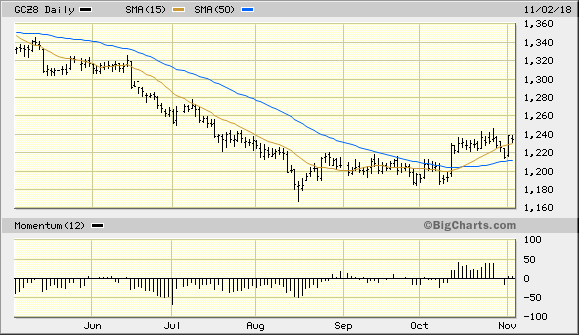 Source: BigCharts
There has also been a notable increase in gold ETF demand. Holdings in the SPDR Gold Trust (GLD), the world's largest gold-backed fund, rose to their highest level since late August on Nov. 1. This shows that while the dollar remains an obvious threat to the metal's immediate-term trend, investors are still sufficiently worried about the stock market outlook to park some cash in the gold ETFs.
It's also technically significant that while the silver price hasn't yet confirmed gold's latest strength, it's threatening to break out above its own trading range established 10 weeks ago. The iShares Silver Trust (SLV) is probing the upper boundary of this range (below) and even rose temporarily above the pivotal $14.00 trading range ceiling on Nov. 2. A breakout above the $14.00 level would push SLV decisively outside this range. More importantly, it would provide additional confirmation for gold's latest rally attempt. Keep in mind that strength - and especially leadership - in the silver price tends to support gold due to the close historical correlation between both metals.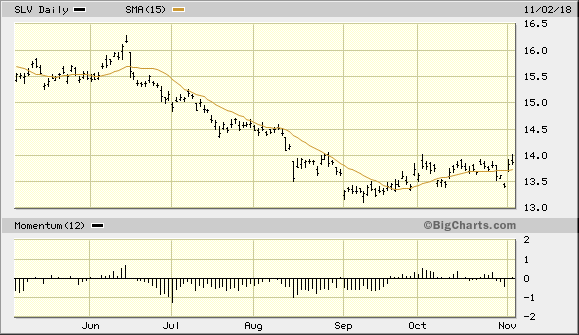 Source: BigCharts
On the gold ETF front, the iShares Gold Trust (IAU) recently confirmed a technical breakout by closing above the pivotal $11.60 level and returning above its rising 15-day moving average. This put me back on an immediate-term buy signal for IAU, where I remain despite the dollar's recent strength. I suggest watching the $11.37 level (the Aug. 23 closing low) closely from here, as this is my recommended initial stop-loss (intraday basis) for this trading position. A violation of $11.37 would put me back on the sidelines for the immediate term. However, as long as IAU remains above its 15-day MA on a weekly closing basis the bulls will still have a slight technical advantage over the bears.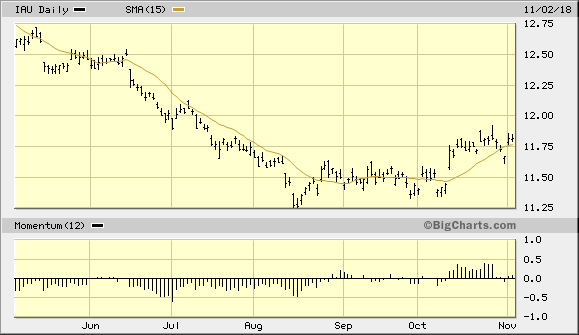 Source: BigCharts
On the mining stock front, the PHLX Gold/Silver Index (XAU) confirmed an immediate-term buy signal per the rules of my trading discipline back in September. This happened when the XAU rose two days higher above its 15-day moving average. From there, it rallied more than 5% without violating its nearest pivotal low. This fulfilled the minimum upside requirements of the breakout signal. However, the XAU confirmed another immediate-term sell signal on Oct. 25 when it fell back below its 15-day MA.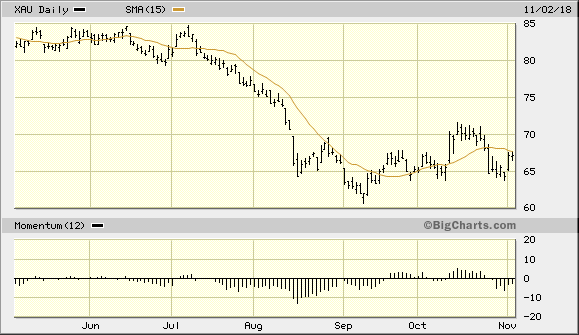 Source: BigCharts
At this point, however, the index is trying to climb back above its immediate-term 15-day trend line. Despite an impressive 4.5% rally last Thursday, the XAU is still under the 15-day MA and hasn't yet confirmed another breakout signal. A 2-day higher close above this trend line would allow the gold stock bulls to regain the advantage they held in October. With gold and silver currently on an immediate-term buy, a 2-day higher close above the 15-day MA in the XAU would also allow us another clean entry into the leading gold and silver stocks, particularly those in a relative strength position. Once the XAU confirms another breakout signal, I'll turn my focus on the relative strength stocks among the actively traded mining shares and review them here. For now, though, traders should remain in a cash position as we wait for the latest XAU bottom to be confirmed.
In conclusion, while the gold price may still benefit in the days ahead from continued equity market weakness, we need to see a sharp reversal of the dollar's recent strength before the metal is ready to commence a sustained rally. We also should ideally see a synchronized rally in the silver price to let us know that demand for the precious metals is based on more than just safety demand related to last month's equity market sell-off. This would be gold's best bet for a strong showing in November. As I've emphasized in previous reports, significant weakness in the dollar benefits both precious metals and drastically increases gold's intermediate-term (3-9 month) investment appeal. For now, gold remains a speculative buy for short-term-oriented traders only.
Disclosure: I am/we are long IAU. I wrote this article myself, and it expresses my own opinions. I am not receiving compensation for it (other than from Seeking Alpha). I have no business relationship with any company whose stock is mentioned in this article.