I came out of GE's 3Q18 earnings call quite underwhelmed by the new CEO's articulation of the strategy and vision for the company. Besides the dividend cut and GE Power split-up most topics were put in the parking lot for at least a few months. No financial guidance nor clear targets, see you back early 2019.
Reflecting on the recent call a few days later I now see the recent communique from Culp as a smart move. I realize that I no longer have any clear expectations for GE in the short term. Knowing that the previous financial targets (e.g. earnings per share, adjusted free cash flow) will not be met, the market is trying to find its own lower baseline on the premise that the performance generally is 'awful' and 'uncertain'. The stock stands at $9.29 per share as of writing and the decline has been furthered post the earnings call by a myriad of snippets over the last few days, such as potential tax liabilities, Moody's downgrade etc. Negative sentiment now clearly has the upper hand. Certainly, the early love affair with Culp has reversed in line with my previous position (GE: Shorting The Emperor's New Clothes) and is now amplified in a downward direction.
Like with most emotions they intend to overshoot. The negativity in the GE stock now actually is becoming quite attractive as an equity capital raise has been taken off the table, and the underlying performance of GE's core businesses, GE Aviation and GE Healthcare, are solid. This is the moment to get some long exposure again in the GE stock as it is in my view more likely than not that GE will surprise the market on the upside in the MEDIUM term. The set-up in the earnings call by Culp was either intentionally, or unintentionally, a touch of genius: zero expectation. Any positive trigger will now create maximum potential impact in terms of rerating the stock.
What I currently see is a lot of noise surrounding GE, plenty of emotions, ample volatility, limited information, and a lot of uncertainty. This usually provides for interesting views and money-making opportunities. To frame my investment decision in GE I have aggregated in this article the various data points in levels of uncertainty to structure the analysis.
In terms of investment strategy in GE I am using a call back spread option combination which allows participating in any upward momentum of the GE share price whilst being protected for a (remote) possibility of a total meltdown. This is a net long strategy. I will detail the trading strategy in a bit more detail at the end of this article.
The Known Knowns.
Dividend cut + Power Split and Fix.
In the recent earnings call there obviously was clarity from (i) the elimination of the dividend (I'll just round down the quarterly $0.01 per share), and (ii) splitting the GE Power business in two operating units. The dividend cut was widely anticipated. GE Power needs fixing so anything that tackles the issues there is hardly a surprise. In GE Power there will be lots of cost cutting and commercial incentives to gain service business. Furthermore, the $22bn goodwill write-down (mostly related to the Alstom acquisition) was pre-announced a month ago, as well as the telegraphing that the previously set targets for EPS and free cash flow would not be met.
Organic Performance.
GE Power is messy. It needs serious cost cutting and rebasing to lower demand for longer. What we know is that the underlying performance of GE hinges on the 'tag team' of GE Aviation and GE Healthcare. Strong revenue and backlog coupled with solid profit margins. Also, GE Transportation looks to be in good shape and my view on GECAS is that is a good asset for GE and an even greater asset for an owner with a better balance sheet. GE Renewable Energy is really a call option for a sustainable energy play but too small. Oil & Gas (BHGE) I am not overly impressed and happy for this asset to be sold as soon as possible. With a more focused GE the operating performance should increase as the distraction of smaller or legacy businesses will go away.
Pensions.
What is known is that the pension situation got a bit better due to the $6.0bn capital contribution completed in 3Q18. The deficit may develop adversely in a downward sloping equity market and/or low interest rate environment (half of the pension assets are in equities). For the time being it seems stable, but I personally do not like that this point does not get further coverage by GE in any of the earnings calls; eventually the gap needs to be remedied, either by capital markets developments or by capital injections (ignoring here changes in operating assumptions such as mortality).
Asset Sales.
GE is focused on monetizing some of its businesses using M&A with running multiple sales processes. Some of them will be sold at a book loss. What matters is cash that can be used for accelerated deleveraging. 3Q18 YTD cash from divestments is $3.2bn, mainly generated from the sales of Value Based Care and GE Industrial Solutions businesses. In addition, I believe the following businesses are sold, for sale, or rumoured to be for sale on the GE industrial side. They are largely part of the $20bn asset sale program announced in the Company Update Presentation in June 2018.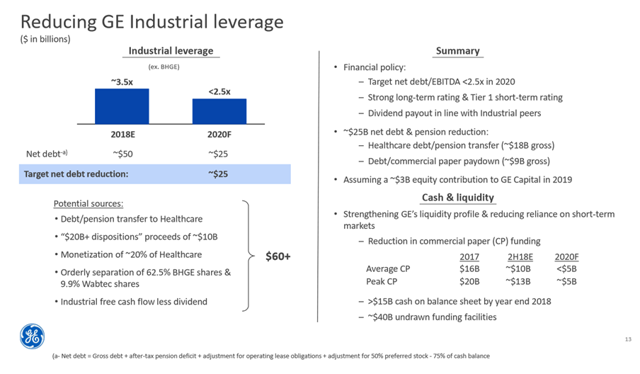 Announced transactions: (i) Distributed Power sold for $3.25bn to Advent with expected closing in 4Q18, (ii) GE Transportation deal with estimated cash proceeds to GE of $2.9bn and expected closing in 1Q19, (iii) Intelligent Platforms sold to Emerson Electric in October 2018 for an undisclosed sum.
Processes that are well underway (in the words of GE's CFO): (iv) a few GE Aviation businesses, and (v) Current & GE Lighting.
Rumoured transactions: (vi) potential sale of GE Digital, (vii) potential sale of GE Power Conversion (fka Converteam).
Roughly estimated the above transactions that are still to be completed would fetch ~$10bn in cash.
Then, there are the larger announced transactions that are being prepared: (viii) GE Healthcare spin-off and a sale of a minority stake in GE Healthcare, and (ix) the sale of the majority stake in Baker Hughes GE.
For GE Capital the previously stated $25bn asset sale program is underway with $7bn completed to date. A big tranche will be announced in 4Q18 and according to the CFO the asset sale program is "well on track".
Equity.
An equity raise was ruled out on the 3Q18 earnings call. This is good news for shareholders as any capital raise typically involves a degree of dilution. However, I believe it would have sent a strong signal to the market in combination with a fresh and clear strategy, to maximize the long-term success of a slimmer GE. Now that the CEO has effectively committed to the strategy announced in June 2018 without any new shareholder money my assumption now is that the GE story will be one of: self-help. Fix (GE Power). Divest (All non-core or non-critical distracting assets). Debt reduction (Pay back debt so that leverage on both the GE industrial and GE Capital side is acceptable).
Liquidity.
GE's free cash flow will be down significantly due to the struggle with GE Power. In addition the CFO quoted a free cash flow of $1.0-1.2bn in conjunction with the sold businesses in the abovementioned $20bn asset sale program for GE industrial businesses. Assuming GE Power delivered ~$1.5bn in free cash flow a potential guesstimate of the normalized free cash flow would be ~$3.5-4.5bn ($6.0-7.0bn original target minus $1.0bn minus $1.5bn).
In the medium term the liquidity of GE is secured by $40.8bn of net available credit lines. These lines will largely expire in 2020/2021 (or extended) giving GE the desired factor of time to steward its GE Power turnaround and GE Healthcare / BHGE disposal program. In my view GE at this stage will have sufficient access to cash from the credit lines, asset sale program and dividend 'relief'.
At this stage I consider GE going bankrupt, the worst case (not for the below detailed investment strategy by the way), being an extremely remote possibility.
The Known Unknowns.
SEC / DOJ Investigation.
One item that caught people's attention in the earnings call was a widening of the scope of the SEC investigation, or in the company's own words (from the earnings call transcript):
Also, the SEC expanded the scope of its ongoing investigation to include the goodwill charge. The Department of Justice is also investigating this charge. And the other areas that we have previously reported are part of the SEC's investigation. We are cooperating with the SEC and DOJ as they continue their work on these matters.
In the released 10Q filing for 3Q18 (page 60) it is phrased as follows:
SEC investigation. In late November 2017, staff of the Boston office of the U.S. Securities & Exchange Commission (SEC) notified us that they are conducting an investigation of GE's revenue recognition practices and internal controls over financial reporting related to long-term service agreements. Following our investor update on January 16, 2018 about the increase in future policy benefit reserves for GE Capital's run-off insurance operations, as discussed in the Critical Accounting Estimates section of our Annual Report on Form 10-K, the SEC staff expanded the scope of its investigation to encompass the reserve increase and the process leading to the reserve increase. Following our announcement on October 1, 2018 about the expected non-cash goodwill impairment charge related to GE's Power business, as discussed further in Note 8 to the consolidated financial statements, the SEC expanded the scope of its investigation to include that charge as well. We are providing documents and other information requested by the SEC staff, and we are cooperating with the ongoing investigation. Staff from the DOJ are also investigating these matters, and we are providing them with requested documents and information as well.
I am not overly concerned that the conclusion will be that GE has 'cooked the books'. There is likely a performance culture within GE that may have contributed to a degree of optimization of the revenue recognition rules (which is entirely legal as far as I know), but at the end of the day this looks like a non-cash discussion, except if there is a fine involved.
Regarding the insurance technical reserves my expectation is that the January 2018 review done by GE and its advisors was sufficiently comprehensive to not have a further cascading negative financial impact. Interest rates have gone up since then, so this should help contain the insurance reserves, all things equal.
The goodwill write-down was odd in terms of timing, and I didn't like how it was communicated (GE: Good Will Hunting). This may have a consequence for the control and reporting functions in GE and the governance put in place.
Overall, my base case in terms of impact is that GE will pay a fine for certain 'opportunistic' accounting interpretations that may lead to a recast of its financial statements, without it having any consequential economic, or cash, outflows.
Leverage and GE Capital.
GE still has not provided clarity on its financial leverage. It has now articulated a net debt / EBITDA target <2.5x to be reached over time with substantial progress through 2020. Net debt is defined according to rating agency calculations so not fully reflective of the on-balance sheet positions. GE's overall debt at 3Q18 stood at $115bn, a slight reduction $(0.6)bn from previous quarter.
There are too many open ends within the GE and GE Capital financing structure to get a transparent picture. GE Capital, excluding GECAS, is a legacy financial services business that should be unwound or sold asap to declutter the GE equity story. There are many capital flows between the GE Capital side and the other GE businesses, for example in the 3Q18 earnings call the following was said:
We assumed $6bn of debt from GE Capital to fund the principal (pension) plan.
At the same time GE Capital relies on GE as mentioned in the same call:
At this point, we're planning at least $3bn of capital contributions (from GE in GE Capital) in 2019. And we'll continuously assess the capital adequacy and risk profile of GE Capital. GE Capital's resources are more limited as it shrinks. And GE may need to support GE Capital further, if necessary, either to achieve desired capital levels or to execute strategic options around its portfolio.
It just doesn't make sense. This modern version of the shell game is obstructing investor's view and frankly it seems that allocations of capital and cash flows can be discretionary between the various group structures (GE industrial businesses versus GE Capital). At the end of the day my view is that the GE Capital balance sheet carries too much debt that cannot be supported by the orderly monetization of its earning assets (see: GE: A Fast Paced Action Movie Without A Clear Plot (Yet)). The result could be an excess debt in GE Capital of up to $14bn. In itself this is not an issue if and when the free cash flow of the remaining GE businesses is healthy and the debt can be redeemed in due course.
To get the full picture, GE should detail all its debt instruments with its specific repayment profiles both on the level of principal and interest for investors to have a sharper view on the cash constraint the debt currently has. The 10K disclosure on contractual obligations (page 81 in the 2017 10K) is insufficient.
Unknown Unknowns.
Well, this is the bucket with surprises that may come up following Culp's review with the GE businesses. This is the speculation piece of the GE investment thesis: skating on ice. I believe most of the items are in play. If there would have been a potential large unknown (to investors that is) Culp likely would have triggered it in his first appearance.
An obvious risk is that global growth could suddenly slow down significantly. GE has a mix of businesses so the diversification should help here, e.g. GE Healthcare is more resistant on the equipment sales side to a slow-down relative to GE Aviation in my view.
Investment Strategy: How To Trade GE.
Very recently I sold my short position in GE which I held for ~1 month and entered into just after the new CEO was announced. I can change my mind if the available information and market sentiment changes. You guessed it right that I did so change my mind over the weekend.
I see the balance of negative items for GE now largely priced in or actually over-amplified. It can be very rewarding to invest in GE when negative emotions are flaring high and the market only starts to see downside and risks. Since Culp took over the share price dropped ~18%, or ~32% based on the high point in the Culp era to a $9.29 price per share as of writing. In my opinion it is far more likely that in the medium term the pendulum will swing to a supportive trend for the GE share price. There are still a few items that worry me, primarily the leverage in the GE Capital side and how this will be solved.
The volatility in the GE stock and sensitivity to news may well lead in the short term to a mid $8 share price due to developments on the variety of topics mentioned above. As soon as there will some positive news flow, such as a fix of GE Power, concluding more asset sales, acceleration of debt reduction, simplifying GE Capital, then Culp & co will see an immediate and sustained upward momentum in the GE share price. The case in point was the appointment of CEO Culp himself: the share price significantly advanced for no good reason. What happens if GE gives good reasons, most of it within their control, for the share price to travel upward ?
Now, I believe an interesting way to capture this potential future upside with GE, whilst containing the downside risk, and with a reasonable investment, is a call back-spread option strategy. This is an option strategy which combines a long call and short call position with similar maturity dates and different strike prices (the long calls typically out-of-the money and the short call typically sold in the money) in a 2:1 ratio. You can trade this for a small credit (when the premium received on the call option sold is higher than the premiums paid on the call options bought). The basic premise of this strategy is that I expect the stock to show high volatility and that the odds of a rebound outstrip the odds of a continued negative spiral. The risk of this strategy is that the stock stays at the exercise price of the long calls, i.e. it will hardly move at all. Specifically, I am looking at longer dated option series and let time, Culp & co do their work to make me money the smart way. Although I am not a pure options trader, it is a recently acquired investment strategy that I deploy from time to time with the benefit of having more capital available for better and safer unloved stocks that are in a turnaround phase.
Disclosure: I/we have no positions in any stocks mentioned, but may initiate a long position in GE over the next 72 hours. I wrote this article myself, and it expresses my own opinions. I am not receiving compensation for it (other than from Seeking Alpha). I have no business relationship with any company whose stock is mentioned in this article.
Additional disclosure: Take investment ideas from anyone and investment advice from no one.