Market Intro

CNBC: 12:33 PM EST
US indexes (SPY, DIA) are trading mixed in the Monday session: that's a good sign for those are short volatility (SVXY). Apple (AAPL) is struggling, which is weighing down the NASDAQ (QQQ), and small cap names as benchmarked by the Russell 2K (IWM) are also down mildly.

Econoday
The FOMC meets again this week, though there is not a high probability of any further rate hikes in the November session, particularly as monetary policy makers are likely more keen on seeing markets stabilize a bit.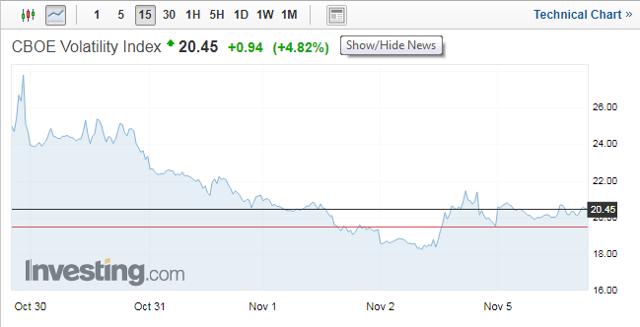 Spot VIX is off the week's lows from Friday, but certainly closer to the bottom of its one-month range than the top. That may feel reassuring, but in the great sweep of how such events unfold should not be weighed as conclusive in terms of the term structure retaking its former territory.
Thoughts on Volatility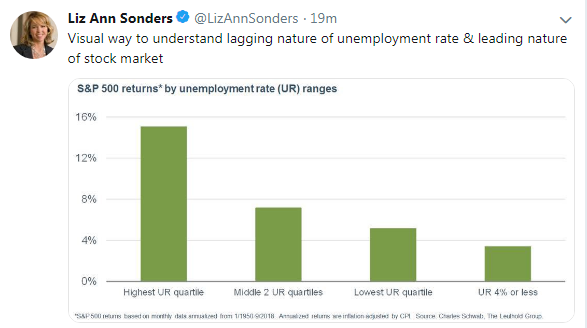 The official U-3 unemployment rate is the lowest it's been going back into the 1960s. Remember, though, that companies tend to hire or fire in response to how the economy is performing, and as such this metric tends to be a lagging indicator of economic health.

No matter how positive your strategy's Sharpe Ratio or "Upside/Downside Capture", you will have to at least risk something for positive exposure. The trouble with much of the last decade is that it can create a sense of complacency or entitlement in terms of believing that there should be many units of market upside per unit of risk. Historically speaking, buy-and-hold has rarely ever had it so good.
You want to be realistic about the nature of the "game" that you're playing, whether you are a trader or an investor.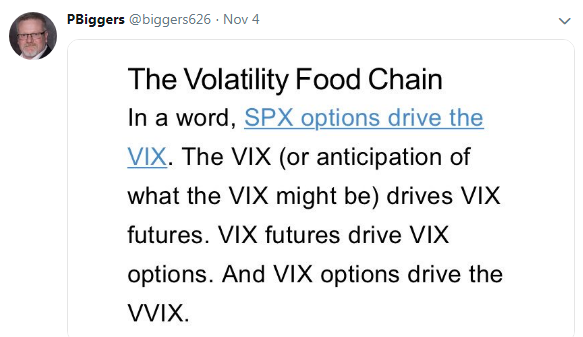 We've had this discussion before: does the causal chain always work like this? I think that it is reasonable to respond with a firm "usually". In fact, the VIX complex has been very well behaved over the past five weeks or so. Unlike early February, this episode of increased vol truly does appear to have emanated from the SPX itself, and if anything VX futures has been stubborn to follow the wicked blitz higher in realized vol.
Term Structure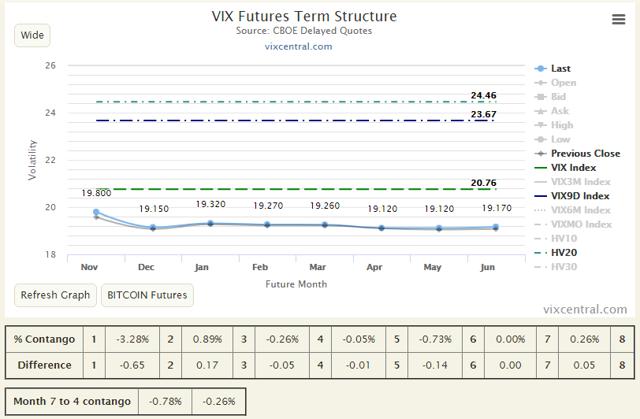 The difference in the term structure for Monday as opposed to last week is modest. That said, one can see the earmarks of an attempt here to settle the movement in SPX down, potentially lowering HV20. The VIX9D, which recently was printing over 30, is now almost a point below HV20, calling for something of a reduction in short-term volatility here.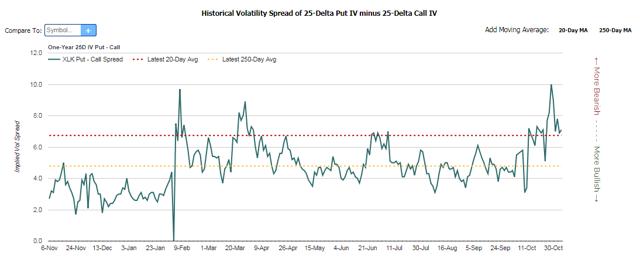 MarketChameleon.com: XLK Skew
The challenge for now is getting tech stocks (XLK) from dumping for any or every reason. Above is 25-Delta Skew: the implied volatility between the 25d put vs the 25d call. Note the disparity between the 20-day average (in red) vs. the 250-day average (in yellow). Last month there was not much in the way of symmetry between big tech upswings vs. downdrafts. If and when tech normalizes, I think the recovery has a better shot at bearing fruit.

MarketChameleon.com: Apple
Apple (AAPL) is seeing its implied volatility drop after the earnings announcement (which is extremely normal). As the largest-weighted company in the S&P, it bears keeping an eye on this name, as a prolonged period of volatility may bleed over into other stocks due to the company's reputation as an economic and stock market leader. Note that HV20 (in purple) for Apple is at a fifty-two week high.
Conclusion
If this is your first time reading Market Volatility Bulletin, thanks for giving it a try. If you're a regular, we thank you for your ongoing contributions in the comments section.
Thank you for reading.
Please consider following.
Disclosure: I/we have no positions in any stocks mentioned, and no plans to initiate any positions within the next 72 hours.
I wrote this article myself, and it expresses my own opinions. I am not receiving compensation for it (other than from Seeking Alpha). I have no business relationship with any company whose stock is mentioned in this article.
Additional disclosure: I actively trade the futures and options markets, potentially taking multiple positions on any given day, both long and short. I also hold a more traditional portfolio of stocks and bonds that I do not "trade". I do believe the S&P 500 is priced for poor forward-looking returns over a long timeframe, and so my trading activity centers around a negative delta for hedging purposes.