Apple (AAPL) stock has corrected by about 10.60% since its all-time high of 232.07 reached on Oct. 3, 2018. While the stock was holding up well during the broader market sell-off in October, it had slumped by about 6.60% on Nov. 2, 2018, after the release of its latest earnings report. Apple beat earnings, delivering EPS of $2.91 versus the $2.78 expected, and beat its revenue forecast, delivering $62.9 billion versus the $61.5 billion expectations. However, the company sold lower number of iPhone units than expected, and offered weak revenue guidance for the next quarter, which is perceived as the most important quarter of the year for the company. Now the question is, should you buy the stock price dip of this trillion-dollar company?
Let's dig deeper into the sources of revenue using its latest earnings report.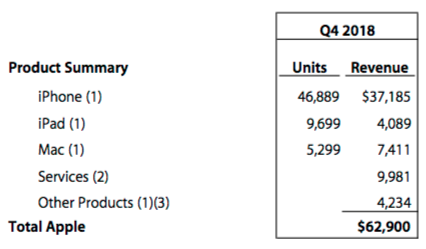 Source: Apple Q4 2018 Earnings Release
The iPhone remains its largest revenue source, contributing about 59.11% to its total revenues. Apple sold 46.89 million iPhones during the quarter ended Sept. 30. This missed analyst expectations of 47.5 million. While unit are sales not growing as fast as analysts expected, Apple has raised the compensated for it through a higher Average Selling Price (NYSE:ASP) of $793, beating analyst expectations of $750.93. Apple raised its ASP by launching new pricier models last quarter.
This sales/pricing strategy aims to capitalize on customers' loyalty towards Apple's products, and works on the concept that demand from loyal customers will not fall off regardless of price hikes, due to Apple's strong brand reputation. And so far, this strategy has worked out well for Apple, as the company delivered record revenue of $265.6 so far this year.
This strategy has been successful so far in Apple's main geographical markets, as shown by the summary below from Apple's earnings release. In fact, Greater China also showed strong YoY revenue growth of 16.43%, even amid the concerns around China's economic slowdown recently. This was an encouraging sign for shareholders.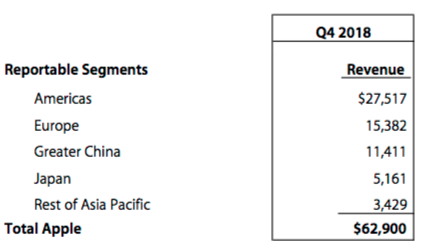 Apple in India
While Apple has a good presence in China with around 13% market share, its presence in India, perceived as the next economic growth story, looks more challenging. Apple has worked to expand its manufacturing and assembling operations of iPhones in India, and increase its revenue and market share as well. Apple is counting on India to drive future revenue and profit growth. Presently it only has about 1% market share, while the other Asian tech names dominate the rest of the market, as shown by the chart below.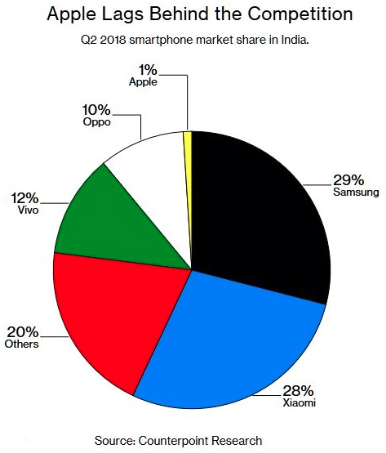 A 1% market share certainly does not look appealing, and I believe Apple's current pricing strategy is to blame for this. Apple is undoubtedly a top-quality brand name, in which case a higher Average Selling Price for its products makes sense. However, this price characteristic is what makes it challenging for the company to grow its market share in India. Below you can find a table in which I have collated the ASPs for the smartphones of some of the largest and successful players in India.
| | |
| --- | --- |
| Company | Average Selling Price 2018 (in USD) |
| Xiaomi | $138.2 |
| Samsung | $250 |
| Vivo | $259 |
Apple's ASP of $793 is almost quadruple the average ASP of the main competitors listed above. Its ASP is clearly is a competitive disadvantage in the Indian market, where cheaper alternatives are thriving. Apple has offered discounts on its iPhones in India to boost sales, and by building a manufacturing/ assembling base there, it will not have to import the merchandise into India to sell in the Indian market, thereby allowing the company to compete more price effectively in the fast-growing nation.
Nevertheless, growing its market share in this highly competitive market is definitely going to be tough, and anyone that was expecting India to be a revenue juggernaut for Apple in the future may want to moderate his or her expectations. Don't get me wrong, Apple is still growing its sales in the country, but the growth rate could be modest in this price-sensitive market.
Apple's shift towards a service company
One thing that really upset investors after the earnings call was that Apple will stop declaring the number of units sold of its products, from next quarter. The 'number of units sold' has been a very important metric that analysts and investors follow to assess the performance of the retail giant.
The main reasoning behind Tim Cook's, CEO of Apple, decision to do this was to emphasize Apple's shift from a retail company to a service company. The 'services' segment of Apple's revenue consists of app-store sales, use of Apple pay, AppleCare and music-streaming subscriptions. 'Services' presently contributes about $9.98 billion, or 15.87%, to total revenue. It is Apple's second-largest revenue source after 'iPhone sales', and grew 17% YoY.
By expanding the number of services it provides, Apple is striving to build an Apple ecosystem. This strategy, much like its pricing strategy, aims to capitalize on Apple's customer loyalty. I believe Apple is right to focus on its services unit, because customers are less likely to switch to another company if they are well engaged in Apple's ecosystem.
Apple's focus on services should translate to more stable sources of revenue if this strategy pays off in terms of promoting customer retention. Consequently, the aim is for the 'Services' segment to become another 'cash cow' within the business, and using this additional steady stream of income, Apple would be able to invest in other innovative products and drive future growth. I believe the corporate mix of strong 'cash cows' and its ability to pursue ongoing innovative ventures (e.g. Air Pods, Apple Watch) makes Apple stock a valuable stock to hold from this perspective.
However, while Apple has deemed the 'number of units sold' figure as irrelevant, I believe the growth rate and success of its 'Services' segment will be strongly correlated to the number of hardware devices the company is able to sell going forward. Apple can only grow the number of users of its services such as the App-store, Apple pay, etc. if the number of people using its hardware products, such as iPhones, Macs and Apple Watch also continues to grow. Consequently, the 'number of units sold' of each product would have been a very useful indicator for anticipating the level of consumption its 'Services' going forward. The absence of this piece of information is certainly disappointing for analysts and investors alike.
Apple Valuation
| | | |
| --- | --- | --- |
| Metric | Apple | S&P 500 |
| Price to Earnings | 18.8 | 19.1 |
| Price to Forward Earnings | 15.2 | 16.7 |
| Price to Book | 8.6 | 3.1 |
| Price to Sales | 4.1 | 2.1 |
| Price to Cash Flow | 14.4 | 12.8 |
Data Source: Morningstar
While the Price to Book and Price to Sales ratios seem very high compared to the S&P 500, I believe Apple is trading at rather attractive multiples for a tech company that still has good growth potential going forward. Especially given the fact that most other tech giants are trading at comparatively lofty valuations. A Price to Forward Earnings ratio of 15.2 tells me that the market is currently underestimating the income-generating potential of its growing 'Services' segment. Or on the flip side, the market could be cautious about its future growth potential in competitive markets like China and India. Either way, I believe the stock is attractively valued at the moment for those who are willing to bet on Apple's strategies and long-term potential.
Bottom Line
A 10% correction in a blue-chip stock like Apple is definitely an eye-catcher for potential investors. The company's current strategies of capitalizing on customer loyalty have paid off so far in terms of strong revenue growth and profitability. However, the question is whether these strategies will continue to pay off, especially in challenging markets like India, which is expected to drive future growth of the company. The tech giant's focus on its growing 'Services' segment is definitely something to be positive about, as additional future cash cows for the business certainly enhances the value of the stock.
Disclosure: I/we have no positions in any stocks mentioned, but may initiate a long position in AAPL over the next 72 hours.
I wrote this article myself, and it expresses my own opinions. I am not receiving compensation for it (other than from Seeking Alpha). I have no business relationship with any company whose stock is mentioned in this article.