Shale has transformed the US natural gas market over the past decade to an even greater extent than the crude oil market.
The development of vast, cheap-to-produce gas shale fields such as the Marcellus of Appalachia means some producers generate sizable returns even with gas prices in the $2/MMBtu to $3/MMBtu range. Meanwhile, several other shale fields including the Louisiana Haynesville become profitable-to-produce in the $3/MMBtu to $4/MMBtu price level, creating a ceiling for gas prices and limiting durable rallies above $4/MMBtu.
Adding to that, many U.S. shale oil fields produce significant volumes of associated natural gas production.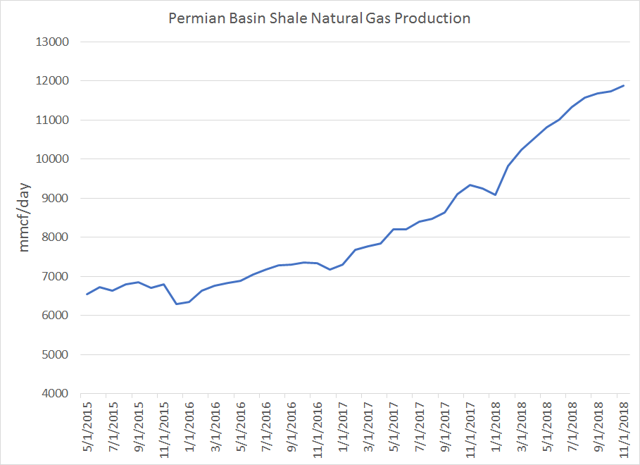 Source: Bloomberg
For example, gas production from the oil-focused Permian Basin of west Texas and New Mexico has jumped from just over 6 billion cubic feet per day as recently as mid-2015 to just under 12 bcf/day this month. And since associated natural gas is largely a by-product of oil production, the economics are driven by the price of crude oil, not natural gas.
That limits the potential for low natural gas prices to encourage the reduction in drilling activity necessary to clear gluts in supply.
These supply factors have conspired to keep the price of natural gas largely range-bound around $3/MMBtu over the past 7 years, down from highs over $13.50/MMBtu in the summer of 2008. U.S. gas prices have remained near historically low levels despite 12.6% total growth in U.S. natural gas demand between 2010 and 2017.
And, even more important, the U.S. has shifted from a major net importer of natural gas a decade ago to a significant exporter.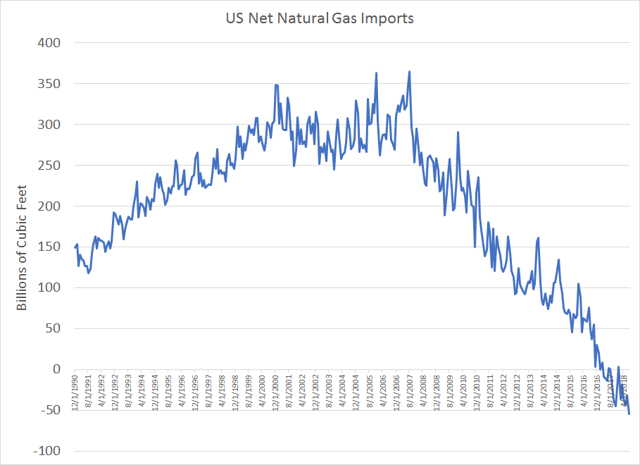 Source: Bloomberg, Energy Information Administration
In July of this year, for example, the U.S. exported some 54 billion cubic feet of natural gas (negative numbers on the chart above indicate exports) compared to imports of 259 bcf in the same month 10 years ago.
Gas Storage Looks Tight this Winter
While we believe ample U.S. gas supplies will continue to keep a lid on prices over the long-haul, we see this market primed for a significant upside move this winter due to a bullish near-term gas storage set-up.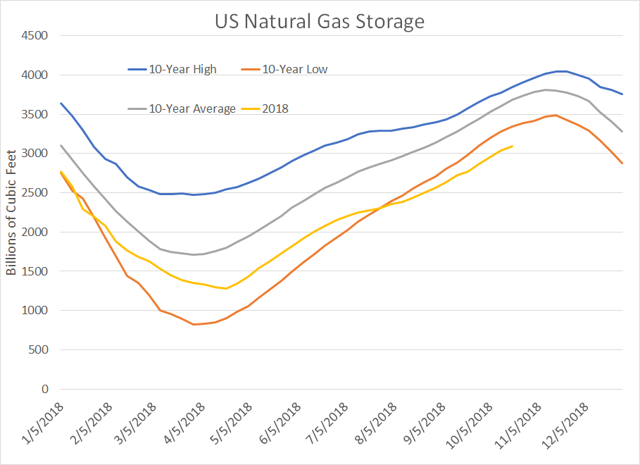 Source: Bloomberg, Energy Information Administration
US natural gas in storage currently stands at just under 3.1 trillion cubic feet, at the lowest level for this time of year in 15 years and 586 billion cubic feet below the 10-year seasonal average.
Historically, U.S. natural gas storage levels rise from early April through early November (injection season) and fall from early November through early April (withdrawal season) as demand for gas heating rises through the winter months. That leaves us with roughly 2 weeks left to go in injection season and, assuming weekly injections in-line with the 10-year average over the next 2 weeks, U.S. gas storage will peak this year just over 3.2 trillion cubic feet.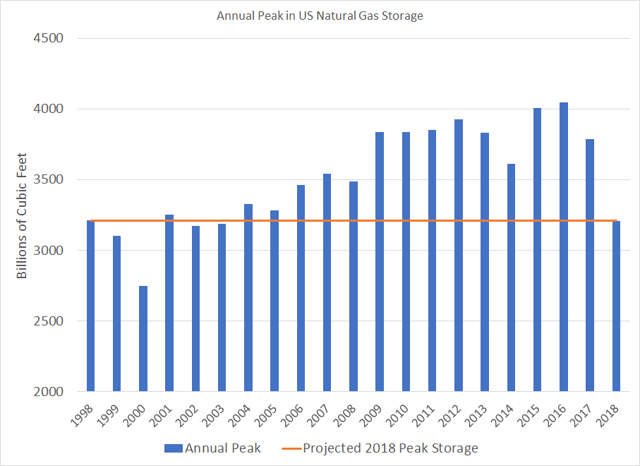 Source: Bloomberg
Historical Storage Scenarios
It's tough to find relevant historical storage comparisons. The last time U.S. gas in storage ended injection season at around 3.3 tcf was 2005 when storage peaked at 3.282 tcf. In November 2005, gas prices were trading around $11 to $12/MMBtu, jumping to as high as $15.78/MMBtu in December, a rally of around 40% in the final month and a half of the year.
However, 2005 was prior to U.S. shale gas being major component of U.S. supply; in fact, conventional wisdom 13 years ago held that the U.S. would need to import increased quantities of liquefied natural gas (NYSEMKT:LNG) to meet demand and offset falling domestic output. So, the supply situation in that year is not comparable to the current set-up.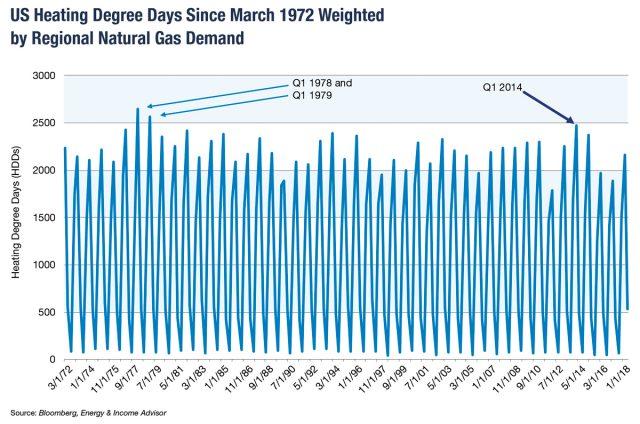 Source: Bloomberg, NOAA, Energy & Income Advisor
Offsetting this, the winter of 2005-06 was warm, reducing heating demand.
Heating degree days (HDDs) represent the difference between the actual temperature and a base level of 65 degrees Fahrenheit – the more HDDs, the colder the winter. The National Oceanic and Atmospheric Association (NOAA) publishes HDD statistics for the U.S. on a population-weighted basis, plotted in the chart above.
In the first quarter of 2006, total HDDs on this basis stood at 1,967 compared to an average of 2,203 in the first quarter of every year since 1972. Looking back over the past 30 years, only the first quarters of 1990, 1998, 2012 and 2017 were warmer than the first three months of 2005. As a result, natural gas heating demand was weak, inventories normalized in early 2006 and gas prices fell sharply from their late 2005 highs.
The last time gas ended injection season with storage even approaching current levels was 2014 when storage peaked at just over 3.6 tcf. Four years ago, gas reached prices above $4.50/MMBtu in November up from lows under $3.60/MMBtu in late October.
However, the 2014-15 season isn't a particularly useful analog year either. First, the U.S. is likely to end injection season this year with 400 bcf less gas than was the case four years ago, a smaller supply cushion.
Second, the winter of 2013-2014 (the prior season) was the coldest in the U.S. since 1979. Bitter cold weather and a rapid decline in gas storage drove the price of natural gas to near $6.50 in February 2014 and encouraged a major expansion in gas-directed drilling activity throughout 2014 with a consequent jump in gas output into early 2015. Thus, U.S. gas output was accelerating just as winter hit in 2014-15, offsetting some of the impact of below-average gas storage.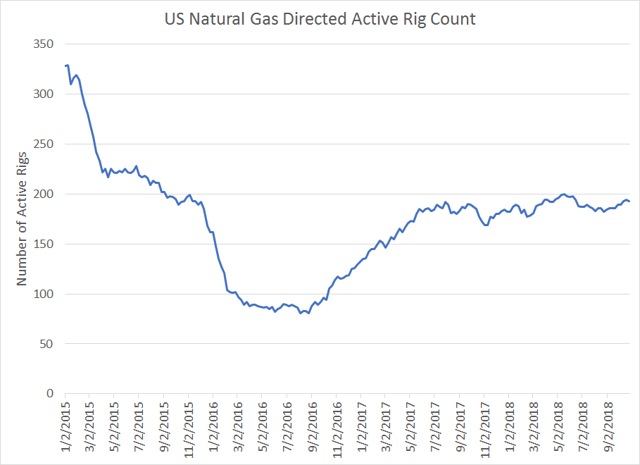 Source: Bloomberg
In contrast, this year gas prices have been near $3/MMBtu for much of the year, and the gas-directed rig count has been flat around 190 rigs since March. Meanwhile, a recent slowdown in Permian drilling activity due to the lack of oil pipeline infrastructure should flatten growth in associated gas production volumes near term.
Finally, last year the U.S. gas market ended injection season with storage at 3.77 tcf, just slightly below the long-term average, and winter weather in Q1 2018 was slightly milder than average.
Yet, despite soft heating demand, natural gas prices did experience a spike from $2.60/MMBtu in late December 2017 to a high of about $3.66/MMBtu in late January 2018. Thus, even in a mild winter with storage near average, gas is prone to short term price spikes due to seasonal weather trends.
L

et's look at what this means for gas storage this winter
Over the past decade, the average decline in U.S. gas storage from the November peak to the March/April lows is about 2.1 trillion cubic feet. Thus, assuming we end injection season this year at 3.25 tcf this year, an average winter would see U.S. gas in storage fall to around 1.15 tcf by late March/early-April 2019.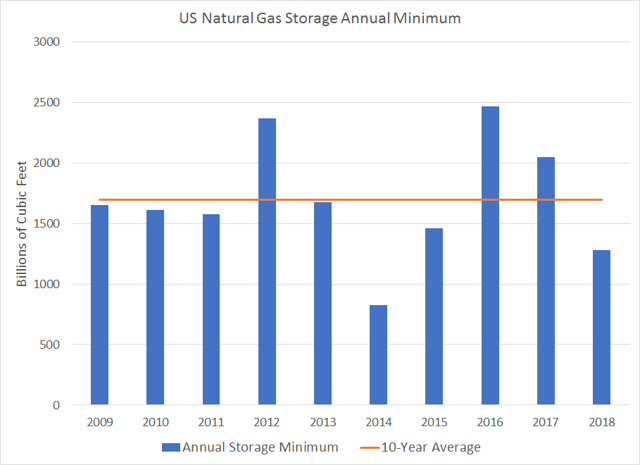 Source: Bloomberg
In comparison, the 10-year average lows for gas storage at the end of heating season (in March/April) are closer to 1.70 trillion cubic feet, so the gas market would look tight next spring and we believe gas prices would need to rise to incentive additional production ahead of summer cooling season.
In 2011-12, a good proxy for a warm winter, the total draw was closer to 1.5 tcf through withdrawal season (the November 2011 peak to the March 2012 trough). In a similar warm winter scenario, U.S. gas storage would end this winter withdrawal season at roughly 1.75, which is still just above the 10-year seasonal average.
In 2013-2014, a good example of a colder-than-average winter, gas withdrawals topped 3 tcf between November 2013 and March 2014. A similar situation this winter would leave the U.S. with less than 500 bcf in storage by April next year. That would be unprecedented in modern history and would likely lead to concerns about gas shortages amid any wintertime cold snaps.
Predicting winter weather ahead of time is difficult and subject to considerable error. However, virtually every winter there are at least some bouts of cold weather that lead to elevated storage withdrawals for gas. And with storage starting heating season well below seasonal norms I believe gas will be vulnerable to significant upside price spikes over the next 4 months.
The National Weather Service is projecting elevated probability of below-normal temperatures across most of the eastern U.S. and Mid-West over the next 6 to 10 days with longer-range models showing a strong chance that cold will continue through to at least November 19th.
The news catalyzed a more than 8% surge in natural gas futures on Monday November 5th, illustrating just how vulnerable natural gas is to weather trends this year.
The peak of winter heating demand in the U.S. is still about 2 months away. In a normal year, with gas storage near the long-term average, a cold snap in the U.S. would likely catalyze only a modest reaction in gas prices.
For example, the U.S. experienced below-average temperatures (heating degree days well above average on a population-weighted basis) between late October and early December 2012; however gas prices remained range-bound between $3.50 and $3.90 that month. That's likely due to the fact the U.S. natural gas storage at the time was at five-year highs so there was little concern about shortages in the peak-demand winter months.
As we noted earlier, the winter of 2013-2014 was one of the coldest in U.S. history. Just as in the prior winter (2012 to 2013) the U.S. experienced elevated heating degree days throughout November and early December. The big difference was that gas storage started heating season in 2013 and 2014 near average levels; therefore, the early bouts of cold weather were enough to spark concerns about gas shortages and send gas to $4.50 by late December and multi-year highs of $6.50/MMBtu in late February 2014.
With gas storage at even tighter levels than in 2013-2014 this year, a cold start to winter is already sparking concerns about gas storage and catalyzing a significant rally in gas prices this week.
Additional Upside Catalysts for Natural Gas
In addition, I see a handful of additional upside catalysts for natural gas this winter:
Production Constraints in the Permian Basin – According to the Energy Information Administration, total oil production in the U.S. Permian Basin is roughly 3.75 million bbl/day, and we count a total of around 3.14 million bbl/day of total pipeline capacity out of the region. Permian drilling activity as measured by the active rig count in the region has already stalled as producers wait new pipelines due for start up in the second half of 2019.
While much of the focus has been on the lack of crude oil pipeline capacity and its impact on U.S. oil production, it's also a crucial factor that will limit gas output going forward. In fact, soaring gas production, coupled with insufficient takeaway capacity for gas in the region, has resulted in west Texas gas prices priced at the Waha Hub around $1.55/MMBtu today, a more than 50% discount to the Henry Hub (Louisiana Gulf Coast) spot gas price.
While Permian Basin gas output is up more than 5 bcf/day over the past two years, pipeline constraints should slow the pace of growth over the coming 6 to 12 months.
LNG Export Growth – Over the long haul, while U.S. LNG exports are set to grow rapidly, we don't see exports as a large enough release valve to drive U.S. prices meaningfully higher. That said, in the short run, the start up of new LNG liquefaction capacity can cause a bump in demand.
That's the case this year. The LNG liquefaction facility at Dominion Energy's Cove Point facility in Maryland started up in April 2018 and by May the facility exported 23.5 bcf, roughly 94% of rated capacity. In total, U.S. LNG exports should be close to 3 bcf/day in 2018, growing to about 5 bcf/day in 2019 due to the start-up of several facilities including additional LNG Trains at Cheniere's Sabine Pass facility.
Additional Gas-Fired Power Plant Capacity –Several massive natural gas power plants are due for start-up between August 2018 and July 2019, including major facilities in Florida, Louisiana, Pennsylvania and Virginia. As these power plants come online it will help boost gas demand in the short run.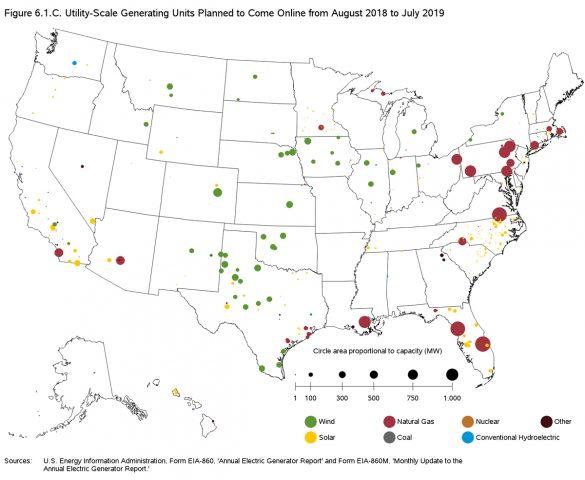 Source: Energy Information Administration
The Shape of the Gas Futures Curve – An oil market in contango -- front month oil futures lower than oil for delivery in the future – signals underlying market weakness. Such a curve encourages storage because traders can buy oil on the spot market, store the oil for 6 or 12 months and then sell at higher futures prices.
In contrast, backwardation – a situation when front month prices are higher than future prices – suggests near term supply/demand balances are tight. Historically, when oil is in backwardation (such as in early 2014 and over the past 12 months) prices rally.
Much the same can be said for natural gas.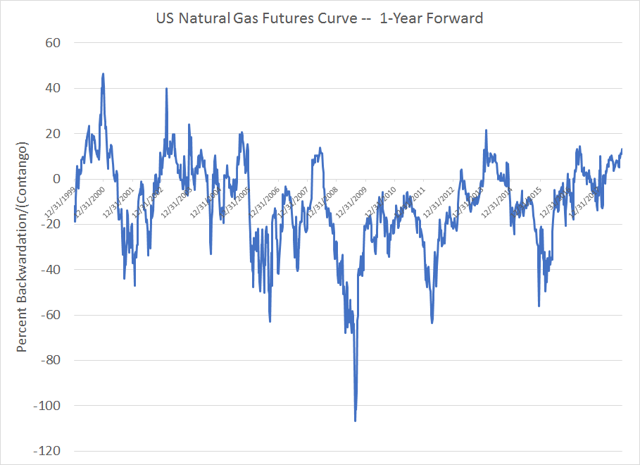 Today, the NYMEX gas futures market is in backwardation to the tune of 18% over the coming year.
There have only been three similar instances since 2006: Early 2008, early 2014 and early 2017. In the summer of 2008, gas soared to a peak around $14/MMBtu while in late 2013 and early 2014 gas prices jumped over 90% to a high near $6.50/MMBtu. Finally, last winter, gas priced jumped by more than a third in December 2017 and January 2018.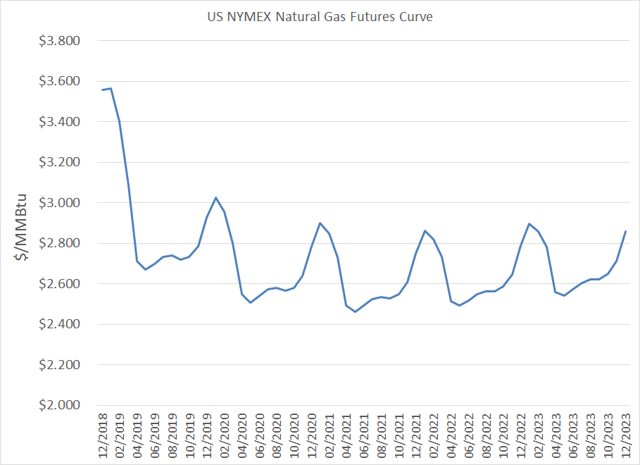 Source: Bloomberg
Looking at the same futures curve, presented in another way, the front-month December 2018 natural gas futures trade at around $3.56/MMBtu compared to the December 2019 futures closer to $2.93/MMBtu and the December 2020 futures trade at $2.79. The backwardation in the gas futures curve is evident out to 2021 and is particularly steep over the next 2 years.
Best Ways To Play The Natural Gas Trade
To play the potential for an upside spike in natural gas, we recommend using the U.S. Natural Gas Fund LP (UNG), which tracks NYMEX-traded natural gas futures. Specifically, we recommend taking a small position under $29.50 and adding on any dips to the $27.50 to $28.00 over the next few weeks.
Our target is a move to the $4.00 to $4.50/MMBtu range this winter at a minimum, which would correspond to a move to around $35 to $37 for UNG.
UNG is designed to track daily changes in the price of the front-month U.S. natural gas futures traded on NYMEX. UNG begins to roll from the front-month natural gas contract to the next month contract starting two weeks before he front month contract expires.
For example, currently, the front month gas futures contract is the December 2018 futures and this contract will expire at the end of November 2018 (the last trade date will be Wednesday November 28th). UNG is scheduled to begin rolling into the next contract (January 2019 natural gas futures) starting on November 14th with the rolling process complete by November 19, 2018.
Rolling the contract means that UNG will sell its holdings of December futures and purchase January 2019 NYMEX-traded gas futures.
When the natural gas futures curve is in contango this rolling process can create a headwind for the performance of UNG units. That's because UNG would sell the lower-priced front month futures contract each month and use the proceeds to purchase the higher-priced next month futures contract. In this scenario, the fund would lose a small amount each month when it executes the rolling process.
However, as we noted earlier, the current natural gas futures curve is in backwardation. Thus, the December 2018 and January 2019 futures contracts are currently trading at roughly the same prices ($3.29 and $3.31 respectively) while the February 2019 contract sells for less than $3.20 and the March 2019 contract for less than $2.94.
Thus, for those buying UNG through this winter heating season the fund's rolling process should not result in a significant headwind for the performance of the fund.
More broadly, as a rule of thumb, investors should be wary of holding commodity-tracking products like UNG over the long haul as the returns can deviate significantly from the returns in the underlying futures market. For example, look at this chart: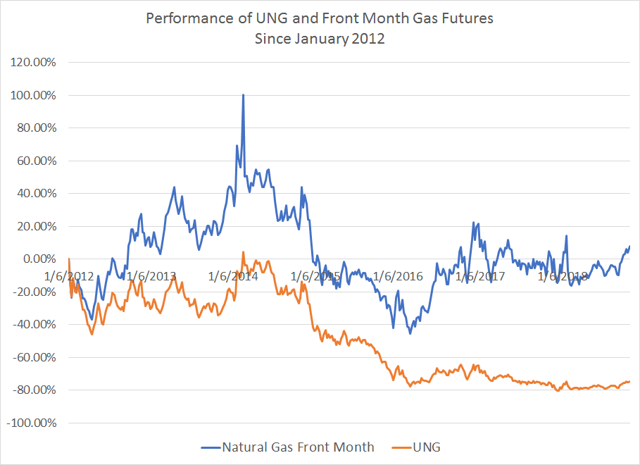 Source: Bloomberg
On January 6, 2012 the front-month natural gas futures contract closed at $3.062/MMBtu compared to $3.306/MMBtu presently, a gain of roughly 8 percent. In contrast, UNG closed at over $106 (reverse split-adjusted) on January 6, 2012 and is now trading in the $26 to $27 region for a decline of close to 75% over an equivalent holding period.
However, for holding periods of 1 to 4 months, this tracking error issue is far less of a concern. For example, the price of front-month natural gas futures is up just under 15.7% since early July this year compared to a gain of 15.5% in the price of UNG over the same holding period.
Even in years where the gas futures curve is in extreme contango and gas prices are weak, such as early 2016, the price of UNG and gas futures track closely over short holding periods. For example, between early January 2016 and the end of March the same year, U.S. front month gas futures fell just under 23% compared to a 26% decline in the value of UNG even though the gas market saw steeper contango that year than in any other year over the past decade.
Since my thesis on natural gas is for strength this winter (between now and March 2019) rather than strength over the long haul, UNG is a appropriate vehicle for trading the move.
For those with experience trading natural gas futures, the NYMEX-traded Henry Hub gas futures contract offers an alternative means of trading upside in gas prices over the next few months. With the December 2018 futures already seeing declining open interest, I'd recommend buying the January 2019 contract to start and rolling into the February series by the middle of December if needed to maintain exposure to this market.
While leveraged exchange-traded products such as the VelocityShares 3x Long Natural Gas exchange-traded note (UGAZ) offer another means of trading gas, their leverage magnifies the tracking error issue I highlighted for UNG. For example, UGAZ is designed to provide 3 times the daily return in NYMEX gas prices; however, it's up just 38.6% since July 6, 2018 compared to a 15.7% gain in the front-month gas futures contract (triple a 15.7% gain would be 47.1%).
Alternatively, gas-focused exploration & production stocks such as Southwestern Energy (SWN) and Chesapeake (CHK) have historically performed well when gas prices rise, such as in late 2013 and early 2014.
However, I believe buying gas-levered stocks represents a less attractive means of trading upside in natural gas prices. That's because I'm looking for a short-term spike in gas prices while the value of E&P companies producing gas is more leveraged to long-term expectations for gas prices. As I noted earlier, plentiful U.S. natural gas supplies from shale fields over the next few years offers a less sanguine outlook for long-term gas prices.
Risk Considerations and Monitoring the Trade
The biggest risk to my long thesis in UNG is the weather. As I noted earlier, in a warm winter scenario such as 2011-12, U.S. natural gas storage levels could rise to slightly above the 10-year average by March/April of 2019. That would alleviate concerns of gas shortages this winter, prompting gas to remain closer to its average weekly closing level over the past few years of roughly $3/MMBtu.
I'll continue to monitor three points this winter for signs my bullish natural gas thesis could be in trouble. First, NOAA provides weekly heating degree data for the U.S. on their website here as I'll be watching for any signs of above-average temperatures, particularly in key centers for U.S. heating demand such as the Northeast and upper Midwest.
Second, the Energy Information Administration releases its weekly natural gas storage data every Thursday at 10:30 AM Eastern Time (excluding holidays). I will be monitoring the weekly data through heating season to see how the weekly storage drawdowns compare to the 5-year average levels the EIA tracks on its website.
Third, any shift in the U.S. natural gas futures curve from backwardation over the next 12 months to contango would be an early sign the market sees a weakening supply/demand balance. Investors can monitor natural gas futures prices on the NYMEX website here.
Disclosure: I am/we are long UNG. I wrote this article myself, and it expresses my own opinions. I am not receiving compensation for it (other than from Seeking Alpha). I have no business relationship with any company whose stock is mentioned in this article.