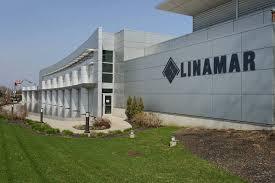 Please note Linamar will be referred to "LNR" which is the ticker that it trades on under the TSX. The company trades under (OTCPK:LIMAF) in the OTC market. FX risk associated with this investment is not considered in this article.
Background
Linamar (LNR) is an auto parts manufacturer based in Guelph, Ontario. It was founded by Frank Hasenfratz in 1967, father of Linda Hasenfratz who is the current CEO and was considered one of Canada's top CEOs by Canadian Business Magazine. See slides below from the Q2 2018 Investor Presentation for a better idea about the company product mix, scope of operations, and global presence.
Product Mix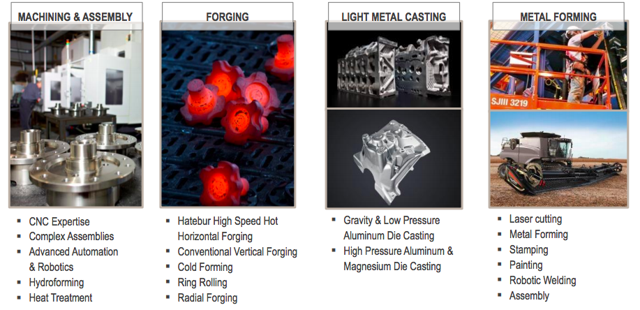 Scope of Operations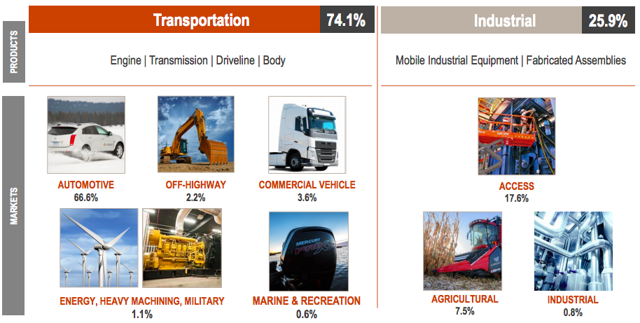 Global Presence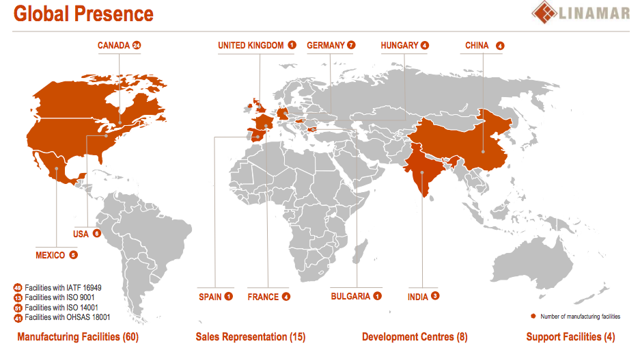 Investment Thesis
Last month I published my first article on LNR called "Linamar's Opportunity in the New Age of Electric Vehicles." In that article I noted the cheapness of Canadian auto parts manufacturing companies even though they have among the most robust growth opportunities, especially in electric vehicles (EVs). In this article I would like to demonstrate my DCF valuation of one of the most well managed "cheap" Canadian companies that since 2010 has produced a minimum of 8% in ROIC, grown revenues and earnings respectively at 15% and 34% CAGR, and gotten it's net income margin from 5% to 9% in that time, but has never traded above 10x P/E since the 2008 recession.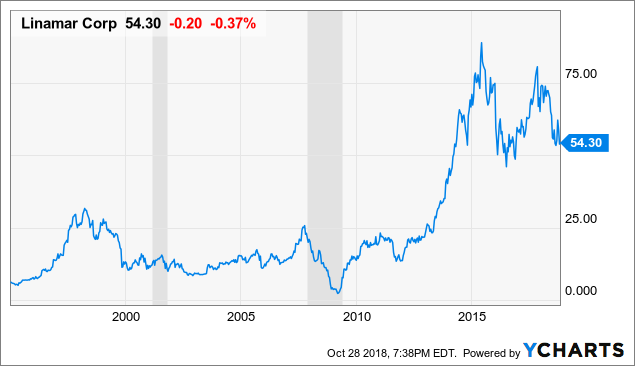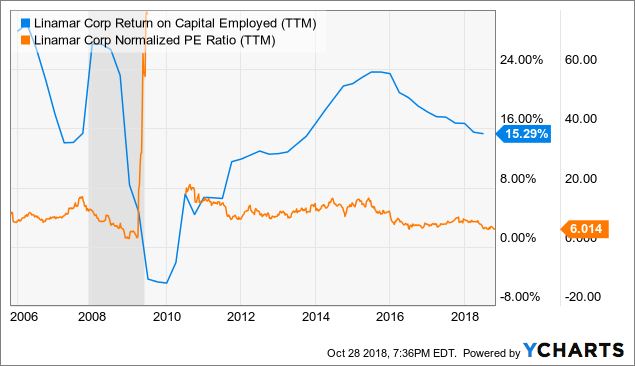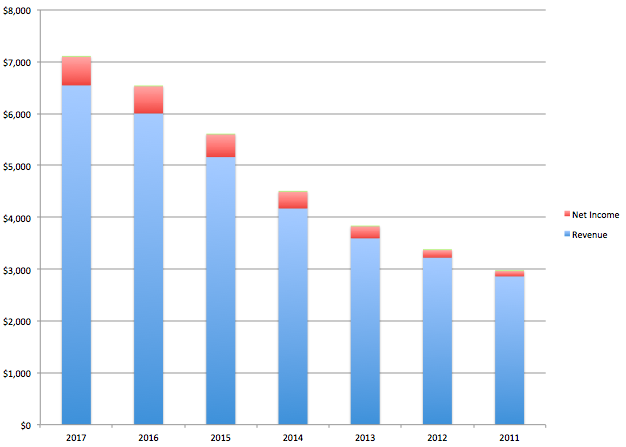 Why so Cheap?
For starters the auto industry is notoriously cyclical and about 70% of LNR's product mix is servicing automotive manufacturers.
As shown above the company share price also took a hit ~40% in early 2016 due to their acquisition of European firm Montupet to enhance their aluminum chassis production capabilities, but unfortunately took place just pre-Brexit. The stock did rebound to it's pre-Brexit levels over the next year.
As of November 2017 as uncertainty about the next NAFTA deal arose, LNR stock got routed 30% again. The key concern about the new NAFTA was the potential for 25% tariffs on steel, but this really would have had minimal impact on LNR's bottom line as those costs are 100% redeemable through duty drawback since the steel is being imported from the U.S. and subsequently exported. USMCA removes the threat of damaging auto tariffs and requires that 75 per cent of vehicle content be made in North America, up from 62.5 per cent currently, but that limit is well above what Canada currently exports to the U.S anyway.
How LNR still trades at a P/E of 6x is perplexing.
Valuation
In my article Linamar's Opportunity in the New Age of Electric Vehicles I discussed the company's revenue potential using IEA estimates on the amount of Electric Vehicles (EVs) produced. In this article I will be using Bloomberg News Energy Finance estimates for both internal combustion engines (ICEs) and EVs. BNEF's projections are more conservative for EV production than the IEA's (about half as much).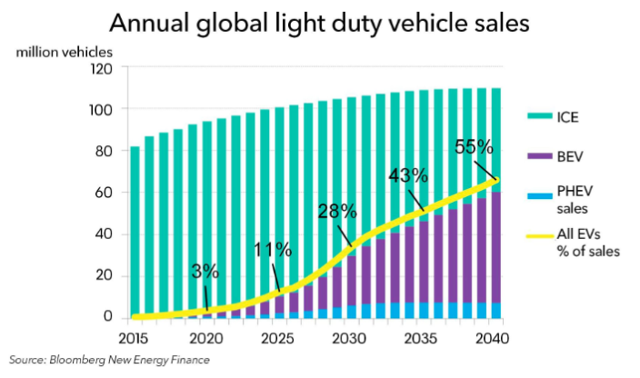 According to CEO Linda Hasenfratz, the total market for ICE's is about $4,000 and $2,000-$4,000 for EVs/Hybrids in content per vehicle (NYSE:CPV). Only about 30% of these markets are currently being outsourced but as discussed in my last article Linamar's Opportunity in the New Age of Electric Vehicles auto parts manufacturers are slowly outsourcing parts manufacturing due to capacity constraints. Currently LNR averages about $55 in CPV in the ICE market it serves with an addressable market of about $1,280 implying an 8.5% market share. Also discussed in my last article is the steps LNR is taking to be able to reach $60 in CPV by 2025, which would imply a 6% market share assuming that the total CPV stays on the lower end of the estimates at $2,000.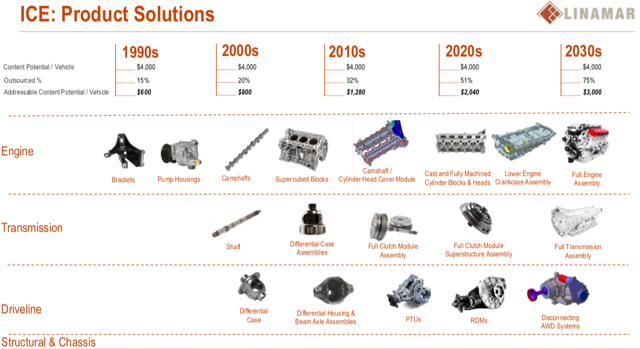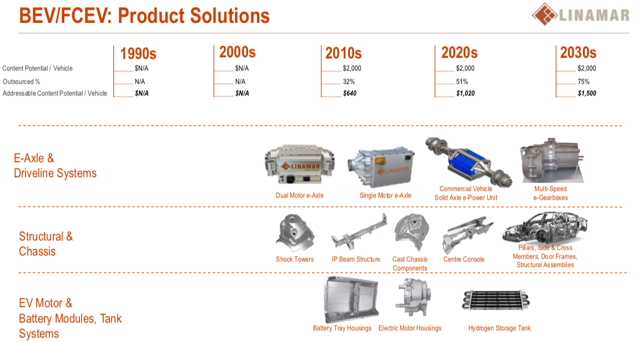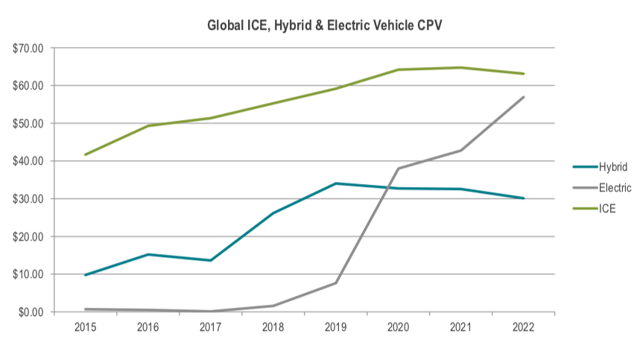 Sources: Q2 2018 Investor Presentation
Assuming LNR does not increase their market share beyond 8.5% in the ICE market and 6% in the EV market revenue can be modelled as follows.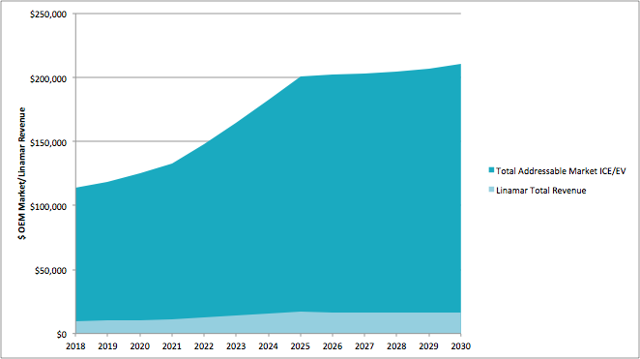 We can see that there could be a levelling off of revenues after 2025 if the CPV of EVs ends up being on the lower end of $2,000 as it is likely the EV market will expand at the expense of the ICE market.
Free cash flow from the transportation segment can be derived as follows:

| | |
| --- | --- |
| Assumptions | |
| Gross Margin | 16% |
| EBIT Margin | 12% |
| Tax Rate | 20% |
| D&A/Revenue | 6% |
| A/R Turnover | 6.00 x |
| Inv. Turnover | 7.20 x |
| A/P Turnover | 1.50 x |
| Capex/Revenue | 6% |
| WACC | 5% |
| Terminal Growth Rate | 1% |
The assumptions are on par with LNR's annual performance the past 3 years. Return on equity is estimated via CAPM and pays approximately 4.5% as their weighted average interest rate, with a 50/50 capital structure. The present value of LNR's transportation segment is ~ $2.7 billion.
Linamar's industrial segment is split into two sub-segments. One segment is Skyjack, which produces access equipment such as scissor and master lifts. The other segment is their 2017 acquisition which gives them access to a $10 billion agriculture market called MacDon. MacDon is a Winnipeg, MB based global harvesting specialist.
MacDon currently produces about $550 million in sales with a 20-25% EBITDA margin, while Skyjack contributed about $1.1 billion to LNR's revenue in 2017, and historically averages an EBITDA margin of ~ 18%.
Macdon
Skyjack
Sales
$550.00
Sales
$1,116.50
EBITDA margin
25%
EBITDA margin
18%
EBITDA
$137.50
EBITDA
$200.97
Below are publicly traded access equipment and agricultural equipment producer EV/EBITDA multiples:
Access Equipment
Name
Ticker
EV/EBITDA
Terex
(TEX)
8.98
United Rentals Inc.
(URI)
8.44
Ashtead Group
(ASHTF)
6.75
Average
8.06 x
Agricultural Equipment
Name
Ticker
EV/EBITDA
Alamo Group Inc.
(ALG)
8.90 x
Lindsay Corp.
(LNN)
17.10 x
Caterpillar Inc.
(CAT)
9.53 x
AGCO Corporation
(AGCO)
7.89 x
Deer & Company
(DE)
15.10 x
CNH Industrial
(CNHI)
11.26 x
Average
11.63 x
Total enterprise value can be calculated using the average EV/EBITDA multiples and the DCF valuation of the transportation segment as follows:
Enterprise Value
Transportation
$2,798.66
Agriculture
$1,599.13
Access
$1,619.15
Total
$6,016.94
Valuation
EV
$6,016.94
Debt (-)
$1295.23
Cash (+)
$439.06
Value
$5,160.77
Shares Outstanding
65.357
Value/Share
$78.96
Assuming BNEF's transportation forecasts are correct, LNR is ~ 40% under valued from its current share price at $55.
Risks/Challenges
Industry Cyclicality: Due to the cyclicality of auto manufacturers and 80% of LNR's revenues being from this sector, declines in global vehicle production would negatively impact margins and profitability. What must be noted from the assumptions above is that LNR does 16% gross margins and 12% EBITDA, indicating that their operating leverage is fairly low.
Acquisition risk: Skyjack, MacDon and Montupet were large acquisitions. This analysis assumes no integration issues will occur and profitability of those segments will remain intact.
Foreign Exchange: LNR has extensive operations outside Canada where earnings and assets are not denominated in Canadian dollars. Additionally, LNR's shares are traded on the Toronto Stock Exchange and valued in Canadian dollars providing currency risk to shareholders with a primary currency not in Canadian dollars.
Time Horizon: Although the USMCA has finalized trade terms for the next few years, until investors have more faith in the auto production sector and the OEMs that supply them, there is no telling how long it will take for this valuation to be realized.
Disclosure: I am/we are long LIMAF.
I wrote this article myself, and it expresses my own opinions. I am not receiving compensation for it (other than from Seeking Alpha). I have no business relationship with any company whose stock is mentioned in this article.
Editor's Note: This article discusses one or more securities that do not trade on a major U.S. exchange. Please be aware of the risks associated with these stocks.