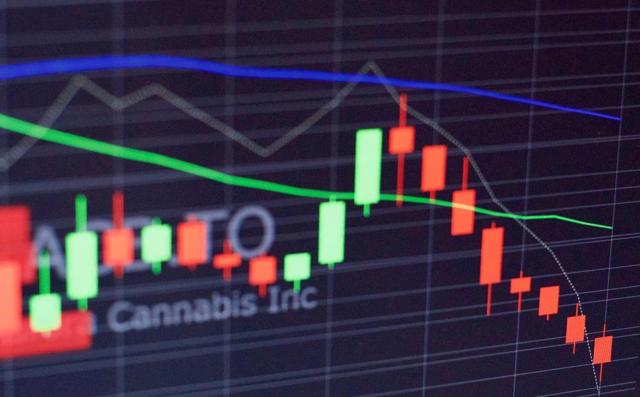 Our Thesis
You could make an argument that Cannabis stocks are too high, both literally and figuratively. While there is certainly some momentum towards widespread acceptance of medicinal marijuana, and more recently, recreational stuff too, much of this news may have already been priced in. The question then is whether Tilray (TLRY), the subject of this article, is overvalued, or if it's not too late to inhale some of its potentially lofty returns.
We believe the most likely next move for Tilray is up, not down. In fact, we would argue that the stock has already corrected and is now positioned for its next leg up. It has found some stability around the $100 range and we believe the company's expanded capacity will be a catalyst for another leg up.
It is up 325% this year making it the largest publicly traded stock in that industr but has recently declined around 40% Tilray now has a market cap of almost $9 billion, surpassing both Aurora Cannabis (OTC:ACB) and Canopy Growth (OTC:CGC). In fact, while Tilray may hold the lead in market capitalization, it still lags both companies in revenues. That said, Tilray shot out of the gate. It reached sales of almost $10 million in 2Q 2018 but it took years for ACB and CGC to reach those revenue milestones. Perhaps it has more to do with timing. Tilray is hitting its stride just when the Cannabis debate is leaning towards some forms of legalization in a greater number of jurisdictions.
The Cannabis Market
There are very few countries where recreational use of marijuana has been legalized. The map below shows those countries highlighted in blue, as well as several US States. The number of countries that have approved Marijuana for medicinal use, which is not shown, however, is higher but still not substantial.
As the recreational map shows, there is plenty of room to grow even if not all countries will legalize Marijuana, for any use at all. There will always be cultural, religious, and political challenges that will prevent some countries from even considering it.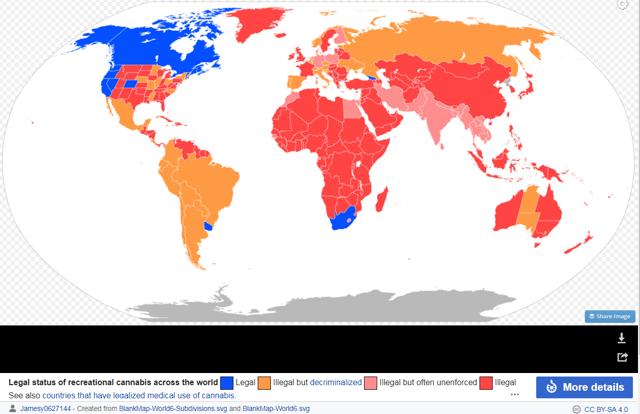 Source: Matador Network
In Canada alone, however, the total Cannabis market is expected to generate up to $7.17 billion in sales in 2019. Legal sales are expected to contribute up to $4.34 billion of that total. Legalization, which was official on October 17 th, 2018, might boost those sales even higher as current cannabis consumers will buy more freely than what they currently buy today in illegal markets. As for the global legal cannabis market? It is expected to reach $146.4 billion by the end of 2025 according to the IMF. When you think about Tilray's current TTM sales of just under $30M, you start to appreciate the magnitude of the opportunity.
That's not to say it will come with no effort. A market that size doesn't go unnoticed for long, and pharmaceutical companies, in addition to other pure-play Cannabis companies, will go after the market aggressively.
Tilray Strategy
To remain competitive, TLRY implements a vertical integration strategy that enables it to exercise full control over its supply chain. As a part of this strategy, the company attempts to continuously strengthen it's supply chain by owning both upstream suppliers and its parts of its distribution channels. Tilray's supply chain extends from the growing of Cannabis from the ground up, to the boxing and shipping of products all over the world.

Source: Pioneering the future of global cannabis, Tilray 2018
Using this strategy and led by cross-functional expert teams of cannabis industry experts, visionary entrepreneurs, horticulturists and extraction specialists, the company has been able to make use of the latest knowledge and technology for delivering high-quality cannabis products on a large scale.
TLRY currently supplies cannabis flower and extract products to tens of thousands of patients, physicians, pharmacies, hospitals, governments and researchers on five continents. It has developed a rigorous, proprietary production process that not only ensures consistency and quality but also helps the company to increase the scale of its operations globally.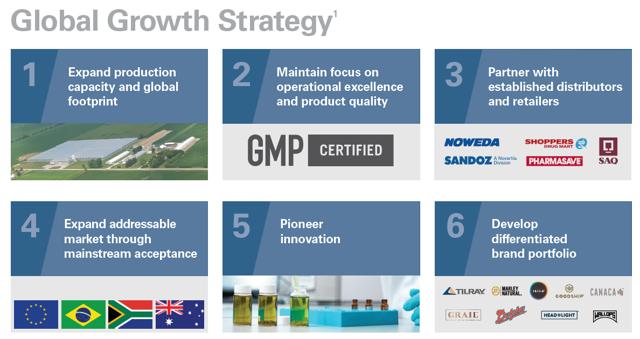 Source: Pioneering the future of global cannabis, Tilray 2018
In Canada alone, Access to Cannabis for Medical Purpose Regulations (ACMPR) is shifting its focus to oil extracts, which has led to a fourfold increase in sales for Tilray from $1.1 million to $4 million in the past year.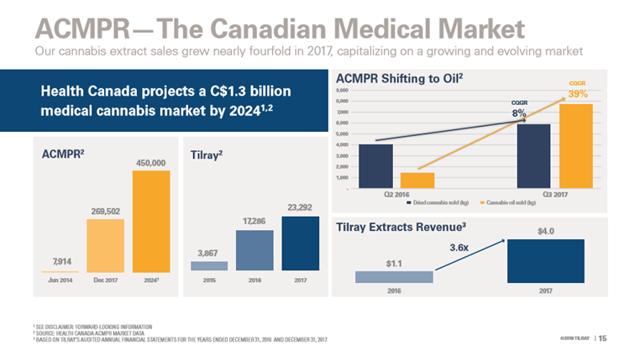 Source: Pioneering the future of global cannabis, Tilray 2018
And apart from strengthening its position in the global medical cannabis market, TLRY is also looking to create a strong foothold in the Canadian recreational cannabis market.
The Canadian recreational cannabis market alone has the potential to generate roughly US$1.1 billion to US$3.3 billion in 2019 and TLRY has already signed agreements to supply cannabis to recreational consumers in seven Canadian provinces and territories.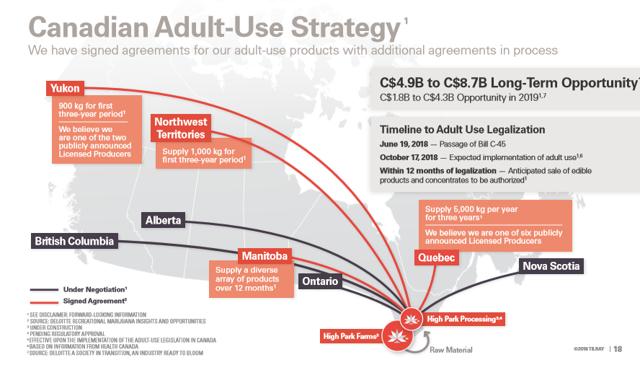 Source: Pioneering the future of global cannabis, Tilray 2018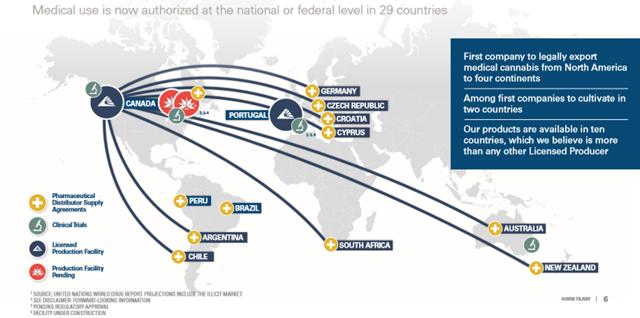 Source: Pioneering the future of global cannabis, Tilray 2018
The biggest opportunity might be Ontario, where the company has been selected to provide cannabis to the Ontario Cannabis Store; an online retailer that began operations in October 2018. The biggest customer complaints regarding Ontario Cannabis Store: slow deliveries.
TLRY is also looking for potential partners for targeting the retail market when Ontario allows private retailers to sell recreational cannabis. To serve the adult-use cannabis market in Canada, TLRY has launched High Park Holdings Ltd., a wholly owned subsidiary to market a broad range of cannabis brands and products.
The subsidiary has exclusive rights to produce as well as distribute adult-use cannabis brands and products in Canada. As of today, High Park has unveiled three original cannabis brands.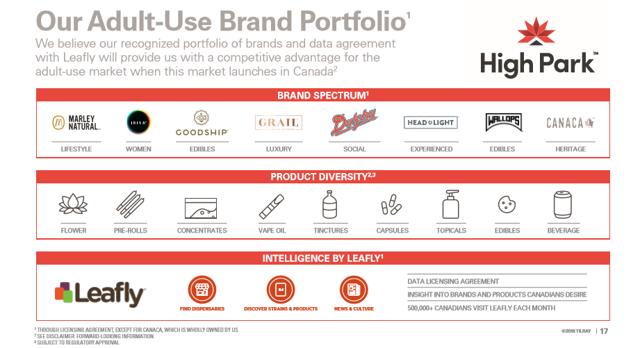 Source: Pioneering the future of global cannabis, Tilray 2018
Upon receiving the necessary permits, TLRY will be utilizing the High Park facility to produce a range of cannabis products that include beverages, capsules, edibles, vaporizer oils, sprays, tinctures, pre-rolls and dried flower products.
International
According to TLRY's Q2 update, the company is now exporting medical cannabis to 11 countries. Amongst these countries, Germany, UK and Portugal are strong markets.
Germany legalized medical cannabis in 2017 and sales are ramping up slowly and steadily. It has been estimated that cannabis sales in Germany will be about $1.6 billion by 2022 according to the International Monetary Fund and United Nations. The UK has also recently relaxed regulations concerning medical cannabis and the IMF and United Nations estimate that the UK market for medical cannabis will be $288 million by 2022.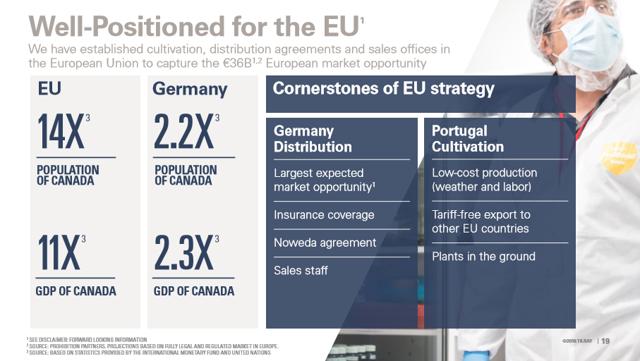 Source: Pioneering the future of global cannabis, Tilray 2018
Portugal is yet another European nation that has taken steps towards the legalization of cannabis-based medicines. TLRY has received a cultivation license from the Government of Portugal and the company will make use of the large quantities of medical cannabis that is cultivated in the country.
With these developments, TLRY is strengthening its position in the European Union while it awaits the evolution of drug policies in the US, a major market waiting to be tapped.
It might also benefit from first mover advantage for being the first company to legally export medical cannabis products from North America to the European Union, Australia, New Zealand, Brazil and Chile. And finally, TLRY is also the first licensed producer to receive the Good Manufacturing Practices (GMP) certificate from the European Medicine Agency (EMA).
Recently, TLRY completed an acquisition of Alef Biotechnology SpA , its existing import and distribution partner. The acquisition will enable the company to import, produce and distribute its branded medical cannabis products in Chile. Additionally, the acquisition will help TLRY to create a hub for distributing its products throughout the rest of Latin America.
Additional Alliances
TLRY has also developed strategic alliances for exploring long-term opportunities in the medical cannabis market. In Q2 2018, TLRY entered into a strategic alliance with Sandoz Canada, a division of Novartis, to collaborate on the creation and sale of co-developed and co-branded medical cannabis products. The company has also signed agreement with Shoppers Drug Mart Inc., Canada's largest pharmacy chain with more than 1,200 pharmacies that will be selling supply Tilray. TLRY has also signed a binding letter of intent with Pharmasave, one of Canada's leading cooperative that owns more than 650 pharmacies across the country. Even though the agreement is subject to Canadian regulations, TLRY anticipates that its products will be made available at Pharmasave stores across the country.
It derives a competitive advantage by participating in clinical trials and clinical research programs. The participation enables TLRY to understand the therapeutic value of cannabinoid-based medicines. The company has differentiated itself from the competition by techniques that achieve clinical grade isolates that are utilized by research partners at world-leading hospitals and universities.
The company has also developed a medical cannibal extract that is being used in a clinical trial at the Hospital for Sick Children (SickKids) in Toronto and in another development, it already received an approval from the US Drug Enforcement Administration to supply pharmaceutical-grade cannabinoid in capsule form for a clinical trial at the University of California San Diego Center for Medical Cannabis Research.
TLRY is also providing investigational medicinal cannabis for clinical trials in Australia and New Zealand. The company aims to get its products registered in the Australian Register of Therapeutic Goods (ARTG).
Participating in clinical trials will help TRLY to expand the addressable medical market and win the trust of regulators, physicians and researchers in countries that are yet to fully legalize the use of medical cannabis.
Even though the cannabis market is heavily regulated, the medical usage of cannabis is legalized at the federal or national level in 29 countries. In addition, significant reforms have been introduced in 24 countries to broaden the scope of permitted use.
Speaking about the rapid pace of regulatory changes, Brendan Kennedy, CEO of TLRY, commented on the company's readiness to penetrate the global medical cannabis market:
There's a clear global growth opportunity when it comes to medical cannabis. With Canada, we're about to see 100 percent growth: one country, Uruguay, to two countries, Canada. What intrigues me is country three, four, five and six. It's not about Canada, it's about all the countries that follow.
Production Capacity
It is clear that TLRY will need to expand its production capacity to meet its long term goals and compete with larger rivals. In June 2018, TLRY completed its IPO to raise funds for building more capacity.
In the domestic market, TLRY will be facing tough competition from Canopy Growth and Aurora Cannabis, its key industry rivals, that are much bigger companies in terms of revenue and production capacity. Being more established players, Aurora Cannabis and Canopy Growth have invested heavily in cannabis production already and you could argue are a step ahead in that regard.
By 2019, Canopy Growth and Aurora Cannabis will have production capacities of about 570,000 kilograms and 500,000 kilograms respectively. Even though it has fully-funded plans for facility expansion, TLRY's annual cannabis production will be less than one-third of the production figures reported by its key rivals. Below is a summary of TLRY's current production capacity.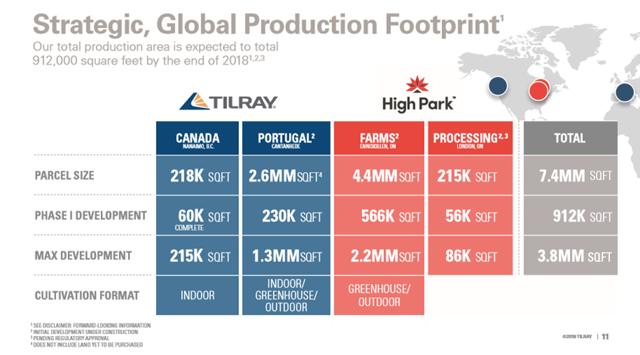 Source: Pioneering the future of global cannabis, Tilray 2018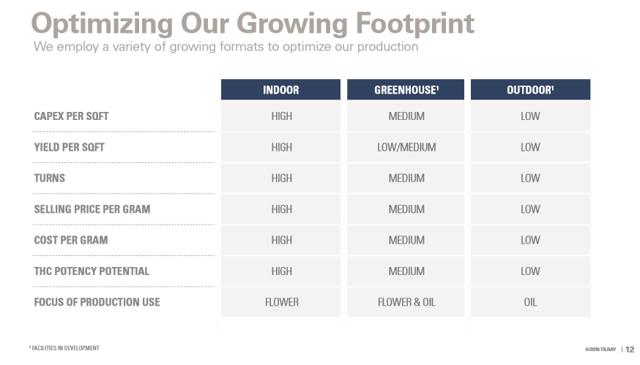 Source: Pioneering the future of global cannabis, Tilray 2018
In addition to having greater capacity, rival companies are also producing alternative cannabis products like oils and extracts, which TLRY has shown some promise in.
Risks
We have identified several risks that investors should be aware of in addition to the risk disclosures mentioned in the company's SEC filings.
Apart from competing with industry rivals, TLRY will also have to compete with other established adjacent industries like pharmaceuticals, alcohol, tobacco, and consumer products. It is highly likely that these industries will have an interest in entering the market for marketing cannabis-infused products. In addition to possessing mature infrastructure, these companies have greater access to capital infrastructure and better brand recognition. Moreover, these rivals have the knowledge of operating in a highly regulated environment.
It is clear that players in the legal cannabis market are facing an uncertain legislative and regulatory landscape. Various governments are still forming rules and regulations and there still exists a large amount of uncertainty surrounding the Canadian cannabis market too.
The capacity to meet consumer demand is still unknown. As the industry is still developing, many organizations are still in their nascent stage of growth without a clear picture of what the market will look like or the best business model for the industry.
Valuation is high. By all known multiple valuation metrics, Tilray looks expensive. Price/Sales of over 300 screams bubble territory. And we can't even look at PE, Price/Book, or price to cash flow because either the denominator is negative or the company's short history makes them distorted. A DCF analysis might work, but that will rely on a variety of assumptions that frankly, I wouldn't feel confident in.
Our Take
TLRY's Q2 results indicate strong growth in sales and has a relatively strong cash position. As of June 30, 2018, TLRY has reported cash and cash equivalents totaling $25.3 million which can be utilized to fuel long-term growth.
There are a few critical factors that need to be considered before accurately projecting TLRY's stock price, however. First, the US federal government has yet to legalize medical and recreational cannabis throughout the country.The US is a big market!!!
When, not if, legalization occurs, it will open up one of the largest Cannabis markets and expose TLRY to a highly competitive landscape, with some competitors currently waiting on the sideline until legalization occurs. Second, TLRY's ramping up of production facilities is still going on, and the timing, cost, and efficiency of these facilities are difficult to predict, not to mention the demand that will be prevalent when production comes on line.
This has been a pure momentum play and many investors have made a lot of money on it. In the short-term, I have my doubts that the stock can jump another 300%. It does however, look like a long-term opportunity if the company continues on the path it is on.
Momentum players might look for a break through the 50-day moving average for the next leg up and if the stock moves past the 50-day moving average, there is nothing preventing the stock from hitting $175.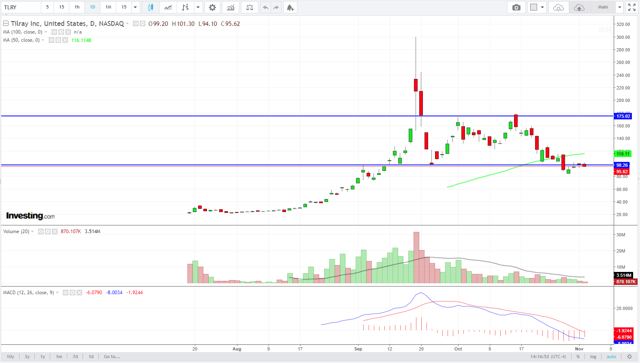 Source: Investing.com
To the downside, I see some support at around $100, which the stock is currently hovering around. That was a 10% decline from levels at which the stock was trading just two weeks ago.
Technically, the stock has been range bound between $95 and $175 over the last month – but considering the stock's short trading history, that's not saying much.
Tilray reports earnings in a couple of weeks. The stock will be highly sensitive to any surprising information, and it's next move will depend on whether the last quarter's results were better or worse than expected. Calling the stock a bubble waiting to burst is easy considering the lofty valuation, unproven business model, and meteoric stock price increase. Meanwhile, all Cannabis stocks have declined over the past month with Tilray dropping the most.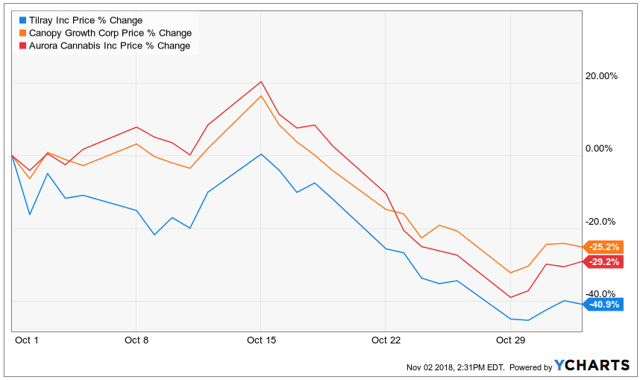 Here's the thing, 19.5% of the stock's current float is short. If you're bullish on the stock, even if it is currently overvalued, the slightest catalyst that sets the price on an upward trend will cause some serious short-covering, which would only add fuel to the fire.
I'm a long-term investor with occasional opportunistic plays sprinkled into my portfolio. This is one of them.
Disclaimer: This article is meant to identify an idea for further research and analysis and should not be taken as a recommendation to invest. It does not provide individualized advice or recommendations for any specific reader. Also note that we may not cover all relevant risks related to the ideas presented in this article. Readers should conduct their own due diligence and carefully consider their own investment objectives, risk tolerance, time horizon, tax situation, liquidity needs, and concentration levels, or contact their advisor to determine if any ideas presented here are appropriate for their unique circumstances.

REITs, Opportunities, & Income ((ROI))
ROI is a service provided to help investors like yourself find opportunistic misplaced bets, income growth generating securities, and coverage on small and mid cap stocks to round out what is probably a large-cap weighted portfolio.
We also share our Low Vol REIT Portfolio, our Strategic Income Growth Portfolio, and our Focus List, which is essentially our universe of coverage. For those of you who like to pick your own stocks and find it difficult to narrow down your choices, we provide a number of lists meeting specific criteria that you can choose from to add to your portfolio.
Try it free for two-weeks with no obligation: Start a free trial now!
Disclosure: I/we have no positions in any stocks mentioned, but may initiate a long position in TLRY over the next 72 hours.
I wrote this article myself, and it expresses my own opinions. I am not receiving compensation for it (other than from Seeking Alpha). I have no business relationship with any company whose stock is mentioned in this article.