Investment Overview
Hawaiian Airlines (NYSE:HA) is the leading airline in the Hawaiian market operating internationally, domestically to the continental United States and inter-island in Hawaii. Hawaiian Airline's market has experienced outsized growth over the past several years due to strong tourism as a result of increased discretionary spending amongst consumers. However, in this period of tourism expansion, Hawaiian Airlines is lagging slightly behind in revenue passengers flown growth compared to the Hawaiian market growth as a whole. The blame for Hawaiian's slower growth can be placed on the growing popularity of the market amongst large airlines and the consequent air capacity growth. Looking forward Southwest remains a threat on the basis of taking market share and lowering market fares. Hawaiian is uniquely exposed to the threat of Southwest (NYSE:LUV) and investors have sold off Hawaiian's shares significantly in response to the anticipated new routes in early 2019. The selloff appears somewhat overdone based on a discounted cash flow analysis that includes assumptions regarding "the Southwest Effect" and the possible implications for Hawaiian. For risk-tolerant investors, the market has created an opportunity to purchase a regional airline with several competitive advantages at a significant discount to fair value. However, the significant uncertainty behind the fair value assumptions lead me to recommend a hold on Hawaiian airlines as I cannot confidently justify a buy at this time.
Hawaiian Tourism Overview
Since 2009 Hawaiian tourism has increased at a CAGR of 4.48% compared to Hawaiian Airlines 3.63% CAGR in revenue passengers flown. The Hawaiian market as a whole increased air capacity at a 3.81% CAGR during the same period, slightly lagging behind tourism growth. In 2017, 2016 and 2015 total tourism annual growth was 4.9%, 3.0%, and 4.5% respectively. However, years of tourism growth outpacing air capacity growth seems to be coming to an end. In 2018 the Hawaiian government is forecasting tourism peaking at 6.2% growth and then falling down to 1.7%, 1.3% and 1.2% from 2019 to 2021. Despite strong tourism growth projections for 2018 total seat capacity grew at 10.3% in the first half of 2018 which is the highest growth since data become available in 2002. There is little room for opportunity in the space coming from tourism growth and I expect seat capacity to continue to outpace tourism due to new airlines such as Southwest (further analysis below).
Oil Volatility Threatens Margins
The airline industry's business model is known for its razor-thin margins that rely heavily on jet fuel prices at the time. Hawaiian is actively managing oil's volatility through hedging 35% of their fuel requirements through oil call options and heating oil swaps. Despite the hedging activity oil still remains a significant and largely uncontrollable variable in Hawaiian's business. Management projected in their 2017 10-k that for every cent increase in the price of jet fuel their jet fuel expense would increase by $1.8 million for the year.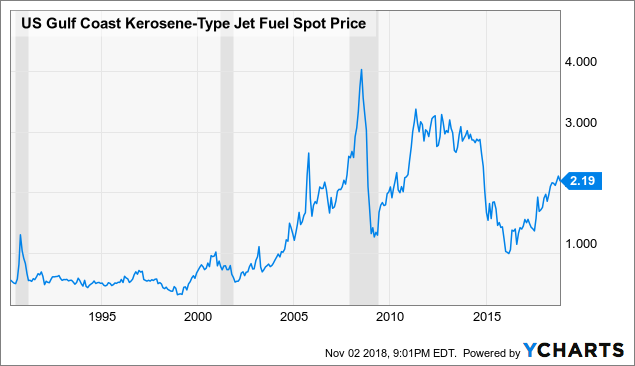 To give context, Gulf Coast jet fuel is currently priced at $2.19 a gallon, a hypothetically increase to $3.00 a gallon (approximate price between 2010-2015) would represent a $145.8 million increase in fuel expense. Retrospectively applied to 2017 a $145.8 million increase in fuel expense would bring Hawaiian's operating margin down from 17.9% to 12.5%. With that said, as an investor, I am not in the business of speculating future oil prices and will not attempt to do so in considering Hawaiian as an investment. Rather, I would like to highlight the risk of oil volatility as a consideration for potential investors.
The Southwest Effect
Analysts following Hawaiian over the past year seem to follow a consistent narrative of concern over the danger of Southwest. Projections for the impact on load factor and ticket prices vary significantly with estimates ranging from 2% to 10% load factor decreases and a 15-25% decrease in ticket prices. In order to better understand the potential impact of Southwest, I would like to attempt to estimate my own numbers rather than trust analyst's wildly varying projections.
In Southwest's recent earnings call management called for an expected addition of 4 billion ASMs in the Hawaiian market in 2019. Assuming a roundtrip distance of 5,000 miles and 175 seats on each plane this represents approximately 12.5 round trips a day. Management expects that to increase to 15 round trips a day following the ramp-up period. Assuming the ramp-up is effectively implemented we would expect a theoretical 4.8 billion additional ASMs in 2019 neglecting the introductory period. To put this into perspective Hawaiian scheduled 18.99 billion ASMs in 2017. As previously mentioned tourism growth in 2019 to Hawaii is expected to level off significantly with expected air tourism of approximately 10 million people. Based on this projection we should expect roughly 50 billion seat miles in 2019 that need to be filled. In the short-term Southwest is expected to capture approximately 8% of the market and eventually around 10% following the introductory period.
In 2017, the continental United States to Hawaii comprised 53% of Hawaiian's revenue and 94% (Source) of that would be directly exposed to Southwest's expected California routes. Assuming that Hawaiian loses a proportionate number of passengers to its market share of 28% we should expect a load factor hit of about 2.8% in the continental U.S. to Hawaii routes and a 1.5% overall hit to Hawaiian's load factor. The timeline on the load factor decrease playing out is approximately 8-12 months once Southwest is fully operational in the space. It's important to note that this number is based off several assumptions and approximations so it shouldn't be taken as an exact.
The term the Southwest Effect was coined in 1993 by the Department of Transportation to describe Southwest's impact on market fares and the sales of a specific route. At a high level, Southwest introduces a large supply of low-priced flights to a route and causes demand to increase while market fare prices drop. Sometimes the increase in demand allows incumbent airlines to actually improve net income in the transition period but this is highly subject to the nature of each market. While I don't expect Southwest to have an effect on the Hawaiian market that is directly in line with historical trends it's still important to consider the historically observed effects of Southwest (see analysis below for further expectation). An MIT analysis conducted with data from 1993 to 2009 concluded that fares dropped 10.3% in the threat quarter and 23% after Southwest's actual route entry (Source). Hawaiian's current operating margin of 17.3% could stand to be hit significantly by the historical trend concluded by MIT and I see this as a significant short-term threat for Hawaiian. However, I want to emphasize that there are several unique factors contributing to the Hawaiian market that make these numbers less applicable to the specific market.
Hawaii is an Unusual Market for Southwest
As I mentioned in the previous section it is difficult to apply historical Southwest scenarios and subsequent conclusions to the Hawaiian market. There are several contributing factors that make the Hawaiian market different. First, a flight from California to Hawaii is uniquely long for Southwest at 2500 miles one-way compared to Southwest's average trip length of 754 miles (Source) However, Southwest does currently operate a flight from Newark to Oakland that is 2555 miles and proves their capability to operate long-distance routes. Second, the average passenger to Hawaii is different than the average Southwest passenger. Source
The Hawaiian tourist market is 79% leisure and 7% general business compared to the overall U.S. market where passengers are 48% leisure and 31% business (Source). The key takeaway is that Hawaii is a leisure travel market and leisure travelers often have different priorities than business travelers (see "Hawaiian's Competitive Advantage").
Hawaiian's Competitive Advantage
Through Hawaiian's focus and long history in the Hawaii market, they are able to achieve several competitive advantages that differentiate themselves from competitors. A key advantage that many bullish analysts and investors point to is Hawaiian's vacation culture and above average in-flight experience. All of the flight attendants are local to Hawaii, dress in Hawaiian clothing and offer native dining/drink options. The objective is to immerse travelers in the Hawaiian vacation experience before they arrive in Hawaii. While this is somewhat of a competitive advantage I don't believe it's sustainable or especially differentiating. Recently Southwest announced that they will be offering in-flight snacks that represent Hawaiian cuisine and plan to hire attendants from Hawaii as well. Also, according to a survey conducted in 2015 by Airlines for America 86% of people named travel price as the most important factor in considering a flight and only 43% of people specified in-flight amenities (Source). I believe that while there is still some merit to the "vacation culture" argument there is too much opposing evidence to seriously consider it.
Another advantage is Hawaiian's relatively low CASM in the market compared to current competitors and Southwest. Hawaiian's low CASM is a result of the long-haul nature of the route and their focus on the more fuel-efficient A321neo planes.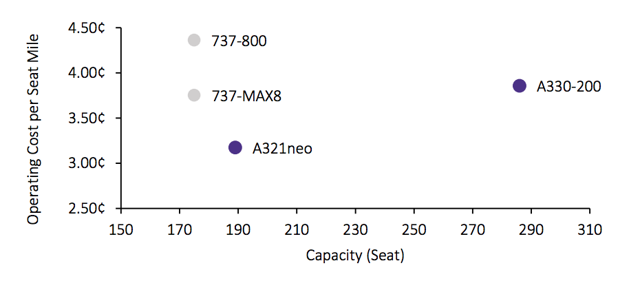 Initially Southwest will enter the market with their 737-800 which is currently the plane of choice for Hawaiian's competitors. Once Southwest has become more developed in the space they expect to eventually replace the 737-800s with 737-MAX8s for better CASM and longer range. Nonetheless, Southwest remains confident in their ability to be "the lowest price in the market" according to president Tom Nealon.
Southwest's Competitive Advantage
While Hawaiian is well established in the Hawaiian market and as a result possesses several regional advantages Southwest is a national airline with several advantages of its own. The first is Southwest's rewards program and the network of loyal flyers that they've gained through incentives and unique offerings. Southwest's famous companion pass allows frequent travelers, defined as 110,000 qualifying points in a calendar year, to fly with a companion for essentially free (only taxes). Frequent business travelers who accumulate the necessary points may then use the companion pass on their partner or friend to take a leisure vacation to Hawaii. This type of program is unique to Southwest and wouldn't work with a regional airline like Hawaiian who doesn't have the significant network effect. Another program Southwest offers is two free checked bags on any flight and any ticket level. This discount is especially applicable to Hawaii because tourists are more likely to need checked bags due to the longer length of stay, an average of 8.64 days for U.S. travelers (Source). On Hawaiian flights, the first checked bag will cost $25 and the second an additional $35. Flyers going on longer vacations who require more luggage stand to save up to $60 by flying Southwest instead of Hawaiian on the basis of bags alone.
Hawaiian to Maintain Control over Inter-Island
The inter-island market made up 22% of Hawaiian's revenues in 2017 compared to 53% domestic and 25% international. Currently Hawaiian holds an essential monopoly of the inter-island flight market with only one other small competitor, Mokulele Airlines. Mokulele is a small regional airline operating a few twin-propeller planes and poses almost zero competition to Hawaiian who dominates the space. Several airlines have attempted to gain market share in the inter-island space and subsequently failed. The most recent example was Island air who ceased operations on November 10, 2017, after 34 years serving the Hawaiian Islands. The bankruptcy can largely be attributed to the steep pricing competition between the competitors at the time which included Go! Airlines and Hawaiian airlines. Hawaiian airlines pushed fares down to levels that could be absorbed by its profitable long-haul service but drove out Island air who couldn't afford the loses in its only market. In regard to affording losses in the short term, I believe Southwest is uniquely positioned to remain competitive with Hawaiian, unlike previous competitors. Still, I don't believe that Southwest will impose a significant threat in the inter-island space simply due to the economics of flying the uniquely short routes. Hawaiian's fleet consists of 20 Boeing 717-200s which are twin-engine, single-aisle planes designed for short and inexpensive routes. Hawaiian went as far as stripping down the planes and transporting them to the islands since the range wasn't long enough to initially fly them to the islands. Southwest plans on using the same 737-800 for both the inter-island and long-haul flights which will be significantly more expensive to operate. I expect Hawaiian to suffer from short-term pricing pressure when Southwest initially enters the market but ultimately Southwest will withdraw from the space due to lack of profitability.
Valuation Implies Cautionary Upside
In order to value Hawaiian Airlines, I constructed a discounted cash flow model with 10 years of assumptions to account for Southwest's entry and the potential for a cyclical downturn in the U.S. economy that would have significant negative ramifications for Hawaiian. All assumptions are my own and I have attempted to consider all factors from a quantitative and qualitative approach. However, I still remain uncertain in several of the assumptions due to heavy reliance on oil prices and general uncertainty around the effect of Southwest's new fares and how much of a discount they will pose. With all that said I reached a .79 P/V with an implied value of $45.11 a share representing a 27% upside as of 11/05/2018. In the case of Hawaiian Airlines, a DCF is simply too reliant on several highly uncertain assumptions so I must emphasize again to take caution in interpreting the valuation.
The model is attached here: DCF MODEL
Key Assumptions Explained:
Revenue decline 2019,2020 is based on lower tourism growth coupled with Southwest's entry into the market. The possibility of a secular decline in the U.S. economy that would amplify the decline greater than possibly projected.
Wages and benefits expected to increase as a percentage of revenue due to new union contracts in 2021,2022 as well as a general shortage of airline pilots.
Aircraft fuel is largely based on 2018 data and projected to decrease slightly from there due to more fuel-efficient A321neo. Note that this assumption is highly variable and difficult to predict.
Aircraft rent declining due to transition towards a greater portion of the fleet being owned by Hawaiian.
A Nominal discount rate of 12.5% to account for higher than average uncertainty due to smaller company size and greater costs of raising capital.
A Nominal LTGR of 4.5% which is relatively in line to U.S. GDP growth.
Investment Recommendation
Based on the several headwinds and uncertainties Hawaiian is facing over the next several years I cannot recommend a buy to potential risk-averse investors despite a rather significant margin of safety in the DCF model. For the time being, I would like to recommend Hawaiian as an add to watchlist stock with several actionable catalysts for investment. If one of these key events take place I will write an update article recommending Hawaiian as a conviction buy. On the contrary, if several of the aforementioned headwinds turn out to be more significant than I am currently projecting I will update with a sell.
Southwest doesn't receive government approval for new routes to Hawaii.
Alaskan airlines and other airlines are pushed out of the market due to Southwest resulting in an overall decrease in seat capacity.
Southwest proves unable to introduce meaningfully lower fares and Hawaiian remains profitable due to competitive advantages on cost.
Disclosure: I/we have no positions in any stocks mentioned, and no plans to initiate any positions within the next 72 hours. I wrote this article myself, and it expresses my own opinions. I am not receiving compensation for it (other than from Seeking Alpha). I have no business relationship with any company whose stock is mentioned in this article.