the very commonness of common sense makes it unlikely to have any appeal to the anointed. How can they be wiser and nobler than everyone else while agreeing with everyone else?" - Thomas Sowell
Mid-cap oncology concern Exelixis (EXEL) was recently added to the Biotech Forum model portfolio. The risk/reward profile looked very favorable after the stock has seen a huge decline despite robust sales growth from its primary oncology product CABOMETYX.

That decision started to pay off Friday after the company reported a blowout quarter of results. In the paragraphs below, we will look at the highlights from Exelixis' third quarter and what might lie ahead for the company and the stock.
Company Overview:
Exelixis, Inc. is an Alameda, California-based biotechnology concern focused on the development and commercialization of new medicines to treat people with cancer. The company has a current market cap of just under $5 billion and trades just north of $17.00 a share.
The company has two products COMETRIQ and CABOMETYX. COMETRIQ did around $25 million in sales in FY2017 and represents a small percentage of the company overall sales. CABOMETYX also known as Cabozantinib is an inhibitor of multiple tyrosine kinases, including MET, AXL, VEGF receptors and RET, and cobimetinib is an inhibitor of the mitogen-activated protein kinase MEK enzymes.
CABOMETYX was approved for second-line treatment of advanced renal cell carcinoma or RCC in 2016. Late in 2017, it was approved for first-line treatment of RCC.
Both COMETRIQ and CABOMETYX are marketed by collaboration partner Ipsen Pharma SAS ex-U.S. and ex-Japan. In Japan, it is licensed to Takeda Pharmaceutical (OTCPK:TKPHF). Exelixis receives development funding, royalties and milestone payments from both arrangement and wholly owns CABOMETYX in the United States, its largest market.
The company posted earnings of 41 cents a share, more than double expectations. CABOMETYX rose nearly 70% on a year-over-year basis and 12% sequentially to just over $158 million.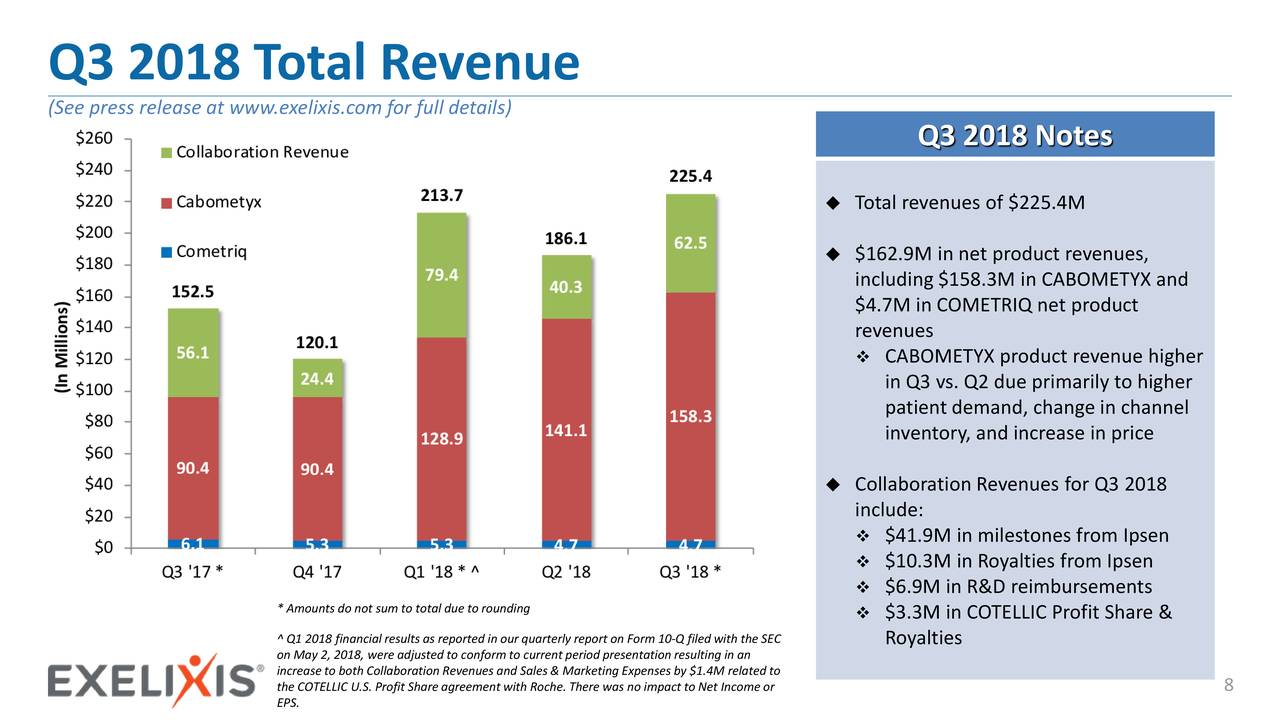 Source: Company Presentation
Total revenues came in at $225.4 million which included COMETRIQ sales, as well as milestone payouts and royalties from Ipsen and other small line items (see above).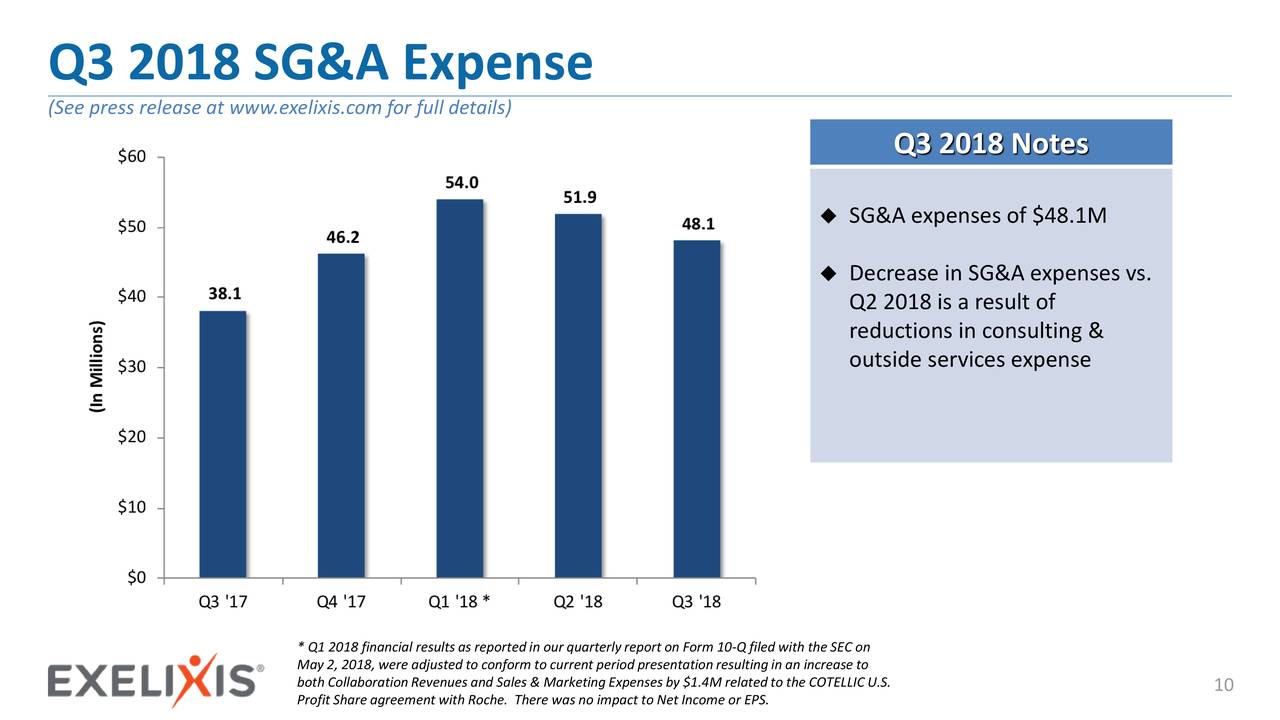 Source: Company Presentation
A small uptick in R&D expenses during the quarter were more than offset by a drop in SG&A costs.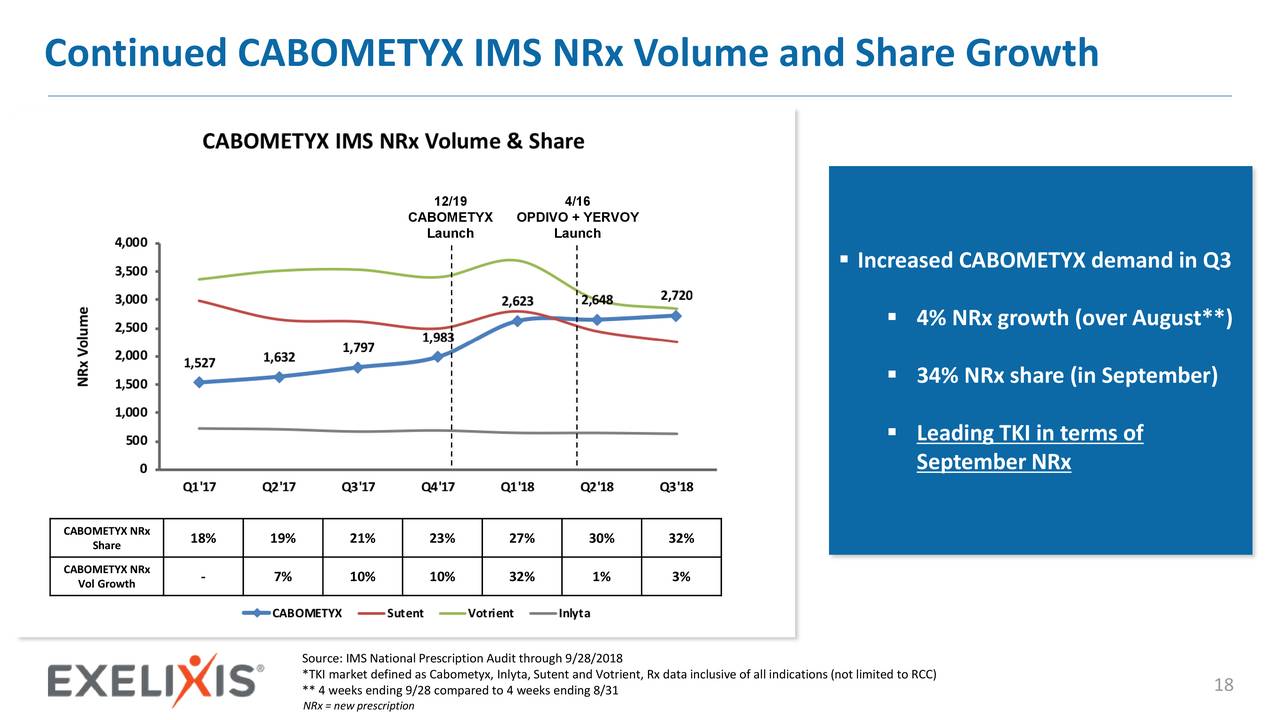 Source: Company Presentation
CABOMETRX continues to gain market share in the third quarter as well.
Balance Sheet & Analyst Commentary:
The current consensus price target on Exelixis currently stands just under $30.00 a share. So far today, both Needham ($30 price target) and Cowen & Co. reissued Buy ratings on the stock post earnings last week. I would expect other positive analyst ratings to come over the next week based on these results. Needham's analyst stated that 'he believes immuno-oncology combos will support future growth'. Exelixis is running several clinical programs investigating cabozantinib in combination with I/O drugs. The company ended the quarter with $750 million in cash and marketable securities on the balance sheet and no debt.
Verdict:
Exelixis is a rare 'Tier 2' biotech stock. The company is near the top of my list of logical buyout candidates given its tremendous growth and M&A activity in the oncology space. I also like as a standalone as it is not expensive on a forward earnings basis. CABOMETYX's sales growth should slow substantially in FY2019 due to tougher comparisons.
However, it is like CABOMETYX will be approved for advanced hepatocellular cancer or HCC in January by the FDA. In addition, the company has various trials underway to expand the CABOMETYX franchise. Third quarter results just confirmed our view that the shares remain very attractive on a longer term basis.
Option Strategy:

Another way to purchase an initial stake in or add to a current holding of Exelixis is by using Buy-Write option strategies. Using the May $20 call strikes, fashion a Buy-Write order with a net debit in the $15.40 to $15.50 range (net stock price - option premium). This mitigates some downside risk and sets up a more than solid potential return for its approximate seven and a half month hold period.
What is common becomes sense, but what is sensible doesn't always become common." ― CrimethInc., Contradictionary
Bret Jensen is the Founder and author of articles on The Biotech Forum, The Busted IPO Forum, and The Insiders Forum. To receive these articles as published on Seeking Alpha, just click the appropriate link and hit the orange follow button.
Disclosure: I am/we are long EXEL.
I wrote this article myself, and it expresses my own opinions. I am not receiving compensation for it (other than from Seeking Alpha). I have no business relationship with any company whose stock is mentioned in this article.