This week IBM (IBM) offered $33 billion for Red Hat (NYSE:RHT), the big Linux-based software company. Many pundits think IBM overpaid, but if you look at the synergies available and IBM's history with other software companies, you can see how it will almost certainly work out well for IBM.
Current valuation comparison
RHT has a profitable business doing about $3 billion a year in sales, growing at about 20% per year. More importantly, they have an FCF (free cash flow) of about $1 billion per year making the purchase price 33x FCF.
That may seem high, but a company growing at 20% doubles its revenue in about 3 and ½ years, so over that time period, the FCF would most likely double (or more) over that same time period. This would put the price at about 17x FCF a very reasonable number for a sizeable tech company growing at that rate.
As a comparison, you can look at VMware (VMW), another software company with a similar customer base that is selling at about 20x FCF.
And VMW sales have not been growing as fast as RHT's over the last 5 years.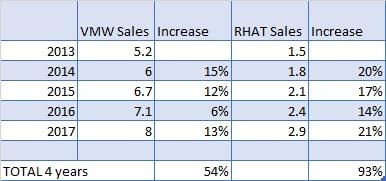 Potential synergies are huge
It is impossible to tell how much business RHT does with IBM, but for certain, it also competes with IBM - or more precisely used to compete with IBM.
From RHT's 2017 year-end 10K:
"With respect to our operating system offerings, our competitors include…IBM…"

"With respect to our middleware offerings, our competitors include IBM,…

"IBM and Oracle often bundle hardware and software for their customers, making it more difficult for us to penetrate their customer bases."

"With respect to our cloud technologies, we compete with companies that provide platform as a service offerings, such as IBM, … "

"With respect to our service offerings, we face competition in the markets for services related to the development, deployment and integration of enterprise technologies. Our competitors in these markets include Accenture, HPE, IBM …"

"Red Hat Enterprise Linux is also available in multiple variants that allow customers to obtain a version of Red Hat Enterprise Linux specifically for their use cases, applications, and hardware architectures. IBM z Systems"
Now, imagine IBM with 30 times the employees (380k vs. 12k) of RHT not being a competitor any longer but being a facilitator. There is beaucoup sales potential there.
And how about new product extensions utilizing both companies' products, how much new revenue potential does that represent?
Also remember another advantage IBM has - arguably the biggest, most valuable customer base in the IT world. Banks, insurance companies, government agencies large and small, universities, and Fortune 500 companies will now be available to use Red Hat products and services. Instead of competing, RHT walks in the front door with the IBM salesman.
Cloud, IoT, AI, Watson - try to think of an IBM endeavor that would not be more valuable with Red Hat.
IBM has done this before
In 1995, IBM paid the unheard of price of $3.5 billion for Lotus, mainly for its collaboration software notes. Today, IBM Domino/Notes has over 30 million users and has just released its most recent version 10. That's 23 years to date and a schedule going out to 2025 makes it 30 years. That's what I call a long-term return on investment.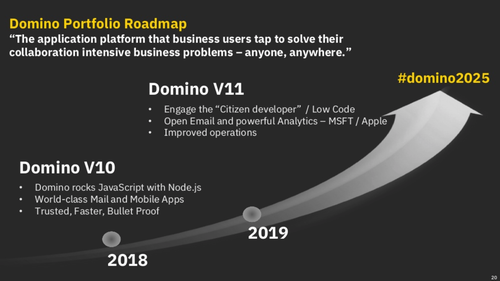 Here is a link to the history of Lotus on encyclopedia.com (see here):
Following the merger with IBM, Lotus doubled its sales of Notes each year."
Look for a similar outcome for Red Hat.
Conclusion
So, in my estimation, this looks like a slam dunk for IBM. RHT is a real sexy deal for IBM, and once the market comes around to the synergies IBM both sales and the stock price will go up. If by chance someone else ups the bid, I think IBM will beat it unless the price is completely out of whack.
This is a marriage of the last 50 years of technology with the next 50 years of technology. Hard to beat that.
Not to mention arguably the most rock-solid 5% dividend on the market. What's not to like?
IBM at the $115 level or lower is a buy. We will wait for the volume to recede to more normal levels and then move forward.
If you found this article to be of value, please scroll up and click the "Follow" button next to my name.
Note: Members of my "Turnaround Stock Advisory" service receive my articles prior to publication, plus real-time updates.
Disclosure: I/we have no positions in any stocks mentioned, but may initiate a long position in IBM over the next 72 hours.
I wrote this article myself, and it expresses my own opinions. I am not receiving compensation for it (other than from Seeking Alpha). I have no business relationship with any company whose stock is mentioned in this article.