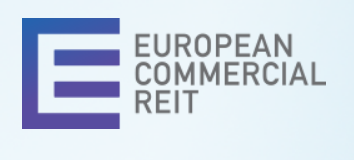 European Commercial Real Estate Income Trust (TSX: ERE.UN), or ECREIT for short, is one of the few REITs in North America with a focus on European real estate. It first IPO'd in late 2016 and since then, it has grown to 6 buildings in its portfolio. The company currently trades at an attractive yield of more than 9% with plans to grow bigger.
The company has some distinct advantages that gives it an edge over other REITs:
Lower interest rates
A network to the European market
Its Cash Flow is strong and its dividend yields are sustainable
Low Interest Rates
An advantage of investing in European real estate is its relatively low interest. While Canada and the US central banks have been gradually hiking rates, the central bank in Europe has continued to maintain its rates at historic lows. Below shows the interest rate on property debt at 1.82%:

(Source: ECREIT Q2-2018 Financials)
The Bank of Canada has its prime rate currently set at 1.75% and most Canadian banks have adjusted borrowing rates accordingly to 3.95%. Likewise, the US Federal Reserve had recently raised its rate from 1.75% to 2.00%, and the US banks followed along by bumping interest rates to 5.00%.
This cost advantage has helped ECREIT maintain a slightly higher profit margin compared to other REITs
Local Relationships to European Market
In real estate, it is about who you know and the networks. In ECREIT, its management and board of trustees are well connected in the European real estate market.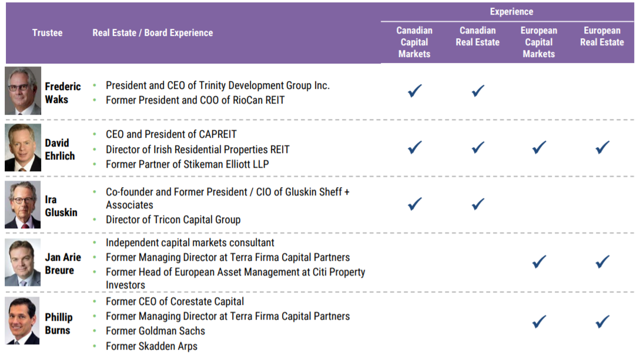 (Source: ECREIT Website)
Its ability to pull off a REIT where its operations are in Europe while being publicly listed in Canada is no small feat. Not many REITs are able to manage that, with the exception of DREAM Global REIT (OTC:DUNDF).
The wealth of experience and know how in its management and trustee ranks should help the REIT reap benefits in the long run. If real estate is about who you know, then ECREIT should be able to leverage some of these connections.
Its Cash Flowing Positive
Q2-2018 marked the first time the REIT has started generating positive cash flow: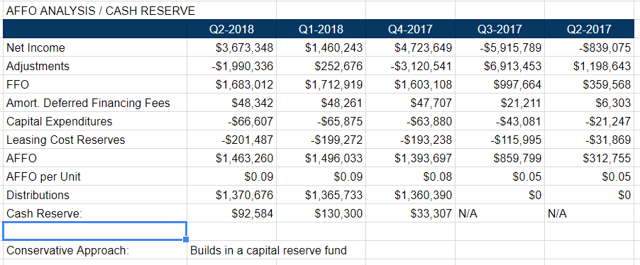 (Source: ECREIT Financials)
ECREIT have started earning positive cash flow since Q4-2017, and over time with rent steps, the cash reserve will steadily build up.
The strength of its rent is also based on how strong its tenants are. ECREIT is a small REIT with only 6 buildings, so if any tenant misses its rent then right away it will negatively impact its dividend distributions.
The REIT has 10 tenants where one tenant occupies 4 of the 6 buildings ECREIT owns. This one tenant is an electric utility company with a strong credit rating therefore the risk of missing a rent payment is low. However, this one tenant makes up a sizable chunk of ECREIT annualized base rent (~2.2 € million or ~33% of the total)
Another major tenant of ECREIT is Federation Wallonie-Bruxelles (a Belgian government agency). This tenant makes up ~3.6 € million of the annualized rents or more than 50% of the total annualized base rent.
With both major tenants combined, it represents more than 80% of ECREIT's total rents. Both tenants have strong credit ratings, but the lack of tenant diversification is a risk for the REIT because if one of them decides to vacate, it will force ECREIT to cut distributions.
However both tenants have more than 6 years before its lease term expires. This gives the REIT time to acquire more properties or to negotiate its renewals. Also, these tenants may not want to move because to do so requires a huge cash outlay and a logistical nightmare to plan employees from one location to another.
Also, every quarter ECREIT is building up a capital and leasing cost reserve, so I anticipate that ECREIT will spend the cash to entice the major tenants to renew if it comes to that.
New Acquisitions Have Slowed
On ECREIT's website, it has stated its intent to expand, but it has been almost a year since its last acquisition. It brings to question whether the acquisition pipeline has dried up or property owners in Germany are in no mood to sell.
ECREIT can sit on its existing properties if it so chooses, but that also means there will not be any opportunities to increase its dividend payout.
By factoring in a slowing acquisition pipeline and a concentrated tenant profile, a more than 9.0% dividend yield is justifiable. Investors are buying into a REIT with a slightly higher risk.
In weighing the risk and return on ECREIT, I do see the benefits outweighing the risk. This REIT has a depth of real estate knowledge and connections, Its already generating positive cash flow, and its tenants are credit worthy. At a time when the stock market is volatile right now, a REIT like ECREIT makes sense for a defensive play.
I rate ECREIT a BUY!
Disclosure: I/we have no positions in any stocks mentioned, but may initiate a long position in ERE.UN over the next 72 hours. I wrote this article myself, and it expresses my own opinions. I am not receiving compensation for it (other than from Seeking Alpha). I have no business relationship with any company whose stock is mentioned in this article.