GE Q3 Earning Call: Expectations Not Met
In my article "GE: Q3 Earnings Expectations," I set out what I expected from the General Electric (GE) third quarter 2018 earnings call:
A planned drive to create new markets and develop the business segments from within;
Possible further write-downs of assets and/or increases in accruals and provisions;
A revamp of the presentation of the financial statements and reports, including greater transparency; and
A reset of GE earnings guidance for FY 2018
GE Virtually Eliminates Its Dividend – Yielding To The Inevitable
I failed to include the dividend cut in my expectations, possibly because I considered it a foregone conclusion. I explained, back in July, why the dividend should be cut, in my articles, "GE: When Shareholders Understand This, They Will Demand A Halt To Dividends" and "GE's Free Cash Flow: It's 'Fake Cash'", and "GE: Too Little Earnings, Too Much Dividend, Share Price Will See $10 Before $20". Keeping a one-cent quarterly dividend makes sense. It allows ETFs and funds, whose mandate requires they only invest in dividend paying stocks, to retain their GE shares. The share price will be coming under enough pressure without unnecessarily adding to that pressure.
Culp Didn't Do Enough On The Q3 Call To Save The Share Price
Back on July 8, I authored the article, "GE: Too Little Earnings, Too Much Dividend, Share Price Will See $10 Before $20". Subsequently, following the appointment of Larry Culp as CEO on October 1, I authored on October 3, "GE Might Not Reach $10: Larry Culp Means All Bets Are Off." Following the GE 3rd quarter conference call on October 30, the share price went as low as $9.87, so my July 8 prediction has been met. Larry Culp just did not do enough on the 3rd quarter earnings call to save the share price (reality sets in – Culp is not superman). It is worse than that, because Culp advised the next update will not be until January 2019. That leaves the following concerns and issues discussed in the 3rd quarter earnings call to fester like a bad sore.
SEC expanded investigation – "Also, the SEC expanded the scope of its ongoing investigation to include the goodwill charge.

"

Ongoing restructuring costs –

"We also incurred $0.06 of restructuring, principally in Corporate and Power, $0.02 of charges related to BD transactions and $0.01 for our share of Baker Hughes GE's restructuring. (I think BD stands for Business Development – why not just call it that instead of all this jargon?)

Power segment problems unrelated to the market – "In the quarter, the business incurred an operating loss of $631 million, profitability was negatively impacted by charges in GPS related to challenges in project execution and liquidated damages. We also recorded $240 million of warranty and maintenance reserves related to the HA 9FB stage 1 blade issue."..."we also expect to incur a similar incremental amount of cost over time related to the blades as we perform planned outages in our services contracts.

" Author - Ouch!!

Renewables segment – "Segment profit was down 72% and margins were down 660 basis points, driven by significant pricing pressure and lower repower volume.

"

GE Capital – "Finally, on GE Capital, continuing operations generated net income of $19 million in the quarter, down $5 million from the prior year. Total year earnings will be affected by the timing of asset sales and related gains and losses. Additionally, the business may be impacted by updates to U.S. tax reform legislation and our assessment of the insurance reserves in the runoff insurance business which we perform annually in the fourth quarter.

"

New accounting standard - There was a new insurance accounting standard issued in August of 2018. We're evaluating the effect of the standard and anticipate its adoption will materially affect our financial statements when it takes effect in 2021.
Earnings and cash flow guidance – "While our businesses are generating cash flow along with expectations, it's clear that with respect to Power the issues will persist longer and with deeper impact than we had initially expected which will cause us to significantly miss our full year cash flow and earnings targets.

"
The foregoing leaves me with the impression the process of change at GE will take an extended time, and there are many possibilities for unfavorable surprises during that time. The only conclusion I can come to, with all the overhangs, is the share price will remain under pressure, at least until the CEO's update in January 2019, and possibly well beyond that.
Revamping Presentation Of GE's Financial Statements And Reports, Including Greater Transparency
A revamp of the presentation of the financial statements and reports including greater transparency – well, it just did not happen. Interestingly, GE Financial Communications published an interview with former CFO Jeff Bornstein, written by Jeff Bornstein, here on Seeking Alpha back in March 2015, titled "GE CFO Jeff Bornstein: How We Have Reimagined Our Financial Reporting." The summary points at the beginning state:
GE's new 10-K is the latest step in our plan to refresh and enhance our public disclosures.

This plan started with the Proxy Statement and most recently included a new format for our Earnings Release.

The goal is transparent and contemporary disclosures to better communicate with our investors.
The article includes a video by Jeff Immelt explaining the changes and how good they are. From the disclosures the author, Bornstein, was long GE, obviously blissfully unaware of the massive under provision in insurance reserves and other accounting issues.
A Helpful Revamp Of GE's Non-GAAP And GAAP Results
Rather than just sit back and criticize, I present below what I would like to see from GE in their adjusted non-GAAP and GAAP reporting.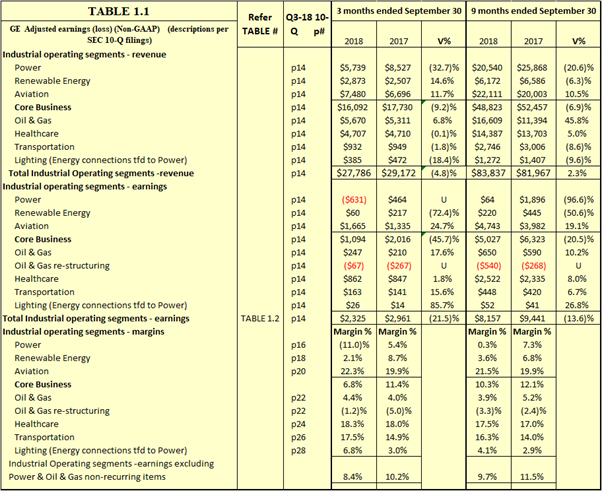 GE Industrial Operating Segment revenues and operating income can be found at page 14 of the Q3-2018 10-Q filing with the SEC. But the margins by segment are only found under the reporting by individual segment in pages 15 to 28. It would be helpful to readers if the 10-Q had a summary of margins by business segment added to page 14 of the 10-Q (as per TABLE 1.1 above). This would allow a reader to get an overall view of margins and to easily drill down to areas of concern. There is plenty of white space on page 14 to incorporate a summary of margins by segment. TABLE 1.2 below reconciles Total Industrial Segment Profit (Non-GAAP) to Adjusted earnings (loss) (Non-GAAP).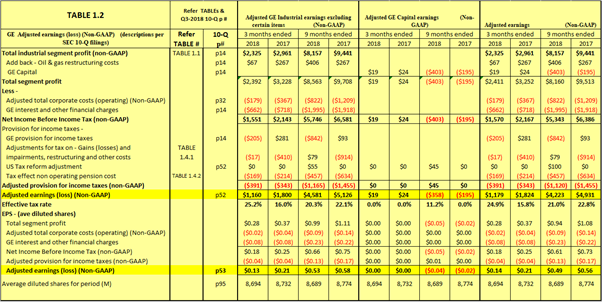 Total Industrial segment operating income, and Adjusted earnings (loss) non-GAAP are the main focus of GE's quarterly reporting. But it is quite difficult to gain an understanding of what is included and what is not included in getting from one to the other. As can be seen from the links to the 10-Q, I had to dig through the whole of the 100 plus page 10-Q report to pull together all the bits and pieces that make up TABLE 1.2. It is a worthwhile exercise. I can see that Oil & Gas restructuring costs are included in Total Industrial segment Operating Income per TABLE 1.1, but when I bring the Segment Operating income forward into the reconciliation in TABLE1.2, I have to exclude the O&G restructuring costs for the Adjusted earnings (loss) (Non-GAAP) calculation. I find TABLE 1.2 particularly useful because it allows me to calculate the effective tax rate for Adjusted earnings Non-GAAP and compare across periods. It also shows a reconciliation from Segment EPS through to Adjusted earnings EPS. The next TABLE 1.3 shows the detailed reconciliation from the Non-GAAP result to the GAAP result for GE shareholders.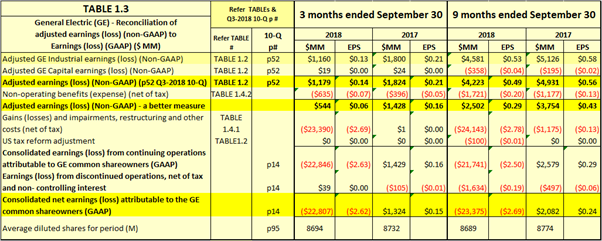 TABLE 1.3 tracks how a Non-GAAP EPS result of $0.49 for the nine months to September 30, 2018, turns into a GAAP loss of $2.69 per share. I think it is fair to say, a lot of investors assume GE's Non-GAAP earnings and EPS represent the underlying earning power of GE. They assume, once all the "nasties" are cleared up, this level of earnings and EPS will be achievable on a GAAP basis. But one "nasty" that will not go away is the Non-operating benefits expense, which is $0.20 per share for the 9 months ended September 30, 2018. If Non-operating benefits expense is included, the underlying EPS reduces from $0.49 per share to $0.29 per share. I can see no good reason for excluding Non-operating benefits expense when calculating underlying earnings and EPS. TABLE 1.4 below contains additional detail for items included in TABLEs 1.2 and 1.3 above.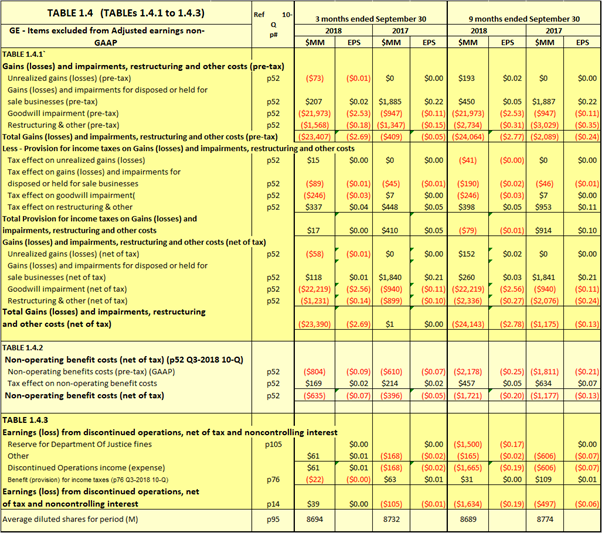 It will be seen from TABLE 1.4.3, GE have established a reserve of $1.5 billion to cover fines from the investigations currently being carried out by the Department Of Justice per the following from page 105 of the Q3-2018 10-q,
During the first quarter of 2018, we also recorded a reserve of $1,500 million in connection with the U.S. Department of Justice's (DOJ) ongoing investigation regarding potential violations of the Financial Institutions Reform, Recovery, and Enforcement Act of 1989 (FIRREA) by WMC and GE Capital discussed in Legal Proceedings. This charge was recorded in the first quarter based upon our estimate of the loss contingency at that time, including the status of our settlement discussions with the DOJ in the first quarter and an assessment of prior settlements reached in similar matters. There have been no changes to this estimate since that time.
This reserve was established in first quarter 2018, so takes no account of the recent $22 billion Power goodwill impairment charge which is also being investigated by the DOJ. It never fails to confound me that the shareholders are harmed by these matters, and then the company is fined, and that causes further harm to the shareholders.
A Reset Of GE Earnings Guidance For FY 2018
I already have 9 months actual results for FY 2018; 9 months restated actuals for FY 2017, and Q4-2017 actuals. I need only restate Q4-2017 actuals, and project Q4-2018 to get to full year estimates for FY 2017 (restated) and FY 2018. My projections for the industrial operating segments are contained in TABLE 2.1 below.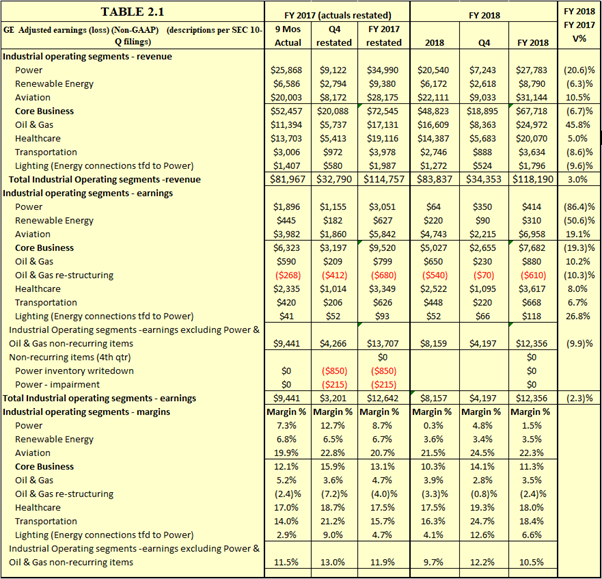 In TABLE 2.1, for the most part, I have taken the 9-month percentage increase (decrease) of FY 2018 revenue and earnings versus FY 2017 revenue and earnings, and then applied those percentages to the restated Q4-2017 figures to arrive at estimates for Q4-2018. Exceptions are Power, where I put in an arbitrary $350MM earnings for Q4-2018, and Oil & Gas restructuring where I included $70 million in recognition these costs are reducing. The $350MM Power earnings estimate has an estimated EPS effect of 3.2 cents (net of tax). If Power Q4-2018 result came in at zero or doubled to $700MM the overall adjusted earnings (non-GAAP) EPS would decrease or increase by $0.032. It should be noted Q4-2018 should be an "easy beat" for GE due to the inclusion of $1.065 billion of write-downs in Q4-2017 industrial segments results. TABLE 2.2 below completes my projections through to the estimated adjusted non-GAAP results.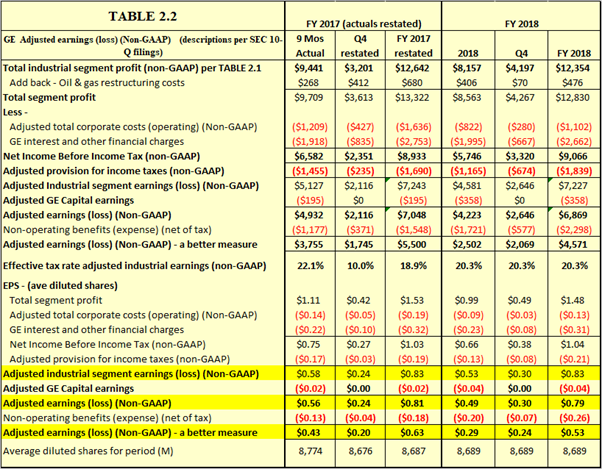 Per TABLE 2.2 above, Adjusted industrial segment earnings (Non-GAAP) EPS for FY-2018 is expected to come in at ~$0.83, fairly much in line with FY-2017 restated result. There is a possibility for GE capital to book gains on sale of assets, or to incur impairments of assets in Q4-18. Due to this uncertainty, I have made a nil estimate for GEC earnings for Q4-2018. That leaves GEC with an estimated EPS loss of $0.04 for FY-2018. Including GEC, Adjusted earnings (loss) (Non-GAAP) EPS for FY-2018 is expected to come in at $0.79, well short of the last published guidance from GE of ~$1.00 per share. I questioned GE's ability to meet guidance as far back as February in my article, "GE: Keeping Management 'Honest' On 2018 Guidance - Share Price Could Go To $10". Despite additional funding, non-operating pension costs have increased over FY-2017. This is in part due to the reduction in tax rate from 35% to 21%, thus increasing the after tax cost of benefits by ~22%. But the increase is much greater than this with Non-operating benefits expense EPS effect increasing from $(0.18) in FY-2017 to $(0.26) in FY-2018. You will see I have deducted non-operating benefits expense to arrive at, "Adjusted earnings (loss) (Non-GAAP) – a better measure", showing FY-2018 estimated EPS of $0.53, around 50% of guidance. This is a much better measure of underlying earnings. TABLE 3 below shows estimated share price for GE based on " Adjusted earnings (loss) (Non-GAAP)" and "Adjusted earnings (loss) (Non-GAAP) – a better measure", EPS at a range of P/E ratios.

Given all the known and unknown concerns associated with GE, it would be hard to justify a P/E ratio over 12. Even at a P/E ratio of 12, TABLE 3 shows the indicative share price, based on GE's basis of reporting non-GAAP EPS, indicates a share price range of $8-$11 at FY-2018 estimated EPS of $0.79 per share (plus or minus 20%).
Using "Adjusted earnings (loss) (Non-GAAP) – a better measure", from TABLE 3, the indicative share price range is $5-$8 at FY-2018 estimated EPS of $0.53 per share (plus or minus 20%).
GE 3rd Quarter Earnings Call Did Not Live Up To Expectations
The conclusion to my last article on GE:
In conclusion I expect a very interesting GE 3rd quarter earnings call. I certainly do not expect it to be dull. I will plan to author a further article on whether or not my expectations were met or exceeded following the conference call.
To say I was disappointed by the earnings call would be an understatement. That is possibly more about my expectations than anything else, although it is a sentiment expressed by other authors here on Seeking Alpha. The problem for GE now is there is nothing to breathe life into a share price that is unsupported by earnings and beset by concerns about further charges related to both assets and liabilities. I can see no other direction for the share price than a slow drift downward, unless there is positive news. With the next update not occurring until into 2019, the only avenue for this appears to be through press releases.
Author's note: I am close to proceeding with a Marketplace offering to crowd-source the analysts among us (professional, amateur, and aspirants), to join cooperatively and assist each other, contributing our individual experience and skill sets, to develop and share comprehensive and meaningful research reports and projections for a wide range of companies of interest to us. If interested in learning more and keeping abreast of my progress, please press the "Follow" button opposite my name at the top of this article.
Disclaimer: The opinions in this document are for informational and educational purposes only and should not be construed as a recommendation to buy or sell the stocks mentioned or to solicit transactions or clients. Past performance of the companies discussed may not continue and the companies may not achieve the earnings growth as predicted. The information in this document is believed to be accurate, but under no circumstances should a person act upon the information contained within. I do not recommend that anyone act upon any investment information without first consulting an investment advisor and/or a tax advisor as to the suitability of such investments for their specific situation.
Disclosure: I/we have no positions in any stocks mentioned, and no plans to initiate any positions within the next 72 hours.
I wrote this article myself, and it expresses my own opinions. I am not receiving compensation for it (other than from Seeking Alpha). I have no business relationship with any company whose stock is mentioned in this article.