Five months ago, we highlighted the structural problem being faced by the US Gasoline market.
We expected gasoline cracks to remain at seasonal lows but did not expect gasoline cracks to hit negative levels relative to Brent. US Refiners that are taking in Brent based barrels are now losing money on making gasoline, a very rare event.
Chart 1: Gasoline Crack Spread to Brent ($/BBL)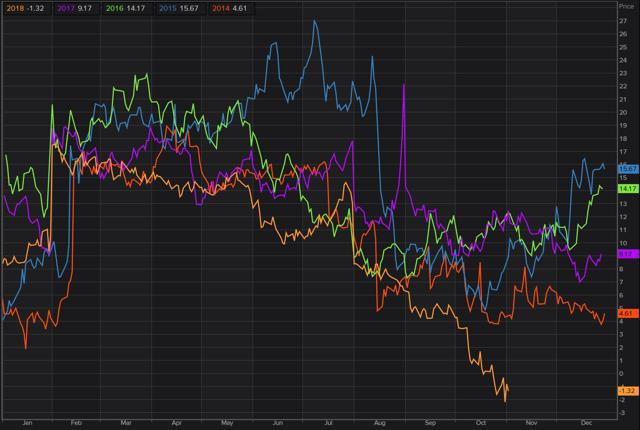 Sources: Reuters, CME
EIA Weekly Statistics: Is the worst over or yet to come?
This summer, US gasoline stocks did not draw between July to September like they seasonally do. This is because high imports and no yearly demand growth kept inventories very healthy. In addition, last year's Hurricane Harvey severely impacted refining operations that reduced the gasoline supply. This year, there was no big hurricane such as Harvey and US refineries ran at record high levels.
We have seen around 9 million barrels of stock draws in the month of October due to high exports. Stocks are just above the 5-year range. However, the problem arises due to the big inventory builds we normally see in November and December. If the stocks build like they normally do seasonally, we can expect stocks to hit 250 million barrels by the end of this year, which is a record high.
Chart 2: US Gasoline Stocks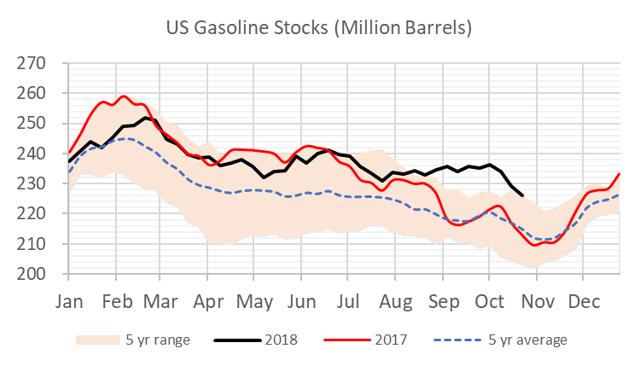 Source: EIA
US gasoline demand has been very disappointing this year. Despite very low unemployment rates and a strong economy, rising gasoline prices (compared to 2016/17 levels) has caused some demand destruction. US demand for other oil products like diesel has been very healthy. Diesel demand which is mainly used by industry rather than consumers is up 5% year on year.
Chart 3: US Gasoline Product Supplied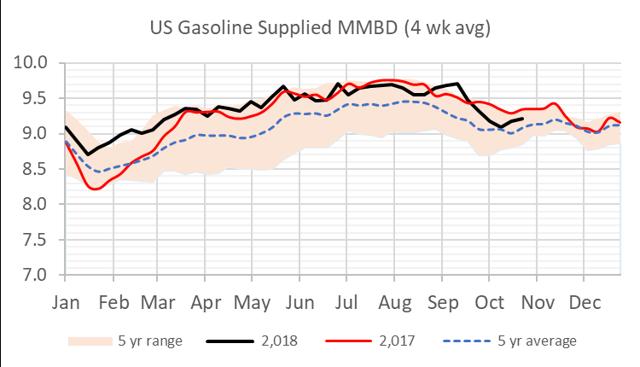 Chart 4: Average US Retail Gasoline Prices

Source: EIA
One of the most perplexing questions for the US gasoline market is the gasoline yield. Gasoline prices have been under heating oil and other distillates throughout this year. Logically, US refiners should be lowering their gasoline yield as they can make more money by producing distillates. This was the case in summer as the weak gasoline market forced US refiners to produce less. However, recently, this yield has gone up. Some refiners like Valero (NYSE:VLO) mentioned in their Q3 earnings that they have very healthy demand in Mexico and plan to supply that Mexican demand. On the other hand, some analysts say that the US crude slate is getting lighter due to US shale production that inherently produces more light products such as gasoline compared to heavier distillates.
Chart 5: US Gasoline Yield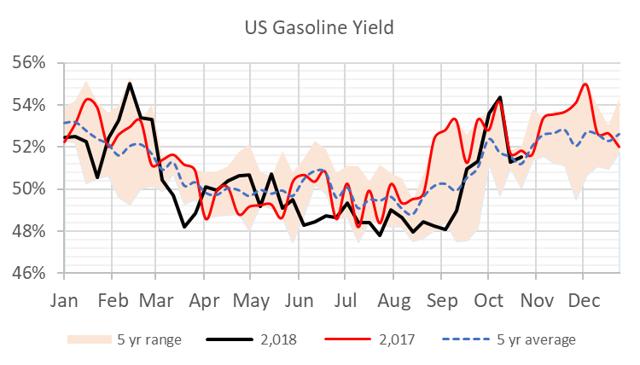 If US gasoline yield is expected to remain high, then along with higher US refinery runs, we will witness a gasoline glut in the US. US refineries are running very hard, almost close to capacity, as they maximize taking advantaged crudes like Canadian WCS, Bakken which are pricing at big discounts to international benchmark crudes.
Chart 6: US Crude Oil Refining runs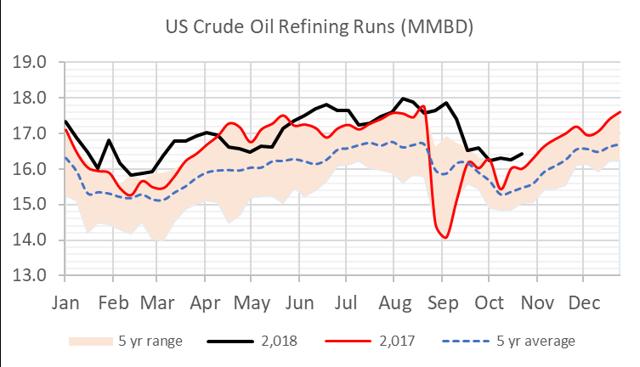 Another way to balance the increasing amounts of gasoline being produced is to export it to the rest of the world. Currently, the bulk of US exports go to Mexico. US refiners are increasingly sending gasoline to Mexico whether it's by ship or by rail. However, exports are already at a record high seasonally, and doubts remain whether Mexican buying will remain strong through the end of this year. In the event of a drop in Mexican demand, US will need to price its gasoline lower in order to reach further markets.
Chart 7: US Gasoline Exports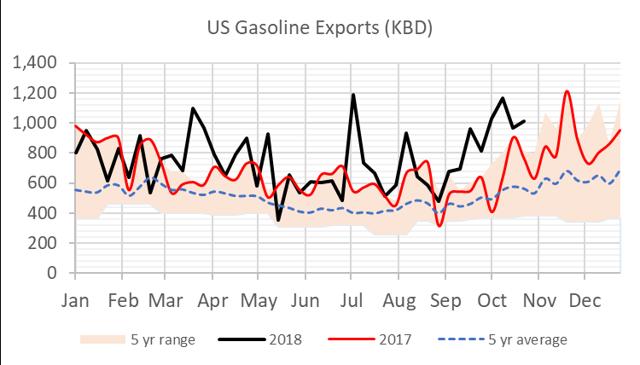 Conclusion
US gasoline market has been weak throughout this year, and buying RBOB on the dips has been a very painful strategy. We will witness big builds in the coming 2-3 months which will lead to stocks reaching a record high. In order to get bullish on the gasoline market, we need to witness a supply mechanism from the US refiners. The low RBOB prices and negative cracks have to create an incentive for them to produce less. However, refiners have a long lead time, and timing this market will be tricky. Until the gasoline market remains depressed, it will continue to be a drag on oil prices in the medium term.
Disclosure: I/we have no positions in any stocks mentioned, and no plans to initiate any positions within the next 72 hours.
I wrote this article myself, and it expresses my own opinions. I am not receiving compensation for it (other than from Seeking Alpha). I have no business relationship with any company whose stock is mentioned in this article.