Investors were happy to wave goodbye to the Red October as the green shoots of positive returns were sighted in the closing days of the month. President Trump hinted at a potential trade deal with China which helped support the market; however, little of substance has yet come out.
We view the current market as tactically attractive with a number of sectors and funds trading at fairly distressed levels. We think heightened volatility is a standard feature of a late-cycle market, and particularly so when the hiking cycle features a hawkish Fed. Stable breakevens and faltering markets are unlikely to dissuade the Central Bank from further hikes, especially in an environment of tight labor market and rising wages. That said, we don't think long-end yields are as threatening as they may seem given that a recession will be followed by an inverted yield curve and short-term rates are only expected to rise to 3.375%.
We continue to like the Loan and Mortgage sectors given their lower volatilities and dampened betas to equities and bonds. We think Loans will continue to remain robust in the near term to heightened market volatility and remain supported by rising short-term rates which should lead to increased distributions. The consumer sector of the economy has deleveraged nicely since the financial crisis, and while higher rates have dampened housing activity, the still-low consumer debt servicing costs and relatively low debt levels should support the Mortgage fund space.
Markets
October saw the worst monthly return of the 60/40 portfolio since the end of the financial crisis. The cause was similar to the previous drawdowns - a large negative covariance rate shock that took big chunks off both bonds and stocks.
The added push, we think, was due to the relatively high valuation of the Equity market, which has now rightsized and looks closer to the historical average on a forward P/E basis.
Interestingly, the rate shock has come in a period of falling inflation breakevens, which we think are primarily driven by the collapse in the Oil price. And while lower inflation expectations will not dissuade the Fed from further hikes, particularly when the labor market is running hot, we are watching any further divergence between the Fed and the market, as previous disagreements have fueled volatility.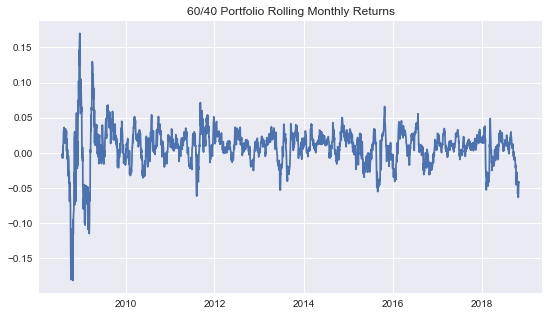 Risky assets, apart from the large Oil outlier, had a good week as the market retraced some of its prior weakness. Fixed-income assets were slightly down as bond / equity correlation normalized with negative bond returns.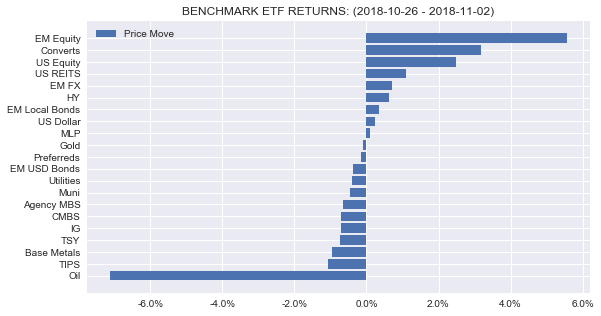 Macro
Payrolls rose by 250k in October, beating expectations. Unemployment was unchanged, with the labor force expanding by 771k.
Wages rose by 3.1% year on year - the highest rate in this cycle, though well short of the rates reached in previous expansions.
The message emanating from the economy is still resoundingly strong. The length of the cycle is a growing focus of the market. However, recent volatility and the potential economic slowdown and rebalancing is precisely what is needed if the economy is to continue expanding.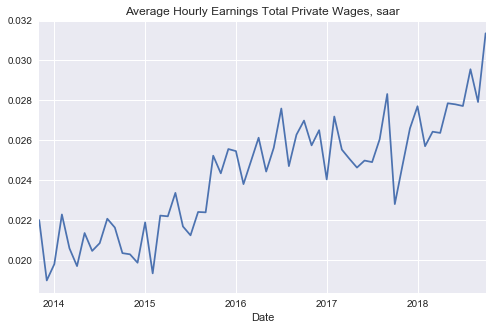 Fund Space
Most sectors finished in the green this past week, taking advantage of the mean reversion on offer. Most discounts retraced the previous widening, however, sector Z-Scores remain depressed, with about half of the sectors we follow sporting double-digit discounts. We don't expect a strong reversal of this widening given the current market environment of heightened volatility, higher real rates and growing inflation - all of which tend to lead to wider discounts.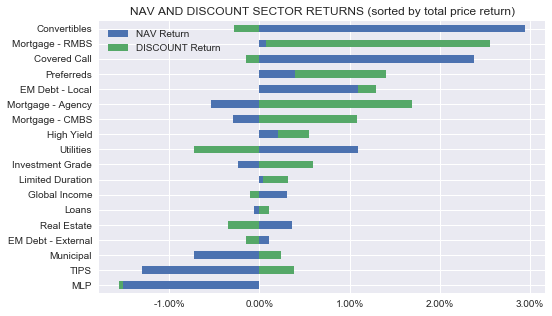 A Case of the Loan Discount Puzzle
One mystery that we have been following over the past few months has been the pricing of discounts in a number of sectors we follow. For example, the Loan sector is one that we have liked due to its low duration, low volatility, an increase in expected distributions due to higher front-end rates and strong technicals.
The gross NAV performance of this sector has been fairly good at +4.4% year on year, and the price performance is still the best in the corporate credit space. However, the widening of the discounts in the sector has been larger than we expected and larger than in other worse-performing credit sectors. So, the puzzle to us is why a well-performing sector that is favored by macro and market dynamics has been so out of favor by investors, judging by its poorly performing discount.
To investigate the puzzle, we take a closer look at the corporate credit closed-end fund space to see if we can come up with a sensible explanation for this dynamic.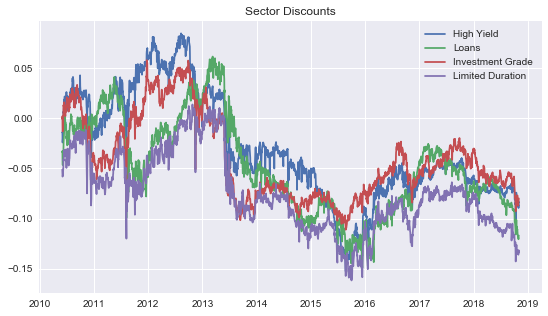 What's Up with Loans?
In this section, we summarize the Loan sector metrics relative to the three other credit sectors. Positive statements are marked with (+) and negative with (-).
(+) Loans have by far the best performance on a 1-year NAV basis.
(+) Loans have the lowest price volatility and relatively low correlations to bonds and equities and the second-lowest correlation to other CEF sectors.
(+) Loans also have the lowest drop in distributions over the past 3 years.
(+) Loans are tied for the best YTR metric (Yield-to-Risk = 12M Yield / 1Y PX Vol).
(+) Loans have the lowest 1-year price drawdown.
(-) Loans have the lowest yield.

Scanning pluses and minuses in the list above, it's clear that loans look relatively good in the corporate credit space, so what explains their second-widest discount and tied-for-highest Z-Score?
Of course, one answer for why the Loan sector discount has underperformed while the NAV has outperformed could be that the discounts are totally random. However, this goes against the intuition and apparent evidence of the fund market price action.
Discounts tend to widen when sectors cut distributions unexpectedly, volatility rises, interest rates rise and NAV returns are weak. While higher volatility and interest rates have risen, it does not explain why the Loan sector, which exhibits relatively lower volatility and benefits from higher interest rates, should see its discount underperform. The sector has also seen fewer cuts to its distribution than the other sectors and has high NAV returns.
Before we collect our toys and go home, let's brainstorm what other plausible explanations there could be for such apparently counter-intuitive discount behavior in the Loan sector.
Other Possible Fair-Value Discount Models
Forward-looking Performance Expectation
This potential discount behavior explanation suggests that investors will adjust their appetite for a particular sector not based on historical performance or current macro environment but on future expected returns. This suggests that if a given sector is expected to underperform in the future, discounts may widen in expectation of this underperformance. In the case of the Loan sector, in particular, there has been a significant amount of bearish press, and this may be reflected in wider discounts.
While this explanation is not implausible, we do find it difficult to accept. It would have to be the case that the Loan closed-end fund market, which is fairly inefficient and exhibits relatively little liquidity, little size and volume would be the canary in the coalmine in the $1 trillion+ Loan space.
Another possible explanation for the Loan sector discount underperformance may be the relatively straightforward dynamic of low-yielding sectors exhibiting less demand. This relationship suggests that sectors with low yields would enjoy less interest from investors, and consequently, would see their discounts widen in relative terms. So, a low-yielding fund which has outperformed on an NAV basis would struggle to see its discount tighten because its yield would shrink. A high-yielding sector would not have this problem to the same degree, unless it has rallied so much that it also becomes a low-yielding sector.
This dynamic makes more sense to us, especially in the context of the closed-end fund space being particularly appealing to Income investors. The chart below also lends some credence to this dynamic, as higher-yielding funds tend to have tighter discounts because they enjoy more demand from investors.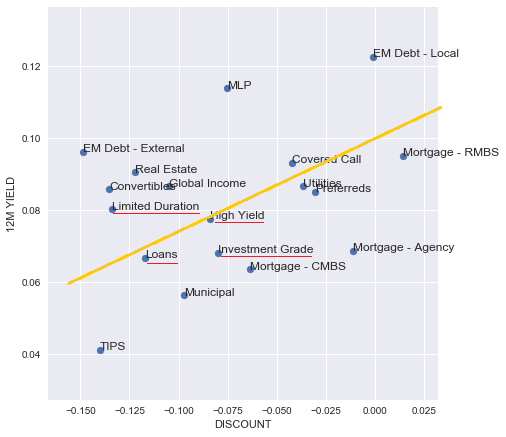 So, what does this mean for the Loan sector?
We do think it is frustrating that the right "call" on the sector NAV is met with weak price action if that sector has a relatively low yield. All is not lost, however. There is a floor to how much the Loan sector can underperform its NAV; at some point, the large absolute discounts will put pressure on management teams to buy back some shares to close the gap. Another support to fund price underperformance will be the growing yield, which will allow the sector to approach the absolute yields of other sectors. This is particularly the case for the Loan sector, given the rise in short-term rates will eventually work its way into distribution increases.
Conclusion
The recent price action in fund space may be disappointing to investors who have carefully crafted their allocation in light of the shifting macro and market conditions. However, with disappointment there is also opportunity - an opportunity not only to learn the lessons that the market has to teach us, but also in what the market makes available to us. A late-cycle environment is typically characterized by wide ranges and heightened volatility. We think scoping up or reallocating into cheap assets on drawdowns will outperform the strategy of chasing assets. We don't think the market is about to turn given it is now anchored by improved valuation and a still strong macro environment; however, it is clear that the headwinds are growing as this cycle continues to mature.
Disclosure: I/we have no positions in any stocks mentioned, and no plans to initiate any positions within the next 72 hours.
I wrote this article myself, and it expresses my own opinions. I am not receiving compensation for it (other than from Seeking Alpha). I have no business relationship with any company whose stock is mentioned in this article.