At Home Group (NASDAQ:HOME) has a lot of growth left in front of it in the U.S. Its goal of 600 stores is achievable in the next decade. Its focus on private-label products, low costs, and constant product refresh gives it a competitive edge.
At Home prides itself in continually refreshing its assortment of home furnishings and selling it at everyday low prices. As of Q2 FY 2019 (July 2018), it had just 165 stores in the U.S. The company's sales philosophy, combined with its low store count, makes it a great and a very rare growth story in brick-and-mortar retail.
Barron's recently published an article on At Home that made an intriguing case. One of the points made by management and stated in that article was that there was still a lot of growth left for this company in the U.S. The company had stated that it had a potential for 600 stores. Since much of the revenue and profitability growth would come from new store openings, it is important for investors to understand the feasibility of At Home Group having that many stores and the time it would take for the company to get there.
In this age where companies struggle to compete against Amazon (NASDAQ:AMZN), At Home may have found a great business model to sell home décor and furnishings with a 100% brick-and-mortar sales model. Even in this steadily growing and strong economy, there has been a wave of store closings in the U.S. At Home has been able to take advantage of the current glut of retail real estate and enter new markets.
At Home has a very low store count in almost all the states in which it has stores, except for the state of Texas. Large states with a huge urban population have almost no store presence. Case in point is the state of California. The company is expected to enter California in 2019. As of July 28, 2018, it had 165 large-format stores across 35 states. At Home stores are about 110,000 sq. ft. each, and over the past five years, it has opened 98 stores. According to the company, the stores that are open more than a year average over $6 million in net sales.
Exhibit: At Home Store Locations by State as of January 28th, 2018

(Source: At Home Company Filings)
My model indicates that the company has the potential of at least $1.5 billion in revenue and approximately $450 million in gross profit from new stores over the next 12 years. So, the new stores alone in the next 12 years can easily more than double the revenue and gross profit. In my model, I only calculated the potential for the 15 largest states in the U.S. These states could add a total of 245 stores and bring the total number of stores to 410.
Exhibit: At Home Future Potential - Number of Stores, Revenue and Gross Profits

(Source: Author Assumptions and Calculations)
If we conservatively assume that it would take 12 years to add 245 stores, At Home could have additional revenue of approximately $122 million and gross profit of $36 million from 20 new stores each year.
Exhibit: At Home Annual Sales and Growth Rate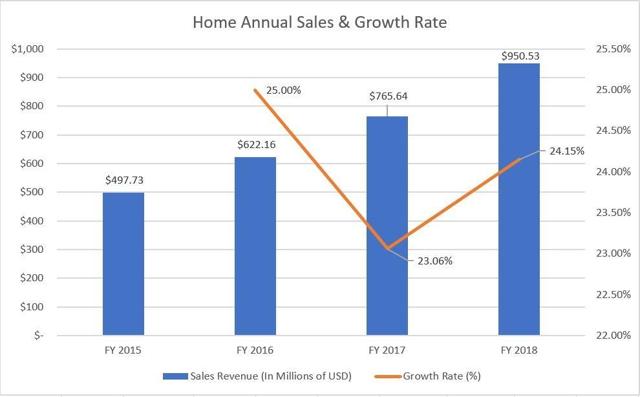 (Source: Company Filings)
Assumptions
I have based my model on the following conservative assumptions:
The average revenue from each new store after the first full year will average about $6 million.

Gross profit would average about 30%. This was 32.2 percent in FY 2018. In Q2 FY 2019, gross profit was 33.7%. So, my assumption at 30% is slightly conservative in this case.

The company would open about 20 new stores each year. It has been opening over 20 stores in each of the fiscal years. So, I have made a very conservative estimate here.
Exhibit: At Home - Number of Stores and Growth Rate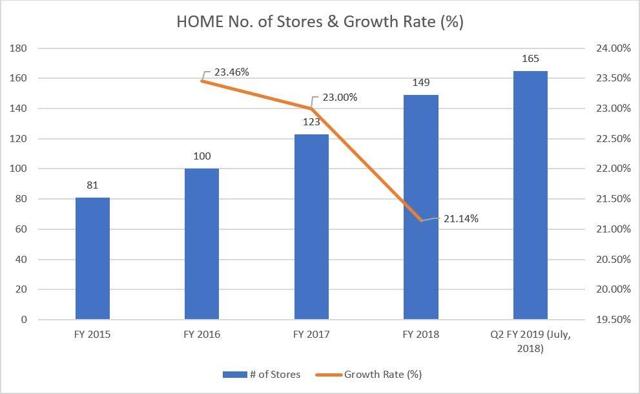 (Source: Company Filings and Author Illustration)
I have estimated the total number of stores in each of the largest unpenetrated or underpenetrated states in the US. To arrive at the future potential number of stores in each of the largest states, I looked at the number of stores owned by one of its competitors, Bed Bath & Beyond (NASDAQ: BBBY). Most of the BBBY stores are between 18,000 and 50,000 sq. ft. For my model, I have assumed that approximately 3 BBBY stores equals one At Home store. So, in a market like California, where BBBY has about 185 stores, I have assumed that At Home has a potential of about one-third that number of stores, or about 60 stores.
Exhibit: Bed Bath & Beyond stores as of March 3rd, 2018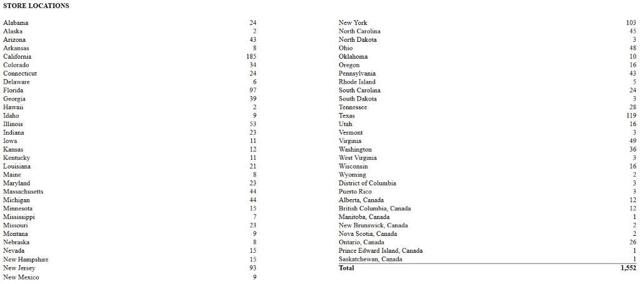 (Source: Company Filings)
There are other levers that the company can pull to help increase revenue. At Home has not spent a lot of money on marketing and brand awareness - it spent just 2% of net sales on marketing in the fiscal year 2016. By the fiscal year 2018, it had increased its marketing spend to about 2.7% of net sales. The company is also looking to expand its loyalty program. Its increased spend on marketing, coupled with the marketing program, can help increase both brand awareness and loyalty. This is critical for success in western states where it has no presence and hence no brand recognition.
Furniture is also expensive to ship, and so, that is an advantage against online stores such as Wayfair (NYSE:W) and Amazon. Wayfair has been reporting an operating loss since 2013. It spends a lot of money on advertising. In the year ended December 31st, 2017, the company spent $549 million in advertising. That was about 11.6% of revenue. So, it has been reporting large operating losses in each of the last 5 years. In 2017, Wayfair reported an operating loss of about $235 million. Contrast that to At Home's operating income of approximately $87 million on revenue of $950 million in the fiscal year ending January 28th, 2018.
The company's focus on low-cost, private-label brands, coupled with its large store format and new product introductions, gives it an edge against the vast array of competitors that it competes against in the fragmented furniture market. The current management has been very prudent and cautious in growing the company. There's still a lot of growth left for At Home Group.
Disclosure: I am/we are long HOME.
I wrote this article myself, and it expresses my own opinions. I am not receiving compensation for it (other than from Seeking Alpha). I have no business relationship with any company whose stock is mentioned in this article.