Brixmor Property Group (BRX) continued making good progress in Q3 on its strategy to strengthen its balance sheet and prune and redevelop its portfolio in order to set the table for long-term growth and outsized shareholder returns. It remains a very good value today for long-term value-oriented dividend growth investors.
Improved Balance Sheet and Portfolio
BRX continued to improve its balance sheet and portfolio strength in Q3 by bolstering and executing its self-funded redevelopment program, selling off a significant number of non-core and lower-quality assets, and paying down a significant amount of debt. Last quarter it improved its liquidity to the point of covering interest expense, dividend payouts, and maintenance CapEx for several years, and this quarter made its balance sheet even safer.
BRX closed on $530.2 million of dispositions, including six assets totaling $76.7 million closed subsequent to quarter end, and used these funds to eliminate $507.2 million of secured indebtedness due in 2020. That is an extremely aggressive disposition and debt reduction pace for a company with a market cap under $5 billion. Even better, this debt bore a weighted average interest rate of 6.2%, helping to limit the dilutive impact on cash flows from the aggressive dispositions.
Another positive from the quarter was the sustained increasing lease occupancy comps, up 90 basis points year-over-year, while the underperforming small shop leasing occupancy increased 110 basis points sequentially. The company also sustained its post-IPO high 310 basis point spread between lease and build occupancy, showing that the company's occupancy rates are set to increase significantly as new leases come online over the next year. Between these improving metrics and the aggressive sale of non-core and troubled assets, the portfolio is clearly becoming better prepared for long-term success in the evolving retail environment.
Management also issued $250 million of Floating Rate Notes due in 2022 in order to repay a portion of their $600 million term loan due next year. While this move improved their debt maturity profile, it was disappointing to see them take on more floating rate debt given the current rising rate environment.
Growth Outlook
The portfolio also continued to exhibit increasingly positive growth fundamentals. 3.1 million square feet of total leasing volume were executed at impressive comparable rent spreads (12.1%). Meanwhile NOI comps grew 1.2%, thanks to strong base rent growth. While this number is trailing inflation, it is still encouraging because it shows that the properties are maintaining operational competitiveness despite retail bankruptcies and the nearly $350 million in-process redevelopment pipeline (not counting the substantial "shadow" pipeline building up) not taking effect yet. These should bring on a significant amount of cash flows given that the $53.8 million of projects that did come online during the quarter yielded incremental NOI yields of 9%.
Despite the lopsided emphasis on dispositions and debt elimination, management did opportunistically move to boost cash flows per share by acquiring one adjacency at an existing center for $1.5 million and repurchasing $48.6 million of common stock (at a double digit cash flow yield, which significantly above the ~8% cap rate received from dispositions). Management also signaled confidence in future growth by hiking the quarterly dividend by 1.8%.
The negative aspect of the quarterly report was that NAREIT FFO was down substantially year-over-year, sitting at $0.42 per diluted share vs. $0.52 per diluted share in Q3 2017. However, these lackluster results were in part due to a loss incurred through the massive extinguishment of debt, whereas last year's figures included a gain on extinguishment of debt. Additionally, management sold off properties at an average 8% cap rate while extinguishing debt at a 6.2% interest rate, significantly reducing the cash flow yield on that capital. These factors led the company to significantly reduce its FFO per share guidance for the year from a $1.995/share midpoint to a $1.915/share midpoint. However, the company did reaffirm its NOI comp growth guidance, confirming what was mentioned previously: the company is trading some of its present cash flows for a much more competitive, stable, and lower-risk footing from which to base its long-term growth. Ultimately, its property rents are increasing, lease spreads are highly impressive, it is selling off non-core and underperforming assets, and using proceeds along with retained cash flows to self-fund redevelopments, buy back cheap shares, aggressively pay down high interest rate debt, and grow its dividend. These factors generate far more long-term shareholder value than squeezing extra short term cash flows out of a mediocre property portfolio and a over-leveraged balance sheet.
Looking ahead, management has about $30 million of signed ABR contracts set to commence by the first half of next year and $44 million in total by the end of 2019. Additionally, management pointed out that they are replacing old KMarts and Toys 'R Us boxes with Sprouts, Marshals, and TJ Maxx stores, which will not only provide strong leasing spreads and redevelopment yields in and of themselves, but will also improve the cap rate and occupancy rates in the entire shopping center in which they are located. This model will drive strong NOI growth over the next several years, especially considering that they will likely not have to sell any equity to fund this growth and in fact will likely continue buying back shares provided they remain cheap.
Compelling Valuation
BRX is once again looking quite cheap on a historical basis as well as on a 52 high-low basis and its forward dividend yield has crossed north of the 7% threshold once again.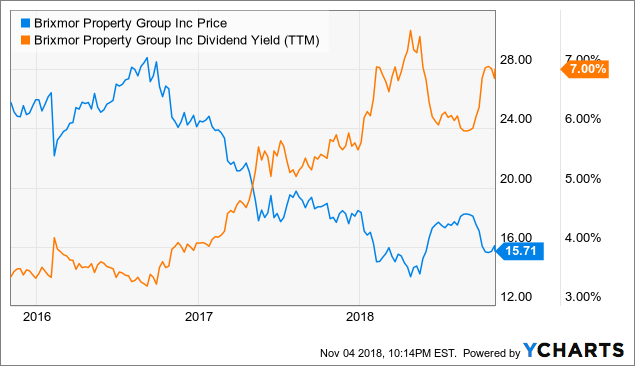 Given that the projected 2018 payout ratio remains very low (58%) despite the dividend hike and reduced guidance, dividend growth should continue at a solid clip. Since the company is buying back shares alongside strong liquidity with expectations of solid sustainable growth in the near future, dividend growth will likely pick up as well within the next year or two. These factors along with the low forward P/FFO ratio under 9x show that there is significant value embedded in the shares, especially considering the reduced risk profile and potential for a credit upgrade.
Investor Takeaway
BRX management continues playing the long game, sacrificing 2018-2019 AFFO/share growth for long-term sustainable growth through a stronger balance sheet and leaner, meaner property portfolio. Debt is declining rapidly, the portfolio pruning is making extremely rapid progress and the company is generating plenty of cash to self fund redevelopments while continuing to buy back shares and growth dividend. The main threat remains a recession, but even this is being mitigated by management's aggressive moves to shrink the company and deleverage. BRX is one of the best options available in retail real estate today and remains a strong buy.
About "High Yield Landlord"
High Yield Landlord is one of the largest and fastest growing communities of real estate investors with over 150 members. We provide a comprehensive service ranked among the very best in uncovering high yielding securities of undervalued real estate companies. Subscription includes:
A real-money portfolio funded with $50,000 currently yielding 7.6%.
Timely BUY & SELL alerts for simple portfolio emulation.
A wealth of data and market intelligence on REITs, mREITs, and other real assets.
If you are looking for the newest and most profitable real estate opportunities, you have come to the right place. For a 2-week free trial, click HERE.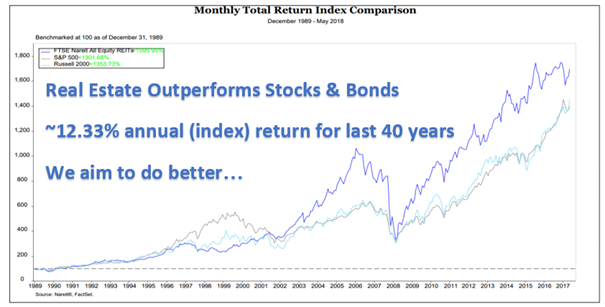 Disclosure: I am/we are long BRX.
I wrote this article myself, and it expresses my own opinions. I am not receiving compensation for it (other than from Seeking Alpha). I have no business relationship with any company whose stock is mentioned in this article.
Additional disclosure: I am a member of the High Yield Landlord research team