Tesla's (TSLA) Elon Musk just got interviewed by Kara Swisher. Some of his comments are at least remarkable in light of the recent quarter. I previously discussed the numbers here.
I'm going to quote part of CEO Musk's answers. I'll follow them up with my perspective.
Just so you know I have some short exposure to Tesla. I have this position for a number of reasons. I like how it balances out some of my longs. There are a lot of undervalued opportunities in the space like General Motors (GM), Fiat Chrysler (FCAU) and NXP (NXPI). At the same time, I also believe there is a viable standalone short thesis.
I will be happy to find out I'm wrong to be short. If in fact I'm wrong, I'd rather find out sooner than later. My attitude towards Tesla is best described as, "things don't seem to add up."
The shorts tell a story, the bulls tell a story, Musk tells a story, the media tell a story and the numbers tell a story. The stories don't add up and that means there could be an interesting investment opportunity (on one of either side).
Now let's review some of Musk's comments in his first big interview post Q3 earnings. There are two main subjects I want to put under a microscope:
1st subject: Margins
It's been a very difficult year. We had the Model 3 production ramp, which was excruciatingly difficult. It is incredibly difficult to survive as a car company. Incredibly difficult. People have no idea how much pain people at Tesla went through, including myself. It was excruciating.
Now here is a slide from the company's latest presentation. I've edited it in paint with green: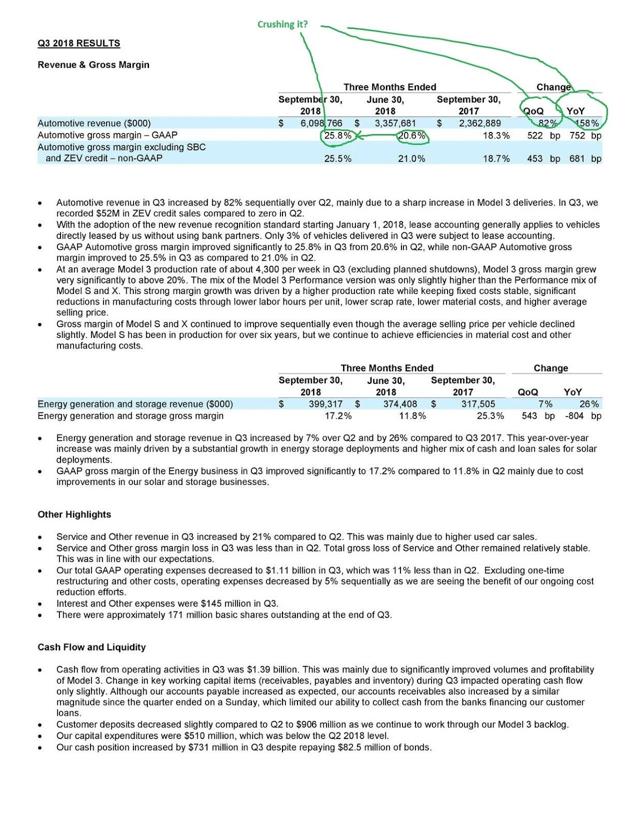 25% gross margins are unbelievably good. To put this into context, look at Toyota (TM) which historically put tremendous pressure on all other automakers because of its efficiency. This company has the scale, the know-how and the experience. It is producing at near-record gross margins. Yet it never exceeded 19% since Tesla has been around. This is an important baseline to keep in mind.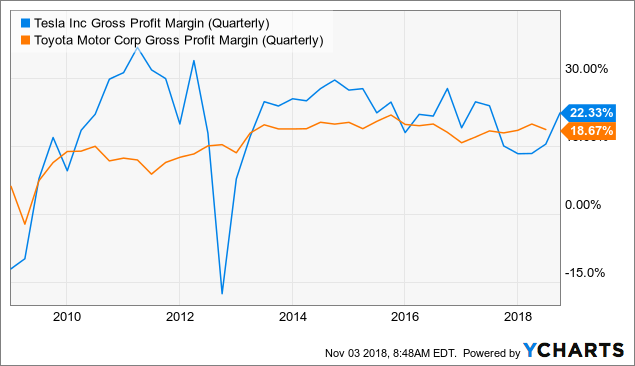 Not that it is impossible Tesla (or any company ever) will be able to achieve these gross margins in a sustainable way. But I have a hard time understanding how it happened, given the problems it dealt with in the past quarter.
You tend to achieve record margin numbers when everything is going well for you, when things come together and everything is running smoothly. Tesla in its Q3 went from production hell to delivery hell. There were multiple fires at the factory and it announced building its own trailers due to bottlenecks. Musk told Swisher:
So, as a startup, a car company, it is far more difficult to be successful than if you're an established, entrenched brand. It is absurd that Tesla is alive. Absurd! Absurd.
It is followed up by this exchange (Swisher's questions in bold):
What do you credit that to?

Excruciating effort.

By you and —

Hundred-hour weeks by everyone.

By everyone here at Tesla.

Yes. There wasn't some other way to do this.
For context, look at this graph showing revenue/employee.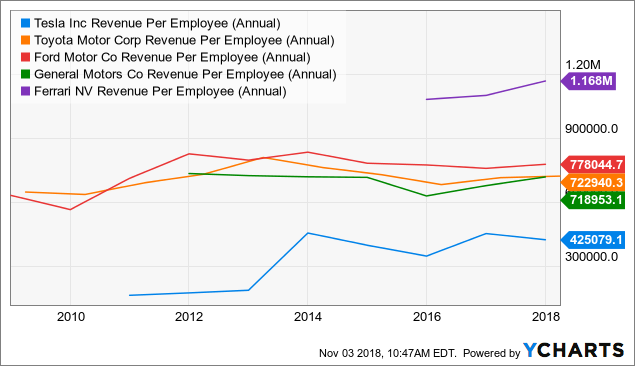 Tesla is lagging companies like General Motors and Toyota. A luxury car maker like Ferrari (RACE) is completely on another planet in terms of revenue per employee.
With a substantial amount of Tesla's revenue coming from the high-priced luxury models S and X, that's worrisome. I expect revenue/employee to improve as the Model 3 continues a year round. But it's something to keep an eye on and I can't reconcile it easily with Tesla letting go lots of employees and these best-in-class margins. Keep in mind a company like Toyota makes lots of low-margin affordable cars while Tesla isn't selling many below ~$50k. More Musk:
...Myself and others at Tesla, we had to go in and fix the mistakes in the Model 3 production system, and there were a lot of them. I personally solved a bunch. Jerome [Guillen] solved a bunch. Everyone helped, the entire team. Javier [Verdura], Franz [von Holzhausen], Deepak [Ahuja], everyone. It was ... like, we had the legal team delivering cars in Q3. Todd [Maron] is great. There was a lot of people ... Everyone had to basically go hardcore to solve the ramp.
I mean having the CEO solving production problems is excusable. In founder-led companies, where this person has a strong background in manufacturing technology, it is not unheard of. Having the legal team deliver cars is just bad business. A good business isn't run to achieve a great quarter, it is run for long-term profitability. Firing people and then having others put in 100-hour weeks don't make sense. Having highly paid professionals deliver cars must have put pressure on margins.
When I review the balance sheet and the cash flow statement, there's barely margin for error there (I think Musk admits as much in the interview saying Tesla nearly died).
I don't understand why these 100-hour work weeks are necessary. Musk keeps repeating (again in this interview) that Tesla won't raise money through equity. I would do it in a heartbeat if I were CEO here. Survival of the company should be one of the absolute priorities. In the grand scheme of things, the Model 3 ramp-up is largely inconsequential. But Musk repeatedly says things in this interview like:
Up until around September, we were really faced with, like, "We must solve this or we're gonna die," constantly. I feel like we're no longer in the staring-death-in-the-face situation.
question by Swisher in bold:
Why do you think you want to push yourself that hard?

Well, the other option would have been, Tesla dies.
It is true that he later adds Tesla is now over the hump. That it is not looking death in the face any longer. That should be mentioned.
But apparently it was very close to extinction during the past three months (maybe the short position wasn't completely without merit even if may no longer be warranted).
But I wonder why? Why not just raise a bunch of equity and get it over with. Most Tesla shareholders I know hold it for the blue sky scenario. They would likely much rather own a smaller piece of Tesla while it dominates the electric future instead of a lot of paper in a Chapter 11.
2nd subject: Competitors
Early on Musk explained how car companies are incredibly competitive: "Making a car company successful is monumentally difficult." He talks about the history of car companies and whether Ford (F) will survive the next recession (I may get into that in a separate article).
Yeah. I don't really think that much about competitors. I just say like, you know, how do we make our cars as good as possible? How do we make sure we have like the best engineering and manufacturing talent in the world?
It is fine to have a customer-centric strategy as opposed to a competition-focused strategy. Around autonomous capabilities, I think it would be productive for the CEO to have an accurate view of the company and its competitive position. This is important to make higher quality decisions like where to spend the company and its resources.
The other car companies ... I don't wanna sound overconfident, but I would be very surprised if any of the car companies exceeded Tesla in self-driving, in getting to full self-driving.

You know, I think we'll get to full self-driving next year. As a generalized solution, I think. But that's a ... Like, we're on track to do that next year. So I don't know. I don't think anyone else is on track to do it next year.
You only have to read a summary of the last General Motors earnings call to find out Mary Barra, its CEO, has been consistently saying it will release an autonomous service in one U.S. city next year.
Softbank (SFBTY), led by Masayoshi Son, a famous tech investor, invested in its autonomous-focused Cruise unit. So did Honda (HMC). Employees are testing Cruise's technology in practice. General Motors is reserving $1 billion to ramp it up for 2019 and that's apparently before the cost of a significant fleet.
$1 billion is a pretty big chunk compared to Tesla's entire R&D budget: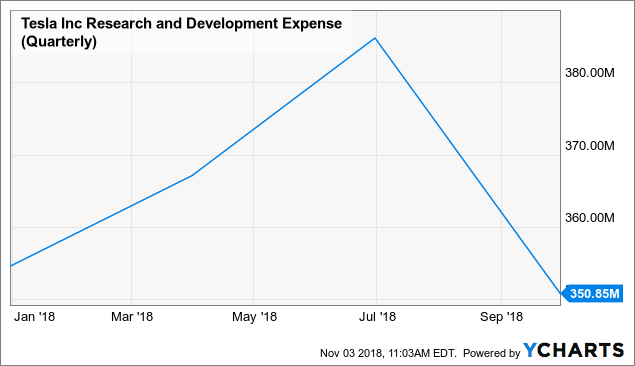 You could argue GM is a stalwart car manufacturing behemoth and Tesla is a lean-and-mean innovative Silicon Valley company. Except, GM's Cruise unit is exactly that.
Conclusion
After this in-depth Musk interview, I remain somewhat skeptical the company will actually be profitable in a sustainable way from here on out. Especially, the gross margin level looks unsustainable over the next twelve months.
CEO Musk admits the company came close to extinction, yet focuses on manufacturing over creating a sustainable capital structure. It is understandable a CEO does not like to talk up competitors but there is scant evidence of Tesla's leadership in autonomous.
Until Musk raises money (I think equity would be best) I favor the short side.
Companies are routinely surprised by events that cause setbacks. Tesla cannot easily deal with adversity. It can still get pulled back to the brink relatively easily. That could result in a complete loss to shareholders.
On the short side, I expect to experience incremental (small) losses. In success mode, Tesla will cause me to lose small amounts of money over time. Meanwhile, I keep tabs on developments and expect to be able to step aside in time to avoid losing large amounts of capital.
Check out the Special Situation Investing report if you are interested in uncorrelated returns. We look at special situations like spin-offs, share repurchases, rights offerings, M&A events, etc. But we also have a keen interest in the commodity space. Especially in the current late stages of the economic cycle.
Disclosure: I am/we are long GM.
I wrote this article myself, and it expresses my own opinions. I am not receiving compensation for it (other than from Seeking Alpha). I have no business relationship with any company whose stock is mentioned in this article.
Additional disclosure: Have short exposure to Tesla