If you want to have a better performance than the crowd, you must do things differently from the crowd.

- Value Investor (Sir John Templeton)
Amid the bear market that is hitting bioscience stocks lately, we strongly believe that investors should increase their research due diligence and hunt for promising investments that are on sales substantially below their intrinsic value. Exelixis (NASDAQ:EXEL) is one of the five-star companies of Integrated BioSci Investing that we recommended investors to purchase for their portfolio as they wait for the aforesaid stock to rebound to a new high in the next bull market cycle.
Despite its depressed share price, the company is undergoing many fundamental improvements. For instance, Exelixis recently posted the excellent data for the ongoing COSMIC-021 trial that is assessing the efficacy and safety of cabozantinib in combinations with the checkpoint inhibitor, atezolizumab. Moreover, it revealed several key catalysts in the latest earnings release. In this research, we'll present an analysis of the Q3 earnings report and reaffirm our strong bull thesis on this growth company.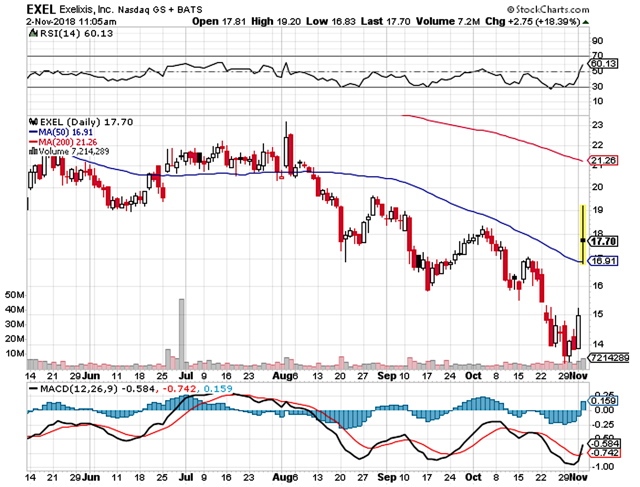 Figure 1: Exelixis stock chart (Source: StockCharts)
Fundamental Analysis
As usual, we'll briefly present the corporate background for investors new to the company. As follows, Exelixis is founded in 1994 and is operating out of South San Francisco, CA. In focusing on the innovation and commercialization of medicines to treat highly difficult to treat cancers, the firm is powering the following approved cancer medicines: cabozantinib (Cabometyx) for the management of all cases of advanced renal cell carcinoma (RCC); cabozantinib (Cometriq) for the treatment of progressive and metastatic medullary thyroid cancer; and cobimetinib (Cotellic) in combination with vemurafenib for the use in unresectable or metastatic melanoma with the BRAF V600E or V600K mutation.
Of note, cabozantinib is developed in-house and in partnership with Ipsen (OTCPK:IPSEY) for the exclusive commercialization rights ex-USA (except in Japan, where Exelixis licensed it to Takeda (OTCPK:TKPHF)). In addition, the company is investigating cabozantinib in combo with other checkpoint inhibitors across 12 different cancer indications, in which we analyzed to hold the most value. That aside, the company is tinkering with XL888 - an internally innovated molecule - that is a potent and orally bioactive ATP-competitive inhibitor of a chaperone protein (HSP90) that regulates the activity of other kinases such as BRAF, MET, and VEGFR2.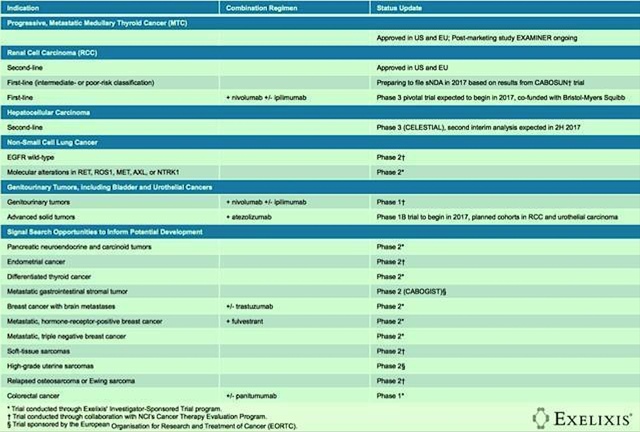 Figure 2: Therapeutic pipeline (Source: Exelixis)
Assessment Of The Third-Quarter Earnings
We believe that it is important for investors to check up on the earnings of your investment on a quarterly basis because much information is revealed in an earnings report. That said, we'll assess the Q3 earnings release for the period that ended on September 30, 2018. Accordingly, Exelixis reported strong earning results that, in and of itself, induced a robust rally. As follows, the company logged in $225.4 million revenues compared to $152.5 million for the same period a year prior. Of that figure, cabozantinib sales increased by 69% for the respective periods: it increased from $96.4 million to $162.9 million. The collaboration revenues also improved from $56.1 million to $62.5 million.
Notably, we are not surprised by the mentioned results, as cabozantinib is an excellent medicine that should continue to gain traction going forward. Moreover, Ipsen and Takeda are strong marketing partners for cabozantinib outside the US. In the US, the highly capable management is also doing a superb job of stimulating organic growth.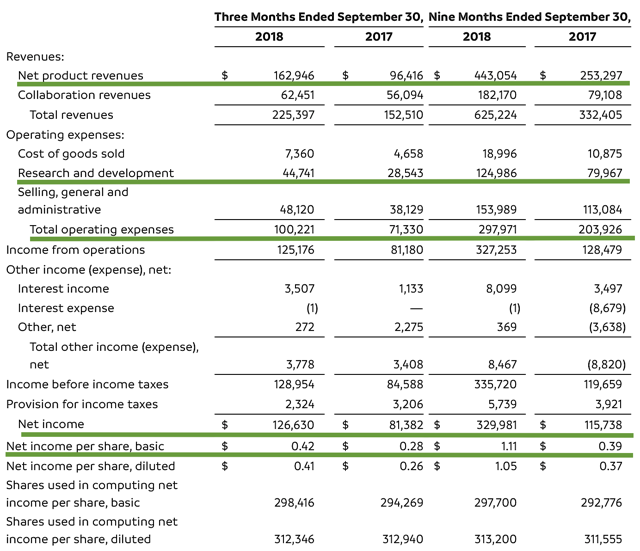 Figure 3: Key financial metrics (Source: Exelixis, adapted by Integrated BioSci Investing)
That aside, the research and development (R&D) spending increased from $28.5 million to $44.7 million, thus representing a 57% increased. We view an R&D increase positively, because the money invested today can turn into additional revenues in the future. The higher R&D was committed to various developments of cabozantinib. A notable development is CheckMate 9ER - the Phase 3 pivotal trial of cabozantinib with the checkpoint inhibitor, nivolumab (Opdivo) - in collaboration with Bristol-Myers Squibb (NYSE:BMY) for patients with previously untreated RCC. As an antibody to the Program Death-1 (PD-1 inhibitor), Opdivo removes the brake on the immune system (exerting by cancer cells) for cabozantinib to take its effect. The aforesaid combo should deliver the treatment synergy and positive clinical outcomes. Consequently, the excellent data will translate into additional approvals and higher revenues in the foreseeable future.
Additionally, there was $126.6 million ($0.42 per share) net income, versus $81.4 million ($0.28 per share) decline for the same comparison. We expect the sales for cabozantinib to ramp up significantly going forward. The revenues will be much higher because the fruits of cabozantinib development in the different combo studies will deliver positive outcomes. Pertaining to the balance sheet, there was $750.3 million in cash, equivalents, and investments and thereby signifies a 58% improvement from the $475.2 million. Based on the $100 million quarterly burn rate, we do not expect Exelixis to encounter any cash flow problem. We also do not anticipate any capital raise for the next year.
Catalyst Tracking
Peter Lynch said that it is important to keep tabs of relevant developments for your investments. Therefore, we track key catalysts as shown in Table 1 below. In our view, the most important event is the upcoming Prescription Drug User Fee Act (PDUFA) of cabozantinib for previously untreated hepatocellular carcinoma (HCC) set for January 12, 2019. If positive, this event can induce a significant rally. That aside, the advancement of the combo treatment of cabozantinib with other checkpoint inhibitors is important: a positive development can lead to significant sales improvement in the long run.
Latest developments

Clinical

The Phase 3 (CELESTIAL) trial results published in the New England Journal of Medicine. Cabozantinib demonstrated the statistically significant improvement in the overall survival in patients with advanced liver cancer, HCC.

The company commenced the Phase 3 (COSMIC-311) trial of cabozantinib in patients with radioiodine-refractory DTC (who have advanced post-VEGFR-targeted treatment).

The company is developing cabozantinib plus checkpoint inhibitors for 12 different cancer indications.

Other

The company logged in strong revenues growth for the cabozantinib franchise.

Health Canada approved Cabometyx for previously treated advanced RCC (September 2018).

Positive opinion received from the Committee for Medicinal Products for Human Use (CHMP) for Cabometyx for previously treated HCC (September 2018).

The National Comprehensive Cancer Network (NCCN) provided the new recommendation for Cabometyx to include patients in all risk categories. This should expand the prescription and increase the sales for cabozantinib.

Exelixis gained Cabometyx approval for advanced RCC in Brazil and Taiwan (October 2018).

Outlook

PDUFA for cabozantinib in patients with previously untreated HCC set on January 12, 2019
Table 1: Catalyst summary (Source: Integrated BioSci Investing)
Quantitative Data Forecasting
Given that the clinical outcomes of cabozantinib/checkpoint inhibitors are important for future growth, we shall conduct a relevant forecasting. Leveraging our Integrated BioSci framework of "molecule analysis" - that took into accounts different scoring variables, including available trial data (TDV), comparative molecular analysis (CMV), structural design (SDV), clinical trial setups (TSV), and disease specificity (DSV) - we prognosticated that there are over 65% chances that cabozantinib/Opdivo will procure positive results for previously untreated RCC, thereby indicating a "more than favorable" reporting. That aside, the comprehensive forecasting are presented in Table 2. Of note, TDV and DSV factored substantially into this data forecast.
| | | |
| --- | --- | --- |
| Molecule and franchise | Chances of success | Interpretation |
| Cabozantinib/atezolizumab | 65% (for advanced RCC) | More than favorable |
| Cabozantinib/nivolumab | 65% (for previously untreated RCC) | More than favorable |
| Cabozantinib monotherapy | 65% (for previously treated HCC) | More than favorable |
Table 2: Comprehensive forecasting (Source: Integrated BioSci Investing)
In terms of qualitative data analysis as demonstrated in Table 3, cabozantinib/Opdivo scored extremely high on all variables, including scientific novelty, unmet medical needs, and ease of regulatory approval. The deadly nature of the disease (advanced RCC) and the need for better treatment option weighted heavily in our grading.
Qualitative data analysis for cabozantinib/Opdivo

Scientific novelty (product differentiation)

Extremely high

Unmet medical needs (therapeutic demand)

Extremely high

Ease of regulatory approval

Extremely high
Table 3: Qualitative metrics assessment (Source: Integrated BioSci Investing)
Valuation Analysis
Warren Buffett mentioned that two excellent analysts can assess the same company (and came up with distinct figures). Therefore, one should take valuation within its appropriate context. To minimize subjectivity, we employed the comparative market analytical method (of gauging similar firms to give investors a rough estimate of an investment's value). Based on the Wall Street analyst consensus, Exelixis is worth approximately $29.5 per share. We explicated in the prior article:
Our calculation of the price target is featured in table 4. We appraised Exelixis by taking account only the cabozantinib franchise since most of the revenues come from cabozantinib: we doubt that cobimetinib will log in substantial sales in the future. To make our valuation more representative, we took the average of the Wall Street estimate as well as our high and low valuation with the 20 P/E multiple, which yields the $32.1 price target (PT).
| | | | | |
| --- | --- | --- | --- | --- |
| Molecule | Potential sales | Net earnings based on a 25% profit margin | Shares price based on 297.3 million shares outstanding and 10 P/E | Shares price based on 297.3 million shares outstanding and 20 P/E |
| Cabozantinib | $1 billion | $250 million | $8.4 | $16.8 |
| Cabozantinib | $2 billion | $500 million | $16.8 | $33.6 |
| Cabozantinib | $3 billion | $750 million | $25.2 | $50.4 |
Table 4: Exelixis valuation (Source: Integrated BioSci Investing)
Potential Risks
For a small bioscience investment, the primary risk is whether the lead molecule will pass its clinical trial. If the drug fails to post positive data, the stock can tumble over 50%. Conversely, if the data reporting is positive, investors can expect the stock to be catapulted to a new high by similar (or greater) magnitudes. With that being said, the main concern for Exelixis is if the cabozantinib franchise can continue to deliver positive clinical outcomes for various indications. There are 35% chances of negative clinical and regulatory binaries for cabozantinib. Moreover, there is the potential competition from CAR-T as well as AVEO Oncology's (NASDAQ:AVEO) therapeutic. Even if the aforesaid medicines will be approved, they might not generate substantial sales due to market competition and other unforeseen variables.
Conclusion
In all, we maintain our Strong Buy recommendation on Exelixis with the five out of five stars rating. And we ascribed the $32.1 price target (to be reached in 2-3 years). As a young growth bioscience company, Exelixis is leading by a stellar management team. And the company is powering an excellent cancer drug (cabozantinib) that is already approved as managing the aggressive kidney and thyroid cancers. The year-over-year revenues are increasing at a significant rate. The recent ex-U.S. approval will soon lead to even more aggressive revenues improvement in the upcoming quarters.
Interestingly, the management is not settled for good. They are pushing for greatness with more cabozantinib development in combinations with the different checkpoint inhibitors for 12 different cancer indications. We strongly believe this is a highly prudent corporate move that in and of itself will lead to excellent clinical outcomes, additional regulatory approvals, and ultimately, substantial more revenues.
As the final remark, we anticipate a positive regulatory outcome in the next few months for advanced HCC, which can induce a big rally. In the longer haul, the additional cabozantinib approvals will ensure a continuous bottom line improvement.
About Integrated BioSci Investing
We're honored that you visited us. Founded by Dr. Hung Tran, MD, MS, CNPR, IBI is uncovering big winners. For instance, Nektar, Spectrum, Madrigal, Atara, and Kite procured +107%, +69%, +148%, +171%, and +83%, respectively. Our secret sauce is extreme due diligence with expert data analysis. The service features daily research/consulting. While we publish some ideas publicly, those articles are available in advance and are discussed more extensively in IBI. We also reserve our best ideas exclusively for IBI members. And, we invite you to subscribe now to lock in the current price.
Disclosure: I/we have no positions in any stocks mentioned, and no plans to initiate any positions within the next 72 hours. I wrote this article myself, and it expresses my own opinions. I am not receiving compensation for it (other than from Seeking Alpha). I have no business relationship with any company whose stock is mentioned in this article.
Additional disclosure: As a medical doctor/market expert, Dr. Tran is not a registered investment advisor. Despite that we strive to provide the most accurate information, we neither guarantee the accuracy nor timeliness. Past performance does NOT guarantee future results. We reserve the right to make any investment decision for ourselves and our affiliates pertaining to any security without notification except where it is required by law. We are also NOT responsible for the action of our affiliates. The thesis that we presented may change anytime due to the changing nature of information itself. Investing in stocks and options can result in a loss of capital. The information presented should NOT be construed as recommendations to buy or sell any form of security. Our articles are best utilized as educational and informational materials to assist investors in your own due diligence process. That said, you are expected to perform your own due diligence and take responsibility for your action. You should also consult with your own financial advisor for specific guidance, as financial circumstance are individualized.