Oaktree Capital Group (OAK) was founded in 1995 by some of the brightest investors of that time. One of the co-founders, Howard Marks, is very well known for his 'memos' he sends out about the market. Bruce Karsh, Oaktree's CIO, has delivered exceptional returns for the clients over the years.
If there's one mantra in the Oaktree offices it's prudence. The investment philosophy is of that kind, that it will act extremely prudently and only when the margin of safety is high enough for its liking.
What does this mean?
Don't buy Oaktree Capital if you want to 'beat the market.' It will likely not beat the market, because it's just not made to do that. It's made to have very good risk-adjusted returns, all the time. This means it should perform well in good or bad times. Ironically, the close-ended funds did beat the market:

Source: Company Presentation
The internal rate of return was 18.9%, very impressive, especially since the company doesn't use leverage and minimises risk.
The firm invests mostly in bonds, more specifically in high yielding distressed debt. This means the run-up of the stock market has not helped the firm. When you buy a bond, you're buying limited upside. This is not the case with stocks. Now, of course, high-yield bonds are risky, otherwise the bond wouldn't be yielding a high interest rate. However, more often than not, the bond will make its payments and be just fine in the end. Since Oaktree Capital has extensive expertise in this field and it can aggregate all the bonds, it's able to get good results without taking too much risk.
One issue, today, is that the economic boom has reduced the number of distressed companies. There's simply too much economic activity and too much 'free money' around. With interest rates rising in the US, however, the firm believes we are in the late end of the cycle, and a downturn is imminent.
This is what CIO Bruce Karsh had to say earlier this year:
We'd like to see a cycle unfold here so our discipline and patience will be highlighted, and will shine."
Oaktree Capital is famous for having deployed enormous amounts of capital during the 2008-2009 market rout. In that time, you would have wished someone with a lot of cash and courage was on your side. The firm deployed up to $625 million a week. Famously, Howard Marks called in 88% of extra money (only 12% was called before) during these 'darkest of days.'
The latest financial results were more than okay
Oaktree Capital released its Q3 results on October 25. As expected, there's nothing to be 'enthusiastic' about. It's nice and boring, as it should be.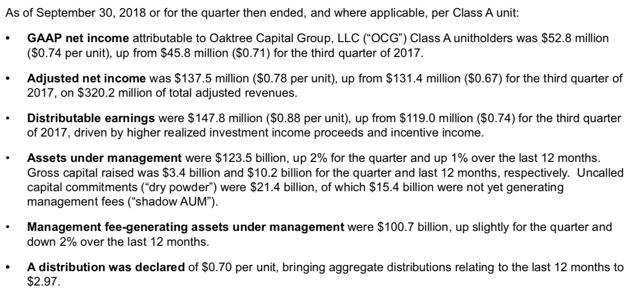 Source: Oaktree Capital's Q3 results
Distributable earnings were up 18% to $0.88 per unit and a distribution of $0.70 was declared. This means the firm pays out around 80% of the earnings.
AUM rose again to $123.5 billion. It also states there's still $21.4 billion in dry powder. This is the money Howard Marks will call in once the market takes a real nosedive.
On the earnings call, we get some more information about this shadow AUM. Around $15.4 billion of this dry powder is called 'shadow AUM' as it is not yet generating income (management fees) for the company. The potential management fees from this chunk of capital should be around $200 million a year, or $50 million every quarter. Compared to the current quarter, this means an increase from $147 million to nearly $200 million quarterly, or an immediate 36% increase in distributable earnings.
In other words, the company could easily make 36% more money immediately, if it would choose to do so.
Luckily, we are dealing with a very prudent and long-term investment firm, so the money is not being deployed (just yet).
The DoubleLine deal
DoubleLine Capital contributed almost $148 million to distributable earnings over the last year. This might be a very abstract number for you, but it's an amazing success. Why is that?
Jeffrey Gundlach, the CEO of DoubleLine capital, is a good money manager and now manages $123 billion (an increase of 7% year over year)
Oaktree Capital owns a 20% stake in DoubleLine capital. Howard Marks bought the 20% back in 2009 for - this is not a typo - $20 million.
In 2011, Oaktree got $1.8 million from DoubleLine. In 2013, this rose to $31.4 million. Today, we are at $148 million.
Jeffrey Gundlach is known to be contrarian as well, and will certainly be positioned to profit from a downturn. Recently, he came with an interesting theory that US treasuries are shorted to the extreme.
The consensus is that rates will rise. No matter what, the Fed will increase the interest rate. However, should a sudden bad datapoint (the Fed being data-dependent) halt the interest rate increases, a major short squeeze could develop.
It will be interesting to see how the US treasuries develop and if DoubleLine is able to profit off of that.
The dividend yield is attractive
Oaktree Capital pays a quarterly dividend of $0.7 per unit, so $2.8 on a yearly basis. At a stock price of $40.71, this translates into a 6.67% dividend yield. The company pays out around 80% of distributable earnings.
I believe this dividend is very safe. Remember, while Oaktree Capital might have had a year in which it paid a slightly lower dividend, such as for example 2015 when it paid $2.1, this is still a more than decent yield.
I consider this a counter-cyclical stock. If the market would tank, the management fees (and thus distributable earnings) will likely rise.
There are some additional reasons why I think the dividend will stay on point:
1. This is a very simple business.
The managers make money for the investors and get a fee. This fee goes to the company, it pays out wages, and the rest are distributable earnings to divide amongst the shareholders. There are no crazy unexpected CAPEX or sudden marketing costs. There's no tail risk such as a factory suddenly burning down. There's no failed product launch. There's no sudden drop store-level traffic, etc.
I think the revenue and profits are stable and predictable, and so is the dividend.
2. There is a 20% buffer
For now, the company pays out only 80% of earnings. It still has a 20% buffer if needed to support the dividend.
Over the course of 2018, the company actually did 4 payments: $0.76, $0.96, $0.55, $0.70. Added up this is $2.97, making the dividend yield 7.2% instead of the extrapolated 6.67% (4 times $0.7).
In 2017, the company even paid $3.21 in dividends, which amounts to 7.8% when taking the current share price.
Here's a link to all the distributions: Oaktree - Distributions.
3. There's another buffer
Like we said before, there are billions on the sidelines ($15.4 billion yielding nothing at the moment). If (not when) this gets deployed, it will bring in another $200 million in yearly management fees. With a theoretical payout of 80%, this adds another nice chunk to the quarterly dividends.
When everyone is aggressive, get defensive.
All in all, I can summarise why I think Oaktree is a good company to own in this environment.
A nearly 7% dividend yield that's very safe is something I'll want to own when the market drops.
'Everything is overpriced' in the sense that if you believe rates are going higher, bonds will tank and stocks will have a hard time. What is the alternative?
When the market turns for the worst, the company will show its true potential and deploy a lot of cash and courage when you and I will likely not have the same kind of opportunities. Oaktree Capital has access to parts of the market like distressed debt and private equity deals, that the average investor can only dream of. These kinds of 'special deals' will be very lucrative during a downturn.
The company takes a long-term view and is known for its very prudent way of dealing with highly risky investments (such as high yield bonds). Having said that, it still has an IRR of 18.9% on its closed-ended fund. This is proof that the investment managers at Oaktree are doing a great job, and this should translate into good earnings for the public company as well.
For me, Oaktree is the perfect investment to hold as an alternative to cash.
'Safe stocks' will fall alongside the market if something bad happens. They will not fall as hard as growth stocks, but they will. You can't simply turn your stocks into cash and start buying near the bottom, because calling a bottom is so hard to do. Even if you can identify the bottom exactly, freeing up cash from your 'safe stocks' by selling your positions, to deploy it in more aggressive positions, will make you take very big haircuts.
'Safe bonds' don't really exist either. The safe bonds are yielding negative returns. Rising interest rates should only damage your bond. While the investment might be okay, you can't get your money out at the right time to invest near the bottom. If rates rise, the price of your bond goes down. You might not be able to get 100% of your money back at exactly the moment you would like to. In addition, it's very hard to time the market.
That's why I love Oaktree as a TINA (There Is No Alternative) stock and great alternative to cash. I will be getting a nearly 7% dividend to wait until the markets turn bad, and once they do, this company should show its true value.
Disclosure: I/we have no positions in any stocks mentioned, but may initiate a long position in OAK over the next 72 hours.
I wrote this article myself, and it expresses my own opinions. I am not receiving compensation for it (other than from Seeking Alpha). I have no business relationship with any company whose stock is mentioned in this article.